First Generation Latina Inspires Future Writers
Reyna Grande opens her literary heart to Mt. SAC during first generation week
Mt. SAC celebrated the first annual First Generation Week, a weeklong celebration honoring students who are first in their immediate family to attend college, from Nov. 12 to Nov. 15.
On the third day of the celebration, award winning author Reyna Grande graced the stage and shared her empowering life journey as an undocumented first generation student. Although Grande was not the first person in her immediate family to attend college, she was the first one to attend a university.
The 400-seat assembly hall located in building 13 quickly filled up with students, staff and guests as they hurried to find the best seats closest to the stage.
First generation shirts and pins were gifted to students attending the event, and the first 150 attendees to line up also received a copy of Grande's memoir "The Distance Between Us," available in both English and Spanish.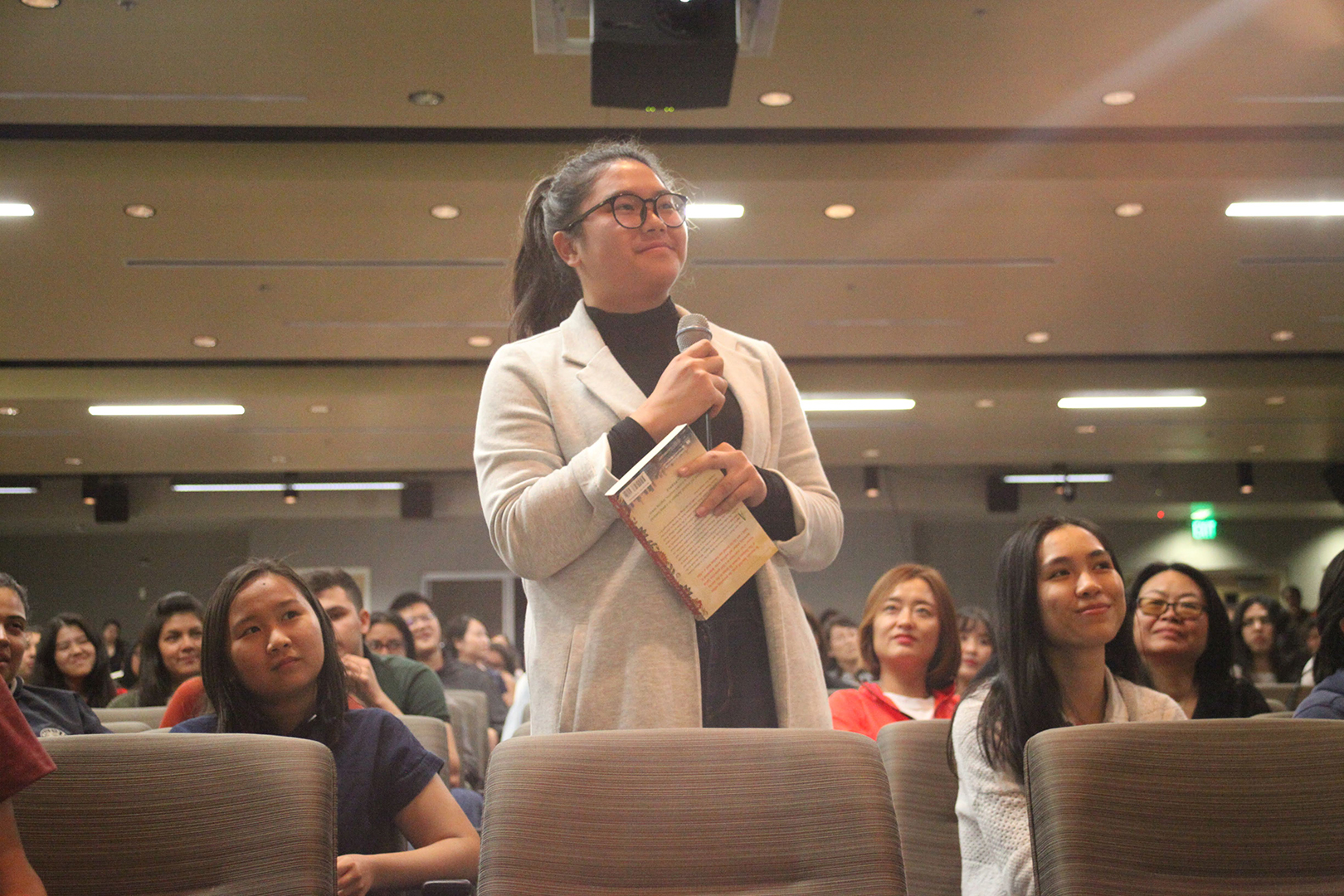 The busy hall quieted as the first speaker took the stage. Alejandra Pulido, who introduced Grande, shared her connection and excitement for Grande's appearance. Images from a handful of Grande's best known novels were illuminated on the projector screen behind the speaker. The crowd patiently waited as Pulido announced the awaited guest of honor.
"I've always heard other people say this, but now it is my turn," Pulido said. "It is my honor to introduce this extraordinary Latina to my hometown and to my alma mater; let's welcome Reyna Grande."
As Grande walked up the steps to greet the presenter, the audience quickly stood up and cheered with excitement.
Grande was born in Iguala, Mexico, and her father left to the U.S. when she was 2 in search of a job to help provide for his family in Mexico. Her mother later joined him. In her first memoir, "A Dream Called Home," Grande recalls the excruciating experience she had as she crossed the border illegally at the age of 9.
After high school, Grande began taking classes at Pasadena City College and became the third person in her family to pursue a higher education. Her two older siblings unfortunately dropped out of college, and after witnessing their withdrawal, Grande's parents did not have faith she would complete college.
Life was tough for Grande when she began her journey towards her educational goals. She was an undocumented, first time college student with no support from her family. Grande embodied numerous fears while attending college and was not sure if she would be able to accomplish her set goals.
"I always wondered if I had it in me, to do what my older sister was not able to do or my older brother was not able to do," Grande said.
Although Grande faced many insecurities regarding her education, she made sure to learn from the mistakes her siblings made while attending college. She refrained from buying a car, stayed away from credit cards and tried not to give in to the desire of spending her money on nice clothes and shoes. She also tried not to fall in love and focused on her goals, but as a boy-crazy girl in her early 20s, that was a difficult task.
During her time at PCC, Grande was fortunate to meet her English professor, Diana Savas, who was to become her lifelong mentor and friend.
"I really hope all of you, every single one of you has a Diana in your life," Grande said. "Having a mentor can make such a huge difference in a young person's life."
Savas helped Grande during a time when she was dealing with a lot of trauma from her past and present. This included trauma from being an immigrant, adjusting to a foreign country and nearly losing her native tongue, alongside emotional and physical abuse from her alcoholic father throughout her childhood and in college. She also attempted to find ways to deal with the trauma that was left after having been separated from her family for many years.
Grande began writing at the age of 13 for personal reasons, not because she wanted to be a writer one day. Writing became a form of therapy, and she used it as an outlet to help her cope with the turmoil she had inside.
"For me, it was like, I'm writing to survive. I'm writing to heal," Grande said. "I'm writing for myself and for nobody else."
Savas asked Grande whether she had ever considered pursuing a career as a professional writer, which was a question that nobody had ever asked before. When she first started college, Grande was unsure of which career path to take — she just knew that she loved to write, but never thought her passion would lead her into a career as a professional writer.
Because of Savas' guidance, Grande managed to successfully transfer from community college to the University of California San Diego and major in creative writing.
"For me, It's always been important that I continue to honor this teacher because I know that I would not be standing here today in front of you, if it hadn't been for her guidance, her encouragement and her love. And for opening not only her heart to me but her home," Savas said.
As a transfer student, Grande is now grateful for her time spent in community college, where she developed many skills that helped her once she transferred to a university.
As the years went on, Grande continued to receive support from Savas as she adjusted to life after graduation. As Grande stepped into the real world of attempting to become a published author, she received countless rejections with Savas by her side as moral support. Despite receiving many rejection letters, Grande pushed through until she accomplished her goal of becoming a published author. Being a woman of color in an industry where Latinos are underrepresented served as a challenge for Grande as well.
Grande expressed the importance of pushing through so that Latinx stories become part of American literature. Although it may be challenging to pursue a career in such industry, or any industry as a person of color, Grande advises students to show up and claim their space.
Grande also conveyed her deep gratitude for her mentor and discussed all she was able to achieve because of her love and guidance. As Grande began to develop her skills and talents in order to become a better writer, Savas introduced her to books written by Latina and Chicana writers for Grande to have as role models. Reading books written by women with similar backgrounds further empowered and inspired Grande.
American writer and activist Sandra Cisneros, known for her novel " The House on Mango Street," was one of Grande's many inspirations.
"That was very empowering for me, every time she handed me a book written by a Chicana or a Latina, it was so empowering," Grande said. "Because not only was she telling me, she was showing me the possibility, and that possibility was in every single book that she handed to me."
Grande emphasized the importance of finding a mentor while in college in order to receive help and guidance. Although Grande encountered numerous roadblocks while attempting to accomplish her goals, she pushed through and encouraged others to do the same.
"You are not just fighting for yourself, you are fighting for your entire family, the ones that are here right now and also the generations that are yet to come," Grande added. "I want to congratulate you all and encourage you all to continue fighting for your dreams and the kind of life you deserve to have."
Leave a Comment