Good Riddance Victoria's Secret
Victoria's Secret unchanging image is what led to its fashion show's downfall
Victoria's Secret has been at the forefront of lingerie sales for the past few decades. In malls across America, the lace-and-nylon clad models posted on their storefronts can be spotted from a mile away. Times are changing however, and it's up to companies to adapt to new beauty standards emerging. Unfortunately for Victoria's Secret, their reputation of advertising tall, thin, and cisgender models may be coming to haunt them.
The Victoria's Secret Fashion Show, a televised runway event that has aired since 2001, is ending this year. Viewership dropped 6.7 million from 2013 to 2018, even with top pop stars like Shawn Mendes and Bebe Rexha performing at the December 2018 show.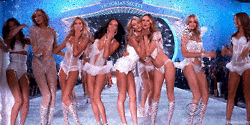 While some might mourn the loss of such a pop culture and fashion event, past models involved in the show aren't shedding tears over it. Karlie Kloss, a model who previously walked in the fashion show until 2017, shared her feelings toward the brand's decision to cancel.
"I think it's a reflection of the world we live in today, you know, consumers demand that brands are inclusive and body positive and sustainable. And I think brands have to evolve."
As for evolving, Victoria's Secret hasn't always been dedicated to the rising demands for diversity. Previous Chief Marketing Officer Ed Razek has made statements concerning what he described "transsexual" models on the Fashion Show runway.
"Shouldn't you have transsexuals in the show? No. No, I don't think we should. Well, why not? Because the show is a fantasy. It's a 42-minute entertainment special." He later apologized for his "insensitive" comments.
Other brands have pushed back against the need for representation in fashion, such as Abercrombie & Fitch, a clothing company that had rising popularity in the early 2000s and on. Abercrombie is known for displaying primarily thin, white and polished models in their advertisements, and not much outside of that scope. Former Abercrombie CEO Mike Jeffries has defended the brand's limited vision.
"Are we exclusionary? Absolutely. Those companies that are in trouble are trying to target everybody: young, old, fat, skinny," he said. "But then you become totally vanilla. You don't alienate anybody, but you don't excite anybody, either."
On the contrary, lingerie companies expanding their market and using truly diverse models are profiting. Take for example, the Savage x Fenty show run by its founder and owner, music artist Rihanna, at the New York Fashion Week this fall. The show was comprised of models from a wide range of body types and ethnicities, as well as transgender models sporting lingerie. Rihanna takes a different stance from Victoria's Secret when it comes to diversity both on and off a stage.
"This year we had a bigger platform and I just wanted to take that even further. I wanted to expand on the women that we have highlighted before — women who aren't usually highlighted in the space of fashion, whether it's trans women or, this year, even paraplegic women who even have prosthetic legs. We wanted to feel like we were giving women a chance to feel sexy where they usually don't feel sexy," Rihanna said backstage following the fashion show.
It pays off to be inclusive. According to Edited, since Savage x Fenty entered the market, U.S. and U.K. retailers have increased the number of size-inclusive lingerie styles by 34%.
With the overall outlook on what is "beautiful" or "sexy" enough to model lingerie changing, it's not surprising that companies like Victoria's Secret want to stick to their brand and its image. The sanitized model image they cashed in on helped skyrocket them into popularity. However, the decision to cancel their televised show after 18 years of production signals to one thing: the future of lingerie belongs to those ready to embrace all people, always.
Leave a Comment