Phantogram: Overcoming Someday
Electro-pop duo continues to create and release music while overcoming personal hardships
For over a decade, the upstate New York electro-pop duo Phantogram has released albums that consistently continue to cultivate their signature sound of electronic pop, high energy drum beats and synthetics, alongside jazz and hip hop mixes.
The voices behind Phantogram are the Greenwich, New York-based musical duo of keyboardist Sarah Barthel and guitar player Josh Carter. They met in middle school and have been friends since, but they did not start creating music until they were in their 20s.
Before deciding on the name Phantogram, the pair had performed in the Saratoga Springs area under the randomly chosen name of "Charlie Everywhere," until they signed with a record label and felt the need for a new band name as the release of their first EP album came closer. As they brainstormed a new name with words like "ghost" and "phantom," the word "telegram" was thrown into the mix; Carter thought of the word 'phantogram,' which refers to an optical illusion in which two-dimensional images appear to be three-dimensional, a unique sounding name that reflected their sound. They both eventually decided on that for their name over their previous inside joke of a band name.
The band often channels melancholic sounds filled with nostalgia despite the new age name. Barthel's echoing dreamy voice alongside jazz and hip hop beats transports the listener into a recurring nightmare filled with dreamily poetic lyrics, inner demons and personal loss.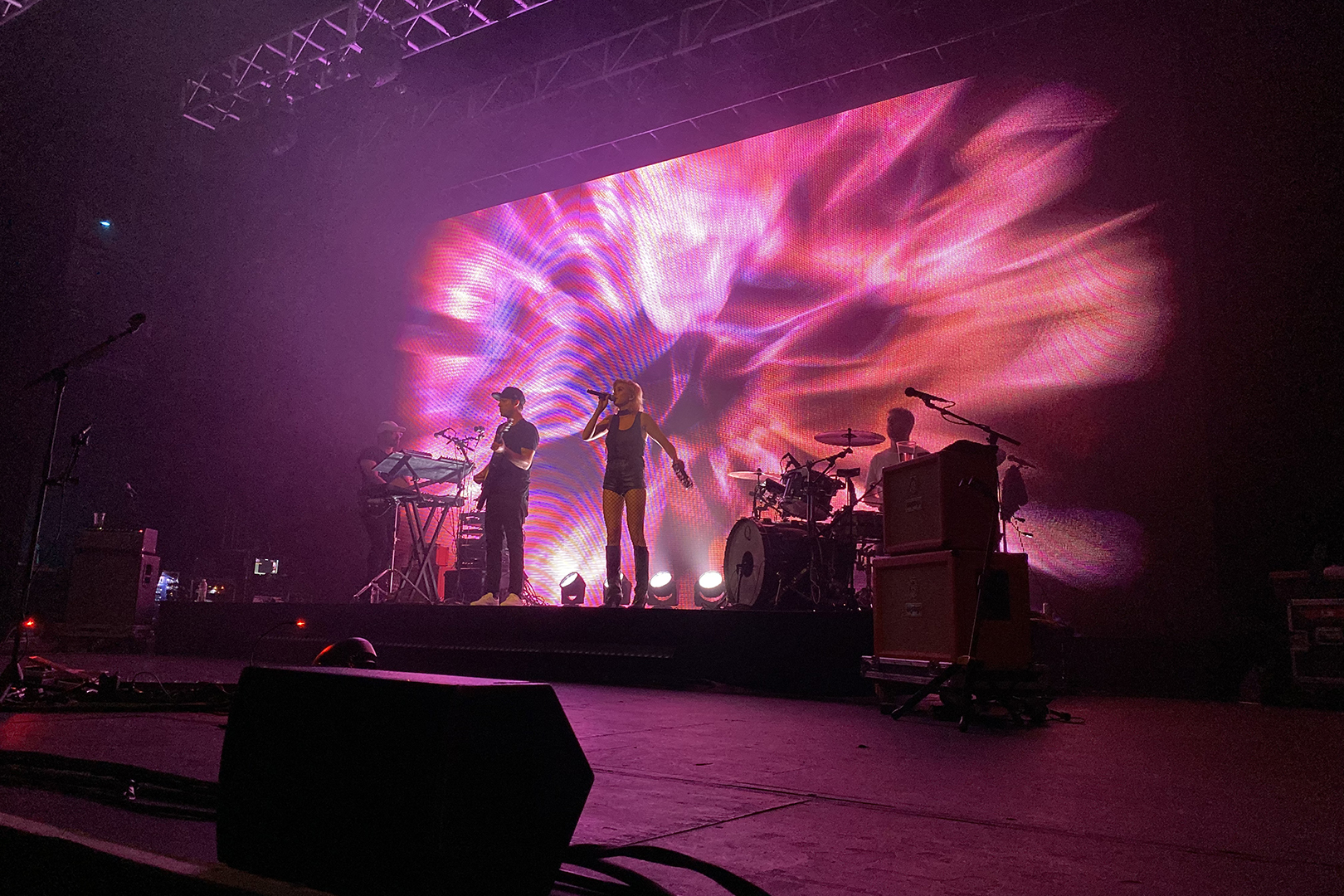 Their first EP album debuted in 2009 with a five song setlist, and the band reused a handful of those same songs to complete their full album Eyelid Movies in 2010. The band continued to write music and released an EP album titled Nightlife in the following year before releasing Voices in 2014, which reached number 11 on the Billboard 200. The band then gained popularity as their music has been featured in many national commercials, and their founders have also collaborated with a number of artists such as The Flaming Lips and Outkast's Big Boi. Phantogram later released the EP album Big Grams with Boi in 2015.
While the band was in the middle of completing Three, their most recent album in 2016, Barthel's older sister and Carter's childhood friend, Becky, committed suicide. That same year, two of the band's greatest musical heroes and inspirations, David Bowie and Prince, also died. The sudden death of Barthel's sister and the added deaths of their idols halted production with the album for some time.
As a result, Three is often referred to as a triumphant record that was completed despite the artists' deep emotional pain in coping with loss. Carter even refers to this album as "finding the beauty within tragedy."
"Destroyer" begins soft and melodic before quickly building and exploding into a strong and powerful drum beat after Barthel loudly cries out:
"I guess my heart got carried away, I guess the dark turned off the light."
Barthel's voice echoes with desperation as she cries out sounds of deep pain.
Perhaps one of her best performances, Barthel's live performance of the song at the Glass House Pomona in 2017, alongside Carter's electric sounds, revealed her raw inner pain as Barthel's jugular vein was visible as she sang out into the audience while strobe lights beamed behind the performers. The audience stood still in awe as Barthel's incredibly talented voice echoed throughout the venue.
"Cruel World" begins with an innocent keyboard sound before jumping into an electro hip hop echoing beat as Barthel despondently sings, "I used to see beauty in people, but now I see muscle and bones." Half of the lyrics are sung slowly with a dispirited tone before turning into loud defensive shrieks where she says, "It's a cruel, cruel world," throughout the song. Barthel then sings about her realization with the cruelty in this world before finally parting with her "good side" that only hurt her in the end. The album exudes themes of heartbreak, anguish, perseverance and the bleakness of personal pain, but it also reveals real human emotion and understanding.
Since day one, the duo has created distinguishable dreamlike sounds with grim themes, tri-hop beats and galvanic synths. Both band members have stated in various interviews that a lot of their inspiration behind their music originates from their dreams and nightmares, and the duo brings these scenes to life by vividly projecting their inner turmoil through their lyrics and music.
The song "Howling at the Moon," from the album Voices was written after Barthel had a vivid dream set in the desert during sunrise, where she was either running with a pack of wolves or running away from them. Throughout this vision out of a western film, Barthel could not see herself or figure out whether she was a wolf or about to be eaten by them.
With a soulful trembling force, Barthel sings, "At night I cry and howl at the moon."
The line is left open for interpretation as Barthel never saw herself in the dream, but one can envision her as part of the pack by the way she soulfully howls the lyrics into the sky.
Throughout the song, Barthel transforms the lyrics into loud wolf howls paired with rattling sounds, a constant ringing cowbell, electric guitar sounds and a droning synth in the background with an energetic electronic sound and drumbeat that makes your head bop.
Both Barthel and Carter have a list of artists and musical genres that have inspired their unique sound. The duo listens to a wide range of music from jazz and underground hip hop to '60s French pop. Carter recalls being influenced at a young age by the Beatles, My Bloody Valentine, Busta Rhymes and various underground hip hop artists, and Barthel grew up listening to James Brown, Bruce Springstein, Prince and David Bowie.
Visuals play an important role within the band as well. Anyone who has attended a Phantogram concert can remember the projector screen illuminating as a backdrop alongside flashing lights because Barthel and Carter always incorporate visuals to accompany their audio.
Earlier this year, the New York duo headlined a tour where they performed in over 20 cities throughout the U.S. During one of the last shows of their tour at The Fox Theater Pomona, fans had the opportunity to hear new unreleased songs from their next album. During the show, Barthel opened up to fans about her endless struggle after losing her sister to suicide, and the audience was in tears as she opened up about the pain. She asked the audience to seek help if thoughts of suicide ever arise.
Since the passing of Barthel's sister, the band has taken great strides in finding ways to make a positive impact after experiencing personal loss by becoming advocates for suicide prevention. In 2018, the band announced they would donate $1 from every ticket sold for most of their shows in order to raise money for the American Foundation for Suicide Prevention, and the band also set up a website where anyone can donate to help the cause. The band was honored with AFSP's Public Awareness Award at the Lifesavers Gala on May 16 of this year.
Last year, the band released a song called "Someday," a heartbreaking yet celebratory tribute to Barthel's sister Becky and mental health awareness.
"If only I could see you, I'd tell you that I love you, I do, Someday I'll be with you."
As Barthel sings this, pain exudes from her soft voice accompanied by jazzy tunes and comforting saxophone sounds. Barthel begins the song slowly by taking deep breaths after each verse while an electronic organ faintly plays in the background. She then carefully paints a picture with her lyrics as she recalls a significant memory of swimming in the ocean with her late sister. A story that she has told before, but a memory that will never be forgotten.
In a faint voice, Barthel softly cries out and wishes she could see her sister again. Although the song carries the painful weight of her sister's loss and the realization of the never ending pain, it also moves into a hopeful perspective, where Barthel hopes to meet with her soul again.
The band has released a few singles in 2019 and added a handful of tour dates to close out the year while fans await the release date for their next album. "In a Spiral," "Mister Impossible" and "Into Happiness" are three of the various singles that are expected to make their debut on the new album, though the release date for Phantogram's next album has not been announced yet.
The new sounds from these singles blend an upbeat energy with bass drops, groovy guitar sounds, hip hop beats and synthetic sounds along with their signature shadowy tones.
Although the band has experienced deep pain these past few years, they continue to create powerful sounds and turn their darkness into relatable music.
"I'm always gonna miss you, I'm always gonna to feel you, in everything that I do."
While Barthel's words echo her hope to keep pushing forward with her sister close at heart while she heals, her music with Carter is universal to the struggle of overcoming loss. Though their pain continues, Carter and Barthel have turned their loss into melodies by making change in the world in honor of Becky with music that helps them and many others heal.
Leave a Comment