Mt. SAC's football program had three players sign their national letters of intent during the early signing period on Wednesday, Dec 18. The three players were receiver Chris Jackson, punter Triston Brown and defensive back Levon Barnett.
Jackson is on his way to the Brigham Young University Football Program after spending some time out this season in preparation for transfer. Brown signed his letter of intent to play for the University of Washington. Brown also spent the 2019-2020 season out to prepare for his transfer. Barnett, who played for Mt. SAC during the 2019-2020 season, signed his letter of intent to play for Western Illinois University.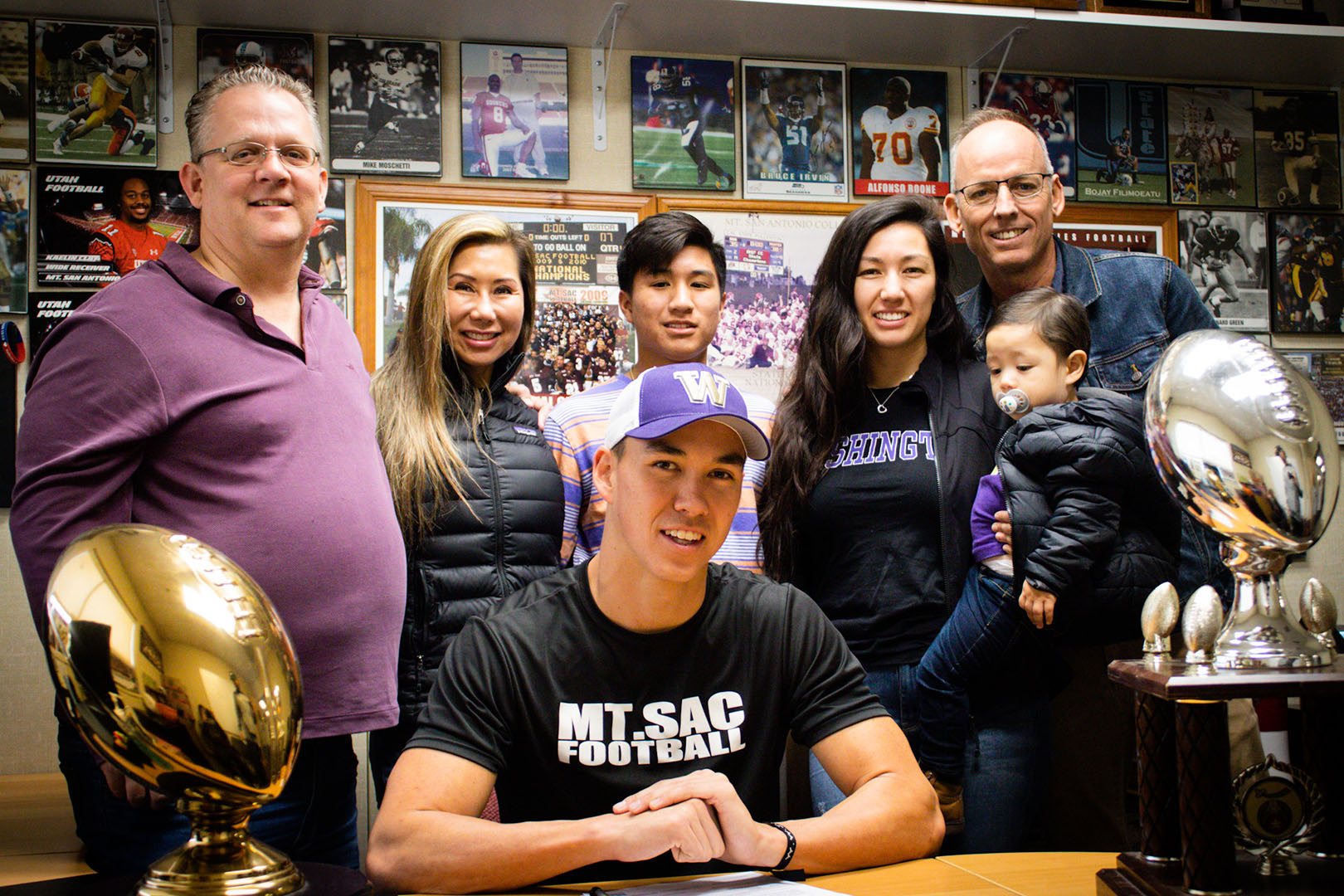 In the early morning, the three players filed into the football coaches' office to sign their letters of intent. The particular office that the players signed their commitments in belonged to head coach Bob Jastrab.
Jastrab's desk, where the players posed for pictures, is surrounded with multiple trophies, testaments to the success of the Mt. SAC football program. The players posed for photos as they received congratulations from Jastrab and quarterbacks coach and recruiting coordinator Cameron Deen, who were both present.
Brown showed up for the small event wearing a University of Washington cap, but paid homage to Mt. SAC by sporting a Mt. SAC football t-shirt to go along with his purple Washington hat.
As Jackson signed his letter, he was wearing a BYU hat, and he could not help but smile. Jackson said, "I'm very excited. I'm just ready to move on to this next chapter of my life and continue to work even harder now, win, and just give it all I got for BYU."
It's been a long journey for Jackson, and he is relieved now that his transfer process is nearing completion. Jackson said, "It's taken a long time to get to this point. Took me about 3 and a half, four years so yeah I'm relieved."
Jackson is now focused on accomplishing his next set of goals, like playing in the NFL. Jackson said, "That's my goal, to go to the NFL, save all my NFL money, and start a business."
New challenges await these players at the next level, and they are eager to get started on accomplishing their new objectives. Considering the hard work they put in to get to this point, this was a moment they got to celebrate and enjoy.
Barnett said, "It feels amazing. I've been working so hard just for this day. I had a lot of family and friends supporting me it feels real good to see that they are really proud of me and I get to accomplish my dream."
Barnett had plenty of memorable moments during his Mt. SAC football career, including a 96-yard touchdown interception return this season. But his favorite memories of Mt. SAC are the relationships he built off the field during his time on campus.
Barnett said, "My favorite moment is just being here everyday with my family. I made a second family here with the coaches and the players, all the staff, academic counselors, you guys. Everyday I was here, I enjoyed it so that's what I loved most about Mt. SAC."
As he moves on to BYU, Jackson will also remember his time spent with his teammates and coaches as some of the most memorable moments during his time at Mt. SAC.
"My favorite Mt. SAC moment I would have to say is practice. Just practice in general. Coming to practice was like my best time. I wouldn't want to be nowhere else but practice. And just how our receiver's coach Coach Mike would try to push us outside our comfort zone and bring the other person out of you. That's what I really admired about him," Jackson said.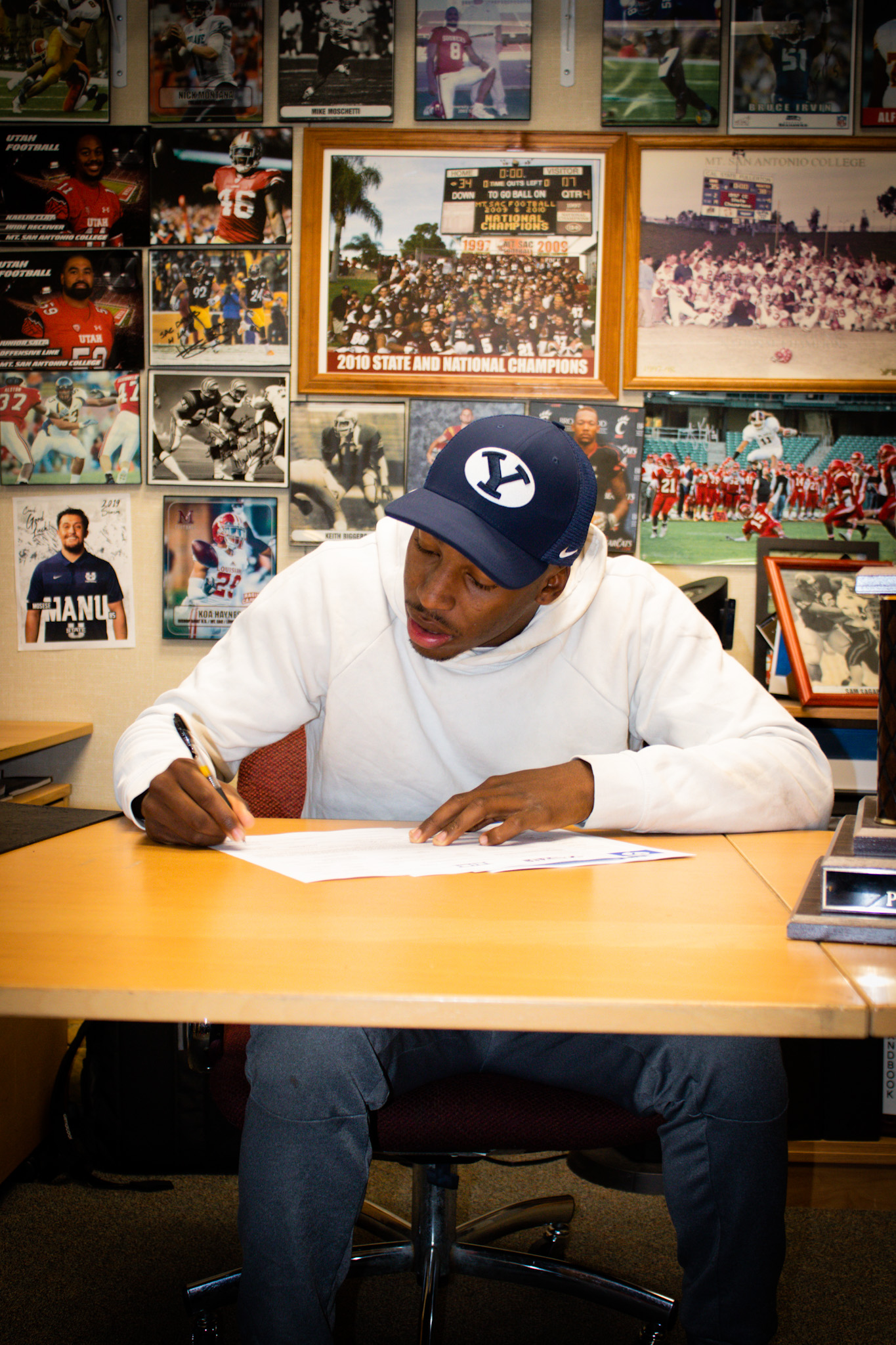 With the players moving on to new programs, they may be used in different schemes by their new coaches. As a punter, Brown, may not see much variation to his previous duties at Mt. SAC when he lines up for the University of Washington. Barnett, however, played as a hard hitting cover safety for Mt. SAC, and it will be interesting to see if he continues to line up in the same role for Western Illinois University.
Jackson is another player that will possibly see his role change at BYU. He spent most of his time lining up out wide for the Mounties. But according to Jackson, the coaching staff at BYU may have other plans for the speedy receiver. Jackson said, "I believe they are going to use me more at slot. Hopefully I get to go outside as well, but I think they are going to use me as a slot receiver."
With the early December signing period for college football players now over, these three athletes will now be focused on getting acclimated to their new surroundings and on helping their new teams be successful. There will be another signing period in February, known as the National Signing Day period. During this second signing period, the Mt. SAC football program is expected to have another crop of players sign their letters of intent.