Hacienda La Puente Approves Election Resolution, Raises
Amid tensions, the school district intends to integrate trustee areas for upcoming elections
With a recall and a superintendent search in the works, Hacienda La Puente Unified School District is looking for its next big change with region-based elections.
Two speakers commended the district for following the California Voting Rights Act amid public comment on Jan. 21.
Gilda Ochoa and Enrique Ochoa, residents who have been active in the community for years, thanked the board for putting something on the agenda to address moving towards region-based elections.
Enrique Ochoa said there were only three board members elected from the city of La Puente and that he wanted to see representation for all of the diverse communities in the district.
"There's never been more than one La Puente member on the school board, despite the fact that Valinda and La Puente represent 53% of the district area," Ochoa said. "I'm very excited by it and urging you to adopt the resolution so we can join the others that have been moving in this direction."
Gilda Ochoa said she was looking forward to celebrating the resolution and seeing the next steps.
"We are trying to build a community here, and we can't, under our current circumstances with regards to the divisions that exist because of structural inequalities," Ochoa said. "It's far too long, La Puente and Valinda have not been adequately represented on the board. So the resolution gives us a unique opportunity to do that."
She then added that having a demographer that knows the area is important and that the districts should be drawn fairly.
"Maps too. Maps are political. So making sure that how the maps are drawn adequately represent community too," Ochoa added. "I'll be there with community, having those conversations, so I look forward to moving forward on that."
The brother and sister duo had previously written an opinion piece in the Tribune asking for this move and critiquing the town halls on the Wedgeworth project, but this agenda item came a day before the letter from the law office of Carlos Perez on Dec. 9 of last year would reach day 45. At that point, Perez wrote that he would "assume that the District and its board have no interest in voluntarily addressing the issue," which might have resulted in litigation to force compliance.
After a 4-0 vote on the resolution, the board also talked about the future elections with this process during their comments.
Board member Martin Medrano called the delay to entering region-based elections interesting and spoke highly of the changes in the district.
"It's interesting that they [district elections] did come to our district so late. The irony is that the CVRA states that its based on the ethnic composition, right? If you go back and look at the composition of our board its actually pretty much in line," Medrano said. "I'm really optimistic about what it can hold. It will fundamentally change everything about our district. It seems like that's great, it passed 4-0, and I think it's going to be great for the district."
President Anthony Duarte also addressed this change and said it was something he has tried to fight for in the past.
"I want to thank the Ochoas for being here and for speaking out. I know you guys have been fighting this good fight for many years," Duarte said. "I'm proud to be only one of three board members from the La Puente area, but I'm also sad to say that I'm only one of three board members from the La Puente area, from the history of our school district, and one of the few Latinos elected into the school district."
He said he was glad that the board is making progress and that he also supports ethnic studies before adding that he is looking forward to the process to create equitable regions for all communities.
Currently, in a map drawn by a La Puente resident, their five regions provide Valinda with one seat, offer two seats to Hacienda Heights and two seats to La Puente and its surrounding area.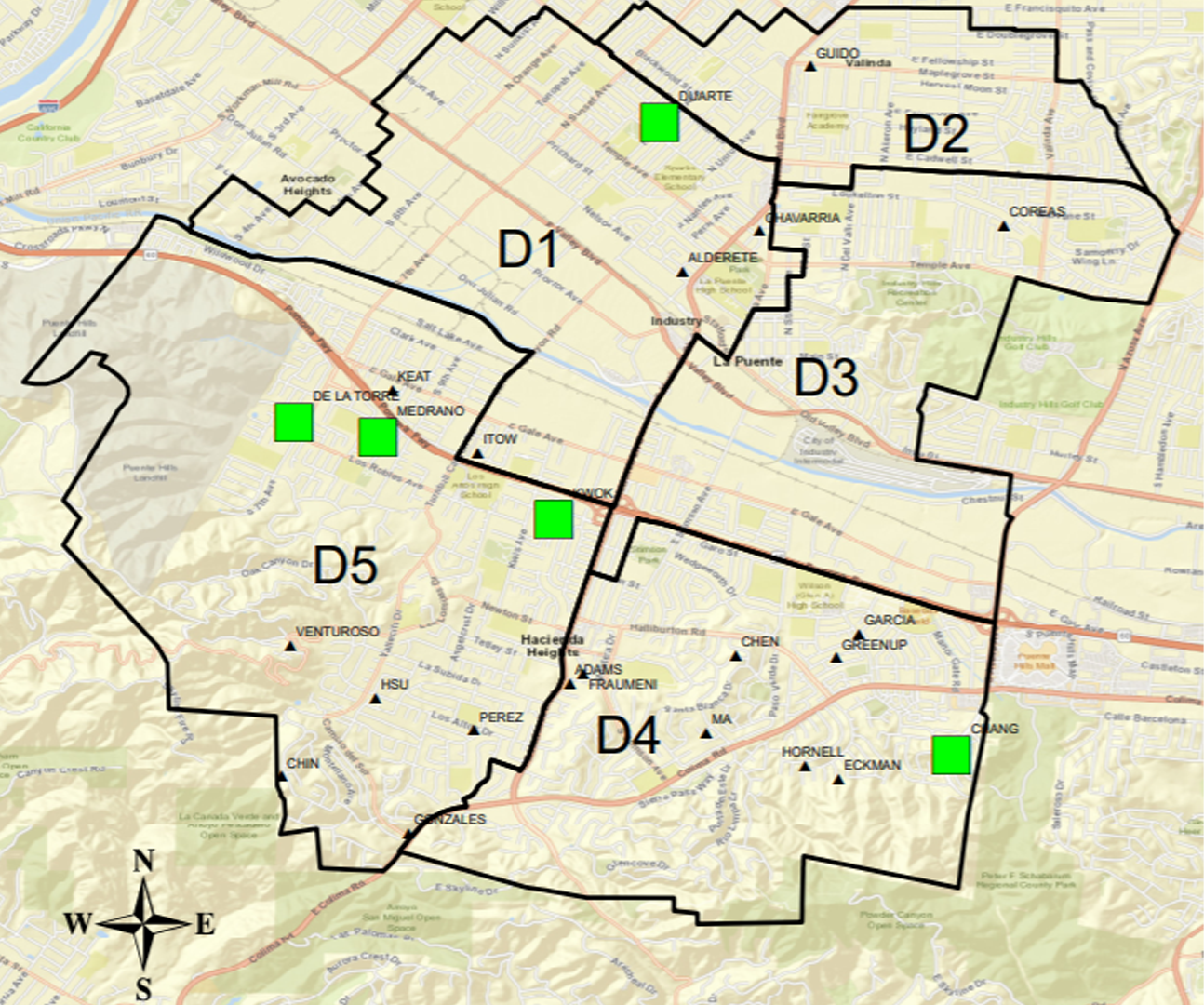 These boundary lines and demographic data analysis services were provided by Geographic Information Systems Professional Jesus Garcia who has worked with the census and redistricting efforts throughout the state. Garcia has over 25 years of experience with GIS software, and more information about him can be found on the district website.
The impact of these borders will be seen in the 2020 election as Clerk Gino Kwok would be set to face off against former president Martin Medrano in district five. Jeffrey De La Torre, who occupies a current at large seat, might enter into the race as well to extend his term for two years. Should he lose the race or not enter, his term would expire in 2022, and the seat would go up for election again in 2024.
In West Covina, Mayor Tony Wu held an at large seat in their district five and ran to be reelected. Wu won the election, which prolonged his term and led to the appointment of at large council member Jessica Shewmaker.
If De La Torre wins in this scenario, the board would be able to appoint someone to serve in his at-large seat until 2022 in the same manner.
Duarte and Vice President Joseph Chang are in separate districts with this set up, and would face Penny Fraumeni and Rudy Chavarria in their respective regions if those two candidates from 2018 run again in 2022.
However, it was clarified at the Jan. 27 public hearing that this is not the official map. There is no map for adoption yet, and the map that is chosen after community input will be drawn by demographers from Cooperative Strategies, an outside firm.
"It's long overdue. I look forward to the process on how we make the districts look to make sure that not just the Latino community, but all the communities are represented equally," Duarte added. "Very interesting process, but I know we will get through it as a community. It's the right thing to do and I appreciate my board in supporting it. Again, I mentioned earlier that I tried to do this a couple years ago, we didn't have the support, but now we have it."
Management was also looking for support for their agenda item which would approve a raise for their employees. Together, Network and Computer Services Director Thomas Tan and Student and Family Services Director Cynthia Cabello also addressed the board during public comment.
"Our administrative staff is dedicated beyond the workday, and this is evident through each and every one of the celebration presentations at every meeting and as you saw last week at the state of the district," Tan said. "We cross the country to support student groups, sometimes with our own families in tow. We're happy to do this to because it's not a job but our passion and calling."
For her part, Cabello explained how important this decision was to management employees.
"As you know, management does not have an association to represent or negotiate our contract, but solely rely on your decision to compensate our administrators for the tireless work we do for our students, families and our staffs," Cabello added. "On behalf of all management, from child development to adult education and the district office, certificated and classified, we thank you in advance for approving this item."
The board voted 4-0 to approve the raise to the employees with a single comment from Duarte during the vote:
"Thank you guys, all, for all your hard work."
Aside from comments from residents and employee groups and a distinct lack of comments from Kwok, who had left to celebrate his daughter's birthday, the board had some comments of their own towards the progress being made and the progress that is to come.
Medrano began the discussion by talking about change.
"It's interesting to see, kind of the things that create tension in the system or amongst the community, the governing body," Medrano said. "Really at the heart of it, it's change, right? It's hard to see, for some folks, it's hard to experience change whether you welcome it or whether it's unwelcome."
He then spoke on how much change has happened since he was appointed to the board. In that time, a bond was passed, a superintendent stepped down, a recall effort had been initiated and progress is now being made on region-based elections, among other things.
Board member Jeffrey De La Torre added on to Medrano's remarks.
"I want equity for all. Sometimes change is good; sometimes it makes us feel uncomfortable, like my colleague here said, but it's okay if we know we're doing it with good intentions," De La Torre said. "HLPUSD family, I'm here to serve you and I want thank you for your hard work in serving all our students."
Vice President Joseph Chang spent most of his public comment responding to one comment made by a resident, but he also addressed the Science Olympiad competition and made a comment about change.
"If you shy away, hide your head," Chang said. "You'll never get any progress."
Duarte also spent a chunk of his closing remarks addressing the same thing as Chang after thanking staff for their hard work and addressing the regional elections initiative.
"When there's something wrong, you need to call it out," Duarte said at the end of his comment.
Residents will be able to give input and feedback on the proposal, which may involve calling out any wrong they find in it, at a public hearing on Jan. 27, at 6:00 p.m. in the district's board room, for further discussion on district elections.
This information on upcoming meetings was also released in a press release letter on the district website.
The public hearings will have two pre-map meetings and three post-map meetings, and these meetings will all be held in the district office. The two pre-map meetings will be held at 6 p.m. on Jan. 27 and Feb. 3. All post-map meetings will be held at 6:30 p.m. on regular school board dates, Feb. 13, Feb. 27 and March 12.
There will be public meetings from Feb. 18 to Feb. 22 in the respective trustee areas, in locations to be determined. All meetings during that time will be held at 6 p.m., aside from the 10 a.m. meeting on Feb. 22.
Update: Jan. 28, 5:00 a.m.:
Added clarification that the map provided by Jesus Garcia is only a suggestion with the demand letter, the district will make their own boundaries based upon community input. Demographers from Cooperative Strategies, an outside firm, will assist in drawing the boundary lines after receiving input from the community.
Leave a Comment
About the Writer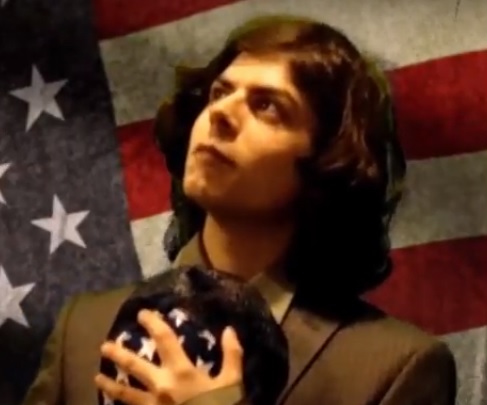 Joshua Sanchez
Joshua Sanchez is the former Editor in Chief and News Editor of SAC.Media. He was previously the managing editor of LAHS' student newspaper,
The Conqueror
. A portfolio of his reporting work can be found at
jdjoshsan.wordpress.com.