Her Game is Taylor-Made
Two ACL tears were not enough to stop the force that is Mt. SAC's starting guard Taylor Shelby
A torn anterior cruciate ligament is an injury most athletes dread to think about. That's because a torn ACL has long carried the reputation of being a career-ending injury, and one that has forced early retirement on some of the toughest of professional athletes across all sports.
However, a torn ACL was not enough to keep Mt. SAC freshman Taylor Shelby from playing the game she loves. Shelby recovered from the ACL injury and is now a starting guard for the Mt. SAC women's basketball team. She is also currently the team's leading scorer, averaging 12.1 points per game.
Giving up basketball was never an option for Shelby, even after she picked up a second ACL injury her senior year of high school. Shelby kept her focus on returning to the basketball court. While grey shirting last year, Shelby was technically part of the Mt. SAC program; however, she was forced to sit out the whole season so she could return to the court this year with freshman eligibility.
"I've sat out before. I've torn my ACL. This is my second time. I tore my ACL going into my sophomore year of high school so it wasn't new to me," Shelby said. "It was hard because I've done it before, sitting out."
Shelby does credit the grey shirt process for providing insight as to what to expect at the college level.
"[It was] just another learning experience. I got to see how the pace was at college basketball because it's a lot more fast paced, and of course Coach Brian is very detail oriented," she said. "I played for him in travel ball for many years, so I was familiar with the system, but it's just more translating into college basketball instead of just travel ball."
During her grey shirt year, Shelby helped with the stat sheets at the scorers table for every Mt. SAC game, but one game in particular stuck with her⁠—last season's 55-54 loss to Rio Hondo in the Linda G. Smith Memorial Mt. SAC Tip-Off Classic Championship. Shelby used that loss as motivation in the championship rematch between the two teams in this year's edition of the tournament.
Shelby led the scoring for the Mounties with 16 points, as she helped Mt. SAC defeat Rio Hondo 66-62 to claim the tournament championship.
"I had watched the game the year before where they lost, by I think one point in the championship game. I remember that feeling. I was so excited. I was sitting at the table because I did the books for us last year the whole year, so I was right there in front of the game," she said.
"I remember the feeling because I was really into it. And I knew, especially the other returners, how it felt to lose. So I knew I had to come out strong and be ready to play because I knew we had to get that game."
The Mt. SAC coaching staff will be looking to Shelby to continue to pour in the points, and since the roster only has four sophomores, they may look to Shelby to step up and be a leader on this young team. This is something she is open to and feels comfortable doing.
"I feel I help out in that area. Especially since I'm older, some of the freshmen look up to me. I'm not really, I mean I'm a freshman, but I'm older," Shelby said. "So definitely I feel I've taken on that role, on and off the court, making sure everyone goes to class stuff like that and get study hall hours and what not."
The lack of experience is something that Shelby is aware of, but she also sees the positive aspects of growing together as a unit.
Shelby said, "We are still learning, but I think being young has its benefits, but definitely we have some work to do in that area. But it's good that we are young, because then we'll be better next year."
Regardless of the roster's limited experience, Shelby and the team's focus is on winning the state championship. She believes this team can play with the top teams in the state and can eventually win state.
"The goal we are working towards in practice is state championship, and we are definitely capable of it. We've seen the teams they claim are number, one number two in the rankings, and we are just as good as them, if not better," she said.
Shelby is a two-guard listed at 5 feet 7 inches tall, who prefers to operate on the wing. Shelby played point guard at Ruben S. Ayala High School in Chino Hills, California, but instead now prefers to play more off the ball where she can focus more on scoring. Shooting is the strong point of her game.
Shelby said, "It's a lot easier to play off the ball. It was just a lot on my body playing point guard in high school."
Shelby has an immense love for the game of basketball, since it has been in her life from an early age. "I've been playing since I was in the third grade, so I just kind of stuck with it. I played many sports. Soccer, gymnastics, softball even, when I was little. So I mean basketball, I was just good at it and I loved it."
Shelby credits her father for influencing her love for the sport and is very appreciative of the support both of her parents have provided to her athletic career.
"My dad I guess, he kind of pushed it. He still is always the one to come rebound for me and always talking to me about basketball. So I mean, he is always the one pushing me," she said. "I mean, my mom too, she's always supported, but it's been my dad who's always taking me to games and practices, stuff like that."
Shelby does not watch a lot of NBA basketball unless it's playoff time, but the death of former Los Angeles Laker Kobe Bryant impacted her.
"Kobe was one of the greatest players to play. I grew up watching him and the Lakers. It really hurt me because I felt like my childhood was taken away from me."
Shelby also credits current L.A. Lakers forward LeBron James as an influence on the court, and said James dominates in all areas of the game, which is a similar approach she takes to the game.
"I try to be as dominant as I can. I try to rebound but it doesn't really work out for me because I'm smaller and the girls are bigger, but I try to rebound," Shelby said. "I try to score, I try to pass, I try to get steals, I just try to help my team where I can. Even though I'm not scoring, I try to help in other areas."
Shelby's vote for favorite player is taken. That title belongs to former Notre Dame and current WNBA star Skylar Diggins.
"My favorite is definitely Skylar Diggins," she said. "She plays point guard but I definitely try to emulate my game after her because she's a scoring point guard and she can shoot."
Shelby has hopes to play in the WNBA someday, but she is also focused on achieving her academic goals, saying "I just want to focus on my education first and foremost, and if I have the opportunity, yeah, I would love to play basketball professionally."
Shelby is studying kinesiology with ambitions to teach someday or possibly even coach.
"I want to get transferred and then get my bachelors in kinesiology," she said. "Then hopefully get my master's in education and become a professor or a coach. I want to go into teaching."
Some of her dream schools are UCLA and California Baptist University, due to her religious faith.
Shelby is aware she is a role model for younger female athletes and offered advice to any young athletes considering JUCO athletics.
"I think coming here really changed my perspective with JUCO. And the opportunities that are here, I think that people shouldn't overlook it because it's definitely college basketball," she said. "It's just a different level and you have so many different opportunities that you can get just from playing here than sitting on the bench at a D-2 school or D-3 school."
"And you're having to pay for school, and it's cheaper to go here. It's just, you'll get more. If you're that good, you will get more playing time here then you would at a four-year. And I think you shouldn't overlook it and just appreciate the process and the grind and just work harder to get your looks," Shelby added.
On game days, Shelby likes to pump herself up by listening to hip-hop artist Da Baby. A particular song that gets Shelby in her zone is the song "Ballin'" by Roddy Rich, but when it comes to the team's walk-out song, Shelby said, "We come out to 'Hot' by Young Thug. We all like that song."
Leave a Comment
About the Writer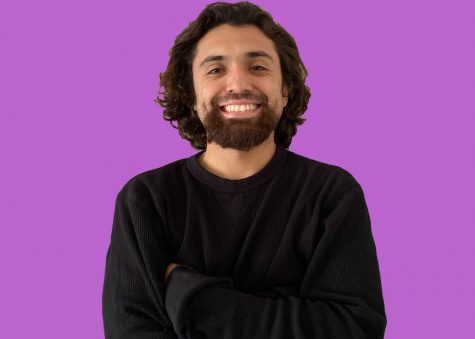 Jesse Espitia, Staff Reporter
Jesse Espitia is the former sports editor of SAC.Media. He has traveled the world to cover soccer or what he calls "futbol." He also covers other sports, politics, local/international news, pop culture and crime.