Residents Ask Council To Not Rename Glendora Avenue
While the item was only a request, West Covina residents asked council to rename something else
With 97 years of existence, West Covina has gone to the verge of bankruptcy with its budget issues and has had many headlines written about its accomplishments.
The city that could have been Covina's sewage dump, and was referred to as Waste Covina by residents a few years ago for its spending tendencies, is now considering honoring the city's first mayor.
In a 3-2 vote, the council approved Mayor Tony Wu's request on the agenda to look into renaming Glendora Avenue into Maxson Avenue in honor of the city's first mayor, Benjamin Franklin Maxson.
His granddaughter, Marilyn Maxson Lewis, came before the chambers and thanked council for considering the honor. She also shared some of her grandfather's accomplishments.
Maxson was named the first mayor after incorporation when fellow residents noticed his leadership abilities. He founded and looked after what originally was the Irwindale School in 1909 until the West Covina Unified School District formed in 1915, helped form the city in 1923 to avoid Covina putting a sewage farm in the area and served as one of the first members of the school board and city council. The first church services in the city were held on his lawn with his wife, long before the Presbyterian church was built.
"For these reasons, I support the proposal to rename Glendora Avenue to Maxson Avenue," Maxson Lewis said. "Thank you for listening and thank you for helping."
While the granddaughter was in favor of honoring her grandfather's legacy, other residents would prefer it be honored on another street or at another location.
Kathy Clark, who serves on the board of a foundation and on the board of the Historical Society of West Covina, spoke on behalf of the board and against the proposed agenda item.
"We want to state that we oppose the consideration that might come up of naming Glendora Avenue to Maxson Avenue, mainly because its going to cause a hardship, a financial hardship for a lot of the business owners and property owners, because there's marketing, businesses, permits, banking all kinds of things that go along with changing a business' [address] as we all know," Clark said. "It's not that we want to dishonor Mr. Maxson at all. We have a big bronze statue in the museum for him, we've done banquets for him, we have a lot of history of the Maxson era in the museum. The board just felt it wasn't necessary to change the street."
She added that the board members wanted to keep the name of Glendora Avenue, and if they were to make any change that they should refer to the street as old town Glendora, and the area as old town West Covina.
Resident Jerri Potras brought up similar concerns of cost and referenced how much work it was for her former employer, a school district, to handle the change from Brooklyn Avenue to Avenida Cesar Chavez.
After explaining how school districts have honored members of the community by dedicating areas to them, similar to how Mt. SAC renamed their one of their buildings to the Diana Berger Art Gallery, Potras suggested that the council should consider something similar.
"Instead of changing the name of the street, please consider naming the council chamber, perhaps even city hall, in honor of the first mayor," Potras added. "It wouldn't be as big of a negative impact on business, but it would honor the gentleman."
Steve Bennett, another resident active in the community, asked the council to consider how it would feel if their businesses had to spend money updating their letterheads and contracts to reflect the new street name. Bennett also asked them to consider the city's financial position in regards to the move.
He then spoke in favor of the resident-proposed solution.
"I love the idea of the council chambers," Bennett said. "He was the first mayor, how symbolic is that? That's pretty symbolic to name the council chambers of West Covina after the first mayor. I think that's probably the best answer, to be very honest with you."
Resident Sherrie Berillon also spoke against the initiative to change the street name after walking the street. She said the change is not necessary and that it would be costly to change the address of 84 businesses. She added that there will be several emails from people unable to attend the meeting who share her position against changing the street's name.
She also provided the council with two alternatives, should they want to rename a street other than Glendora Avenue after Maxson.
She suggested they rename what Google unofficially calls Glendora Square, an unmarked street between Glendora Avenue and Lakes Drive, or a section of Lakes Drive, in between the Colony apartments and the theater, in Maxson's honor.
"That street, which is four lanes, has no name at all. There's no signs there," Berillon added. "Why can't that be Maxson Avenue? Or change the Lakes because you already have the Lakes Drive off of Vincent that goes in front of the theater, so there's two streets there you can name the Maxson there with absolutely no cost effect to businesses, homes or properties at all."
Plaza Drive, which encompass three short offshoot streets from the Plaza West Covina, may also be considered.
Bennett added that the street idea was also something he had not considered and a good fix if the council preferred a street over a building.
"I didn't think about streets that didn't have a business on it. Never thought about Lakes Drive. That's a great idea, If you're really looking for a street. That's awesome," Bennett said. "I think that's a very valid point as well. Let's look at it with the least impact. I think it still impacts the city a little bit at least in some ways, but I can live with that."
He and fellow resident William Elliott agreed that something else should be renamed and that it meant no disrespect to the Maxsons.
"I really hope that you don't vote to rename Glendora Avenue. It's part of our history here in West Covina, one of the oldest streets," Elliott said. "The Maxsons definitely, like I said, they have a place in West Covina history, and I like what I believe Jerri Potras said. Let's name somethings else, maybe the council chamber. I like that idea."
While these residents spoke against, another resident wrote in.
Drexel Smith wrote a lengthy orange card against the proposal to be read into the record where he outlined the impacts from changing the street's name before making a personal request to council.
"I have had a business at Glendora Ave for over ten years and request not to rebrand my long standing address," Smith wrote. "All of this is second to the historical precedence of the street."
Smith also suggested in his comment card that Lakes Drive be considered, or that council contact the historical society to find a better street that would impact fewer businesses.
While the residents spoke against the change, Wu explained that this change was more than just an honor to the first mayor.
Wu said he wanted to have staff look into the issue to see if it would make more people use the street in order to create a buzz for development and revitalize the downtown area. Wu likened this buzz to the creation of the McIntyre Square south of the Eastland Center. He added that Glendora Avenue is sometimes confused with the city of Glendora along with its Glendora Avenue, and that this move will help bring attention to the downtown area.
Council members Lloyd Johnson and Jessica Shewmaker found themselves agreeing with the residents that honoring Maxson was almost a century overdue and that an alternative street or building should be renamed.
"I'd prefer to see it on the city council, another place," Johnson said. "I know we did this a few years ago when we were doing the downtown we had a big thing; do we want to rename Glendora Boulevard? Overwhelmingly they said no, they did not want to change the name of it."
Johnson asked if the item could be changed to a general request to honor Maxson so that the name and honor could be used elsewhere, but Wu said this was to brand and revitalize the downtown area for businesses. However, he added that it was good to hear other suggestions.
"Basically it's how we can improve and to get more attraction and branding," Wu said. "To have the first mayor, again, is a story, so people will say, 'Oh woah, this is the first mayor of West Covina. Let's go to take a look.'"
Shewmaker said the process of naming a street now is backwards and that there were not clear guidelines on the process for naming streets with the council. Shewmaker added that the school district had a clear outline during development for naming conventions and the like. She also expressed concerns about the cost of these requests on staff time and asked that council go over some rules regarding making requests at a later time.
"When you compare it to McIntyre Square, McIntyre Square is McIntyre, square, it's a shopping center, it's not a street," Shewmaker said. "Glendora Avenue isn't just the part by Edwards Theater and the part—the shopping center there. It goes further down, it goes into other cities, it goes into other communities."
Shewmaker suggested they instead change a portion of Orange Avenue in front of Hurst Ranch if they were looking for a historic street, and said there would have to be a larger discussion of how much of Glendora Avenue will be changed since it crosses into other communities.
Council member Dario Castellanos said that he liked the discussion that was had before he voted in favor of the item.
"I like the discussion that was had today about all the pros and cons of considering this," Castellanos said. "So I'd like city staff and the community to consider them all and to find the best way to honor the first mayor, as well as keep everyone's interests in mind."
While Johnson and Shewmaker also spoke in favor of honoring Maxson, they were the two votes against the item in the 3-2 vote because it was not a general request to honor Maxson.
Although Bennett told the council that the ideas suggested by residents were ones he had not even thought about, those same ideas may not be thought about or brought back in the staff report, as they are outside of the scope of the request.
Leave a Comment
About the Writer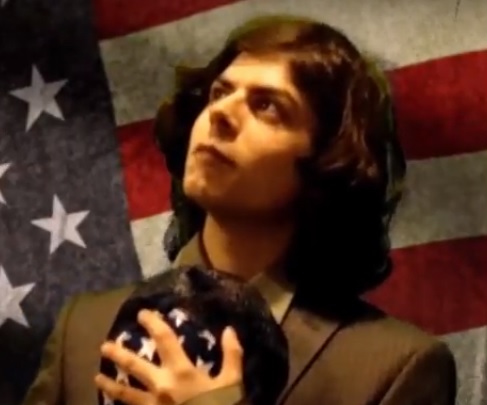 Joshua Sanchez
Joshua Sanchez is the former Editor in Chief and News Editor of SAC.Media. He was previously the managing editor of LAHS' student newspaper,
The Conqueror
. A portfolio of his reporting work can be found at
jdjoshsan.wordpress.com.