Mt. SAC's dance department hosted an International Cultural Exchange Day on Feb. 11, where 35 students from Taiwan visited the campus and toured the performing arts centers. The day started with a tour through the Sophia B. Clarke Theater, as well as the dance and pilates studios, followed by a master class in which both the special guests and various dancers from Mt. SAC participated.
The event was hosted and led by dance professor Michelle Shear in coordination with the STC Foundation, also known as "Sung Tien Collaboration," a non-profit organization that focuses on cultural awareness, youth leadership and community.
Anne Ma, Artistic Director of STC, taught a Chinese ribbon master class that allowed both groups to collaborate, exercise their dance talents, and more than anything else, have fun. Each Mt. SAC student was paired up with a Taiwanese dancer that taught them how to perform the colorful and joyful ribbon choreography. The atmosphere was full of cheer as the students twirled their ribbons, spun on the floor and posed gracefully to traditional Chinese dance music.
.@SAConScene UPDATE: Battalion Chief Bloom of the @LACOFD spoke to the media moments ago. "This is no longer a law enforcement matter." #Walnut pic.twitter.com/CidvZ227nt

— Andre Tinoco (@iamdretinoco) February 20, 2020
"It's a great experience for both local students and the Taiwan dancers to utilize [and learn] a language they are not familiar with," Ma said. "Also, the students from Mt. SAC get a chance to learn something new, and vice versa. It benefits both sides."
The Taiwanese dance group had just finished a three-week run that included 96 performances at Disney's California Adventure for the annual celebration of Mulan's Lunar New Year Procession. The STC Foundation has maintained a 10-year collaboration with Disney, leading performing arts events during the Lunar New Year.
Now that their run at Disney has concluded, the dancers get a chance to relax a bit by participating in the Cultural Exchange Day before heading back to Taiwan. This is the third year that both dance teams have participated in this educational exchange experience.
Ironically enough, Shear and Ma have known each other for over 20 years. The two dance instructors were once performers at Disneyland. They played the notable Disney characters Jasmine and Mulan, participating in festivals and parades for many years together.
"It's great how the whole connection has come full circle, and we can both share the passion of dance with our students," Shear said.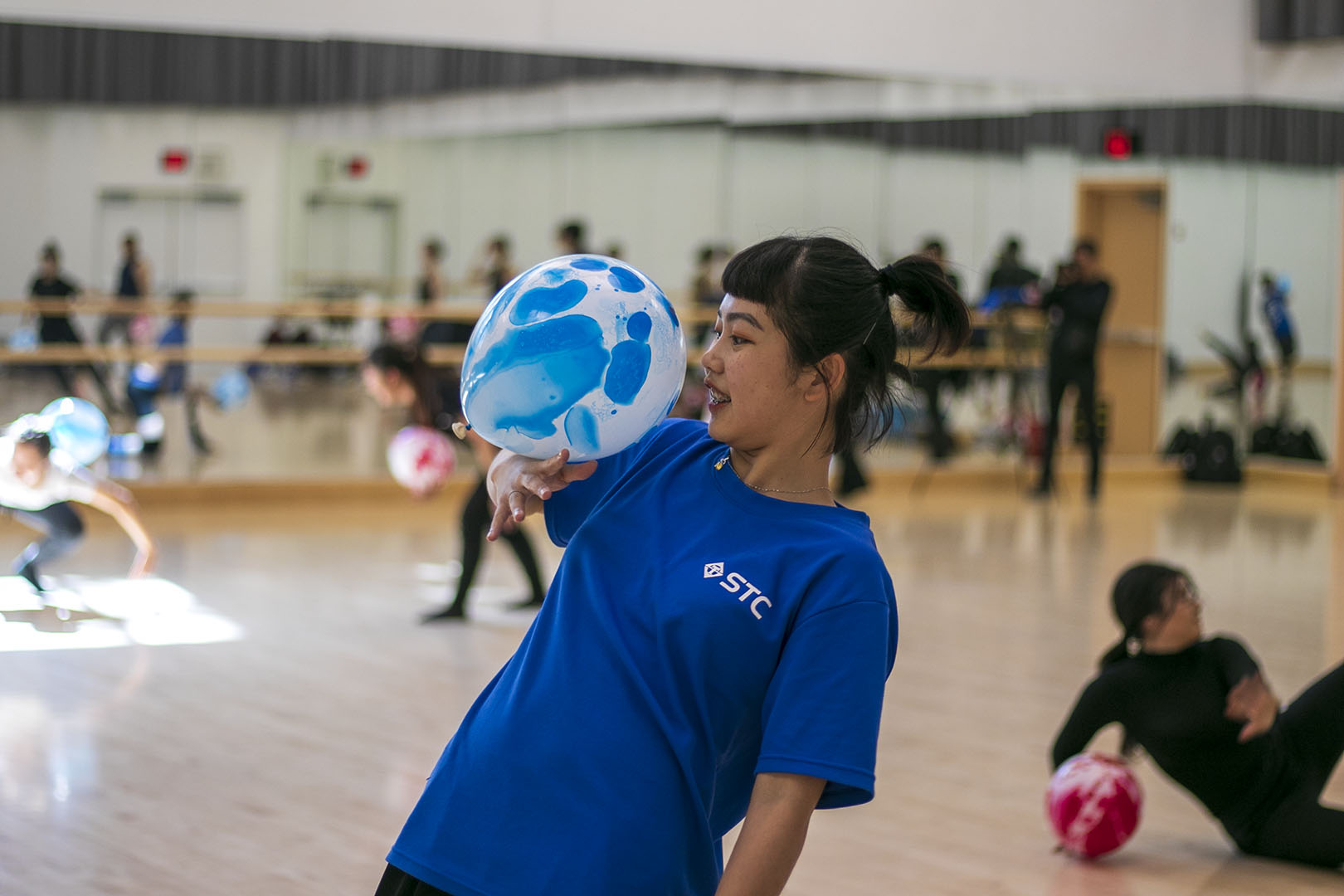 Shear finished the master class with a crash course in dance improvisation, in which participants were encouraged to use a balloon as their muse and inspiration. Shear incorporates dance improv within her choreography regularly to allow the dancers to gather ideas to add to their toolbox. The students embraced the exercise, let loose and allowed the music—and balloon—to guide them creatively. The improv exercise also included the dancers mimicking another classmate and using negative and positive space dance techniques.
Both Shear and Ma are happy with the outcome of this year's event. They believe these activities are essential for both groups to take part in as the learning outcomes are beneficial.
"We are very lucky to have this collaboration with [STC] for the third year and offer this opportunity to our dancers at Mt. SAC," Shear said.