Students Spread Kindness Across Campus
One professor creates a project in an effort to show Mt. SAC students that kindness still exists
Opening the door for a stranger. Saying please and thank you. Giving a genuine compliment. These are simple ways we can uplift someone's day during these very uncertain, challenging and interesting times. With all the antagonism, tweet storms, shootings and mayhem that seem to characterize this period, it's easy to forget that underneath it all, most people are actually good to each other. Others rise above their flaws and day-to-day petty squabbles to perform heroic acts. Still, others among us exhibit inspiring amounts of empathy.
There is so much strife, grief and sadness all over the world that we do not always see the amazing acts of kindness that are happening in our everyday lives because the chaos overshadows it. If we allow ourselves day in and day out to stew in bad news, we'll be physically tired and emotionally drained. What we choose to feed our mind with constantly consumes us. To be in the forefront of a different kind of revolution is much needed – a kindness revolution.
Julie Laverty, professor of communications at Mt. SAC, brilliantly put into action her brainchild to combat the air of toxicity in her own little way—The Mountie Kindness Project. This kindness revolution became a service learning experience for her students so they could see their own capacity to make a difference in their communities.
"Before my winter class in 2018, I noticed there was a little bit more tension in the air in general," Laverty said. "There were some students that maybe felt a little discouraged or that felt there was more negative out there than positive in the world, which isn't true."
Laverty added, "I've always thought Mt. SAC is this really amazing place, and considering that we're such a huge campus and we have so many students, there are surely so many instances where we just have each other's backs. There are thoughtful moments where people go out of their way to help each other and I find that the more we do that, the more we see it."
Laverty felt that everyone needed to start off fresh, which is why she created the idea of spreading kindness as the group project for her classes. She had her students choose how to execute their kindness projects while still keeping in mind the objectives of a group communication class—interpersonal and intercultural communication, public speaking, creating persuasive pitches for their projects and creating donation requests for the businesses and locals in order to expertly show the skills they developed in class.
The students came up with many ideas, but one that Laverty thinks of fondly was a project that was simple, but much more impactful than she even anticipated.
A group of students came up with the idea of strategically putting up Post-it notes in the bathrooms and stairwells, where there is a huge traffic of students coming and going everyday. It became the rave of the campus.
"People loved it, and it was so simple. The beauty of that is it goes to show that any of us could do it. That was a wake-up moment for me," Laverty said. "It didn't have to be huge because it could be something so simple like putting up Post-it notes, yet that was one that was most appreciated and talked about last semester."
For this year, Laverty's students came up once again with fun and creative ideas such as hanging clothespins with encouraging words, giving out small teddy bears, leaving baskets of hygiene supplies in bathrooms, handing out free coffee and donuts and providing free haircuts on campus.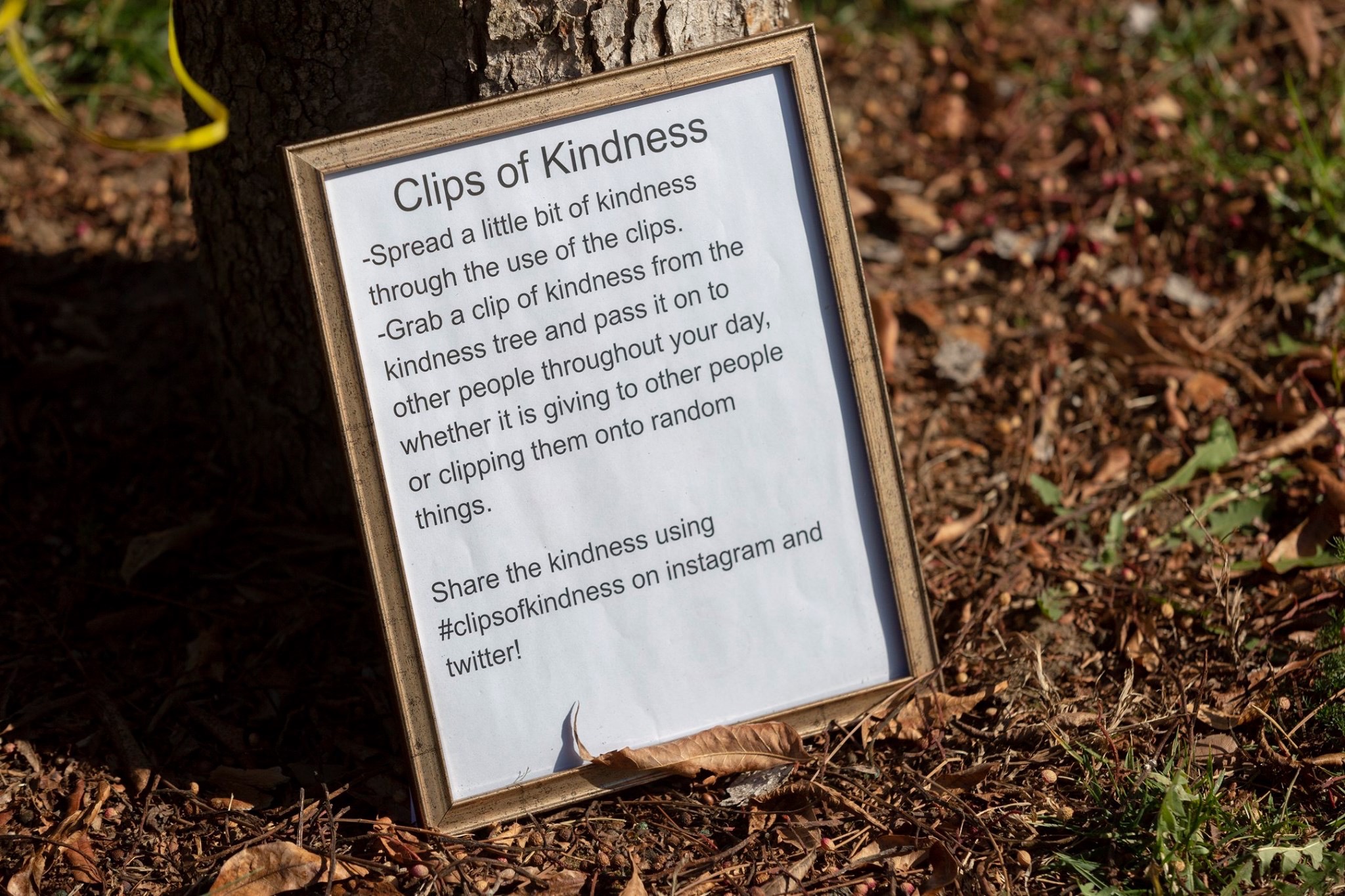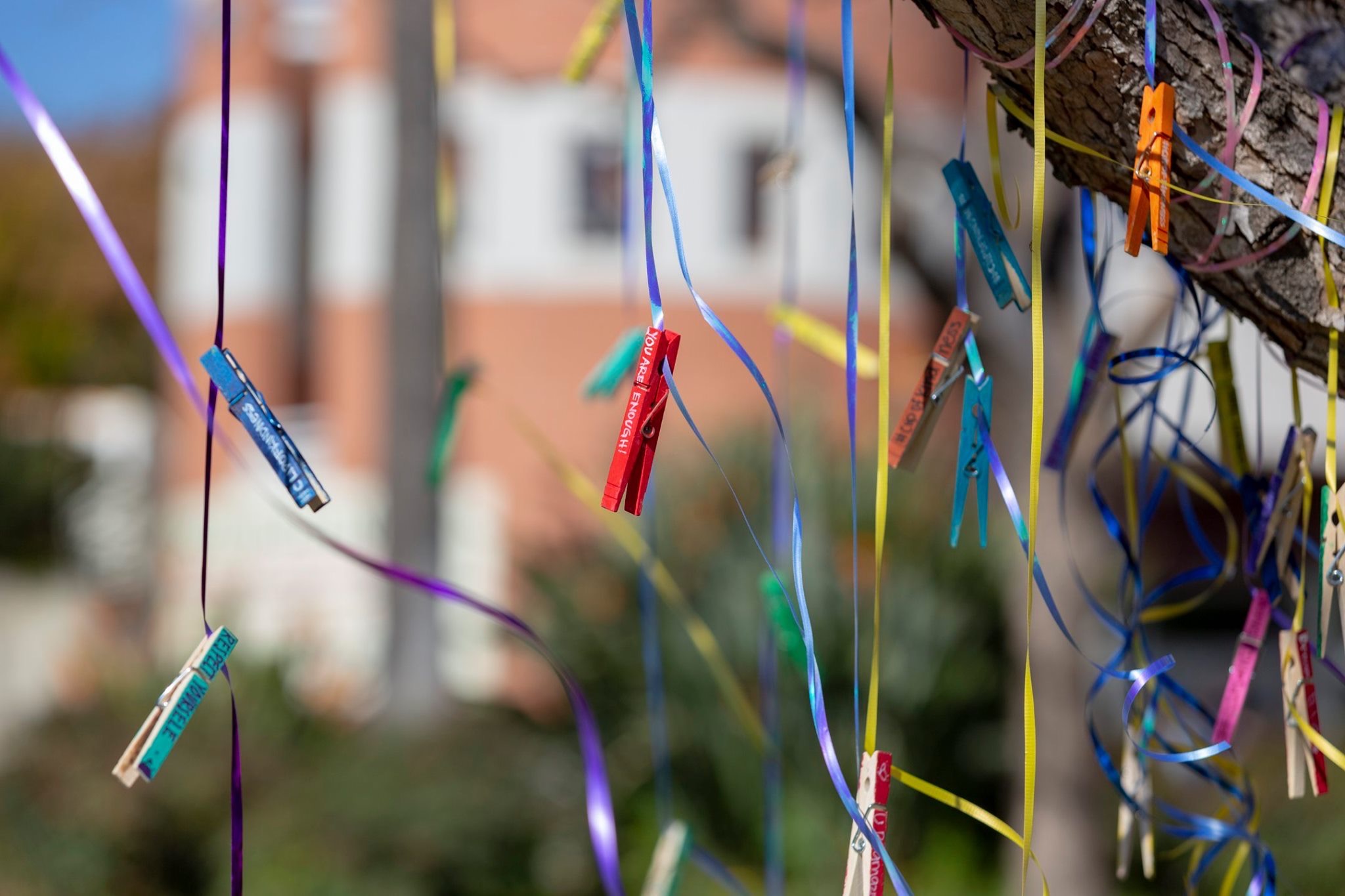 One practical approach that finance major Sam Dababneh, 20, and kinesiology major Gwen McDonald, 19, came up with for their project was to give free haircuts during a job fair on Feb. 7 at Mt. SAC. McDonald was one of the stylists, and the other was Ms. Doreen, a professional stylist Dabaneh knew who offered a couple hours of her afternoon for the cause.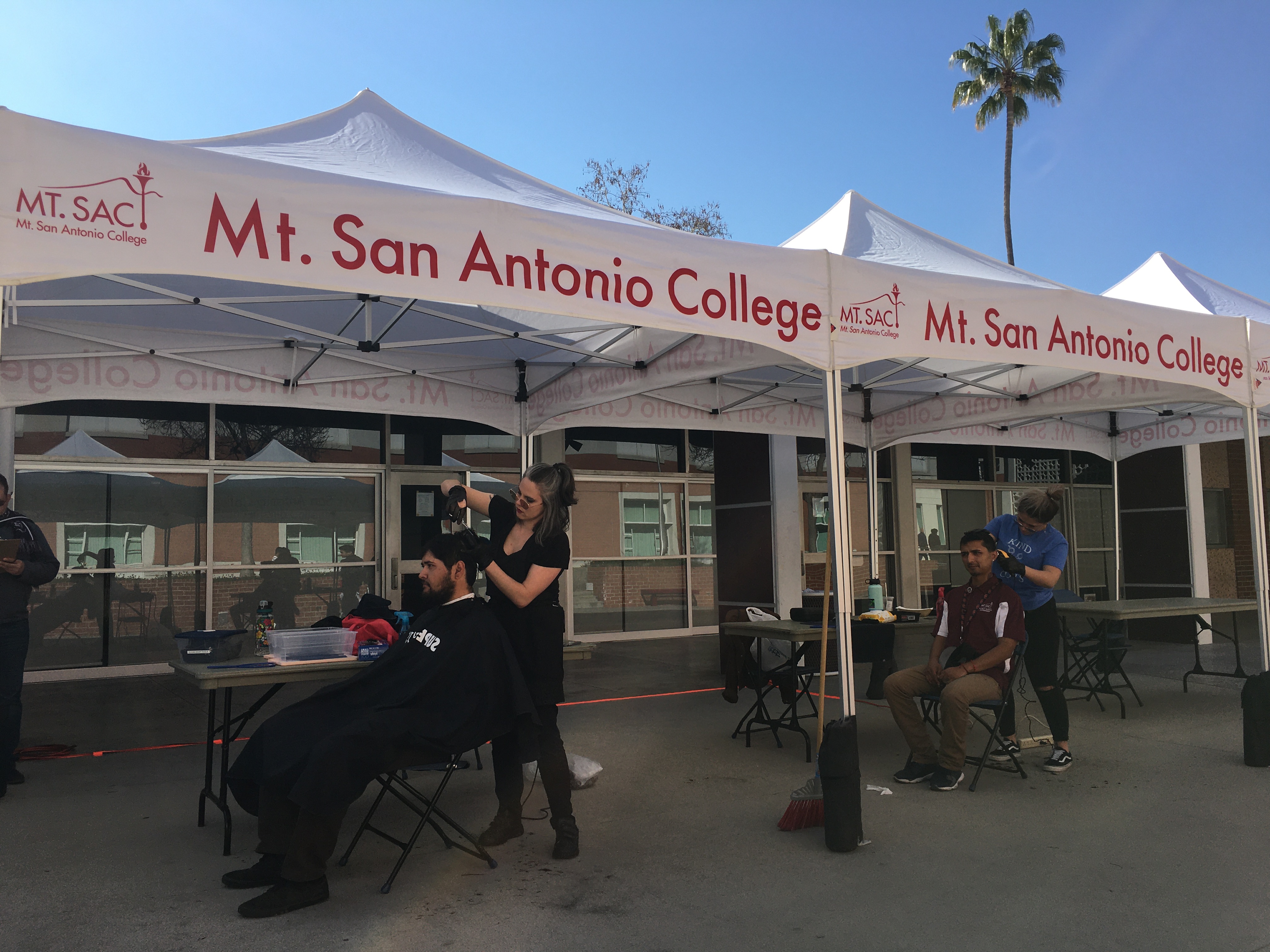 "Cuts are around $25 and that's not really practical for a lot of people, especially if you're getting it every week, so we thought everyone would appreciate a free haircut," Dababneh said.
"You have to take care of yourself, like every week if you're a guy, unless you're growing your hair. So I related so much to this cause," Dababneh added in regards to the reason why they chose to give free haircuts.
According to McDonald, the waiting list for the free haircuts they offered was very long because of the unexpected amount of people who showed up for their event.
"Since we were there during the job fair, a lot of people wanted to get haircuts in order to look more professional for their job interviews that same day," McDonald said.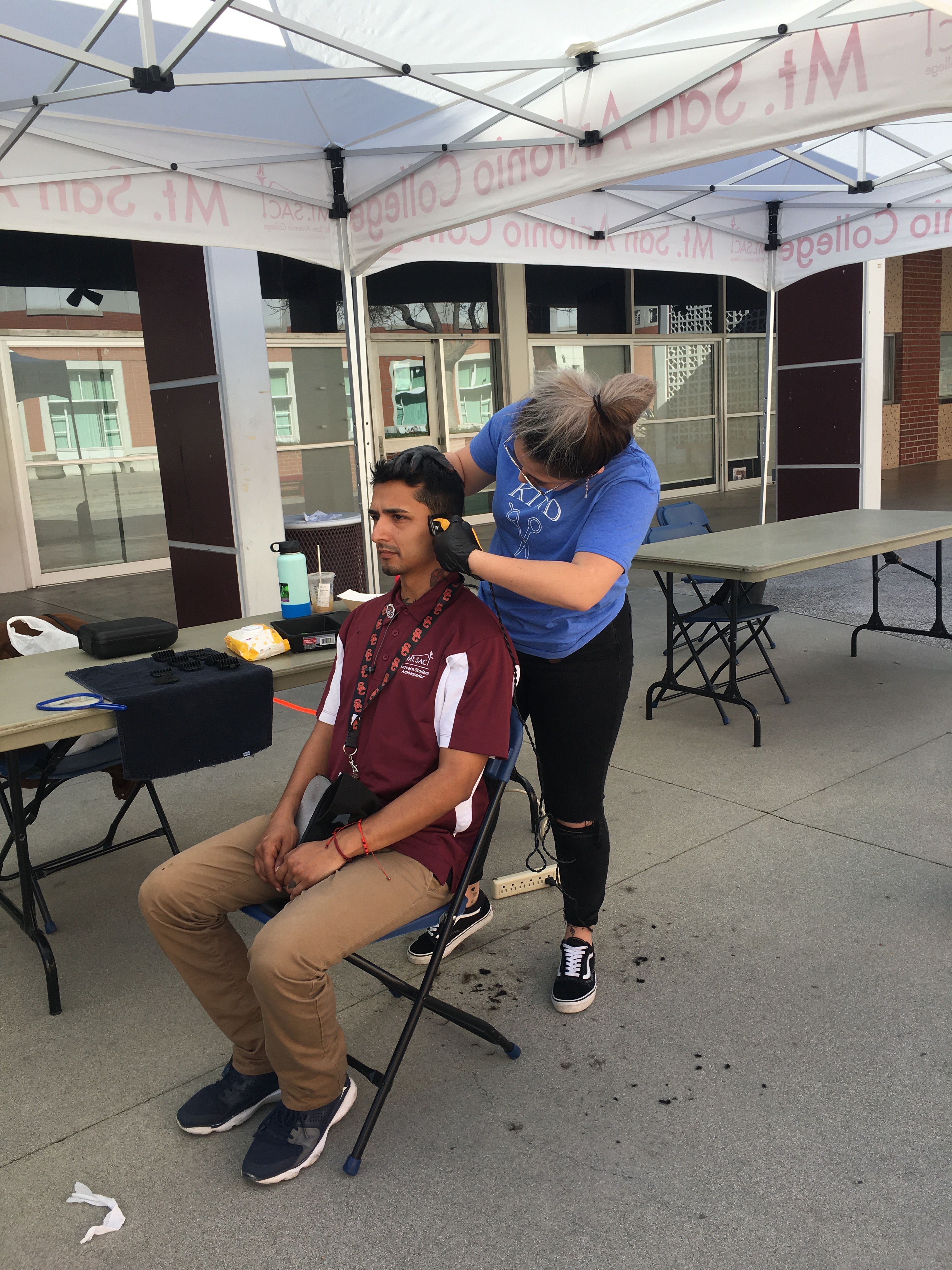 While Dababneh and McDonald were busying themselves with their never-ending turnover of customers, a student came across them and volunteered his time to help out.
"He came up and was like, 'Can I help? I'm a barber. Let me get my stuff; I have my tools in the car.' We didn't expect him to come back, but after about 10 or 15 minutes later, he was there with a suitcase full of his tools," McDonald said.
"He came back and he brought another guy with him—another barber. It was great because the professional stylist had to leave early and those two guys just took care of it for free, no charge at all," Dababneh added.
Both McDonald and Dababneh wanted their kindness project to impact someone's life for more than one day.
"Once you see kindness, you want to do kindness and that's exactly what those two guys did," McDonald said. "They didn't have to go out of their way to help us out, they could've just left but instead, they helped us out and we probably gave more than 30 haircuts that day."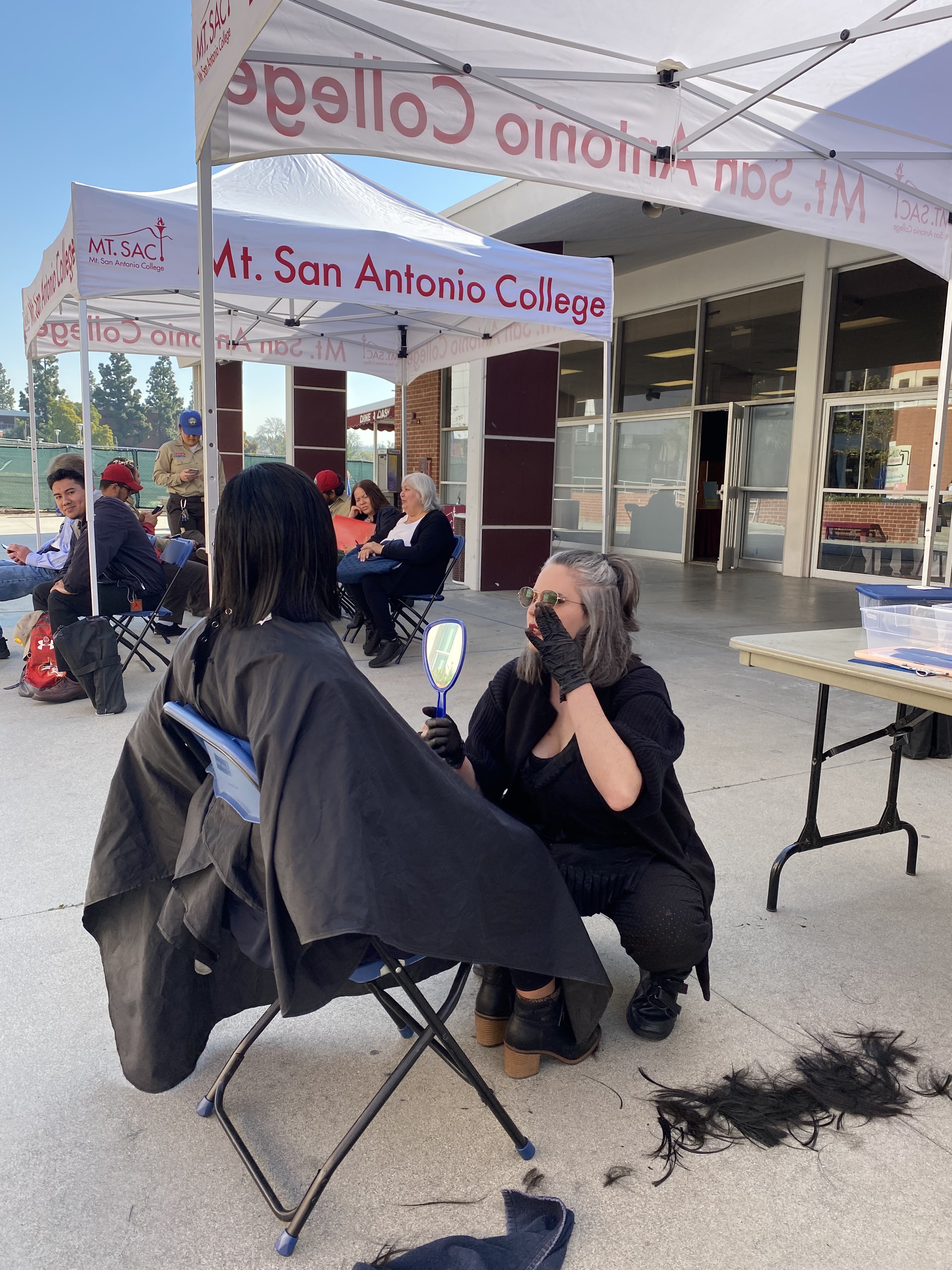 Both Dababneh and McDonald did not mind spending six hours providing free haircuts on campus because for the both of them, the overall joy and boost of their morales were good enough.
"The people were very thankful and appreciative of the kindness that we were spreading and appreciating the message that we were spreading, so that's more than enough for me," Dababneh said.
"I know that we made all of those people's day, so I'm glad that I was able to take part in a really awesome experience," McDonald added.
The other groups in Laverty's classes took a more fun and cute approach for their kindness projects.
"Since Valentine's Day was coming up, we related that event to our group project, which is why we chose to give out little teddy bears with encouragement notes attached to it," communications major Hannah Miller, 24, said.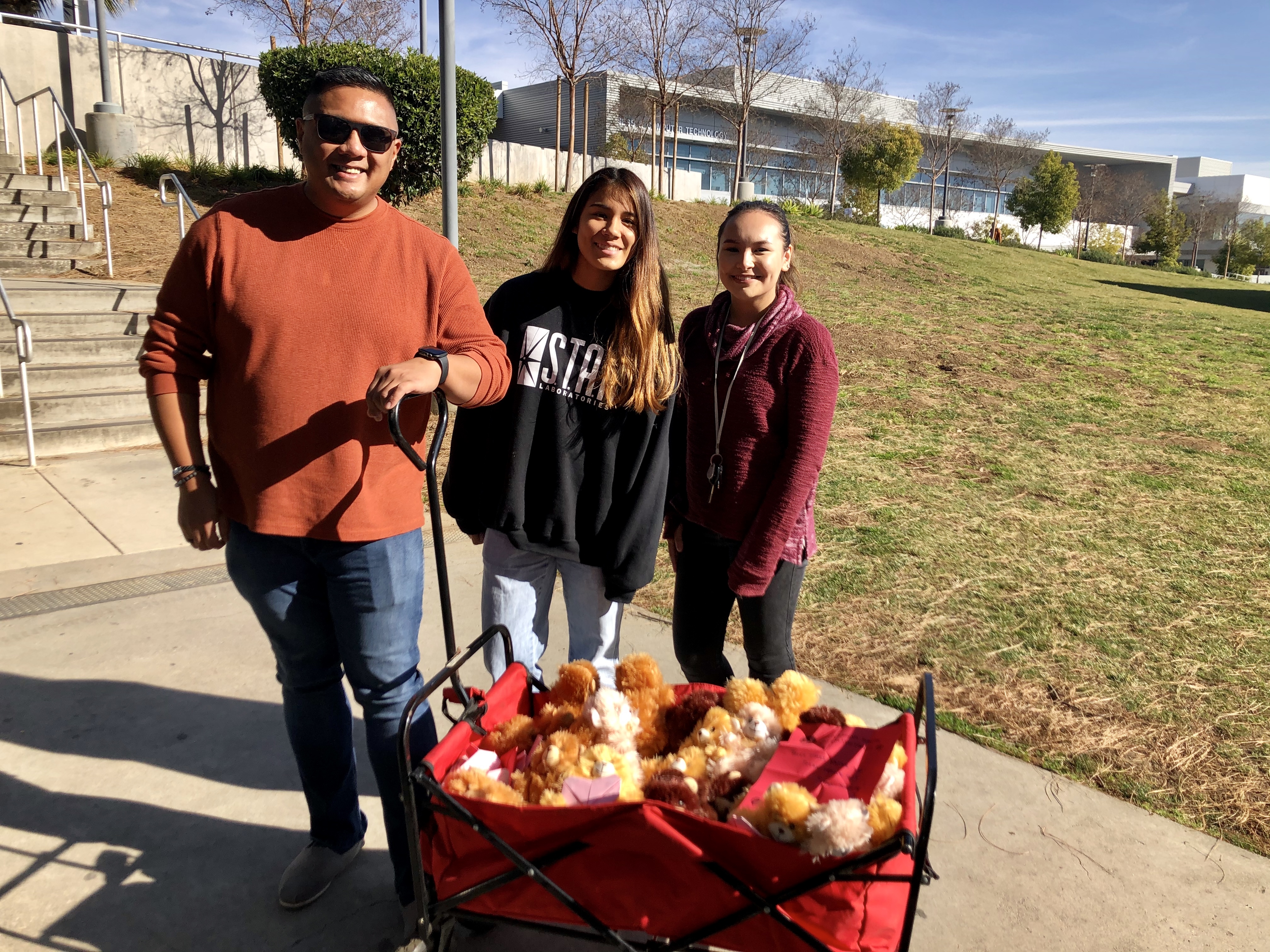 "At first, I was nervous because we had to go up to people and in a way, present ourselves and you never know people's reactions," Miller said. "While giving out the teddy bears, the people at first didn't want to accept it, but when we said it was for free, they were shocked and gladly took them from us with big smiles on their faces."
Miller also added that going out on campus and giving the teddy bears to random students definitely boosted her confidence and taught her to approach people better.
Fellow communications major Caitlin Luu, 20, found it really interesting how people have it drilled in their minds that there is a catch when receiving something for free.
"We were kind of awkward at first, which was probably another reason why people thought we were asking for something in return for the teddy bears," Luu said.
"Some guy even asked where he should sign because he thought we were collecting signatures for something, so I guess it goes to show that people definitely need to allow more kindness in their life," Communications major Angela Sifuentes, 18, added.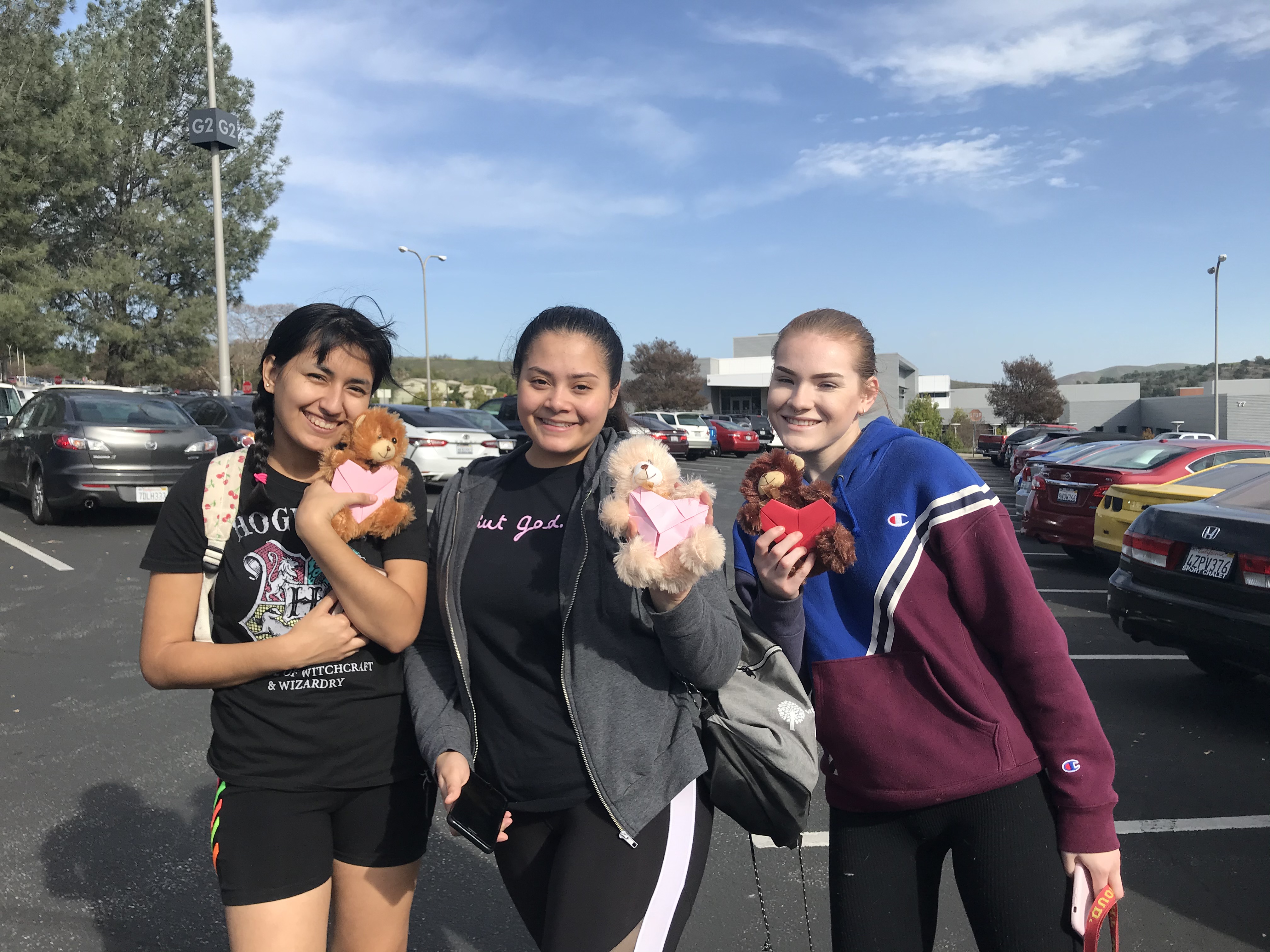 Environmental science major Rosie Tanori, 25, and her group gave out free donuts and coffee in the mornings. They had their tables set up in front of building 26, as well as right by the corner heading towards building 13. The group wanted to ensure that students who have early morning classes could get free breakfast.
"We wanted to bring coffee and donuts to students in the morning who did not have breakfast," Tanori said. "We know students oversleep or some can't afford it or they don't think that it's important to have breakfast, so our main purpose was to help out in our own little way."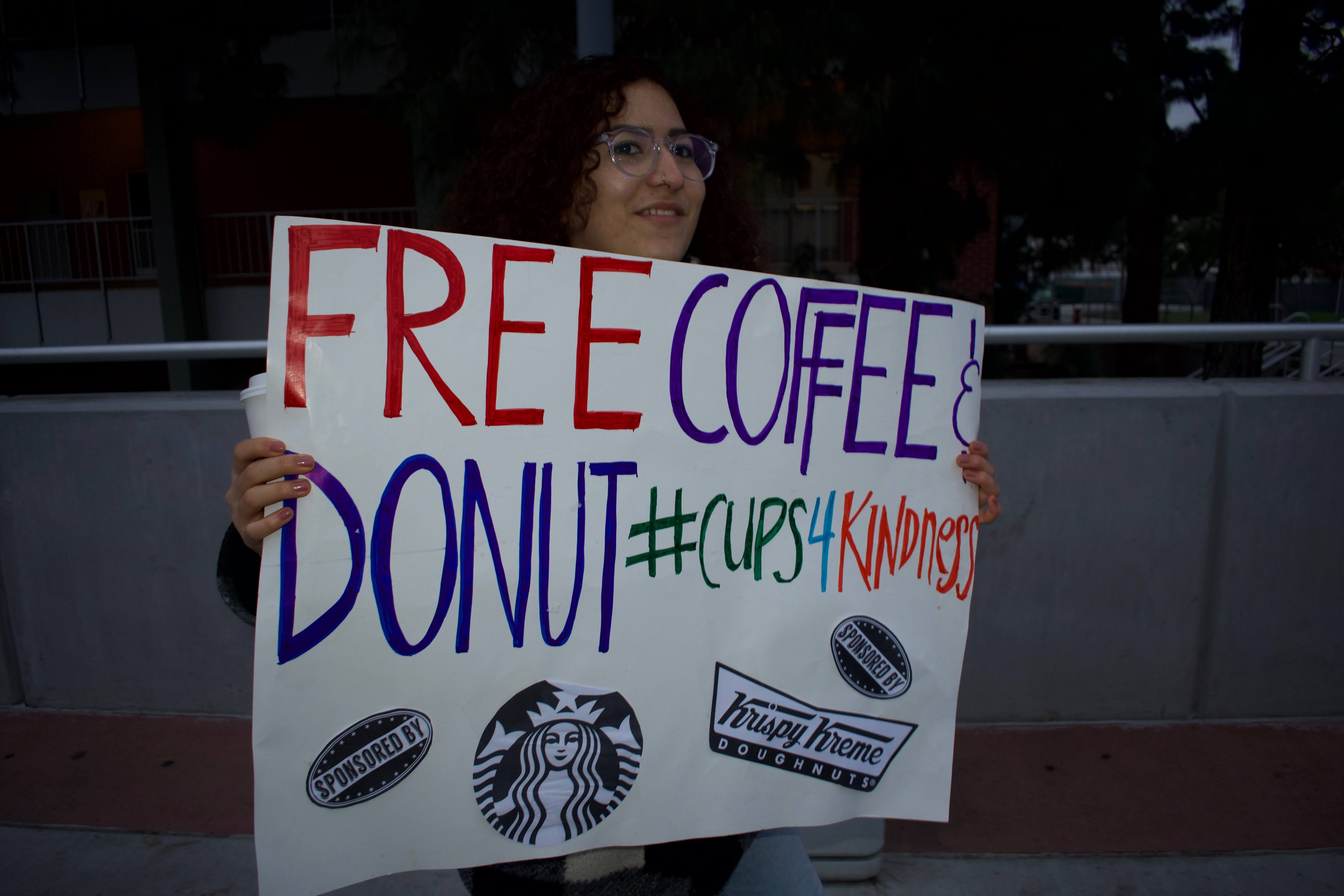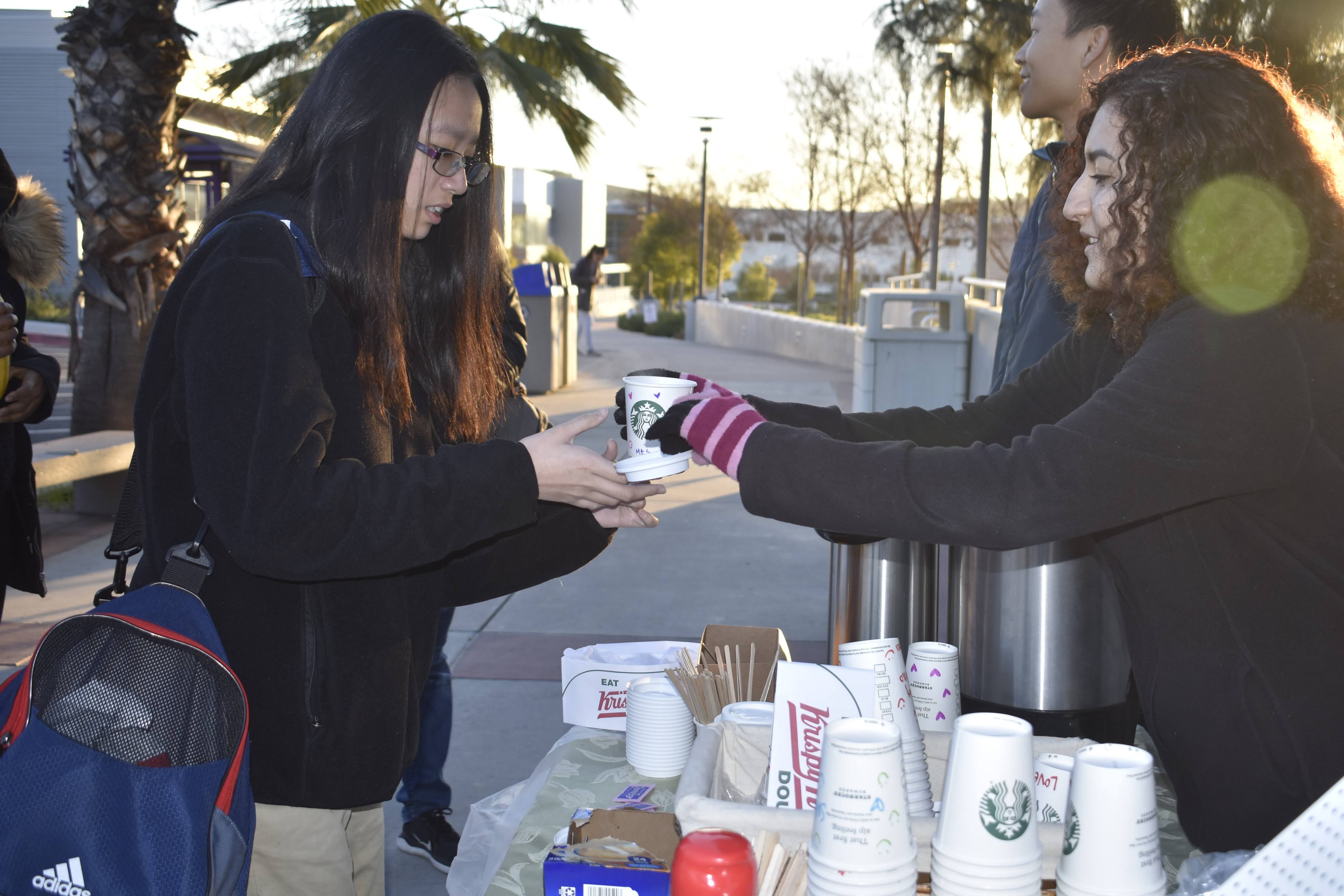 "Food is a universal and comforting thing. We wanted our project to have meaning and we also want students to know that there's always someone out there who has your back—if you can't afford to have breakfast, we got you and you don't have to worry about expenses or anything like that," 21-year-old Desi Melendez, communications major, said.
"After giving out free donuts and coffee the first time, I felt really giddy. I had a burst of energy out of nowhere and it carried on throughout the week," Photography major Justin Chang, 27, said regarding his experience.
"And each week we did it. Even though I dreaded waking up at 5 a.m., I looked forward to the smile we would bring to other students who would receive the free breakfast," Janet Nguyen, 19, who is a mathematics major, added.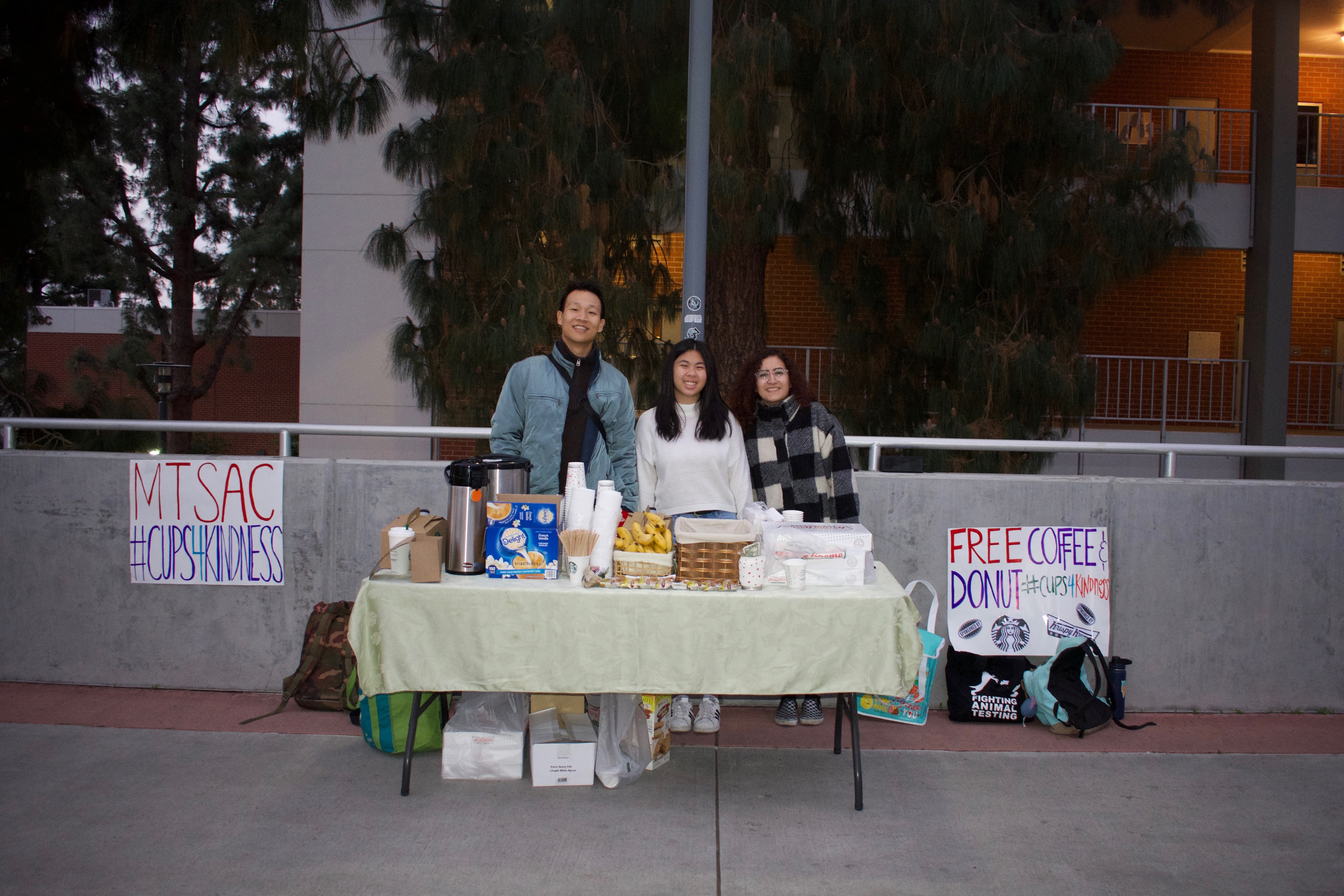 Another group gave out 1,000 "kindness cards" around campus and encouraged the receivers to pass it along to someone else.
"We created cards to give out to people so that they can have a really good omen to start the day or to end the day so that their mindset will begin or end on positivity," Communications major Ryan Oentojo, 21, said.
"Kindness doesn't have to be a huge gesture; it can be really simple but very impactful. Once you impact someone's life in a positive way, they tend to spread it around in their own way, too," Krystal Aguinaldo, an 18-year-old world languages and global studies major, said.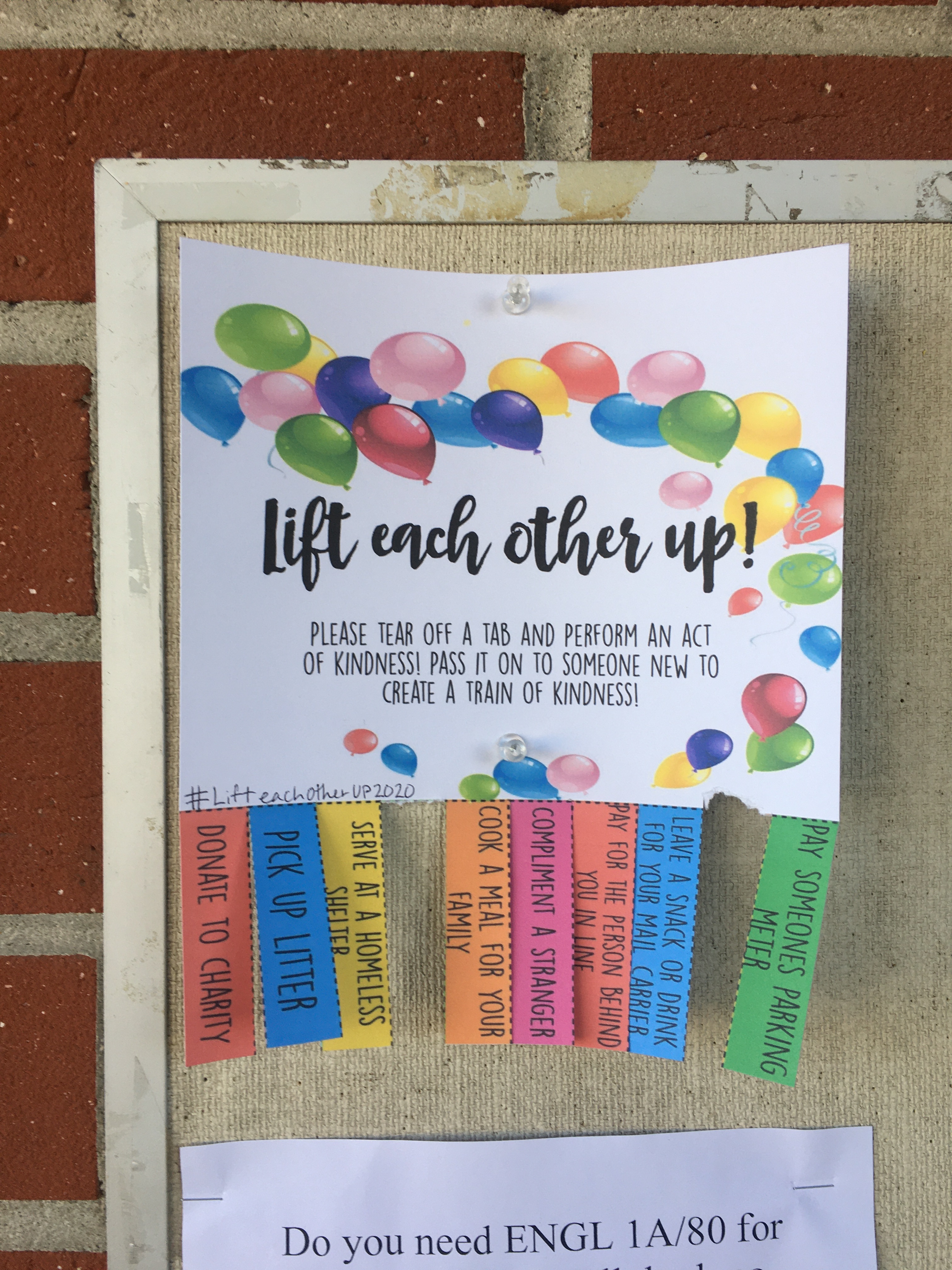 Another group came up with a practical approach for their project. They wanted to help out their fellow students with their parking problems, so they decided to put money in parking meters that are expired or about to expire.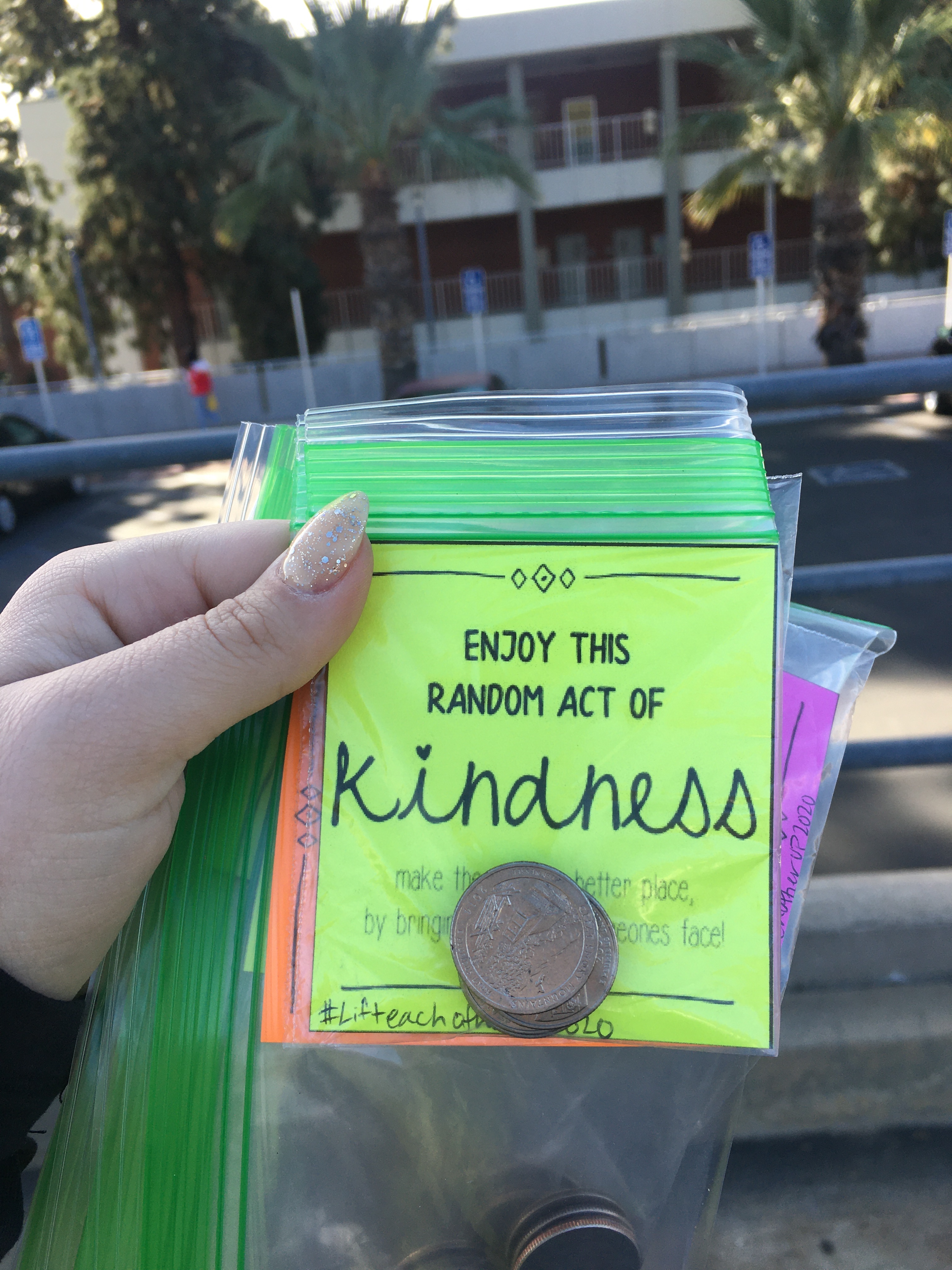 "I feel like I always come a little bit late to school, and there's never parking and parking here kind of sucks," 22-year-old paralegal major Lillian Kinder said. "I always see a lot of meters that are expired, and we know the campus security is very strict when it comes to that so we wanted to help out."
"It makes me happy to know that by putting one dollar worth of coins in a little baggy could actually make someone else's day. I'm sure if I got it, I would definitely appreciate it so I hope whoever we ended up helping out passes that kindness along," 19-year-old Sophia Sandoval, a communications major, said.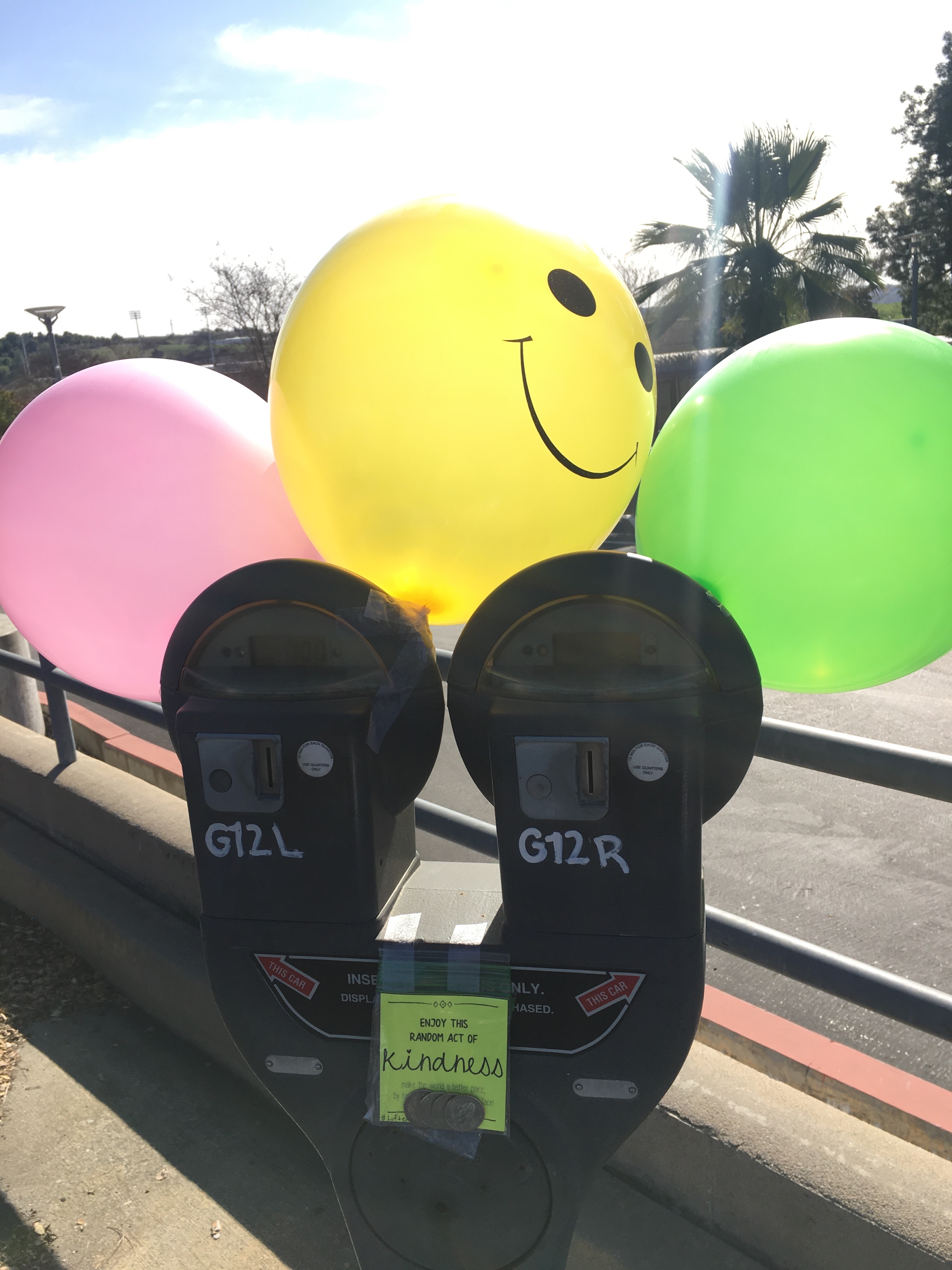 "To be a part of the Mountie Kindness Project was a really great experience. I know that words are very powerful—they shape the way we think and the way we see the world. It's really nice to encourage somebody, and maybe change the way they're thinking or feeling that particular day," Warren Wauren, who is 35 years old and a communications major, said. "Even though there's the Coronavirus that's spreading around, we're spreading the kindness virus to combat that instead."
Even though these times can seem so chaotic, we can always choose to filter what we listen to, as well as how much information we wish to allow our brains and our hearts to absorb on a daily basis. And we can choose instead to focus on creating good and sharing kindness, whenever and wherever the opportunity arises. Being at the forefront of a kindness revolution, and through professor Laverty's Mt. SAC Kindness Project, more and more students get to spearhead life-changing events that does not require grand gestures.
Leave a Comment
About the Writer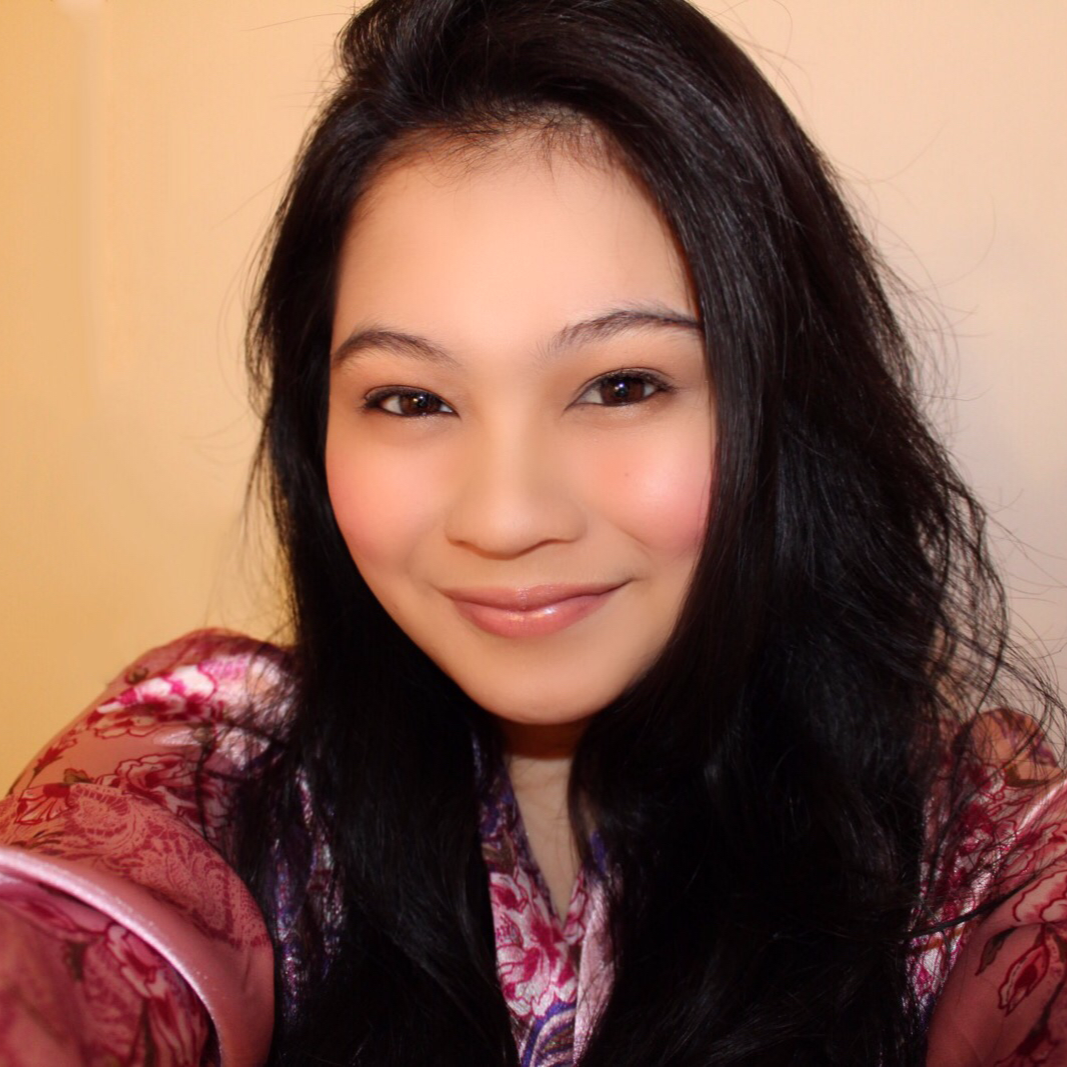 Ferry Baylon, Editor in Chief
Ferry Baylon is the editor in chief of @SAConScene on Twitter. She finds great comfort in reading books, crime shows, pizza, K-pop, and Britney Spears. Her ultimate goal in life is to become an inspiration to someone.