Students Go to Class, In Sickness And In Health
Some students who are sick may have absences that will hurt their grade, despite warnings from the college for faculty to let students stay home
Faculty, students, and administrators at Mt. SAC have been put in compromising positions due to the spread of the coronavirus, formally known as COVID-19. Mt. SAC students who feel sick can be penalized for their absences, even though public health officials and the college have advised those who feel sick to stay home.
On March 2, Mt. SAC distributed a mass email to students and faculty to address concerns over the spread of COVID-19, more commonly known as the coronavirus. In the email, the college advised students to practice good hygiene by regularly washing their hands and avoiding touching their faces, but did not stress any need for immediate concern.
A flyer was included with health tips, one of which instructed sick students to stay home.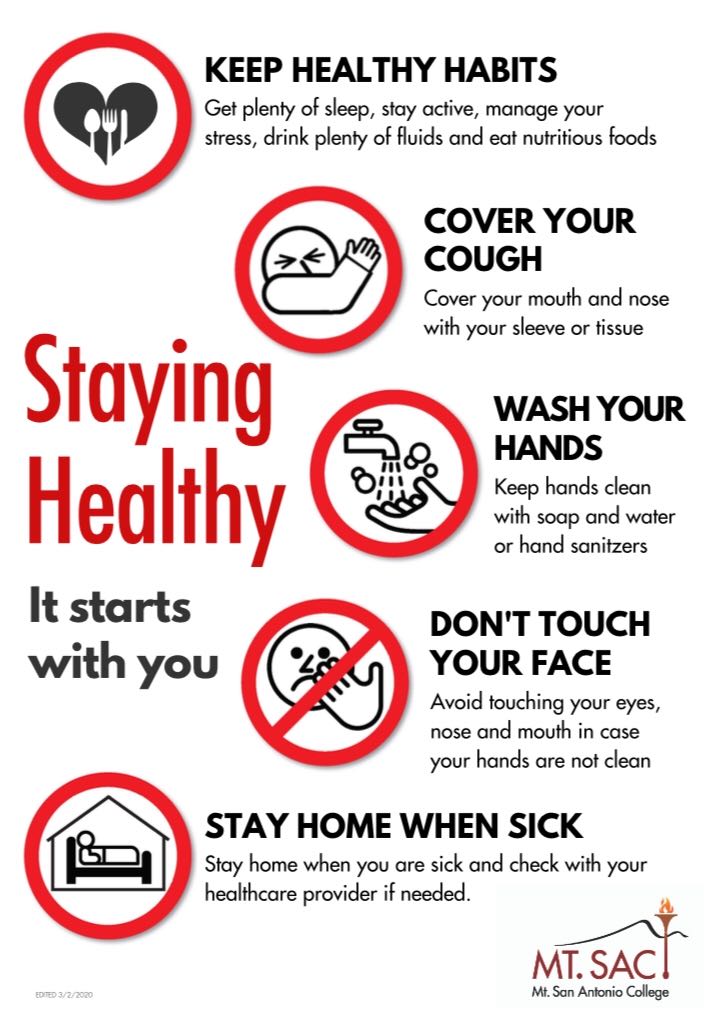 Two days later, on March 4, the Los Angeles County Public Health Office declared a local and public emergency. The release included the following statement: "Public Health is also asking businesses, schools, and community-based organizations to prepare plans that allow people to stay home if they are sick (even mildly) without the risk of being academically or financially penalized."
Yet some students at Mt. SAC feel they are not receiving any of the accommodations that were recommended by the county public health office, and in fact feel penalized for absences by certain professors.
Natalie Lu, editor-in-chief of SAC.Media, stayed home sick for a week and felt guilty over having to miss class time. Lu was prescribed medication for a throat infection and cough. However, she preferred to stay home so she wouldn't risk spreading her illness to other students.
Lu reached out to her yoga professor on March 4 to explain her situation and was advised by her professor to bring a doctor's note, but was also told by her professor that she would only be excused for two absences.
"I was kind of pissed," Lu said.
Lu did have a doctor's note, but said she was especially upset because yoga class involves close proximity between students. She felt the professor should have been more understanding.
Lu is not alone in her frustrations.
Broadcast journalism major Ravyn Warner, 20, also felt a lack of cooperation from a professor.
Warner said that she was not feeling well due to a bad cough. After visiting the emergency room, she said that she was advised by a doctor to stay home for a few days as a precaution due to COVID-19.
According to Warner, she emailed six professors on March 4 stating she would be out until March 6 and requested to be sent any assignments she would have missed through email. The response she received from one particular professor was similar to the one Lu received.
Warner said that she did not want to argue with the professor about attendance points, but she was concerned about missing assignments. She said that she replied to the professor asking if she would be missing out on any assignment points.
According to Warner, her professor sent a response saying, "You lost points for not being in class and participating in our class activities."
Warner said she felt this was unfair and reminded the professor that she had a doctor's note.
According to her, the professor then replied, "The doctor's note only excuses the absence from counting as an absence in the gradebook. You don't earn points for not being here and doing nothing."
Warner added that she was extremely put off by the response.
"It was just petty," she said.
Warner said her other professors all understood her situation.
"They attached assignments Friday night and I sent the email on Wednesday," Warner said.
On March 9, Mt. SAC distributed another email to students and faculty. This email included more extensive information and provided guidelines for individuals who are sick, attending large events or traveling.
The health notification also included the following statement: "In general, if you are sick, please stay home. Faculty and managers are urged to support students and employees who are ill and provide them flexibility to recuperate at home."
Leave a Comment