Close The Campus
Mt. SAC remains open amidst coronavirus pandemic, despite student, faculty outrage — UPDATE: Campus forced to close
Update, March 19, 9:13 p.m.:
A health alert sent from the college announced that the campus is now temporarily closed. This is in response to California Gov. Gavin Newsom issuing stay-at-home order, which requires all Californians to stay home unless they go out in public for essential needs such as meals, groceries, pharmacies, banks and more.
Update, March 18, 4:00 p.m.:
On March 17, policies on employee leave due to the coronavirus were updated and sent to faculty.
According to the letter on updated policies, requests by management, classified and confidential employees to work remotely will not be approved as of now.
Kristina Allende, a professor of English, replied through email, "As a faculty member I am working from home. Every employee should be allowed the same choice based on the Surgeon General's recommendation. This is a national emergency for God's sake."
English professor Maya Boehner-Stayler also said that all employees should be able to work remotely.
"I don't need to outline any further reasons for allowing ALL of our staff who can work from home to do so," Boehner-Staylor wrote. "This includes deans, librarians, support staff, and anyone else possible."
Boehner-Staylor added, "I will say this. I've been at Mt SAC for nearly 20 years, and I've always been proud of our college, our leadership, and our spirit. Until now. Now I am disappointed to the point of disgust."
The guidelines also stated that faculty, classified, confidential and management employees are eligible for up to 14 days of paid sick leave for self-quarantine. Employees under these categories are required to provide a note to Human Resources from a medical professional recommending quarantine.
Allende wrote, "Isn't the fact that the Surgeon General of the United States has recommended that we all self-isolate enough of a doctor's note to get every employee paid leave to self-isolate?"
Jerome Adams, the U.S. Surgeon General, warned Monday that the United States could become similar to Italy, which now has 35,713 confirmed cases, and added that social distancing could help slow the progression.
Another English professor, Rocio Avila, also cited the Surgeon General's recommendation to self-isolate, as well as her husband's experience working in a hospital during the pandemic.
"Part of this is to flatten the curve and NOT overwhelm hospitals. My husband who works with Kaiser is no longer allowed to use conference rooms there as they are ALL being turned into makeshift emergency treatment rooms for patients," Avila wrote. "Our health professionals at the frontline are taking this VERY SERIOUSLY, but it seems Mt. SAC leadership is not."
Maximum limits on the amount of leave that faculty, classified, confidential, or management employees can use have been updated and lifted. However, if an employee uses up their sick leave hours, they will have a negative sick leave balance. Employees are required to re-pay that negative balance with future sick leave balance or when they are no longer employed.
Moreover, for an employee to get paid sick leave because they are taking care of a family member at risk of health complications, they are required to submit a notification stating the age and health risk factor of the family member.
As for those with children affected by school and daycare closures, the employees of the groups above are required to submit a notification of the child's age and proof from the school or daycare that states how long it will stay closed.
Gary Enke, professor of English and humanities, wrote, "In addition, are you really suggesting that faculty with children verify that their child's school district is closed when that information is readily available on line and when the Governor has said that he expects schools to be closed the rest of the school year? Are you also suggesting that we flood our health care providers with requests for letters and take them away from their urgent task of saving lives?"
"The federal, state, and county governments are urging citizens to stay home whenever possible to minimize the spread of the COVID-16 virus so that hospitals are not overwhelmed and be forced to deny lifesaving medical services," Enke added. "Why are we making it so difficult for managers and staff to do their part? We are in a crisis. I urge you to rethink these guidelines and provide directions that reflect that fact."
SAC Media has reached out to Mt. SAC Vice President of Human Resources Abe Ali and are awaiting his reply.
Update, March 17, 4:44 p.m.:
A comment made under the official Mt. SAC Instagram account has been deleted. The now-deleted comment was in response to another comment from @mountie.media, which was clarifying to a user that the college is not completely closed.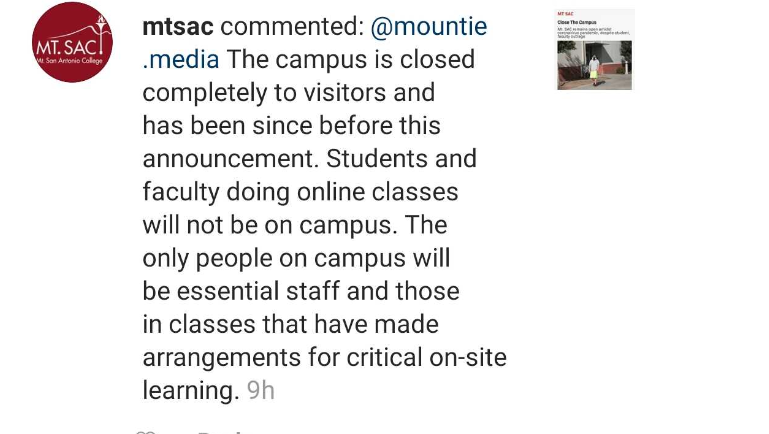 Update, March 17, 4:22 p.m.:
According to the Sacramento Bee, California Gov. Gavin Newsom announced last night that Californians should stop gathering in groups altogether.
Gary Enke, professor of English and humanities, said in an email to the dean and associate dean of counseling, "I know that the College is still directing counselors and other staff members to remain on campus and provide face-to-face services to students, in clear disregard of every recommendation and directive coming from epidemiologists and other public health officials."
SAC Media reached out to counseling and were told that there are no in-person counseling services at this time, and that counseling is only being done online or through phone calls.
However, a health alert sent from the college on March 16 stated that all service programs and departments will stay open. It also stated that all offices in student services in building 9B, the library and tutoring centers will be open, meaning that employees will still come to the campus.
Enke acknowledged the need for some services in his email.
"I understand the need to provide food and health services to students. That makes absolute sense," he wrote. "However, does it really make sense to provide other, non-urgent services to students if the price is possible exposure of staff and students to the COVID-19 virus? The consequences to students from the marginalized communities that the College serves, many of whom lack access to adequate medical care, could be catastrophic. Hence, I urge you make the ethical decision to cease in-person services and do your part to protect the public health."
In an interview with Mt. SAC President William Scroggins on March 17, Scroggins said that the college is closed for two weeks so that faculty can prepare for online transition.
The college's health alert sent on March 16 states, "As of the date of this posting, the campus is still open to students, but not to visitors. We have not closed. All service programs and departments will continue to remain open."
Scroggins also said, "There are no community colleges except for Riverside county that are closed."
Scroggins added that the college is working with faculty to shift hands-on courses such as science labs and shops to online instruction.
"If there are some components of face-to-face that resume, they will be re-configured to maintain the social distance of six feet and no more than 10 in a room," he said. "In addition to our custodial services, we'll have contracted cleaning services to make sure that the campus is undergoing deep cleaning to eradicate virus contamination."
Additionally, according to Scroggins, computer labs will be open for students who go into online courses but do not have access to computers and internet. Scroggins added that the labs will likewise implement social distancing and have masks and gloves.
———–
As colleges, universities and K-12 campuses close all around California, some students are left feeling like sitting ducks, confused whether or not they are required to come to class or stay home. While coronavirus cases soar in California, Mt. SAC continues to remain open. There appears to be no plan for the college to close down the campus.
Today, the Mt. SAC Board of Trustees held an emergency meeting to grant paid leave for employees who are instructed by their healthcare providers to quarantine themselves.
Shortly after the meeting, students received a health alert from Mt. SAC, announcing that the college would cancel all classes March 17 to March 28. It states that the college is closed to visitors, but not to students.
Days before, on March 13, students received a message from Mt. SAC President William Scroggins. The message announced that classes on Wednesday, March 18 and Thursday, March 19 would be suspended to give faculty members training on using online instruction due to COVID-19.
However, some students were under the impression that the college would completely move to online instruction. The college's announcement does not mean that the college will close down the campus, even as other school districts around it close their schools.
The West Covina Unified School District closed all schools within the district after someone in connection with West Covina High School tested positive for COVID-19. West Covina High School is roughly five miles away from Mt. SAC.
School districts of Walnut, Pomona, Chino, Covina and Rowland Heights have closed their schools as well.
The Los Angeles Times reported that 40 colleges and universities in California have either closed or have suspended in-person classes. Mt. SAC has not closed, nor has it suspended in-person classes. It has, however, cancelled classes beginning tomorrow through March 28.
One university, Cal State Fullerton, announced that it would move all courses, including labs, studios and other face-to-face courses online. It also announced that it would suspend all campus functions that are deemed "non-essential." According to a statement, it has limited student services to clinical and health services, while other services such as the library and veterans resource center "will be available only on a case-by-case basis and only if they are deemed essential and cannot be provided virtually."
Mt. SAC Vice President of Instruction Richard Mahon explained in an interview with SAC.Media on Saturday, March 14, the reason for initially cancelling classes on Wednesday and Thursday.
"We determined this week that we wanted to provide time for faculty to get training and have time to prepare courses for the shift to online delivery, if that becomes in mandate," Mahon said. "And we thought if we did it Monday or Tuesday, then faculty would have to cancel those classes and students would not have time to know what was going on."
He also clarified that the college is not planning to close at the time of the interview.
"So we thought we will have faculty meet Monday and Tuesday, have time to talk to students to explain that we are not closing. We are not canceling classes," Mahon said. "Those are both rumors that have become quite common as students read news stories from other colleges, and read summaries and arrive, I think, [at] mistaken conclusions both about those colleges and what Mt. SAC might do."
At this time, the decision to move courses online would generally fall on professors, according to Mahon.
"So far, as much as possible, we have been leaving this up to the professional judgment of faculty in the disciplines and departments," he said. "With qualifications and exceptions, but yes, we are relying primarily on faculty expertise to determine whether or not the requirements of the course can be adapted to an online environment or need to continue to meet in person."
Gary Enke, professor of English and humanities, does not believe that responsibility should fall on faculty.
"I think that puts faculty in a very difficult position and exposes us to potential liability," Enke said. To Enke, if a professor chooses to hold classes in person and a student contracts the coronavirus, the professor would be held responsible. He said that the choice to move online should be on the district instead.
Many professors have ultimately decided to move their courses online.
Barbara Mezaki, professor and chair of American Language AMLA, decided Saturday that all classes in the department would become remote. She has been creating plans to transition with faculty throughout the weekend.
"I received many emails from students who were concerned, especially once the public schools started to close," Mezaki said.
According to Mezaki, many students of AMLA are parents of young children. Because daycares and schools are beginning to close, these students elected to stay home due to their concerns of the virus and in order to care for their children.
However, some other professors have expressed worries about moving their classes online. Mahon cited "qualifications and exemptions" because he said that some courses are not good candidates for a transition to online instruction, such as swimming, welding, chemistry and science laboratories.
SAC.Media contacted the Air Conditioning and Welding Department Co-Chair Dan Garcia who said that not all programs can feasibly transition online.
"I'm concerned for the welding program," Garcia said. "I'm sensitive to the quarantine, but it's not a matter of just going online. Mt. SAC does serve students who are doing career training."
According to Garcia, some students in the welding program need their verification by June.
"They have high-wage jobs and careers waiting for them," he said.
Meanwhile, some students have said that they do not plan to come to the campus at all in fear of contracting COVID-19.
"I am not planning on attending classes next week," Angel Solis, a 23-year-old psychology major, said. "Two of my classes have been moved online. I won't risk my health for a letter grade."
Solis is not alone. Justin Teno , 20, an American Sign Language and communications major, also made the decision to not come to class.
"I plan not to attend classes this week," Tenorio said. "I plan to email all my professors that I won't be showing, hoping they understand."
Tenorio added, "This is serious. Many students and staff can have it and we risk the chance of spreading it to our friends, professors, and families."
Other students still are coming to class in fear that they will be penalized for their absences.
"I'm sick and have no clue what I have. But I already got two people sick. And it sucks that I have to choose between what matters more: my classmates' health or my grade," sociology major Nicole Perez, 20, said. "Obviously I'm choosing my grade and showing up to class tomorrow. If people get sick, that's on the school, not me."
Stephanie Castaneda, 23, child development major, said that only one of three of her professors are transitioning to online courses.
"I am comfortable with transitioning to online courses but there are professors who are strong minded and are set on continuing class because they believe this pandemic will go away soon," Castaneda said. "This is not the case, cases are growing and we have no control over this."
The fact that some students are coming to class shocked journalism major Jennifer Perez.
"I came to the campus and expected to find no one here but there were students walking around and I just couldn't believe that we are being told to come to classes," Perez said. "The idea that we are not closed is just incredible, considering that all the schools around us have closed. Mt. SAC is supposed to be a top college, but they have really disappointed me."
In an email Mt. SAC sent on March 12 providing answers to frequently-asked questions, it is stated, "To encourage sick individuals to stay away from campus, faculty and supervisors are encouraged to provide flexibility for students and staff, as well as minimize any penalties for absence due to sickness. If you feel concerns about the faculty member's approach, contact your department chair or the division office for support."
Kristina Allende, a professor of English and curriculum liaison for English, literature and journalism, said that professors cannot require students to come to class in person. If a student finds themselves in this position, Allende said that they should file a formal complaint with the department chair and then the division dean.
Many students believed that the college should have closed its campus and cancelled classes in the midst of the outbreak.
"I think the school is selfish. They don't care about their students and these students' families," business major Elizabeth Perez, 21, said. "It's insane that they can't just go one week and make an exception to at least give a week off. I understand they don't have the tech to go online yet but it's our health and any SMART person would completely agree to go home. Our health is more important. Why are you guys trying to put us in danger? School should have been shut the moment all other schools did. I'm disappointed."
As an early childhood education major, Monica Santa Cruz, 22, said that she spends a lot of time working in the campus Childhood Development Center and feels the school should consider the safety of the children in the development center, especially because children are considered more susceptible to the virus since their immune systems are less developed.
"We have a child development center with children, and people such as myself go in their classrooms to do observations," Santa Cruz said. "Obviously we don't want anything to happen to those children, so I believe that the school should do something about this pandemic and close the school."
Multiple petitions were created demanding for the college to close, one of which has close to 3,000 signatures.
Biology major Edward Bautista, 19, launched his own petition after a friend of his at Azusa Pacific University started one of her own. Azusa Pacific University will be hosting all classes in an online format effective March 15.
Upon seeing other colleges and universities following suit, Bautista said he felt he had to take action.
"I see schools closing down, taking things to the next level. Everything's turning into online classes. Why can't we do that?" he said. "It has spread [as close as] Pomona. I felt I had to reach out and do something."
Bautista expressed great fear of the possibility of infection, saying that he has older grandparents at home who are more at risk when it comes to the virus.
"I'm sanitizing everything I touch. I honestly don't know what to do," Bautista said. "It's getting crazy. This entire week I spent $500 on just water. There's no water around us."
Before Mt. SAC announced that it would cancel classes on March 16, First District Supervisor Hilda Solis sent a letter to Scroggins and the Board of Trustees, writing "The Los Angeles County Department of Public Health is also taking action to protect the 10 million residents we serve, which is available on www.publichealth.lacounty.gov. To that end, I want to implore you to move classes to online platforms effective immediately."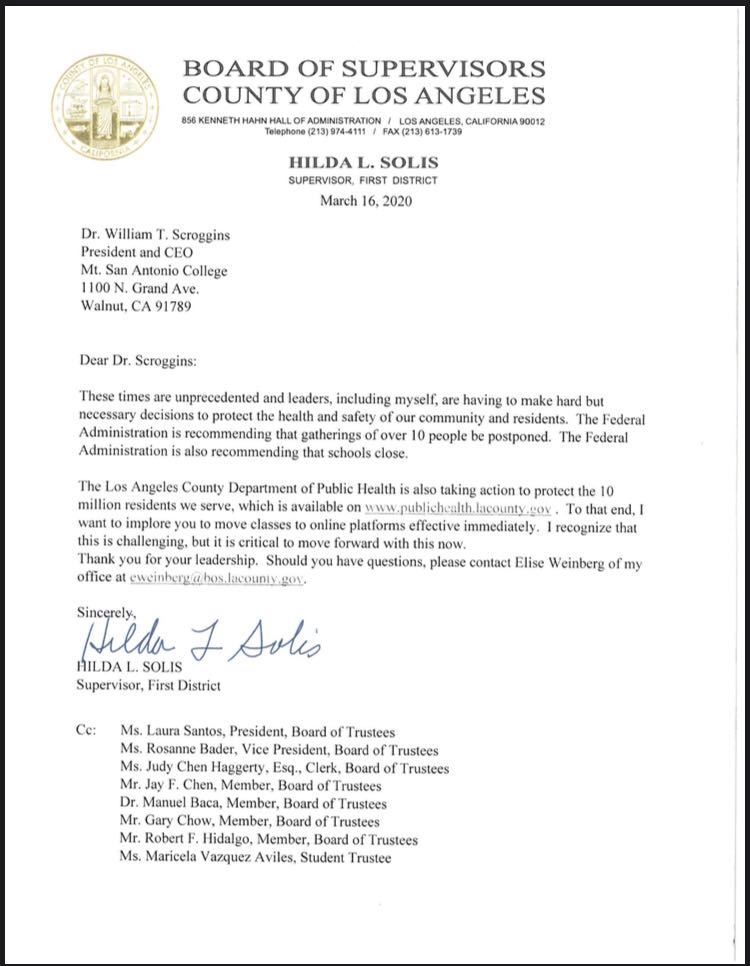 Cancelling classes was not the only concern. Some students reported that professors have given misinformation about how to take care of themselves during this pandemic. A communications student, who wishes to remain anonymous, said that his science teacher told him to drink water every 15 minutes and that it would stop him from getting the coronavirus.
Some students have taken to social media to voice their outrage and concerns. One has even created an Instagram account dedicated to the cause and has spoken to SAC.Media previously.
Others have been vocal on Mt. SAC's official Instagram posts and tweets, as well as Mountie Media's Instagram posts.
One individual, who has asked to remain anonymous, directly messaged Mt. SAC's official Instagram account. In their exchange, the user behind the account repeatedly defended their actions as social media representatives, but also implied that they personally believe the college should be closed.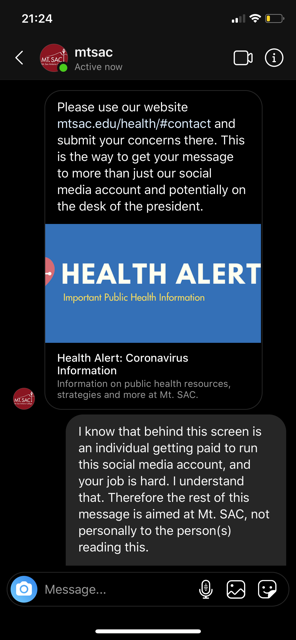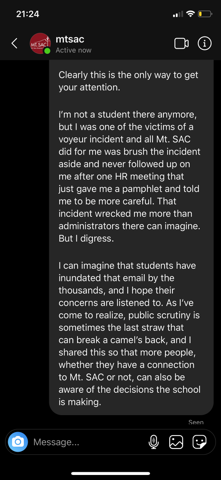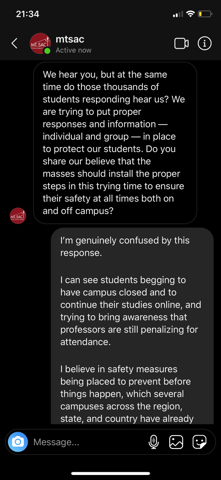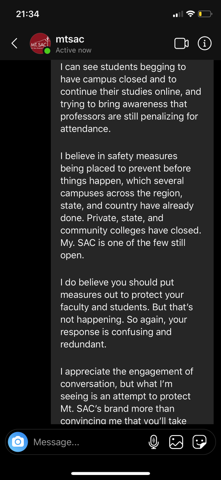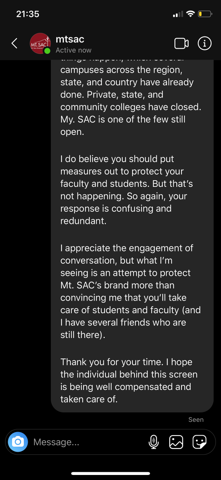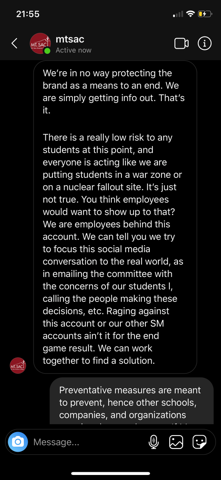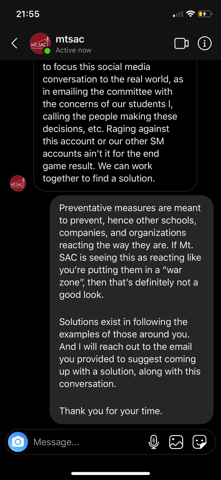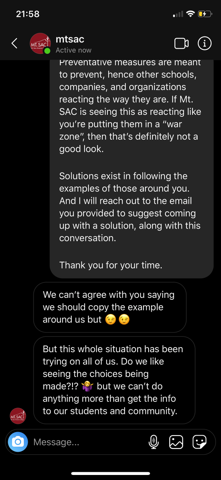 Several faculty members likewise believed that the college should be closed. Kristina Allende is one.
"I think the college's response has been inappropriate," Allende said. "I understand that they're doing some, but I don't think they're doing all that they can in relationship to what we're hearing from the CDC and the governor of our state, and even the mayor of Los Angeles, who is closing things down."
"A lot of other colleges and universities are closing to students, and everything's going online," Allende added. "We are not doing that yet."
According to Allende, the Faculty Association has created a petition for faculty members to sign.
Melinda Bowen, Pride Center director, had made the decision to close the Pride Center, as the "size of the center is very small."
"We have anywhere from 40 to 60 people a day coming in and out of the Pride Center," Bowen said.
Bowen also agreed that the college should be closed.
"Everyone's anxious. Lots of people are scared," Bowen added. "I'm scared myself, and my wife has an autoimmune disease and I don't want to pass it on to her."
"I feel like we've been slow to respond," Bowen added. "I have two nieces who are doctors who have been giving me information daily and saying that this is much more serious than, certainly, we were reacting to begin with."
Many are questioning why the response of the college has been slow in comparison to other schools, with some frustrated because it appeared that the college remained on level two of their response levels.
"When I saw level 2, I was like okay cool they're starting to do something, but they need to move up another level!" Monica Santa Cruz said.
Level two, according to the college's health alerts, is as follows:
"If the local public health department has confirmed two or more community transmission cases in our area, but no individuals (students or employees) at campus have tested positive for COVID-19, in addition to the items outlined above, Mt. SAC anticipates the following actions.
Level four, the last of the response levels, would entail having more than five cases of COVID-19 on campus, according to the health alert from March 11.
The alert states in level four, "If more than five students, faculty, or staff on a campus test positive for COVID-19, the college will consult with local public health officials for guidance on the closure of campus and steps to take to safely reopen."
Jill Dolan, director of public affairs at Mt. SAC told SAC Media in an email, "The college is not and was not waiting for five cases. We are following the guidelines recommended by the California Department of Public Health, as has been outlined on mtsac.edu/health."
Dolan added, "At this point, we're still at Level 2 because the Los Angeles County Public Health Department has determined there are two or more community transmission cases of COVID-19, but no staff or students have tested positive."
One confirmed case from the community was a patient who was pronounced dead at Pomona Valley Hospital Medical Center. She had tested positive for COVID-19, and officials confirmed that she had stayed in a home in Walnut.
Another case was a person connected to West Covina High School who tested positive as well. As a result, the West Covina Unified School District has closed all of their schools, effective March 15.
In Mt. SAC's most recent health alert, Scroggins announced that the Health Center will stay open. Mahon said that on-campus computer labs and the library will also stay open so that students can access computers.
One Instagram user, @_sirenum, was outright in their opinion on the campus staying open.
"It's bullshit. They're being selfish and risking the health of students and staff. They say they're following protocol but what about these other schools that are closing?" they said. "I have a lab class that potentially may be affected, but I care [more] about living than I do my grade. Mt. SAC has a lawsuit on their hands waiting to happen."
At the time of this story's publication, new information was distributed to faculty members by Scroggins, who forwarded a message from Eloy Oakley, the chancellor of the California community colleges. Scroggins wrote in his email that the spread of the virus continues to increase and that faculty should expect significant increases in confirmed cases over the next two weeks. He also wrote that he has been in discussions with the Governor's Office, higher education segment leaders and the Chancellor's Office executive staff.
Oakley wrote that the COVID-19 emergency is expected to go on through June. He requested that all immediate planning be shifted to this time period, and also stated that health officials expect the coronavirus to peak again in August or September of 2020. He asked that all in-person interaction be substantially limited on campuses through June and that colleges continue to move instruction to remote learning platforms.
Oakley also wrote that colleges should consider altering all commencement ceremonies and pinning ceremonies to limit event size or move to a virtual format, and to cancel, postpone or move all events, large meetings or conferences to a remote format for the remainder of the year. This included moving public board meetings to a remote format.
For longer term planning, he asked college administrators to consider moving all courses to the platform Canvas by Fall 2020 to prepare for disruptions to the academic calendar for the 2019-2020 and 2020-2021 academic years.
Leave a Comment
About the Writers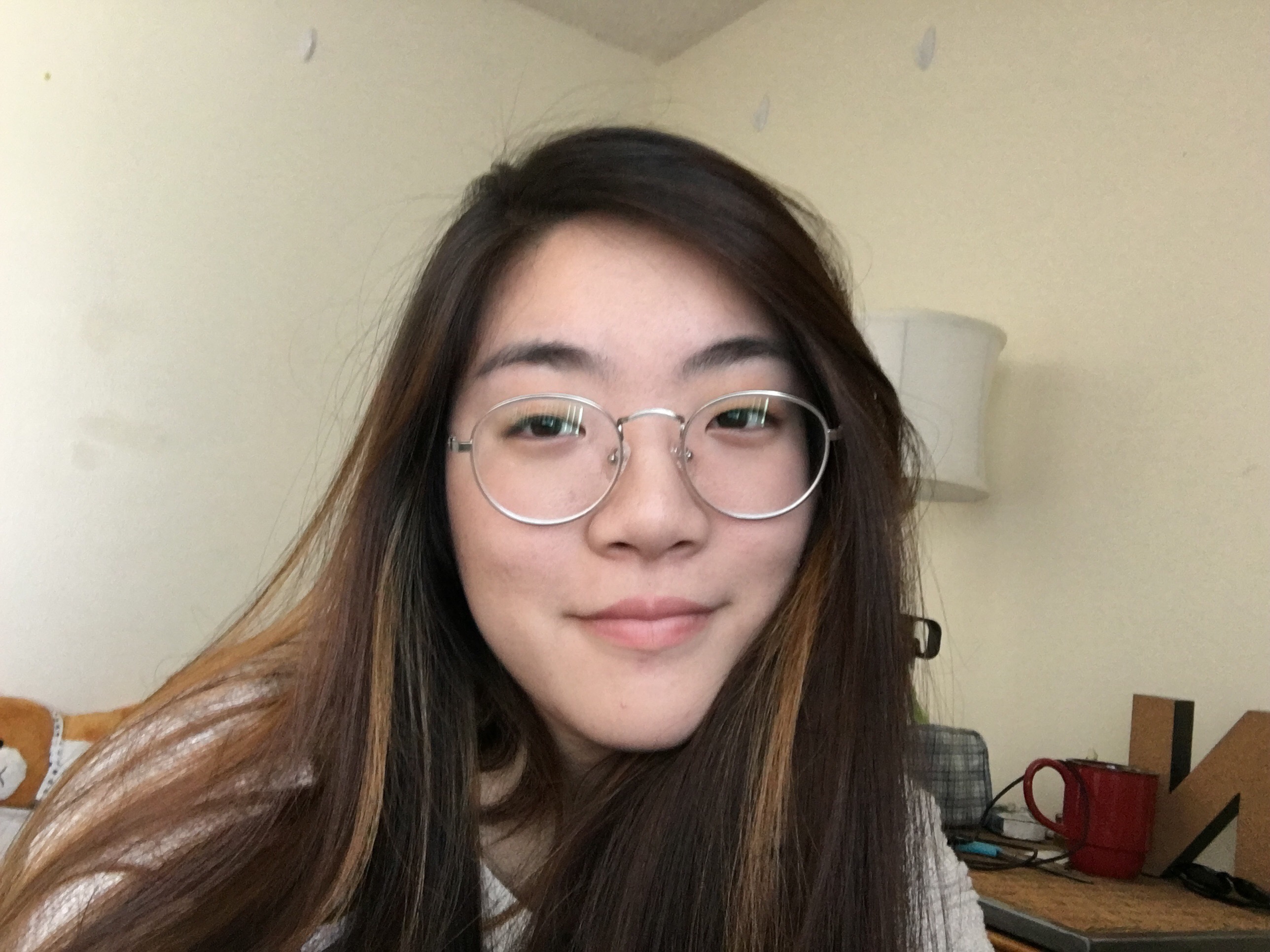 Natalie Lu, Editor in Chief
Natalie Lu is the former editor-in-chief of SAC.Media. You'll generally find her listening to K-pop, watching Brooklyn 99, gushing over her two cats or finding out what weird thing is trending on social media now.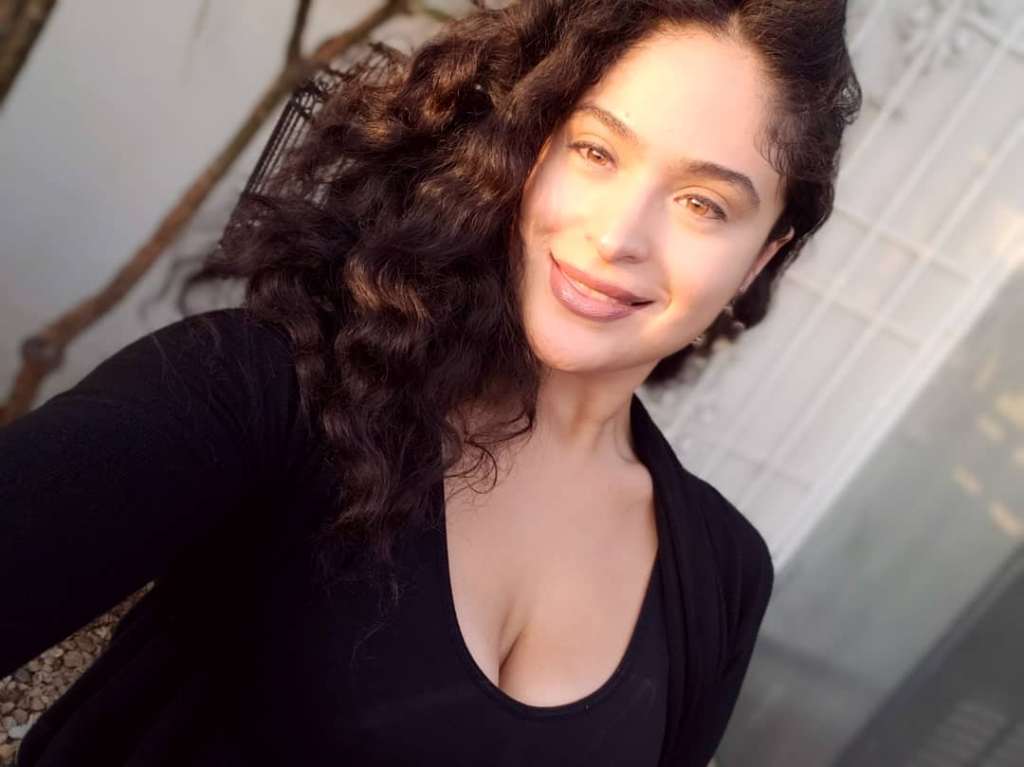 Brigette Lugo, Sports Editor
Brigette Lugo is the sports editor of SAC.Media. She is majoring in Spanish multimedia and her favorite things are The Smiths, family, and telling everyone she's Nicaraguan and Panamanian.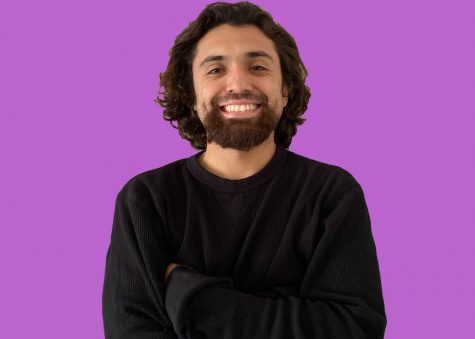 Jesse Espitia, Staff Reporter
Jesse Espitia is the former sports editor of SAC.Media. He has traveled the world to cover soccer or what he calls "futbol." He also covers other sports, politics, local/international news, pop culture and crime.