EDITORIAL: CMA Held Conference During New York State of Emergency Despite Coronavirus Risks
Student conference attendee and conference speaker diagnosed with COVID-19
The College Media Association announced on Saturday, March 29, and Sunday, March 30, that a female student and a professional speaker who attended the CMA Spring National Convention, held in Times Square in New York City on March 11-14, have been diagnosed with COVID-19, commonly known as the coronavirus.
Our student media adviser, along with six students from Mt. SAC's journalism program, attended this conference—a conference that should have been cancelled.
Leading up to the CMA conference, we watched popular music, art and tech festivals cancel or reschedule to summer or beyond due to the coronavirus outbreaks. Several students in the group of editors and public relations students who planned to attend the CMA conference questioned why the conference had not been cancelled. Some of us were beginning to show signs of anxiety.
We continued to meet in the days leading up to the conference, trying to find some reassurance in the notices from CMA that they were watching the coronavirus situation closely and weighing their options. Most of us thought we would likely be fine, as long as we took precaution. We also believed that if there was any danger, CMA would do the right thing and cancel the conference.
Several days before the conference, the state of New York had already reported its first case of COVID-19 on March 1. By March 4, there were 11 cases. By March 6, there were 33 reported cases. On March 7, Gov. Andrew Cuomo declared a state of emergency in New York after 89 cases were confirmed in the state.
Then, our media tours started cancelling.
Before the conference, students entered a lottery through the CMA website. We were all so excited to be chosen to visit organizations such as Bloomberg, Facebook, Google, The New York Post, The New York Times, ProPublica, Sirius XM + Pandora and Democracy Now.
Two days before we would head to New York, we were getting constant messages from Jim Rodenbush, the CMA Awards Committee adviser, alerting us that five media outlets had cancelled. We were looking forward to visiting these organizations and networking with media professionals, but one of the most exciting parts of the conference was now coming to a halt because of major concerns over the coronavirus.
Our journalism adviser, Toni Albertson, tried reaching out via email to CMA at the email listed on the website for concerns about the coronavirus, [email protected], days before the conference with no response, and on CMA's Twitter account @collegemedia with concerns about traveling to the conference. She had invited eight students to attend, four who serve as our student media editors, and four public relations students who would speak on panels with her.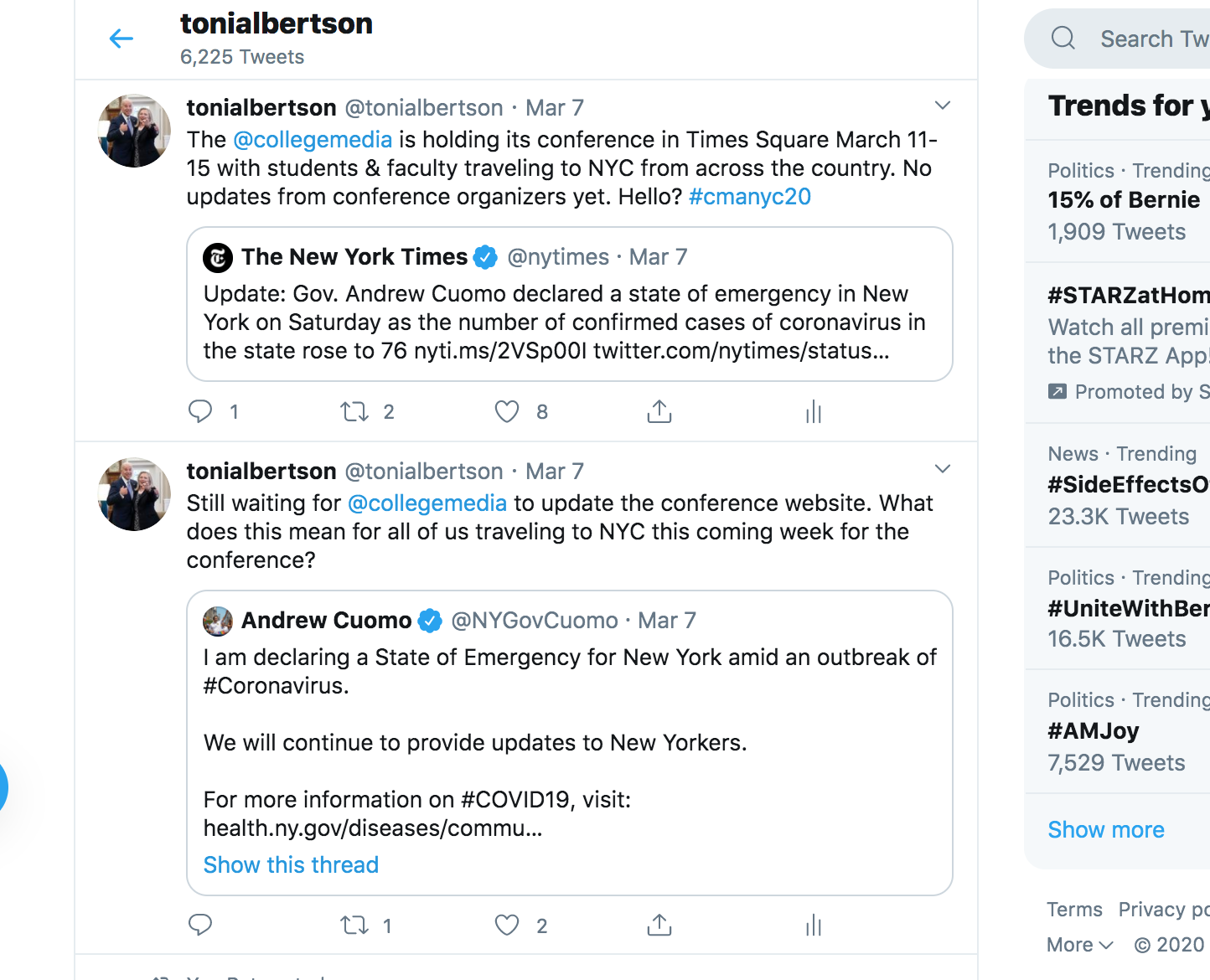 Vivian Martin, Professor of Journalism and Department Chair at Central Connecticut University, tweeted: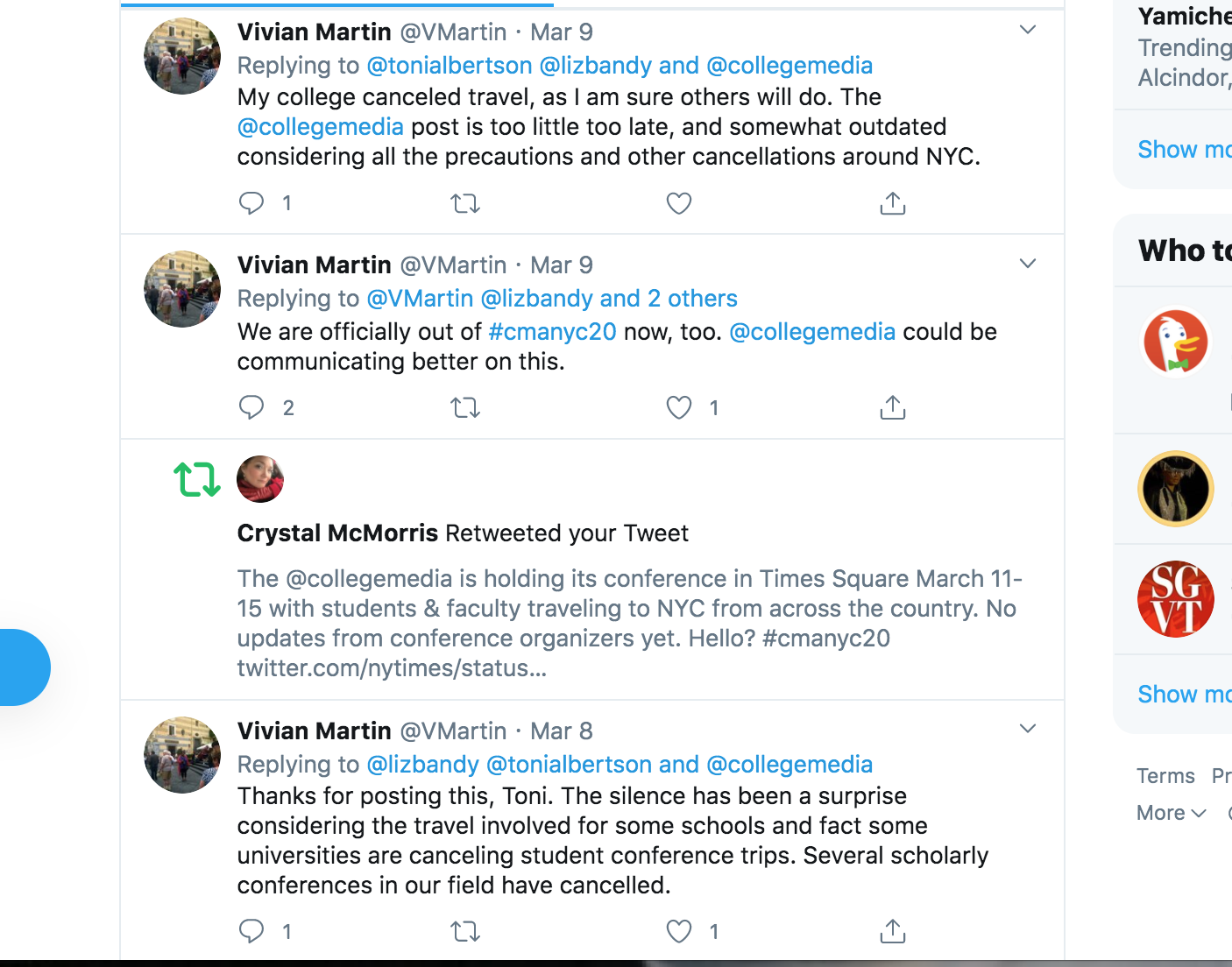 Our adviser also sent an email on March 9 to Meredith Taylor, Executive Director of CMA, that read:
Meredith,
Our college just put out a warning about travel on behalf of our college and the coronavirus. Why has CMA not addressed this concern, other than a post that incorrectly states that there has been one case. Cuomo declared NYC a state of emergency on Friday. As faculty, we all have concerns about traveling with students, and our colleges are concerned as well. I saw that Vivian Martin responded on Twitter that her college just dropped out. I was told that even NYU is discouraging its faculty to not attend large events, even ones in NY. Communication is necessary right now. (I emailed to the link on the coronavirus info on CMA's website with no response since last week).
-Toni Albertson
Our adviser did not receive a response from Taylor until she received a message the day of travel that went out to all speakers. It read:
Dear CMANYC20 speakers,
Thank you for your continued concern about the CMA convention in light of COVID-19. At this time, we have not canceled the event, but we understand many attendees and speakers will not be able to come.
If you are still interested in speaking, we do have attendees who will be here and want to hear from you if you can make it. We will aim to offer them a quality educational experience, even for that smaller group.
If you do not want to speak, we understand and ask you to just let us know so that we can mark your session as canceled. If you have already contacted us to cancel, we have marked your session(s) already, so you don't need to contact us again.
If you attended IRE's NICAR event in New Orleans last week, we understand that an attendee has tested positive for the virus. In the interest of precaution, we would prefer you to cancel speaking at CMA NYC 20 if you were at NICAR (or if you know you were exposed to another person with COVID-19 elsewhere). Please let us know if that is the case so we can cancel your session.
For those that are planning to speak, the hotel has sanitizer stations throughout and we encourage you to take precautions, including washing your hands regularly and avoiding physical contact such as handshakes.
Please let us know if you have any questions. We want all of our speakers and attendees to feel comfortable and safe, so we understand your need to change your plans.
-College Media Association
An announcement sent from CMA on March 10, a day before the conference, stated:
"There currently is no government ban restricting travel to New York City. We chose to move forward with the convention because of the financial implications related to cancellation and because we wanted to serve those members who still are able to attend… We are disappointed that some of you who were planning to attend the convention had to cancel because of coronavirus-related concerns, but we understand.
CMA President Kenna Griffin responded on March 11 in a mass email to attendees that read:
Registered CMA convention attendees,
We know you are concerned about the coronavirus in relation to your plans to attend CMA's Spring National Media Convention. We're monitoring the ever-changing situation closely. As of this March 9 writing, no federal restrictions prevent meetings and travel within the U.S. Therefore, we are moving forward with the March 11-14 convention in New York City.
We are aware that the coronavirus has spread to the U.S., including multiple confirmed cases in New York City. The state instituted new cleaning protocols for crowded places, including public transport. The CDC encourages people to wash their hands frequently to protect themselves and combat spreading the virus. Practicing good personal hygiene is the best way to keep yourself safe from the virus. Read more about the CDC's recommendations at https://www.cdc.gov/coronavirus/2019-ncov/summary.html.
CMA leadership has added hand sanitizer dispensers to all meeting floors and on most water stations on conference floors. The hotel has placed hand sanitizer dispensers at every elevator bank. We will distribute convention badges as usual, but already planned not to distribute convention bags. It is up to attendees whether they would like to take convention programs or other trade show materials. We discourage you from attending the convention if you are ill, especially if you are experiencing flu-like symptoms.
CMA's standard cancellation refund policy remains in place for attendees who cancel due to personal concerns about traveling. However, we are sensitive to the fact that some of you would like to attend the convention, but your university will no longer allow the travel. The CMA board meets Tuesday and will discuss options related to university banned travel. We will communicate with those parties as soon as possible, but it likely will be after the convention ends.
Please let me know if you have any questions or concerns. We will miss those of you who cannot attend this year. We can't wait to see those of you who will be in attendance.
-Kenna Griffin
Griffin notes in her email that there are multiple cases in New York City, but this still did not deter CMA from pushing forward.
With no travel ban set by our college, and at the risk of each editor being at least $600 in debt (before plane tickets are bought, which are non-transferable and non-refundable, and before our adviser registers us for the conference, we sign an acknowledgment with the journalism program that we understand that if we cancel, the ticket and conference registration fees become our responsibility), so we decided as a group to attend the conference.
When we arrived at LAX on Wednesday, March 11, the drop-off areas were much emptier than usual. Two out of the seven of us were wearing gloves, and all of us were sanitizing as much as possible. The interior of the airport, when we arrived at the JetBlue terminal, was less busy than we expected, and a few restaurants and snack shops were completely closed. Our travel day to New York was before social distancing was implemented, so people were cautious but still sat in groups together. On this day, Cuomo announced that the City University of New York CUNY and State University of New York SUNY schools would be closed the following week.
Our group of students learned shortly after arriving at LAX that two students would not be traveling with us. They emailed our adviser in the early morning to let her know that one student was not allowed to attend because her parents wouldn't allow her to, and the other student, who is a caregiver for her grandmother, did not want to risk coming into contact with someone with the virus and then bringing it back to a high-risk family member. Our adviser made the decision that the students would not be responsible for their airfare or their conference registration, considering the circumstances we were all facing.
On the flight to JFK, every flight attendant was wearing gloves, as were some passengers. We were getting updates while in the air from our own college notifying students that there would be precautions taken on campus and to stay home if you were sick. We stayed as updated as we could, and were still not sure as to why the conference was continuing as usual.
We kept refreshing on our phones for updates, and then saw that our adviser had shared on Slack that the Journalism Association of Community Colleges JACC had cancelled the upcoming conference on March 19-21 in Burbank, about 40 minutes out from our campus. We attend every year, and were planning to bring 18 students this year. Incoming JACC president Cecilia Deck wrote in her email on March 11:
Unfortunately, JACC leadership today decided to cancel the March 19-21 convention because of the large number of colleges and speakers facing travel bans. It would have been an excellent convention thanks to you.
I want to thank each of you for your generosity of time and talent. When we are able to reschedule, or next time JACC has a conference or convention in Southern California, we will be back in touch with you. Please, if you were to be part of a panel, let all the panelists know about the cancellation.
Be well, and let's hope life can get back to normal soon.
-Cecilia Deck
When we landed at JFK, there seemed to be more movement there than at LAX. However, we saw masks scattered in the crowds. We reminded each other to wash or sanitize our hands after we touched anything and to not touch our own faces. We met with our adviser to make sure that we all felt safe being in New York. We knew at this point that there were multiple cases within the state, and that it would most likely be getting worse. As a group, we decided that we would try and make the most of the conference, even after our adviser gave us the option to fly back home before stepping out of JFK.
On the way to the hotel, we split Lyft rides. Half of us shared a ride in which we were sitting very close for about 35 minutes. We later shared with each other that we were nervous over being packed in with a driver who resided in a state hit hardest by the virus.
After arriving at the hotel, we checked our conference schedules on our apps. "Canceled" was starting to pop up next to the session titles, starting from that first day. So many sessions with panelists from global and national news and media outlets were not coming. Panelists from colleges and universities who came with what seemed like interesting sessions were not going to show.
The Iron Reporter competition, where students go out in the city to shoot photographs and compete to have their photographs published, was cancelled. If there was no concern over safety, why cancel this competition? We brought our photo editor with us, and she planned to compete in that event.
As more sessions cancelled, the atmosphere changed from "let's get the most out of the conference" to "what now?" Walking into the hotel, the usual hustle and bustle and excitement of groups from different colleges hanging out and checking in was absent. Some of us who had been to previous conferences could see the difference. We observed more gloves being worn.
We took Wednesday to rest up and to calm any anxiety we had about being in New York, even as our sessions and tours were being cancelled. In the past, students would line up to take their Instagram worthy photos in front of the CMA backdrop, but there was no one there. We kept reminding ourselves that we would be okay and that we were in the beautiful city of New York.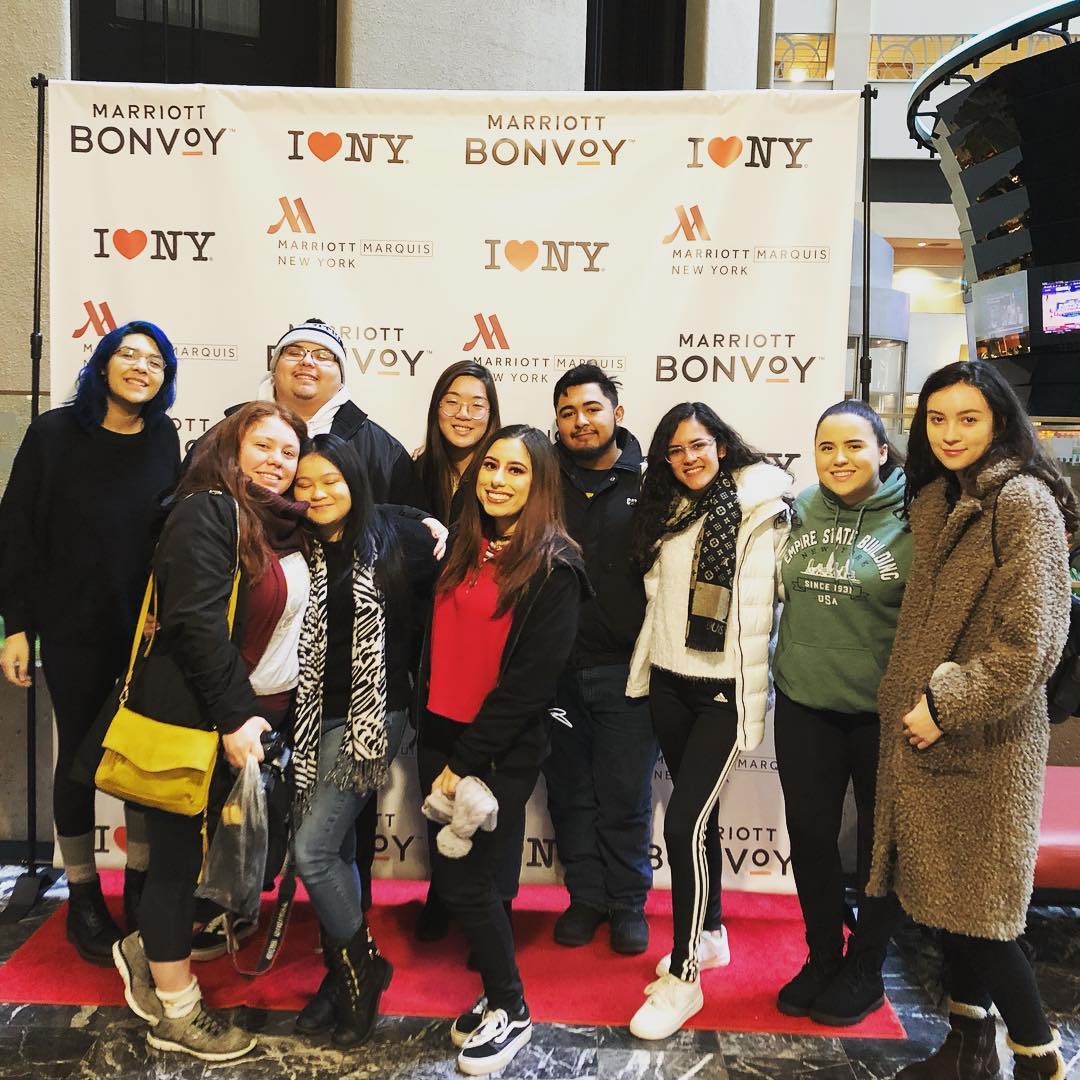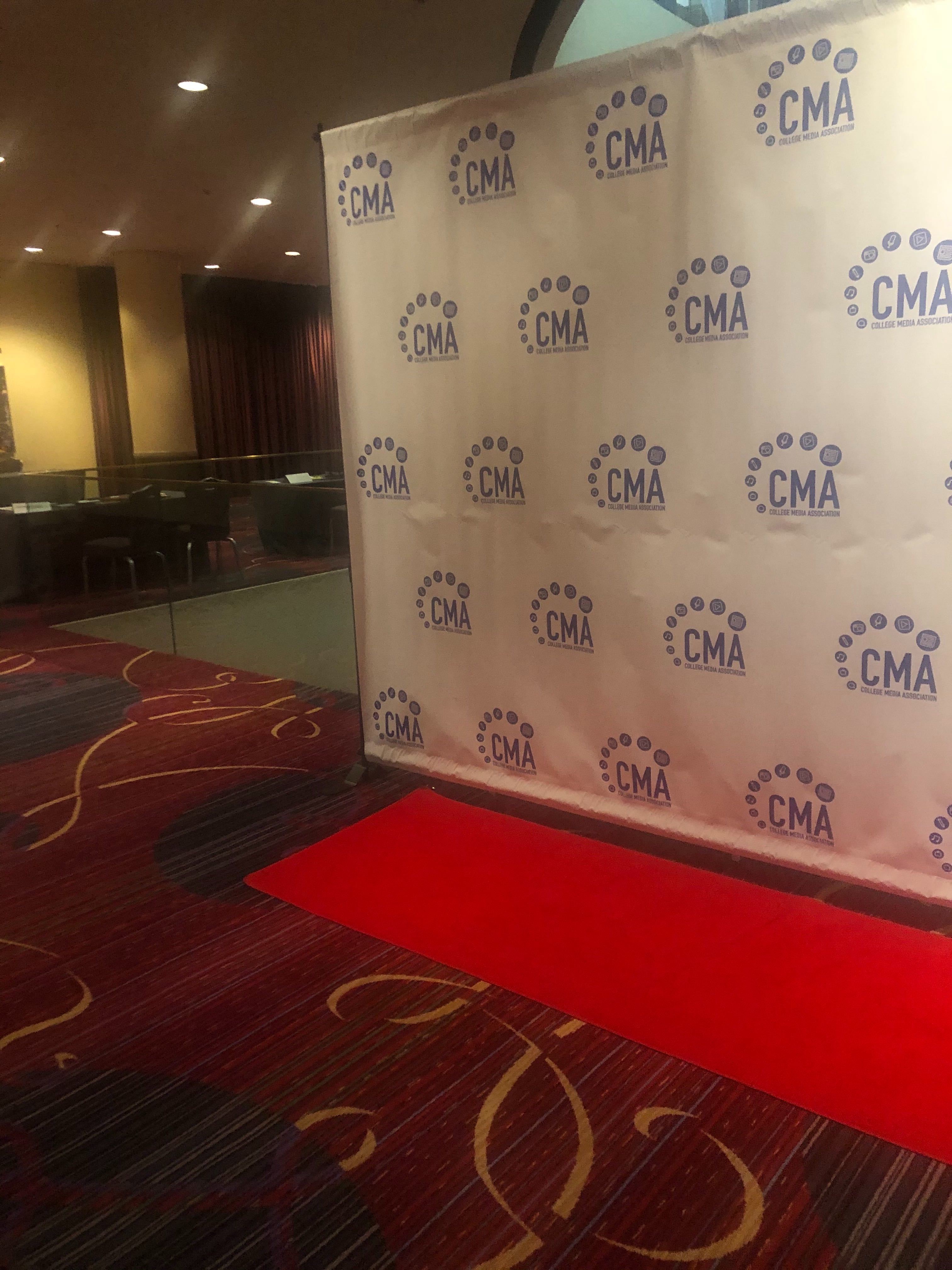 On Thursday, March 12, we made our way to the floor where the conference sessions would be held. The scene could only be described as a ghost town. Normally, we would have various universities calling us over, asking what college we were planning to transfer to or media groups asking what technology we use to publish and trying to sell us on their innovative interface. Vendors who would normally fill the auditorium and give away merchandise were absent.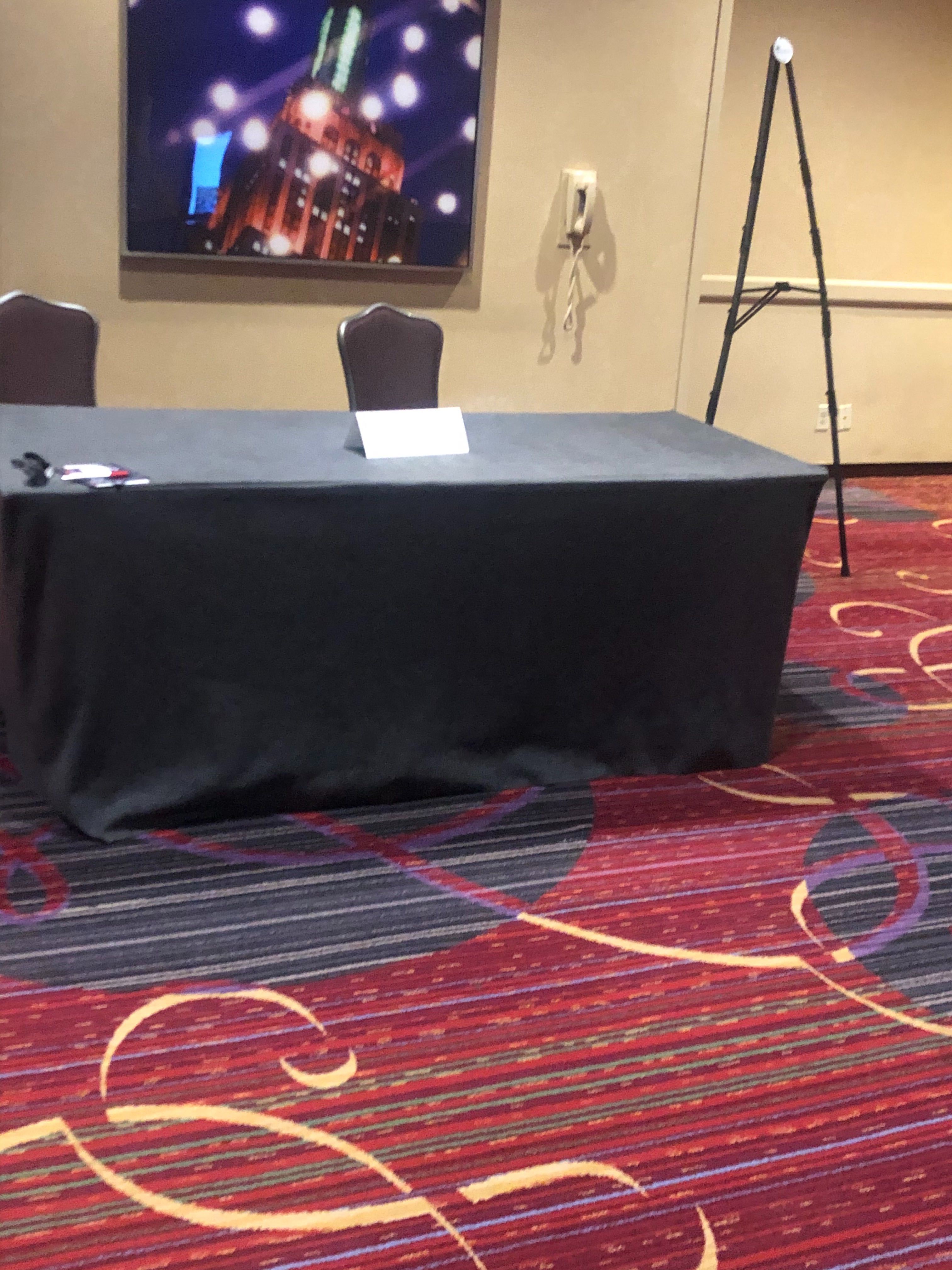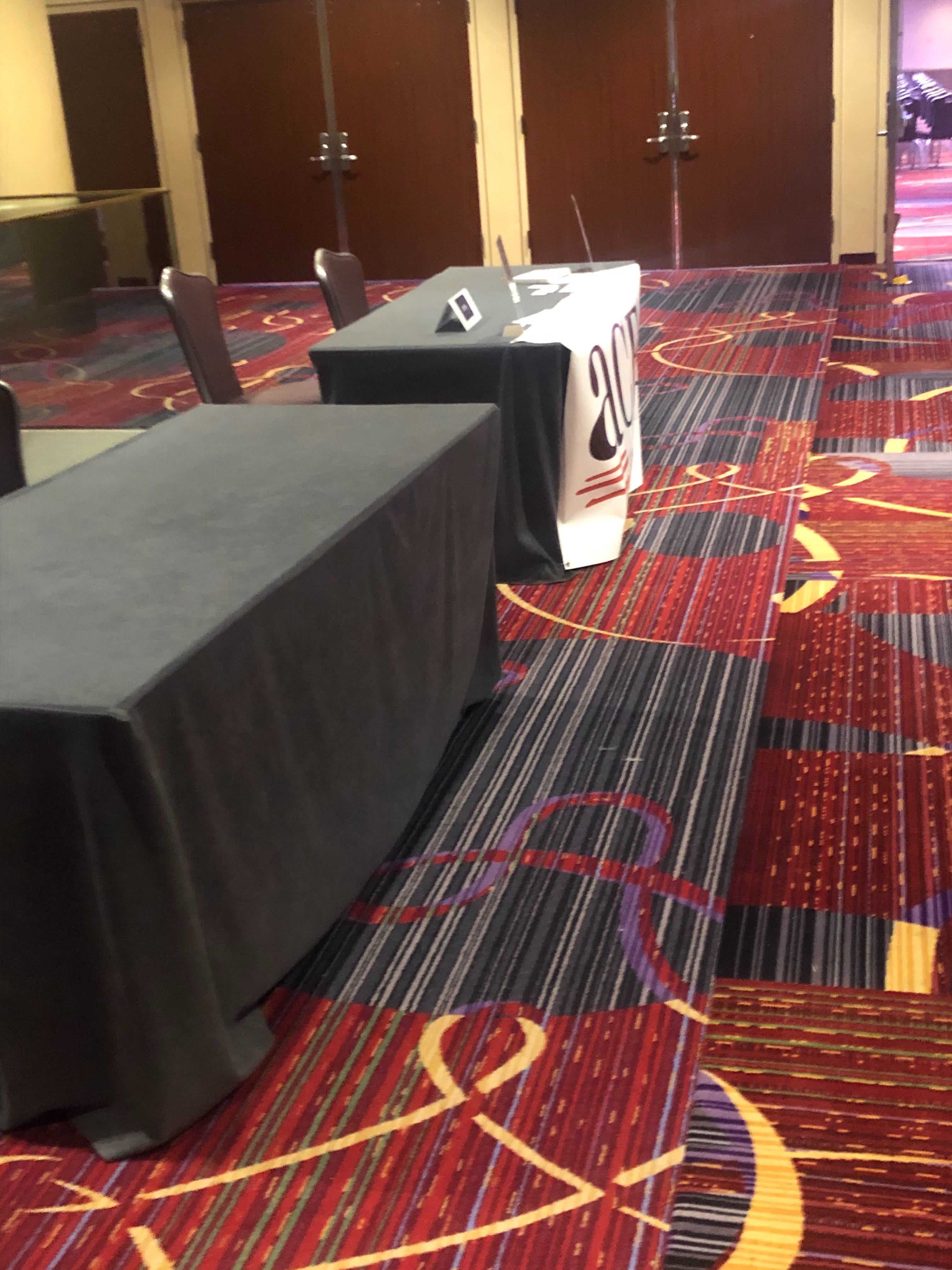 What was also missing were hand sanitizers on meeting floors at stations, as promised by Griffin in her email and on the CMA website. The only hand sanitizers available were the ones outside of the hotel elevators, which were often empty.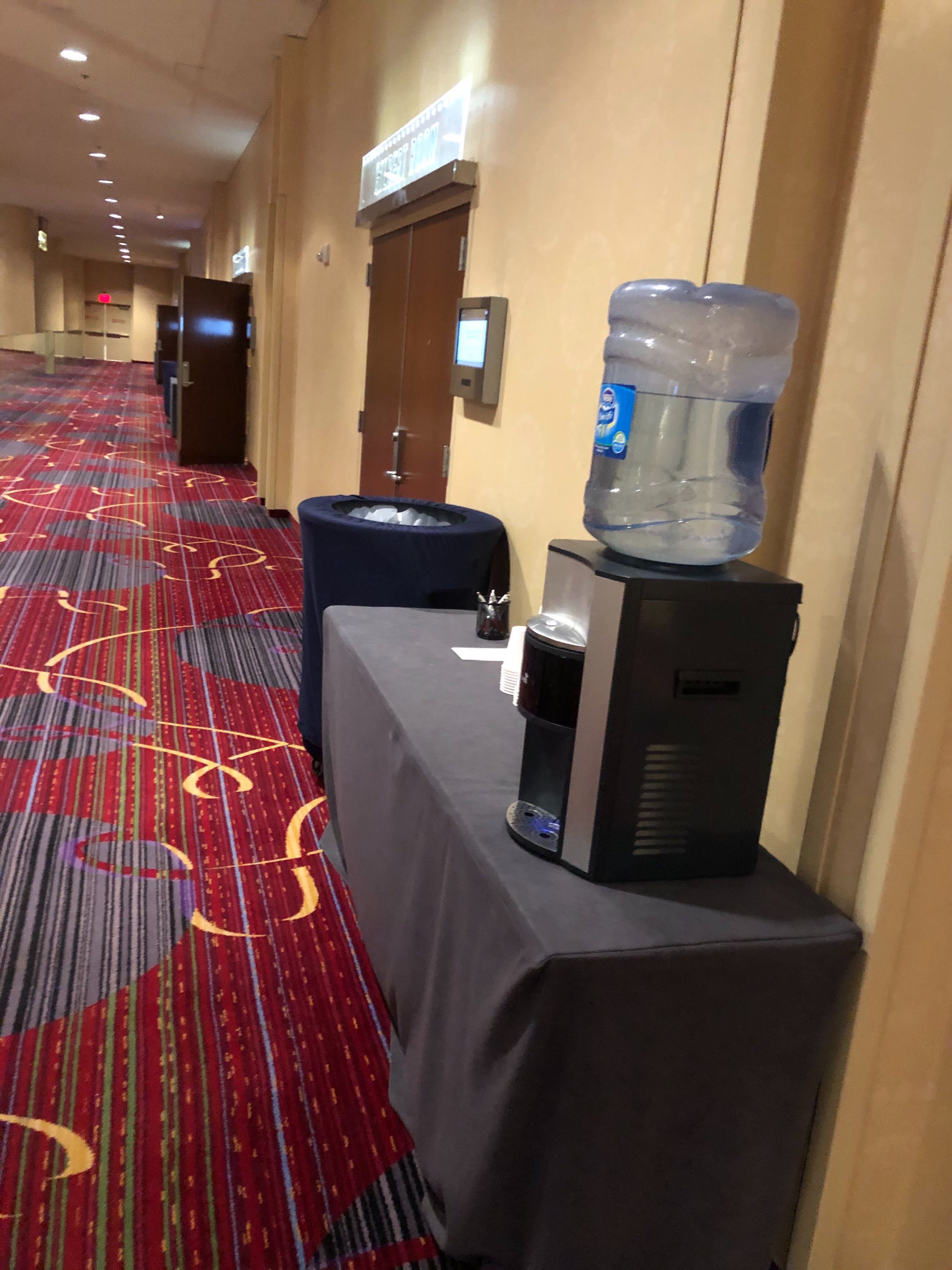 When we were getting ready for our panel, "Digital Diversity: Seeing Yourself in the Content your Produce," we were in a small, crowded room. We were grateful and excited for the outcome; however factoring in the proximity of those seated next to each other, and hardly any other sessions offered at the same time as our panel, we might assume that the student who tested positive for COVID-19 was in our session. If they were not, we can assume they attended others, putting an unknown amount of people in danger. As for the professional speaker, we may have been at this person's session. CMA has not released the time or title of that session, but considering that few sessions were offered, students were in no doubt exposed.
Also, on this day, Mayor Bill de Blasio declared a local state of emergency, giving him the common law authority to protect the public in the event of an emergency. There were now 95 confirmed cases of COVID-19 in New York.
We learned more about the severity of what was happening around us, and the escalation of confirmed cases of the coronavirus in New York City. As the hours went by, some of us began to feel frustrated; why was this conference still happening with all cancellations of sessions, and more people being diagnosed with COVID-19?
What hit us the hardest was when Broadway shut down. Cuomo ordered the shutdown at 5 p.m. the next day.
We knew this was not right and that we had to reconvene to figure out what to do next.
Through messages on Slack, texts and meetings with our adviser, we sat in empty hotel conference rooms, debating what our next move would be. There was limited opportunity for any exploration of the city, with businesses shutting down and concerns over public transportation. There were few sessions to attend, and by now, we felt inclined to stay away from others. This was not just because of the massive session cancellations, but because we were concerned about our health and the risks involved with being at a convention in New York City, where the COVID-19 cases continued to increase.
We also felt like we cared more about our health than CMA did. Our adviser began making calls to the airline in hopes of getting us out of New York by Friday. She would wait online for three hours with JetBlue, with no answer and no option for a call back.
On Friday, March 13, the conference organizers finally cancelled the conference a day early due to Cuomo ordering that public gatherings with 500 people be shut down at 5 p.m. There was nowhere near 500 people at the conference by Friday. An estimate would be maybe 100.
The Saturday keynote, any sessions that had not yet been cancelled and the Apple Awards were all moved to Friday.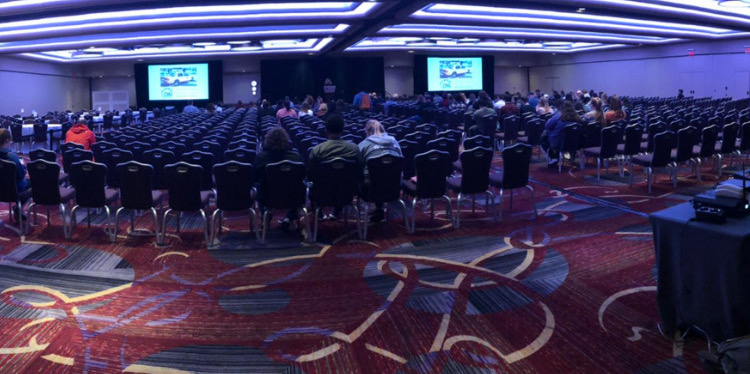 We have @BethKaras, who has had an interesting career as a lawyer-turned-crime journalist, at #cmanyc20, but the ballroom is fairly empty. The College Media Association decided to close the conference today, a day earlier than scheduled, in response to #coronavirus concerns. #NYC pic.twitter.com/vfpqrLfnCo

— Colin Burch (@burchslap) March 13, 2020
After hours of being on hold with the airlines and searching online, our adviser found us flights out for Saturday afternoon. The sense of urgency to leave the city was building. Some of us began to make arrangements with family members to pick us up a night earlier than expected. On Friday evening, one of our editors went downstairs to grab a snack and headed to the conference registration floor to see if anyone was around. What he found was a table with newspapers left scattered, and multiple and empty tables with black covers draped over them. The entire scene was eerie.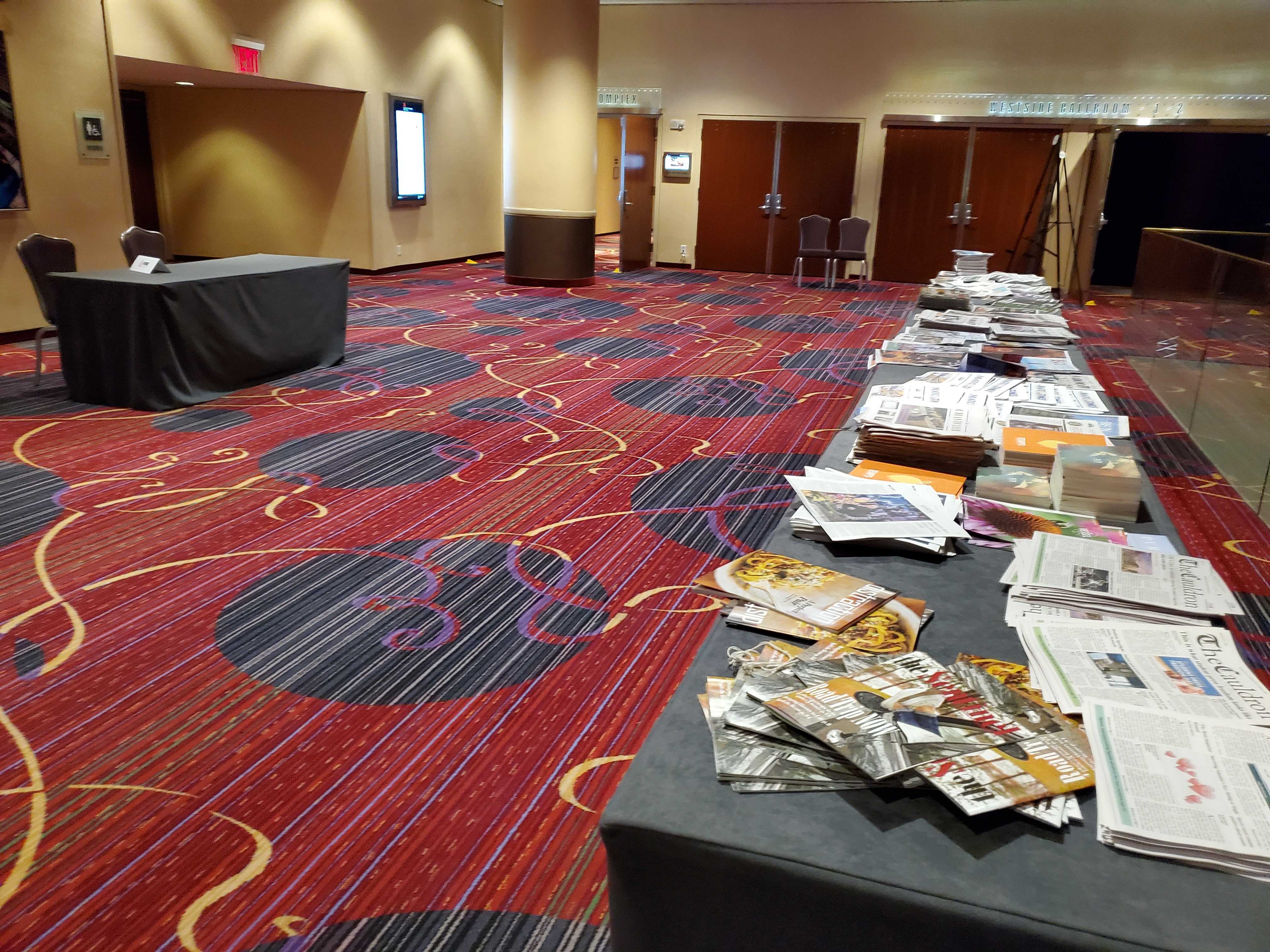 As student media editors and public relations students at one of the largest community colleges in California, we take our positions seriously and are constantly looking to evolve and grow to better serve our diverse student population, as well as our local community. The choice we made to attend the conference came with our award-winning publications in mind. Student editors in our program have been attending this conference every year since 2007 and always come back to the newsroom with new ideas and a refreshed vision.
We chose to attend the CMA conference knowing how much we would get out of networking with media professionals and advisers, sessions from professionals in the field and other students majoring in journalism and media. But CMA did not deliver an experience deserving of any hard-working college student or faculty member.
What is most important is that none of this takes precedence over our personal health. To watch session after session being cancelled was disturbing and disheartening, but feeling vulnerable and at risk in a city that had declared a state of emergency was unacceptable and disconcerting.
Community colleges do not have big budgets to throw around. We invested in the conference because we believed in the opportunities it would offer. Our adviser works with us to decide which conferences we will benefit most from. The CMA conference cost our journalism program over $10,000 for what turned out to be an incomplete conference that put our health at risk. It was anything but "An experience of a lifetime" as promised on the conference website, and their 250 sessions as stated on the website were actually only 182 sessions, of which only 96 were presented. According to the CMA Conference website, there were 787 attendees registered for the convention, down from 932 from the previous year. Only 318 attendees of the 787 registered attended the conference.
Today, New York is in the middle of a horrific pandemic. NBC New York reported today that "New York continues to see its infection trajectory rise unabated, with cases soaring to nearly 46,000 and deaths surpassing 600. COVID-19 has, in two weeks, claimed more lives in New York City than homicides did all of last year."
When we heard that a student and a speaker who attended the conference was diagnosed with COVID-19, we were shocked and upset, not only for the student and speaker's health, but more so with the lack of care the conference organizers demonstrated. The organizers had to have known that by holding a conference in the midst of a pending pandemic, they were putting money and the organization over the well-being of students and faculty.
At the end of the convention, CMA posted that their board had met.
The CMA board met this morning to discuss how best to handle your concerns about registration reimbursement. We are sensitive to the fact that travel bans at some of your colleges resulted in your conference plans being canceled, sometimes without your input. We also are sensitive to how these decisions may negatively impact your already limited student media budgets. The board simultaneously considered these bans as well as the overall financial health of our organization. As a result, the board voted to provide 50% registration refunds to attendees who could not attend the convention because of collegewide travel cancellations as a result of the coronavirus. The refunds will be given to those planned attendees whose colleges announced the cancellation by 5 p.m. PST March 10. To receive the refund, you will need to provide official college documentation (a letter on school letterhead) that states a domestic travel ban is in place and when it was implemented. To be eligible for the reimbursement, you must submit the documentation to this form by 5 p.m. PST March 31. If you chose to cancel your convention attendance independently, we understand that your health and safety must remain your priority. CMA's standard cancellation refund policy remains in place for attendees who cancel due to personal concerns about traveling.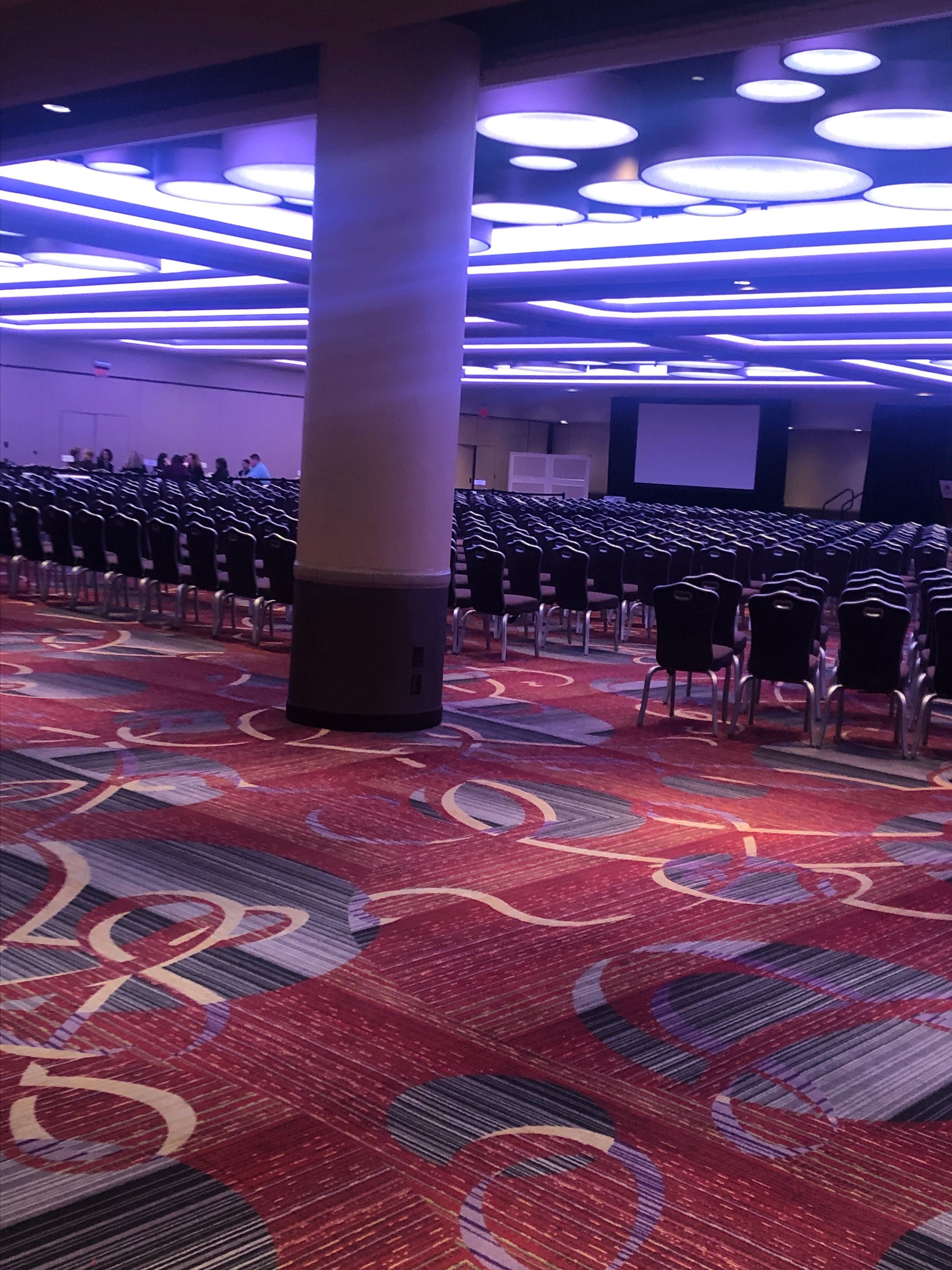 In other words, if you felt like you were forced to attend the conference and spent a ton of money to attend, CMA will only reimburse you 50% of the registration fee IF your college had a travel ban in place. Ours did not. They will also not be reimbursing you for your anxiety, stress, uncertainty and danger you unknowingly faced, and a convention that was a shell of what it set out to be.
President Kenna Griffin also posted a letter titled "CMA NYC20 Follow-up" on the CMA website following the conference:
"We don't have formal feedback from the convention yet. Convention surveys go out after the convention. My impression is that the students enjoyed the convention. They learned a lot and were understanding of the unique situation. And, of course, they had a great time being in NYC. I spoke with two students who had been to other conventions and said they appreciated that this convention was smaller because they were getting more one-on-one feedback."
Sorry, Ms. Griffin, but your assumption that students had a great time in New York is wrong. Two students do not represent how we all felt about the conference, or what was expressed to us by other students who attended.
If formal feedback is only allowed through a survey, then this means the complaints and concerns from multiple advisers and journalism students fell on deaf ears. Walking past conference rooms with sometimes only two students attending the panels showed the severity and the serious nature that COVID-19 had on this convention.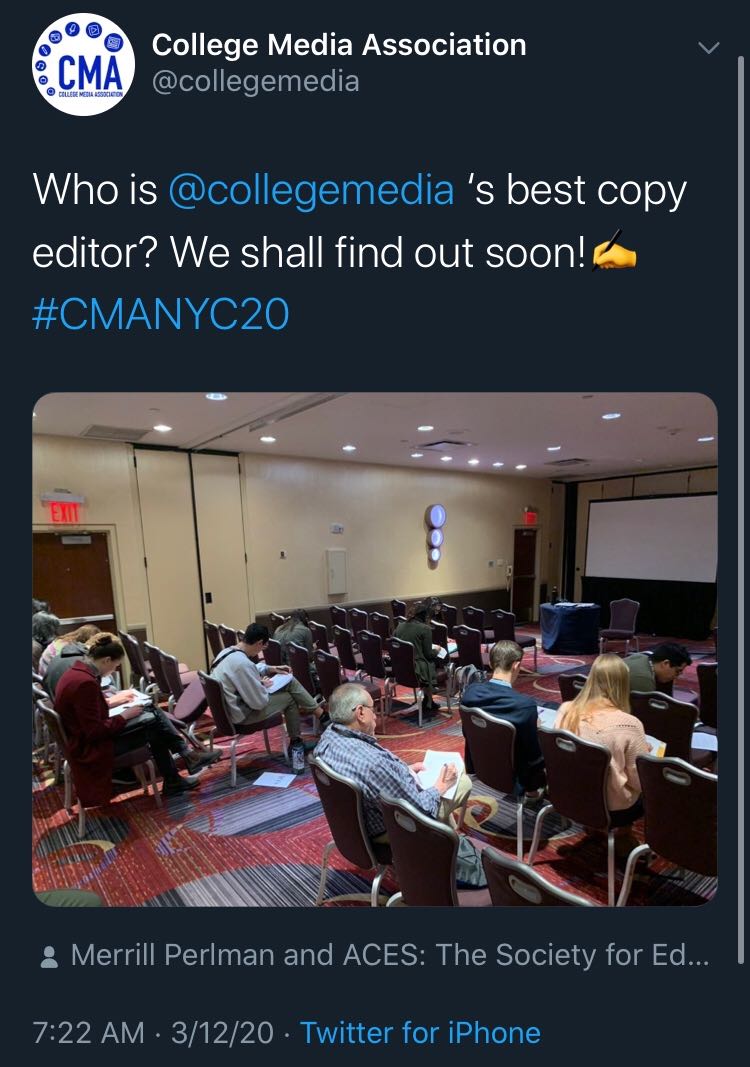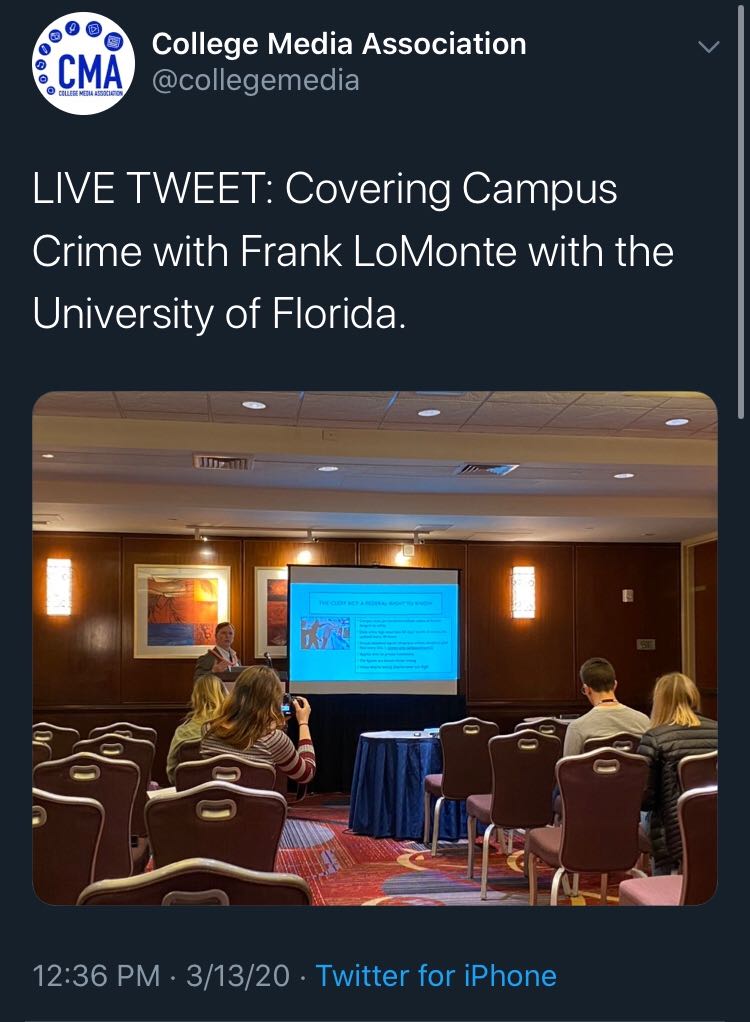 Our adviser, along with another adviser, addressed their concerns directly to Griffin during a sparsely attended "happy hour" on Friday night. She told Griffin that the conference should have been cancelled. Griffin told her that cancelling would have hurt the organization and that they would have had to use their $300,000 in reserves, and could have bankrupted CMA. Our adviser told her it would have been better than putting everyone at risk. According to our adviser, Griffin told her that she didn't want to be known as the CMA president who cancelled the New York conference and bankrupted the organization. Our adviser told her that it was better than being known as the CMA president who had a student attending the convention test positive for the coronavirus.
This appears to be exactly what happened.
Griffin's letter does little to reassure us. Any one of us could have been interacting with the individuals who were carrying COVID-19. Session presenters may have interacted with the individuals. Faculty members who held publication critiques may have been interacting with the individuals. California State University Long Beach professor of journalism and mass communication Gary Metzker tweeted to our adviser:


A human life is important. Money is unimportant. We never thought we would have to state this obvious fact to a student-focused college organization.
JACC did the right thing by cancelling their conference, and we appreciate the board members for caring more about our well being than their financial losses. And most of all, we appreciate them for doing the right thing.
This virus is a pandemic, with 122,653 cases of COVID-19 in the U.S., and 2,112 deaths, according to the CDC, as of Sunday, March 29. Our college is closed down indefinitely and we will continue to publish on our digital media site, SAC.Media, and our magazine, Substance.Media, with all editor meetings on Slack and Zoom. Our classes have all moved online, and we are all following the guidelines of California Gov. Gavin Newsom to stay at home and self isolate.
But the damage is done. A student, and a speaker, have COVID-19, and with the lack of COVID-19 testing availability, we may not know for some time if others were also infected with the virus. One of our editors has already made arrangements to have a COVID-19 test due to the possible exposure. As a staff, we agree that CMA's feigned concern and interest in our safety and health comes a little too late.
-Brigette Lugo on behalf of the Mt. SAC journalism students who attended the conference: Ferry Baylon, Shannon Carter, Lux Montes, Andre Tinoco and Steve Hernandez, as well as the two students who could not attend: Ciara Reese and Flora Tan.
Leave a Comment
About the Writer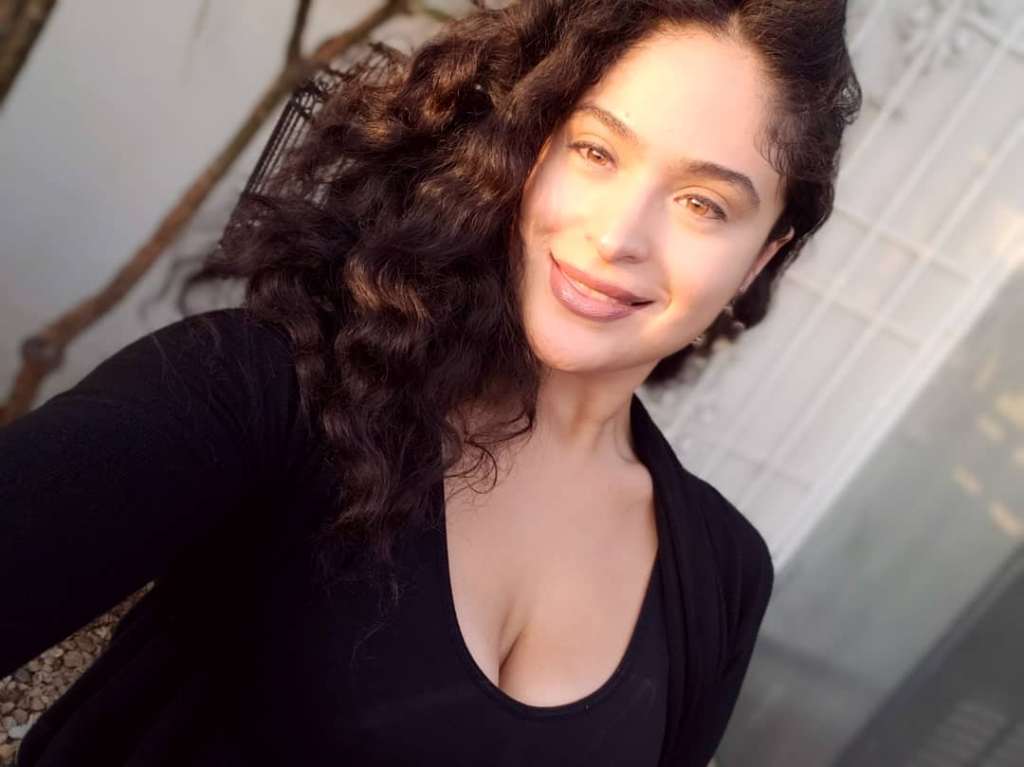 Brigette Lugo, Sports Editor
Brigette Lugo is the sports editor of SAC.Media. She is majoring in Spanish multimedia and her favorite things are The Smiths, family, and telling everyone she's Nicaraguan and Panamanian.