Cal State Fullerton Plans To Start Fall Semester Virtually
Cal State Fullerton's student-run newspaper reported that the college is assuming they will remain online in fall 2020
Update: April 22, 2020, 9:55 p.m.
On April 22, CSUF Provost Dr. Pamella Oliver released an official statement on the school website stating that the school hopes to continue with in-person instruction in the fall. Multiple reports regarding CSUF's virtual instruction for the fall semester were released by many news sites, including SAC.Media, such as NPR, The Los Angeles Times, The Orange County Register, KTLA, The Chronicle of Higher Education and more. The Los Angeles Times even stated that CSUF was "one of the first universities in the nation to make that move as campuses throughout the country grapple with how long to stay closed to most students amid the coronavirus pandemic."
In her statement, Oliver clarified that the reports saying that the university will be cancelling classes and going fully virtual for the fall is untrue. "Let me be clear, that is false. What I said is – that we need to prepare for all variables. Our goal is face-to-face, on-campus instruction, however, we are asking faculty to be prepared to start the semester teaching virtually. This is the correct and prudent choice," Oliver said.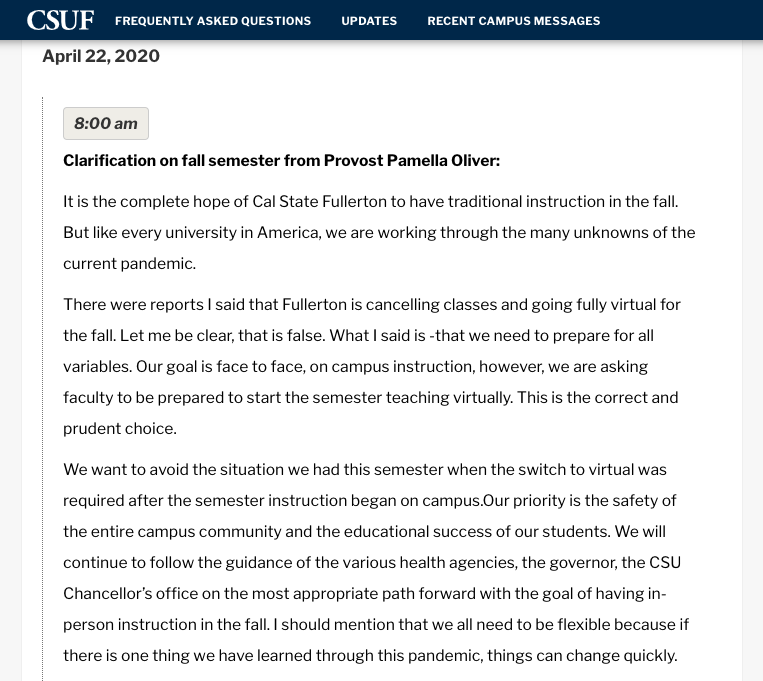 Many students expressed mixed sentiments regarding the news. Some students stated that they were aboard the school's decision of going back to traditional instruction because learning online is difficult, citing reasons such as lack of stable WiFi access and concentration at home being difficult. Instagram user @aerdna.aifos said that "many students don't have the basic necessities to strive academically from home. Some even live in environments that are not suited for learning. I for one did not have access to WiFi for a long time and would stay at school literally all day to have access."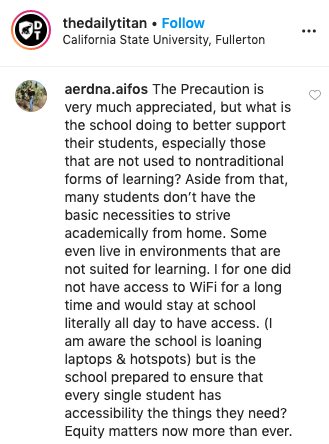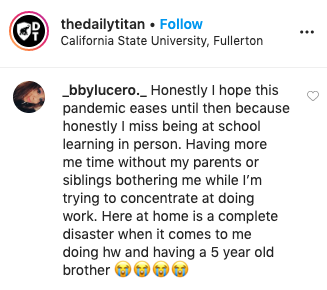 Other students, however, were not as pleased. Instagram user @the_real_lil_j stated that "it's not safe to go back Fall 2020… [and] it would be a ridiculous idea to go back to school in 4 months," citing that the rate of infected people with coronavirus is still climbing nationwide.
In another comment, @the_real_lil_j also said that having in-person classes is risky for people who live with the immunocompromised or elderly. "Not only do students risk being infected but bringing it back home and infecting loved ones. I live with elderly. Very irresponsible idea."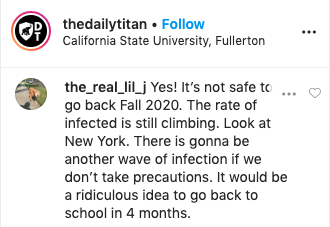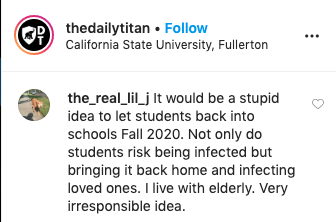 ——-
On Monday, April 20, The Daily Titan newspaper of California State University Fullerton CSUF posted on their Twitter and Instagram accounts that according to Provost Dr. Pamella Oliver in a town hall meeting, an assumption that the fall 2020 semester will begin with a virtual delivery of instruction is in place.
According to the posts, the campus "are making plans for gradually reentering," indicating that in-person classes might still take place within the semester.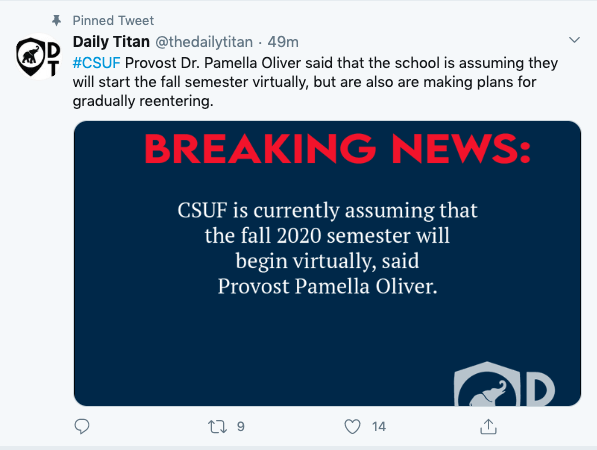 The Daily Titan is the first among the 23 Cal State universities' newspapers to report plans for the fall semester. According to the article, Oliver made the announcement during a faculty and staff town hall meeting.
"I wish that I could give you a definite answer and tell you this is exactly what we're going to do, because I certainly would like to have some definite answers. But, what I do know is that our plan is to enter virtually, and then to also have in mind what would we do to enter gradually and to have flexibility as we do it," Oliver said.
The announcement received mixed reactions online. Instagram user @writtenbyawoman stated that it is great news because "now you can register for classes without worrying about the times or days they are offered."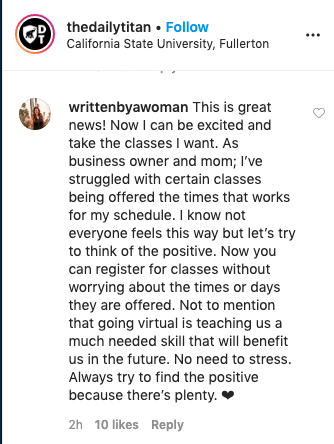 However, another Instagram user, @sourgirltorn23, stated that because there hasn't been an official announcement from the CSU system, stressing over the post is not helpful. "Let's not stress everyone out because everyone is already stressed out!"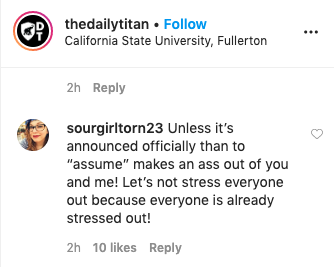 As of this article's publication, CSUF has not made any official statements on social media or on the college's website. This is an ongoing story. Check back for updates.
Leave a Comment
About the Writer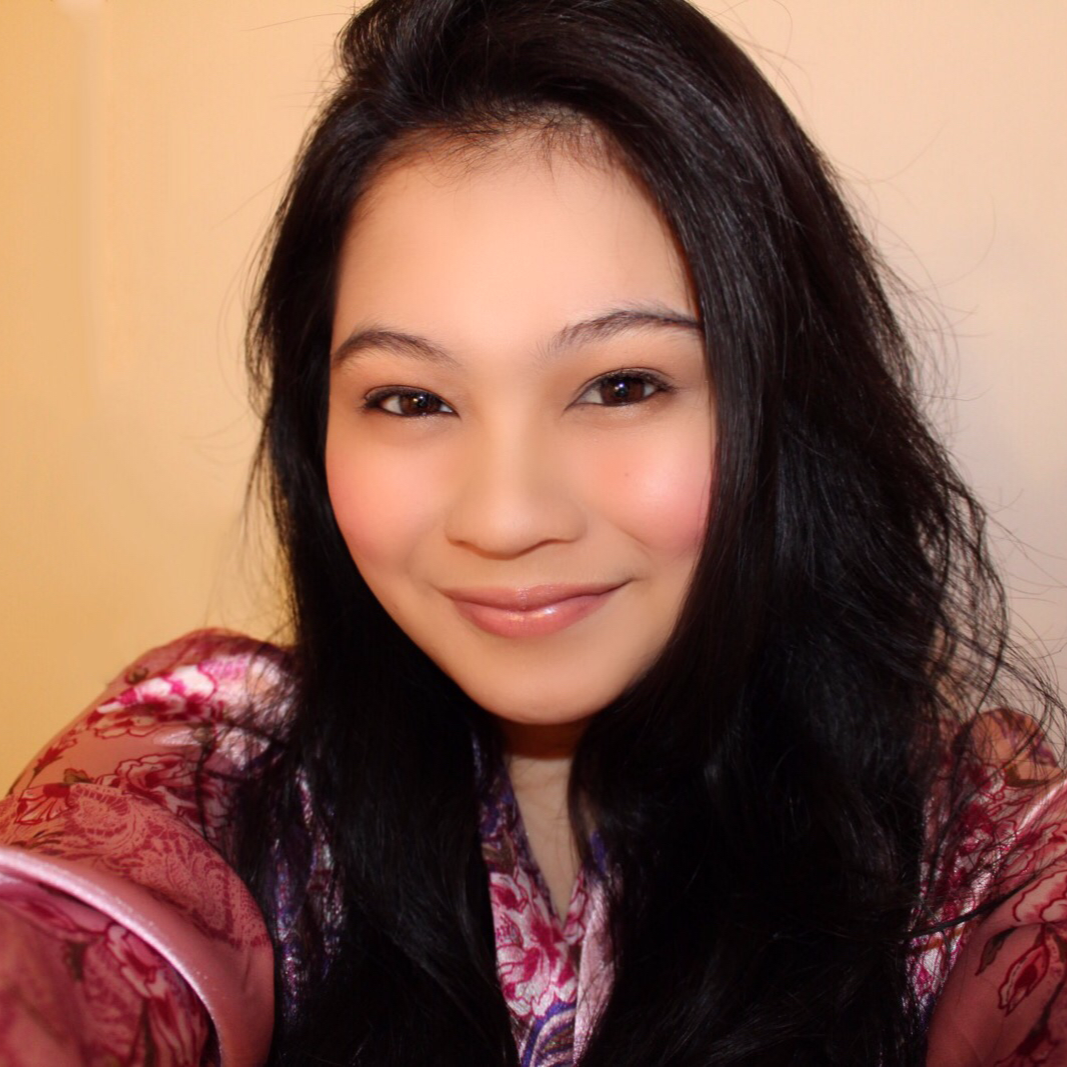 Ferry Baylon, Editor in Chief
Ferry Baylon is the editor in chief of @SAConScene on Twitter. She finds great comfort in reading books, crime shows, pizza, K-pop, and Britney Spears. Her ultimate goal in life is to become an inspiration to someone.