Business As Usual
COVID-19 has not stopped Mt. SAC head football coach Bob Jastrab from preparing for his 16th season in charge of Mt. SAC football
The Mt. SAC football program fought hard last season and earned a division title last year. However, their 2019 season ended in bitter defeat to the eventual state champion Riverside Community College RCC during the first round of the California College Community Athletic Association CCCAA state playoffs. When the clock on the scoreboard showed zeros, Mt. SAC was on the wrong end of a 48-0 final score. The Mountie football fans who made the trip to Riverside offered words of support from the stands, but they were hard to hear over the home fans celebrating Riverside's landslide victory.
The very loud public address announcer continued to incite bedlam for another few minutes, before both teams were instructed by officials to gather at midfield for a small post-game ceremony.
When league officials handed RCC's quarterback the game's MVP award, players from the Mt. SAC roster held deep gazes as they respectfully clapped for the guy who just ended their season.
For some of the players, it would be the last time they put on the pads for Mt. SAC. Many of Mt. SAC's starters on defense and offense who played in last season's finale have transferred to upper division schools on athletic scholarships or have simply had their athletic eligibility run out.
The players who are still on Mt. SAC's roster will be working hard during the off-season to make sure there are no repeats of last year's finish in Riverside. Meanwhile, the coaching staff is faced with the challenge of restructuring the roster while trying to build on the momentum of last season. Mt. SAC head football coach Bob Jastrab is not wasting any time dwelling on last season. As he normally does during this time of year, he is preparing his team for a new season regardless of the uncertainty surrounding when the season will begin.
It is no secret to those who have been a part of Mt. SAC football that the program holds itself to high standards. According to Mt. SAC Athletics' website, Mt. SAC has captured four state championships, three of which also saw Mt. SAC named National Champions. Jastrab was head coach during three of those state title runs and two of the national championships, with his most recent state championship claimed in 2014. Now entering his 16th season as head coach and with COVID-19 shutting down college athletics, Jastrab now finds himself away from his normal off-season routine.
"It's different," Jastrab said. "I'm ready to get back to work."
Jastrab said there has not been any official decision regarding the season being postponed and is preparing for the upcoming season to be played regardless. According to Jastrab, he and his staff are doing a lot to send players workout plans and host virtual meetings. "It's tough because you get out of your routine," Jastrab said. "It's just that we are not hands on, we are missing out on spring, and everything else in preparing them for the season. It's frustrating, but it's more important that everybody stays healthy."
Without players being physically present at spring practices, athletes must hold themselves to a certain level of accountability without relying on coaches to do it for them. Jastrab said a lot of the players know that they have to lift weights and work out to stay in shape.
"Most are doing it, some will get their exercises playing Xbox with their thumbs," he added with a short laugh.
Even though games are not actually played, Jastrab says there is a lot at stake during spring ball. Aside from losing out on preparation for a season and the chance to impress coaches for the number one spot on the depth chart, Mt. SAC football players also lose out on opportunities for coaches from four-year schools to notice them.
"They know what's at stake. And football has become such a year-round sport, they have to continue to improve because the overall goal is to get out and move on with a scholarship to a university," Jastrab said. "They are not competing with guys just from Mt. SAC, they are competing with guys from all over the country for that scholarship."
"So it's important that they continue to train and be ready to go once we get back," he added.
Recruiting is a major component of college football throughout all divisions, and this off-season period is usually a time for recruits to tour prospective campuses. Jastrab said that this year's recruiting cycle has been a challenge, considering the pandemic has made campus visits to Mt. SAC impossible for potential recruits.
"With the new stadium, we got a great asset to show off. So as far as them being able to see the facilities and everything else, I mean that hurts us a little bit," he said. "We've contacted a lot of kids and are in contact with them, so it's just a tough process because we like for them to come out and see us in action and see if they want to be a part of our program."
With the constant roster turnover that Jastrab has encountered over the years, one would think that he would prefer to hold onto his players as long as possible, but that is not the case. Jastrab is always happy to see his players move on to other schools and said that the program lost about four freshmen already to other schools who could have come back to play for Mt. SAC during the 2020 season.
"I'm like a proud father," Jastrab said. "I mean, the wins and losses are great, but the most important is that you come and they get the opportunity to get their education paid for at the next level."
"I know we get judged on wins and losses, but that's most important in the scheme of things when you look back and have been in the game for a while," he added.
According to the Mountie head coach, the odds of players making it to the NFL are stacked against them. Jastrab says the Mt. SAC football program has been fortunate enough to have a number of alumni make it to the professional ranks, but players need help to understand that it's temporary, and it could be over in one play.
"Football has a lot of opportunities [for student athletes] to go somewhere and see another part of the country, and to be a leader in that area," Jastrab said. "They are able to see a new outlook. They basically grow up, and [say] I can do this. And they make something of themselves, and at least get their degrees."
"They get away from distractions and influences of other individuals that are not helping them," he added.
A major part of this off-season for Mt. SAC football will be trying to find a new quarterback. Jastrab confirmed that last year's starter, Zach Rangel, is no longer on the roster as he will be moving on to a university. Backup quarterback Dylan Flenniken is also no longer with the team, as last year was his Sophomore year of eligibility, and he is no longer eligible to play. Jastrab and his coaching staff now have the added dilemma of finding a quarterback capable of running the offense.
"To me, it's wide open. There's some guys that greyshirted last year, [that] are the lead candidates, but you know they still have to earn the position in summer and in camp," Jastrab said.
With so many rival scouts always looking for an edge, Jastrab is understandably tight-lipped in regards to who those quarterback candidates' names were.
"I don't want to say," he said with a chuckle. "What we tell recruits and what we tell everybody is the best guys play."
Another key departure for the program is recently named CCCAA Hall of Fame inductee Coach Evans Roderick, who announced his retirement this April after nearly 40 years of service to the Mt. SAC community. Coach Rod, as many know him, was an assistant coach last year and also held a special role as the team's motivational speaker; according to Jastrab, his position on the staff will be absorbed.
Jastrab and Coach Rod have known each other for many years. Jastrab said that Coach Rod was actually his defensive coordinator when he played football at Mt. SAC "way back when."
He praises Coach Rod for his great football mind, but also for his achievements off the field, such as developing the California Community College Counselors Advisors Academic Association for Athletics 3C4A, and his work with the WIN Program, which was designed to prepare student athletes for transfer.
Jastrab said that Coach Rod was one of the guys he would look for on the sidelines to bounce ideas off of when there was a tough decision during a game because he valued his opinion.
"He's got over 40 years of experience seeing it, and he's a student of the game, so he'll be truly missed," he said. "I think the biggest thing he did was he was able to give the message of this experience, and to really tell these kids, it's just not about football, it's about academically putting themselves in position to be recruited and to better their lives for their future."
The 2020 football season will be a special one for Mt. SAC, as they will finally have their own home field and will be playing games in their brand new state-of-the-art stadium equipped with its own jumbotron. Coach Jastrab will be doing all he can to make sure his team is ready for this upcoming season, which will be a historic one for the program.
Leave a Comment
About the Writer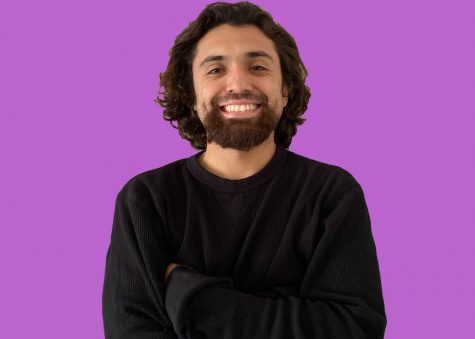 Jesse Espitia, Staff Reporter
Jesse Espitia is the former sports editor of SAC.Media. He has traveled the world to cover soccer or what he calls "futbol." He also covers other sports, politics, local/international news, pop culture and crime.