Academic Senate Discusses New Structure, Reports Updates
Faculty and staff reported on their meetings and held a lengthy discussion on the structure surrounding Academic Senate
The Academic Senate met in building 6, room 160 on Dec. 5 to discuss several issues; these issues included ones affecting faculty, with the current assessment questionnaire, with how Mt. SAC offers counseling classes to high school students and how the Senate will be structured in the future.
Legislative Liaison Kelly Rivera said that the Council of Faculty Organizations offered its support to "Focus on Faculty and Staff" aspects of the Chancellor's Office 2020-2021 budget request. The organization offered its support to implementing faculty and staff diversity, part-time faculty and professional development to improve teaching and student support. The report had a large focus on recommending better compensation for part-time faculty, who are doing the work of a full-time staff member.
Vice President Lance Heard reported that the Student Preparation and Success Council met to discuss changes to the current Assessment Questionnaire that newly admitted Mt. SAC students must take for their placement and eligibility for classes on campus. The council recommended changing the questionnaire to inform students who have completed college-level coursework that they may be eligible for higher level placement.
"This adaptation will notify the student that based on the information they provided regarding prior college experience, there exists a possibility for them to be eligible for higher placement, and advises the student to submit official college transcripts to facilitate placement," Heard's report to the senate reads.
Heard also said that the Equity Minded Work Group is looking for faculty to join their group. This work group is dedicated to finding timely solutions for concerns like the lack of diversity and in the hiring of full-time faculty.
"It's very essential for faculty to fully participate in this work group as much as possible," Heard added.
Dual Enrollment Liaison Phil Wolf reported that the program will look to modify a current counseling course or create a completely new one for high school students who are interested in Mt. SAC's counseling courses. The only course similar to counseling that is offered to high school students is STUDY 100.
Senate also held a discussion on changes to the structuring of how different groups on campus report to the Academic Senate.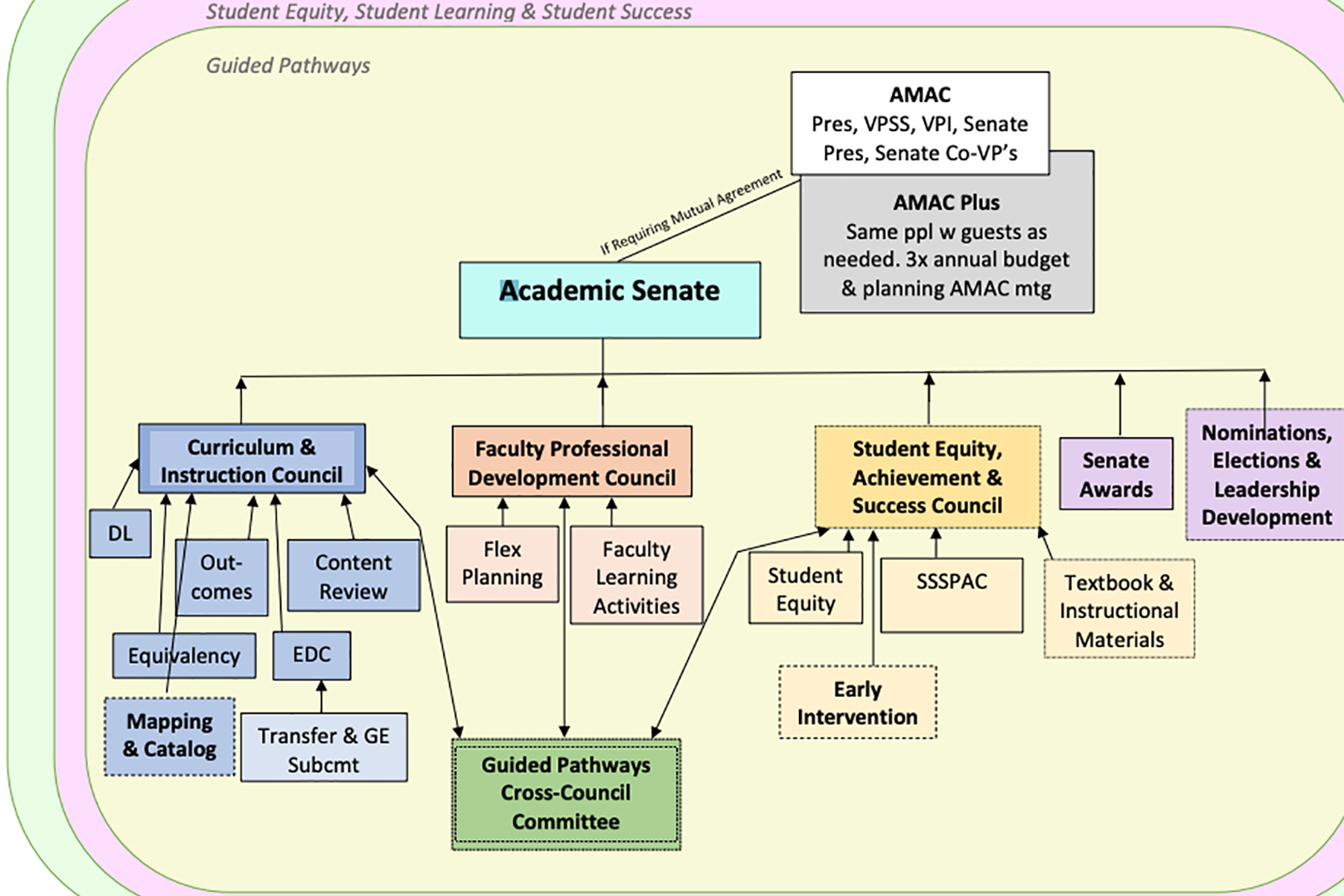 In the changes, certain committees were renamed, and others were added to provide the Senate further direction.
Also mentioned was the opportunity for Mt. SAC students to participate in the Study Abroad Program's trip to Rome in Fall 2020, where students will get the chance to take classes for college credit in a different country. This program is offered to all majors and offers the chance to build skills that will benefit students in transferring and in the workforce.
The Academic Senate will meet again at its regularly scheduled meeting on Feb. 27.
Leave a Comment