Crowd Gathers Near Mt. SAC to Protest for Justice
A diverse group of demonstrators gathered near Mt. SAC and ended their protest with eight minutes of silence
On Monday, June 1, a group of people gathered on the corner of Grand Avenue and Amar Road in the city of Walnut to protest the death of George Floyd.
The protest started at 2 p.m. and was scheduled to end at 5 p.m. During the event, organizers were informed that the curfew for the city got pushed up to 5 p.m. from its previous time at 6 p.m., causing the protest to end a little less than an hour before its originally scheduled time.
Protesters were heard chanting phrases such as "No justice. No peace," and "What do we want? Justice. When do we want it? Now." Many cars honked their horns in solidarity as they passed by the protest, which was held on a busy intersection. Raised fists were also a common sight, as it has become the symbol for the Black Lives Matter movement.
People were seen chanting together with little confrontation. Some protesters brought water and snacks to be handed out to the crowd.
Organizers also provided a lawyer from the National Lawyers Guild to attend, so that protesters' rights could be protected in case something were to happen.
There was a large presence of police who tried to keep the crowd calm. They blocked off some residential streets that connected to the main road to protect residents. Businesses in the area, such as Dollar Tree, made the decision to close at 3 p.m. as a result of the protest.
Attendees were asked to stay on sidewalks and to not stop incoming traffic, since the intersection had not been closed down. At one point, protesters decided to walk in the middle of the road and to the island that separates both sides of the street but they were quickly asked by the police to return back to the sidewalk.
The police told protestors on their car radios, "Please go back. Peaceful protest is okay. We are with you."
Protest organizer and Mortuary Science student at Cypress College, Nadjah Smith, said she planned the event on Saturday night and used social media to get the word out. She said her reasoning was because she feels Walnut has spent too long staying quiet on racial inequality.
"Enough is enough. We are silenced. We are censored. We are ignored," she said. "It's 2020. Why can't we talk about race? What are you afraid of? Equality is power."
The protest was attended by people of all ages and races. People of multiple different cultures showed support with signs that said "Latinos with Floyd. #BLM" and "Yellow Peril, Black Power." There was also a Filipino flag, which had "PINXYS 4 Black Lives" painted on it. Pinxys is slang for Filipino.
The majority of people were wearing masks to stop the spread of COVID-19. However, physical social distancing was not enforced, so the crowd was in close proximity with each other.
The event ended with eight minutes of silence, representative of the amount of time the policemen kneeled on top of George Floyd's neck. Protesters also took a knee while raising their fist for social injustice against people of color.
Los Angeles County has set a curfew that will last from June 3 at 9 p.m. to June 4 at 5 a.m.
Leave a Comment
About the Writer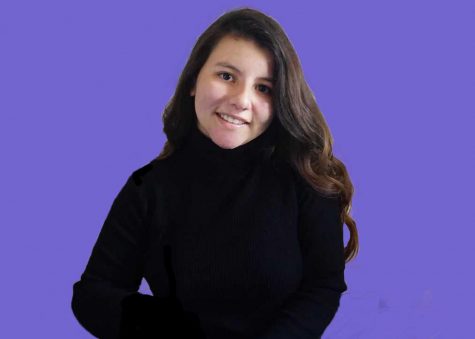 Vanessa Feliciano, Somos Editor
Vanessa Feliciano is the Editor of Somos, SAC.Media's Latinx platform. She can usually be found at the nearest country concert or baseball game. Vanessa hopes to one day be a sports broadcaster.