International Students Face Deportation
ICE ruling forces students to take in person classes or be deported
Update: July 25, 1:51 p.m.:
U.S. Immigration and Customs Enforcement announced yesterday that newly enrolled international students will not be allowed to enter the country.
According to the announcement, "nonimmigrant students in new or initial status after March 9 will not be able to enter the U.S. to enroll in a U.S. school as a nonimmigrant student for the fall term to pursue a full course of study that is 100 percent online."
The announcement also stated that school officials will not be allowed to issue Form I-20 to a nonimmigrant student outside the U.S., otherwise known as a certificate of eligibility; effectively preventing international students from applying for student visas, benefits and permission to enter the country.
Update: July 14, 7:16 p.m.:
Following pressure from hundreds of universities nationwide, and eight federal lawsuits, the Trump administration has rescinded the ICE SEVP guidance.
U.S. District Judge Allison Burroughs in Boston announced on July 14 that federal immigration authorities had agreed to pull out of the directive.
Update: July 9, 4:35 p.m.:
Mt. SAC has joined the Presidents' Alliance on Higher Education and Immigration amicus brief in support of the Harvard/MIT lawsuit challenging the lCE SEVP guidance issued on July 6, 2020.
Amicus briefs are legal documents filed in appellate court cases by non-litigants with a strong interest in the subject matter. The briefs advise the court of relevant, additional information or arguments that the court might wish to consider.
Updates to follow.
———-
The U.S. Immigration and Customs Enforcement, ICE, released a directive on July 6 that may jeopardize international students' chances of studying in the U.S. and force them to return home if their colleges move to online education only.
With the ongoing COVID-19 pandemic, many schools have gone online and operate almost completely remotely. A vast number of colleges and universities are planning on continuing this format into the fall 2020 term, and possibly for the entire 2020-2021 academic school year.
Mt. SAC moved all of its classes online in March of the spring 2020 semester and plans are in place to continue the mostly online format through the fall 2020 semester. This may result in the college's international students having to return to their home countries. Mt. SAC is, however, offering classes on campus for programs serving first responders, health professions, and infrastructure occupations.
ICE's guidelines stated in the directive that they will deny international students visas for the upcoming school year. The document states, "Students will not be permitted to enter or remain in the United States to attend such schools but they are not barred from continuing to attend all classes at these schools from abroad."
The document also states that active students currently in the United States enrolled in such programs must depart the country or take other measures, such as transferring to a school with in-person instruction to remain in lawful status. If not, they may face immigration consequences including, but not limited to, the initiation of removal procedures.
The rule applies to holders of F-1 and M-1 nonimmigrant visas, which allows international students to pursue academic and vocational education.
Silvia Merlos, a former Mt. SAC student, was hired after receiving her master's at USC as the student services manager at USC where she worked with the International Student Academy. She was sickened by the news.
"There's already tons of anxiety and uncertainty," Merlos said. "This administration has caused anxiety in the international student population since the very beginning."
Merlos currently works as a special populations adviser for the University of California System where she holds orientations for international students. She said that she sees this as a political ploy on the Trump administration's part.
"If he [Trump] cuts off the international revenue, he forces us to reopen," Merlos said.
The shift will directly affect foreign students who come to the United States pursuing a higher education. It is difficult to predict exactly how many people will be impacted, but with over a million international students in the U.S. it is safe to assume that many will be displaced.
With such short notice before the new academic year, students may face a difficult time getting back home. Many countries have implemented travel restrictions when coming from the U.S., adding another layer of stress to students. Many will face safety risks and the potential of being exposed to and transferring the virus. Students may have the option to transfer to a school that is offering classes in-person, but doing so will be difficult during the pandemic. There are still many colleges and universities in the process of deciding how to proceed for the academic year.
Allie Frickert-Murashige, professor of Asian history, said that Mt. SAC has a vibrant community of international students and they are a significant and welcome presence in every single class that she teaches every semester.
"I love the perspectives they bring into our classrooms. They are an important component of the diversity of views and backgrounds that make Mt. SAC such a vibrant learning community, and we value their contributions," Frickert-Murashige said.
She added that she was horrified to hear that ICE plans to roll out a policy that is clearly inhumane, not to mention impractical.
"How can international students be asked to risk their health and possibly their lives to have at least half of their course load in an in-person format amidst a pandemic?" Frickert-Murashige said. "Moreover, where can they go to achieve this mandate?"
She added that California community colleges will be nearly entirely virtual for fall and that this is likely the case for most of the other public schools—the CSUs and UCs.
"There are some private schools across the country planning to be partly in-person, but how could international students possibly secure acceptance and admission in the next couple of weeks before fall begins?" Frickert-Murashige said. "In addition to these issues, it is important to note that most international students pay the full tuition per unit, making them financially important to the community college system, never more so than in the face of impending state budget slashing."
She added that Mt. SAC has one of the largest and well-developed centers for international students in the area.
Jennifer Olds, professor of English, is just as perplexed by this new directive. She explained:
"Faculty and students are still operating under COVID-19 emergency mandates. The ICE site previously stated that during the COVID-19 emergency, F-1 and M-1 students could complete their course work online here in the U.S. or in their home countries. Why on earth would the rules be arbitrarily changed only weeks before the start of fall semester? How can ICE require students, faculty and campus staff to endanger their lives by returning to campuses that have not been made safe from COVID-19 transmission?"
She added that international students are being unfairly targeted by a ridiculous law that asks higher education to risk the health of the entire community to fulfill its mandate.
"This unfairly targets our international students who brighten our classrooms and communities with their presence. How is this equitable?" Olds asked.
Olds added, "And if risking their lives isn't a total devaluation, this act also devalues the benefit international students bring to our campuses, communities, and our lives."
Ed Source recently reported that California State University Chancellor Tim White, during a U.S. Houses of Representatives subcommittee hearing on the pandemic and future of higher education, said that nearly all of California State's University classes may remain virtual not only for this fall but for the rest of the upcoming academic year.
The Daily Sundial, Cal State Northridge's student-run publication, reported that the directive would affect hundreds of CSUN's nonimmigrant international students as the university will offer most if its courses online in the fall.
The article reported that CSUN President Dianne F. Harrison issued a statement on Tuesday that said she is working with the CSU Office of the Chancellor to "quickly review these changes and communicate guidance for our international students."
Mt. SAC's Director of Public Affairs Jill Dolan reached out to Darren Grosch, director of the Mt. SAC International Student Program, who confirmed that Mt. SAC has approximately 366 international students attending the college on F1 Visas. There are also about 60 students who are considered active in their home countries.
Harvard and the Massachusetts Institute of Technology MIT filed a lawsuit in the District Court in Boston on Wednesday against the Trump Administration seeking a temporary restraining order and preliminary and injunctive relief to bar the U.S. Department of Homeland Security and Immigration and Custom Enforcement from enforcing federal guidelines barring international students attending colleges and universities offering only online courses from staying in the United States.
According the Harvard Crimson, the ICE guidelines were released just hours after Harvard announced it would hold all college classes online in the fall.
The absence of international students could have serious consequences for American schools and has left many wondering what is coming next.
Frickert-Murashige said that she spoke with Grosch after the news broke to express her concerns about the ICE directive. She said that he and the Mt. SAC administration "are working around the clock to mitigate the disaster for our students."
"I know many faculty feel as I do, and we are willing to do whatever we can to help our international students weather the storm of this latest ICE debacle," she said.
A petition was launched yesterday by We the People that requests that ICE rescind their decision to force international students back to their home countries in the midst of a pandemic. The petition states that the ICE directive is counterproductive not only because international students contribute $41 billion to the U.S. economy every year, but because U.S. universities and research programs depend on revenue from international students to survive, in addition to STEM companies that thrive and depend on global talent. It also warns that U.S. universities may be compelled to prematurely open in-person instruction and risk virus transmission. The petition currently has 197,362 signatures.
Mt. SAC President and CEO William Scroggins responded in an email to SAC.Media as to how the college will deal with the new ICE directive:
"Mt. SAC is fully aware of the ICE announcement and is in the process of developing a solution that would allow international students who are in good standing and plan to continue at the college this fall to do while remaining in the United States. Our response will be provided in time to meet ICE requirements."
View Comments (1)
About the Writer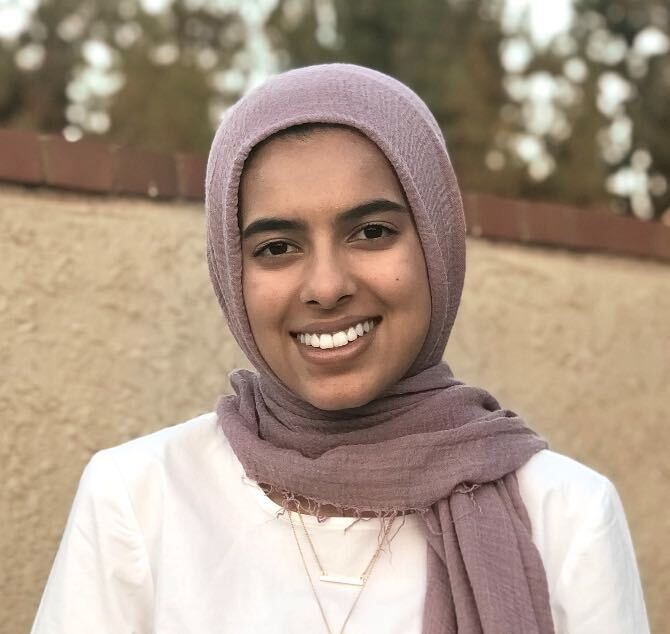 Ridah Mazhar, Reporter
Ridah Mazhar is a former reporter for SAC.Media who transferred in Fall 2020 to UCLA. You'll usually find her binging the newest Netflix show or experimenting with recipes.