West Covina Residents Allege Censorship
Its more complex than that
It's more complex than that
Residents took turns on Aug. 4 criticizing the West Covina City Council for censoring public comments that were submitted by email on July 21.
While some may consider it ironic that individuals alleging censorship were freely able to speak at the meeting, there's a lot more to the situation than can be gathered from the two hour plus meeting and the one that preceded it.
The residents' concerns have some historical precedence at this point, yet stating that the council is silencing residents is misdirecting the blame.
Historical Perspective
City staff's handling of public comments has been an issue since the start of the pandemic, and that has only become more apparent as the months go by. They have taken numerous documented actions to disenfranchise the public that the city council has claimed to have not been involved with.
When the pandemic began, city staff struggled to accommodate public comment. On March 17, the very first meeting after the public health guidelines were announced, resident Steve Bennett, who is running for district three, arrived to make a public comment only to be stopped in the upper area above the chambers.
Bennett was then instructed to fill out a yellow card and then call a number when directed to by city staff to have his comments heard over a speaker.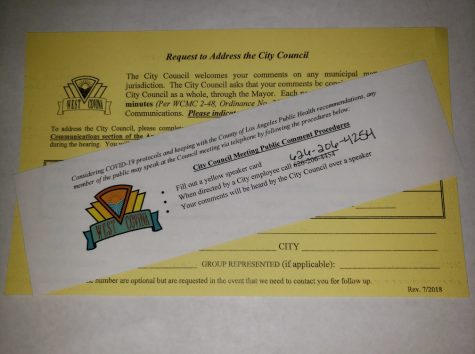 Bennett also noted he saw 10-15 people inside the chambers at that time and referred to it as "selective enforcement."
The strange process allowed Bennett to stay on the line so that fellow resident Bill Robinson could make his comment. Robinson would have otherwise been unable to comment at that meeting because he did not have a cellphone.
So instead of having speakers socially distance at the podium, as they later instructed in June, their initial meeting encouraged residents to share a phone in order to be heard by city council from within the same building.
Council Versus Staff
Lloyd Johnson confirmed that the council had no way of knowing how public comment would be handled by city staff on March 17. At that time, he said he did not know if things would continue in that manner either.
"We will have to wait and see," Johnson said. "Our city IT personnel takes care of that."
At the next meeting, on April 7, city staff established a new precedent on their agendas.
"E-MAILED PUBLIC COMMENT. Members of the public that wish to address the Council during public comment or a public hearing may submit public comments via e-mail to the City Clerk at [email protected]westcovina.org. The subject line should specify "Public Comment – 4/7/20". Please include your full name and address in your e-mail. The City Clerk will read emails received by 6:30 p.m. the day of the Council meeting out loud into the public record.
All email comments must be received by 6:30 p.m. the day of the meeting."
The April 7 meeting policy had established precedent until July 7 when it changed again, bringing new changes to the agenda and mixed messaging from Assistant City Clerk Lisa Sherrick.
The changes, including the written decision to no longer read out emails, were met with an overall negative response from the community. This was not consistent with the established precedent for meetings or with what different individuals on the council and staff had told the community.
"I have five emails to read," Sherrick said at the July 7 meeting.
The agenda stated that the city clerk will only submit emails into the record, and the following is an excerpt from the shortened agenda and the larger packet agenda for the July 7 meeting:
In lieu of attending the meeting in person, members of the public may submit public comments to the City Clerk via e-mail at [email protected]. The subject line should specify either "Oral Communications or Public Hearing – 7/7/2020". Please include your full name and address in your e-mail. The City Clerk will provide copies of emails received by 6:30 p.m. the day of the Council meeting to the City Council. All comments received will be made part of the official public record of the meeting. No comments will be read out loud during the Council meeting.
Sherrick proceeded to read an email by Jobst that outlined city staff's posted change to no longer read emails.
"Nevertheless, news broke this weekend that the city of West Covina removed the option to phone into [the] city council meeting during the public comment period, the city also removed the option to have public comments emailed in and read out loud during the public comment period," Sherrick read from Jobst's email. "You heard that correctly, during an accelerated pandemic the city of West Covina has left its residents with only one option to be heard during a city council meeting – you must physically attend a city council meeting risking your health and the life of your loved ones."
Jobst then claimed the mayor and city manager determine and prepare the agenda.
"The accountability for this change is clear, city council agendas and meetings preparation are performed by the mayor and the city manager. Mayor Tony Wu and city manager David Carmany made this change. That may be the result of the last city council meeting," Jobst wrote. "Over 30 emails were read out loud, most of those criticized Mayor Tony Wu and city manager Carmany."
The first part of this statement, which implicates the mayor, is incorrect, while the speculation is unproven at this time.
Agendas are always prepared by the management team, according to Wu, after all departments bring in their items for approval by the assistant city manager and city manager.
The only way the mayor would be involved in the agenda is if they, like any other city council member, requested a Mother May I to be added to the next agenda.
That said, Wu does have the option to run the meeting as he wishes since he is mayor. This means he could reject staff's decision to not read emails and instead request that they are all read aloud. He has a mixed record on the reading of emails.
Jobst credited Shewmaker for why his email was being read:
"In closing, huge thanks to council member Jessica Shewmaker. If this email is being heard in tonight's council meeting, it is because of her. When news about this broke this weekend on social media, she jumped in immediately."
Since Sherrick read aloud five comments, it appears Wu and the council elected to have them heard despite the statements in the agenda as Wu can be heard telling the city clerk to "please go ahead" and read them.
Mixed Messaging & Agenda Wording
Sherrick also emailed residents that their comments would be "read into public record at tonight's meeting." Some residents still got the impression that they would not be read aloud due to the statement on the agenda and the mixed messaging going out to the public.
They were read aloud, whether residents credit the council for that occurring or not.
Then the next meeting's agenda packet said emails would be read aloud, while the shortened agenda had a typo and contradicted that statement.
It appears that direction was given to reverse this decision for the larger agenda packet on July 21, but that direction was altered again when it came to the shortened agenda. It is unknown when the changes were made and if said changes were made after the council received around 300 emails. It is currently unknown why these agendas are not consistent.
The following is an excerpt from the larger packet agenda for the July 21 meeting:
The City Clerk will read emails received by 6:30 p.m. the day of the meeting out loud into the public record. All comments received will be made part of the official public record of the meeting.
The following is an excerpt from the shortened agenda for the July 21 meeting:
The City Clerk will provide copies of emails received by 6:30 p.m. the day of the Council meeting to the City Council. All comments received will be made part of the official public record of the meeting.?
The punctuation typo first appeared on the agenda of the June 23 special meeting, which was the meeting held prior to July 7, so it was likely copied from that agenda:
The City Clerk will read emails received by 6:30 p.m. the day of the meeting out loud into the public record. All comments received will be made part of the official public record of the meeting.?
What was changed between the versions was the mentioning of reading comment cards aloud. It now stated that the clerk will no longer read the emails and will only provide copies of the emails received.
This time only 10 comments were read out of a batch of over 300 emailed comments. Only one additional comment, Jobst's email, was presented to be read into the record by Shewmaker during council communication. At the next meeting, she spoke against how staff limited comments and said she was unaware of the amount of unique comments that were not heard.
This trend to not read comments established a new precedent going forward that was found on the Aug. 4 council meeting agenda packet and shortened agenda, one that members on the council have vocally disagreed with. The following is an excerpt found on both:
All emails received by 3:00 p.m. on the day of the Council meeting will be posted to the City's website under "Current Meetings and Agendas" and provided to the City Council prior to the meeting. No comments will be read out loud during the meeting. All comments received will be made part of the official public record of the meeting.
So Why Does Pedantic Wording Matter? What's The Point?
The changing of the time from 6:30 p.m. to 3:00 p.m. and the new policy going forward of posting submitted emails to the city's website is only the latest in a long line of actions that have been taken by city staff that has led to confusion and outrage by the residents.
The changing of the time was a sticking point for some residents, and for others its the inability to address the council without being on the phone which has led to other technical difficulties – ones that were on full display at the July 21 and Aug. 4 meetings.
The city clerk told resident Sarah Love that she sounded like she was in a tunnel during her public comment because it was difficult to hear her, and Shewmaker had such a bad delay on July 21 that the mayor had to tell her to mute her microphone for responding to a question that was asked minutes before they started reading the ten emails they selected.
While these little things may sound like petty gripes to some, other residents see a written public comment as their only way to effectively and safely communicate with the council given the technology and current circumstances. That's also not mentioning the different decisions that were made on whether the public and council could enter city hall or not, from barring Bennett entry, to allowing people to sit apart with masks, to closing city hall after an internal outbreak.
City staff has effectively moved the goal post by changing when comments should be submitted by and whether or not they will be read aloud, which leaves the city council to take the wrap for not putting a stop to it.
Censorship Claims
That brings us to the allegations made at the Aug. 4 council meeting that the city council censored residents. Calling council members complicit is up to the residents themselves, but three council members have either claimed to be unaware, uninvolved, unhappy, or a mixture of the three with what has taken place.
Now council members have claimed to take actions.
Council member Dario Castellanos said he provided staff with direction following the meetings to allow for more comments to be heard.
"The direction I've given about public comments is to bring the public back to the chamber," Castellanos said. "I never wanted the chamber to be closed to the public, but unfortunately the county forced us to close to the public."
He added that city staff told him in response that the public will be allowed at the next meeting and that the last he heard is "that's still the plan."
Mayor Pro Tem Letty Lopez-Viado said that she also approached the city manager with this idea and added that the public should do temperature checks before entering the chambers, like they do at her work.
She said she was unaware that Castellanos also asked the city manager for this and thinks that the city manager likely took the consensus from individual council members to bring forward this decision.
That decision comes with new issues, but removes some other issues related to problems with technology.
Breakdown
Aside from future action, it's a lot more complicated than saying residents were censored – there were numerous new factors at play aside from shifting rules on whether or not emails would be read.
The city clerk's office received 321 files on July 21 that they have released to West Puente Heights. Of these files, five were duplicates pertaining to the BKK issue and there were 284 comments related to the issue.
There was one additional comment added to the data set, bringing it up to 285 comments – that was not provided in the public records request, though the request to have it be read aloud was provided. It was not read aloud.
The majority of comments about BKK were made by 177 West Covina residents and most comments submitted were templates.
There were 197 templates submitted and 115 of those templates originated from West Covina residents.
This means 69 percent of all comments were templates and 65 percent of all West Covina comments were templates.
The city clerk said that 280 comments were received about BKK and that 204 of them were substantively the same in nature before reading off the template. The city clerk's numbers are off, but her classification of the emails was accurate from the released records.
The non template emails focused on similar points to the template emails and there were a few emails that were unique from the template but matched one or two other submissions.
Still members of the community rallied against censoring the 76 individuals that were did not write templates.
The actual figures are 88 non template submissions and 62 West Covina residents without template submissions.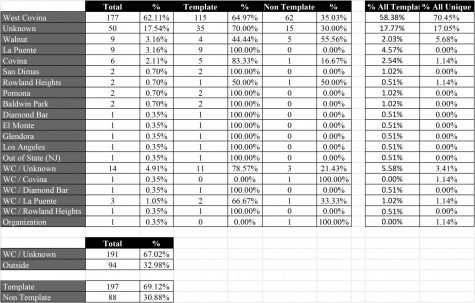 There were 10 comments related to communications with the city clerk, and those comments included requests to speak, requests to have the clerk see attached letters and requests to have comments read aloud. Resident Elsie Messman was the only individual who spoke on July 21 that has no released record with the city of submitting an email requesting to speak for that meeting. Of those requests, only one individual, resident Angie Gillingham, was ignored.
In examining all emails, only Gillingham can claim true censorship as she requested to be read aloud and that request was not honored, while all other requests to call in or be read aloud were honored. It is unknown as to whether city staff lost the attachment or what the reason was for why it was not read or provide in the public records request.
There were two other requests to "see attached" made by Joan Licari of the Sierra Club and resident Brian Jobst, but city staff may claim that was not an indication to have it read allowed and that those emails were only a request to have confirmation that the items were received.
Later in the July 21 meeting, Shewmaker asked to have Jobst's comment read into the record during council communication. Those attacking the council on Aug. 4 for not reading emails did not address that Shewmaker had done this.
Some residents that do acknowledge this action call it posturing for the November election. At the time of writing she has not filed to run in district three.
Shewmaker would later add in the Aug. 4 meeting that she did not know why the date to submit comments was changed or why there were so many unique comments that were not read and then spoke against those changes.
Since she joined the meeting remotely and had a noticeable delay that stopped the meeting multiple times, she may not have heard the city clerk say that 204 out of 280 comments were substantially the same, to understand that it meant 76 were unique.
Again those figures should be 88 for overall and 62 for West Covina residents, but it appears city staff did a brief scan and got numbers that are within a margin of error.
While residents claim censorship of unique emails, three of the unique emails pertaining to BKK were read aloud (and a fourth when Shewmaker had Jobst's read aloud).
The three that made it in obscured the subject line or addressed more than one issue. Resident Brian Tabatabai, who is running in district one against Johnson, beat the sorting system by talking about how the area the city is on used to be Tongva land. This also happens to be the start to most of his public comments, and as such the letter was already almost finished when he addressed the BKK issue.
Former Police Chief Marc Taylor beat the system by addressing MOUs and contracts before adding in BKK in the last few sentences of his comments, and a member of Save Our Community, James Flournoy, got through by never stating BKK but instead referring to it as a site and addressing concerns about seismic and geotechnical disturbances.
Aside from the emailed comments, residents also had an opportunity to call in to speak on topics. Three residents, Messman, Peter Dien and Jessica Arm all called in and spoke against the development at BKK.
Messman read an otherwise unsubmitted comment she had written, Dien spoke on Change West Covina's promotional strategy about the area, and Arm spoke about how different things were back in Sacramento and how she wants more open space in.
Change West Covina, Templates and "Facts"
Change West Covina is a student led organization that began getting involved in local issues around March of this year, according to Newsbytes reporter Vivian Gomez. Newsbytes, a digital publication from West Covina High School, has also released an editorial on the BKK issue.
The Tribune cites the movement as starting in June by four high school and college students: Dien, Yusuf Arifin, Erin Lopez and Emylou Vergel de Dios.
Gomez added that Change West Covina has a fifth member that is involved in all of their efforts that is often not available to directly participate. His name is Carlos Acosta and he is "a media director attending USC."
"Students I've heard from and spoken to have a common consensus that they see the city council [as] not really transparent," Gomez told West Puente Heights. "However, Change West Covina, with students like Peter, have been very propellant in city issues."
Gomez then went on to explain the alignment of the group.
"They do work very closely alongside SGV Progressives, and Jobst, and have frequent discussions. They see them, I'd say, as a basis because their views do align for the most part," Gomez said. "But all the actions they've taken upon themselves are their responsibility. Groups like those share a relationship to the students of being informants than anything [else]."
Aside from Gomez and the Tribune's accounts of the group, they are the origin of the two templates. Below is the BKK template and its source document also includes a list of talking points that were found on template and original submissions.
Hello,
My name is [insert name].
[PERSONALIZE INTRODUCTION! This is to ensure your email is read and can not be put in a spam folder. Put personal information in this such as how long you have been a resident of West Covina, what school you go to, and a story on why you care about our city. IF YOU DO NOT PERSONALIZE IT THEY WILL JUST SPAM IT]
I am emailing you today to urge you to vote no on continuing our contract to build a 400 Room Hotel Resort on the BKK Landfill. Your negligent and ridiculous decision to move forward with building this hotel next to an unlined, toxic, hazardous waste landfill is one that shows you do not understand the levity of the situation and the harm it may cause to both the residents and the wildlife.
The BKK landfill is California's largest toxic hazardous waste landfill and is one of our state's most dangerous. Therefore the construction of any hotel or intensive development adjacent to the waste is unsuitable and dangerous.
The long construction activities that will begin due to this hotel will expose residents of West Covina, Walnut, Valinda, and La Puente to landfill gas leaks, blowing toxic dirt, and more groundwater contamination. According to the United States census data, over 26,000 people live within one mile of BKK and over 176,000 people live within 3 miles. We can not put these people at risk for a project that will most likely be a financial failure.
The landfill has yet to be cleaned up, and the residents of West Covina will not allow any intensive development until it is. We propose a more sustainable option that listens to the science and statistics.
Thank you.
[INSERT NAME]
[INSERT CONTACT INFO]
The defund the police template also originated from Change West Covina.
Subject: [*** INSERT UNIQUE SUBJECT LINE ***]
Message: (Don't forget to replace the [x]'s with your information!)
Dear Mayor Tony Wu and West Covina City Councilmembers,
My name is [YOUR NAME]. I am a resident of West Covina and I am emailing today to urge the City of West Covina to defund the WCPD, and prioritize the needs of the community over a dramatic salary raise for law enforcement. The City of West Covina, per the 2020-2021 Preliminary Budget, allocates $31,163,716 (47%) to law enforcement, an incredible fraction of our city's resources.
West Covina is ranked 17th out of 471 cities in California facing fiscal challenges. Furthermore, we are ranked number ONE in future pension costs and obligations, almost entirely due to our Police Department. If we do not reform our budget now and invest in our community, we will be bankrupt in the next few years.
Despite our pressing financial issue, in October 2019, the West Covina City Council voted 4-1 to raise the salaries of police officers by 12%, which will ultimately cost taxpayers around $600,000 in this current fiscal year and double that the following year. Despite the ongoing economic hardships many residents and small businesses in West Covina face as a result of the COVID-19 pandemic, the City Council has prioritized a salary increase over the essential services and support most needed by residents RIGHT NOW.
I implore the City of West Covina to increase spending in community resources, such as educational enrichment programs, small business resources, affordable housing, and community-centered alternative to public safety. We as a city need a budget that will effectively serve the needs of our community and create a safe environment for all of us during this unprecedented time.
It is now the time to decide whether or not West Covina wants to be on the right side of history. Trust the people of West Covina and listen to what we want, which is a budget for the people and the defunding of our Police Department.
Thank you for your time,
[YOUR NAME][YOUR ADDRESS]
[YOUR EMAIL][YOUR PHONE NUMBER]
"Lisa, we received more than 200 identical emails similar like this, and I think you should do the same thing – just read one [to] represent entire group because you're reading the same thing for these two emails," Wu said. "So would you please put on the record so we can put on the city clerk office for all those people that sent an email so we make as a record how many are identical."
This statement was incorrect in stating there were 200 identical emails on defunding the police, there were only nine, but this decision made it a uniform policy to not read multiple templates. Wu would later state there were 200 on each topic when there were 285 on BKK and nine for the police issue. The Tribune itself has simplified the 285 comments referring to BKK as encompassing all 300 plus emails submitted.
Carmany interjected after Wu that he did get emails from others on defunding the police and that he was going to help the city clerk read those emails (which were templates), but under Wu's new direction those would not be read.
Only 10 comments were read, and both templates were read into the record. It is unknown whether all unique comments would have been read aloud had there not been 197 templates submitted to the city. The mixed messages and changing precedent also further muddles things.
Dien, for his part, addressed council about the group's templates being used by phone on July 21. He said he was surprised by the output of viewership on his posts and that their socials gained 400 followers and were seen by over 36,000 people.
If his numbers are accurate the 197 templates that turned out could have been way higher.
"So I apologize in advance if your emails were flooded, but the people deserve to know whats going on and they deserve to voice their opinions," Dien told council. "So I hope you all sit here and read the emails together."
He provided his personal opinions after the following statement, included in those statements was comparing building a landfill on or near a dump akin to dumping a trash can bin in the street and sleeping on the waste and that the proposal will not be financially viable.
"As for the facts," Dien added. "I honestly don't think I need to say the facts – because everyone knows the facts."
City staff did not agree with the "facts" provided and stuck to their statement that the current contract on the agenda only changed terms on the land rights and did not approve any proposal or building.
"For the emails on BKK, a lot of them sent us an email to vote no on a hotel. We didn't vote on a hotel – it was an extension which was approved before," Lopez-Viado said at the Aug. 4 meeting. "I just wanted to thank our staff for clarifying a few of the other situations."
Carmany later told the Tribune the amount of emails was "overwhelming," while Jobst told the Tribune it was "suppression" and that the city should have read aloud all emails regardless of the time it could have taken.
"If it takes until 1 a.m.," Jobst said by phone. "It takes until 1 a.m."
At Present
Residents at the Aug. 4 meeting took particular issue with the Tribune's reporting of Carmany's statements.
He reportedly said he gotten the impression that "many of the comments" received were not from residents but people interested in the issue. The data from a public records request validates his assertion.
There were 94 comments made from people who did not identify a city, identified living between two cities, or identified a city other than West Covina. This makes up about 33 percent of all comments on the matter.
Had Carmany said most or a majority, as was interpreted by some, he would have been wrong as 191 comments were made by residents of West Covina or residents that indicated they had lived there but did not specify that they still lived in West Covina. That makes up about 67 percent of the sample size.
Members of Change West Covina also said during the July 21 meeting that the intros were all different and should be read. They were correct in stating that the intros were different, but only around five emails had a clear highlighting to distinctly separate the original comment from the template. Lots of the 192 other comments integrated the intro well into the template or had an intro of a greeting and a name, which makes reading intros a different task.
City manager Carmany then addressed the censorship claims before oral communication by stating that the goal is, as Castellanos stated, to reopen the chambers to bring the public back if they wish to address the council in person.
"We hope to receive a clearance by the end of the week, by Friday of this week, and if that is in fact the case – we intend to reopen these chambers with proper masking and social distancing to the public at your next council meeting," Carmany said. "We miss being able to have public in these chambers and are in the mean time honoring their rights to free speech by accepting letters which will certainly be read by council, although not read aloud this evening, as we understand, and then also through the phone calls. People are welcome to call in and that is the portion of the agenda we will get to just next."
His comments were followed by a delay before technological problems were addressed to put through 16 callers.
They stopped Gillingham, the first speaker, mid speech on censorship because they could not hear her.
"I am flattered to know that the contents of my email were the same as Brian Jobst, Mike Miller – and the Sierra Club – and many others, but we were not heard," Gillingham said. "Your continued behavior of ignoring the residents is being seen by more and more residents and will not favor any of you in the near or distant future."
Followed by other statements against the censorship, the council responded to these comments.
Johnson has a track record of voting against the proposal and said he responded to residents' emails.
"I want this to go on record that I answered 180 of those emails myself," Johnson said. "They're saying that the council wasn't concerned and wasn't listening to them, but they should be very aware I listened to every one of you and I answered every one of your emails, and I think that emails should have been read."
Following his statement, a public records act request was submitted to verify this claim.
Then Shewmaker made a similar statement against the policy to change the time and to not read the emails.
"I became aware at the last meeting that there were some emails that were not read that were substantively different than the form ones on BKK, and I just want to say that I'm disappointed," Shewmaker said. "I don't even know the exact number that were different. So when I found out about one in particular, I had that read during council comments at my request, and I was disappointed to find out later that more were not read."
She then said it was important to her that these emails that are not form emails be read aloud and added that the individuals sending the unique comments would likely have made those comments in the chambers if they could have.
"I think the council as a whole needs to have a discussion about how we're going to handle this. It may be a moot point because chambers may be open by the next meeting so people can come and comment, and we can go back to our original policy," Shewmaker said. "I do not like that people continue to paint the council as trying to suppress public comment."
She then stated the policy was always to not read emails out loud before the pandemic, and there is no listing on agendas about the matter prior to the pandemic. Now, during the pandemic, the precedent has changed back and forth in between meetings.
"I also don't like that email comments have to get to the city by 3 [p.m.], especially when there was not really a lot of notice that we were changing that policy," Shewmaker added. "I think this is an issue we need to talk about unless it becomes moot by the next meeting."
At the time of writing, these points are slotted to become "moot" with the reopening of the chambers for the next meeting, but the other issues and questions remain as to why city staff has taken the actions they have – aside from the ones that were directly dictated to them by the county.
To call the council complicit in city staff's actions is every resident's personal judgement call, but to say the council, instead of city staff, are the ones disenfranchising residents does not hold up with the actions council members have claimed to have taken.
Leave a Comment
About the Contributor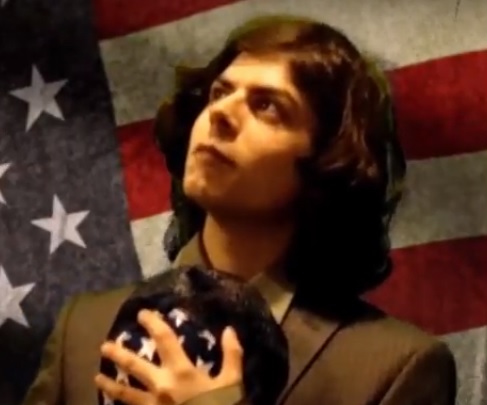 Joshua Sanchez
Joshua Sanchez is the former Editor in Chief and News Editor of SAC.Media. He was previously the managing editor of LAHS' student newspaper,
The Conqueror
. A portfolio of his reporting work can be found at
jdjoshsan.wordpress.com.