7 Most Iconic Memeable Moments from Keeping Up With The Kardashians
Keeping Up With The Kardashians is ending after 13 years on air. Here are their contributions to pop culture
After 20 seasons on air, "Keeping Up With The Kardashians" has officially come to an end. The Kardashian-Jenner clan announced on Sept. 8 that the show's final season will air in early 2021.
It's been a long, dramatic and emotional journey with the Kardashian-Jenner family. From eating salads and sisterly fights to the iPad regift scandal, these pop culture icons gave us enough memeable content to last centuries. Here is a rewind of the show's most iconic moments that redefined pop culture history.
"Kim, there's people that are dying."
Nothing will ever compare to the episode where Kim sobbed over losing her $75,000 earring in the ocean. Her ex-husband, Kris Humphries threw her earring into the water during the family's Bora Bora vacation which caused her earring to sink to the bottom of the sea.
Kourtney, being the older sister she is, quickly humbled Kim by saying, "Kim, there's people that are dying." This phrase is commonly used on stan Twitter. Everyone should collectively say thank you to Kourtney for this iconic line.
"Kim, would you stop taking pictures of yourself? Your sister is going to jail."
The premiere of the third season revolved around Khloe getting ready to go to jail. One of the best ways to start a season, in my opinion.
Khloe missed multiple court-ordered DUI classes because she was on vacation in Australia. She violated her parole for not attending the courses which resulted in her going to jail for 30 days. Luckily for Khloe, she was only there for less than a day.
On the way to dropping her sister off at jail, Kim took photos of everything. She has pictures of her sister on the phone telling their younger brother, Rob, where she was headed for the next 30 days. Obviously, she had to take some selfies on the way. This caused Kris to say the iconic line, "Kim, would you stop taking pictures of yourself? Your sister is going to jail."
"No, you're cute jeans."
Amongst all the family drama with Rob and Blac Chyna, Kendall and Kris Jenner found time between the chaos to have a nice mother-daughter talk outside Kris's house in Calabasas. Kris complimented her daughter's jeans, to which Kendall replied, "You're cute jeans."
That's all I can really say about it or else it can get really confusing.
"Is that a chicken?"
In this deleted scene, Kris brought home a piglet for her daughter, Kylie. Kylie walked down the stairs and asked, "Is that a chicken?" when the animal Kris held was clearly a piglet.
This clip was shared all over social media, causing it to blow up over night. Some people found this video extremely hilarious and iconic, they made their own versions of the video on a gaming platform named ROBLOX. Kylie's, "What is that?" line was also screen-captured into a reaction photo to use on social media platforms.
In an interview with E!, Kylie tells the story from her perspective, and why she thought the pig was a chicken.
"Don't be f*cking rUDE!"
Ah, yes. Another culturally defining moment in the show. The three Kardashian sisters, Kourtney, Kim, and Khloe argued with one another and the outcome was Kim hitting both sisters with her purse while saying, "Don't be fucking rude!"
Kourtney and Khloe had a conversation about Kim and the new Bently she had just purchased. Kim caught her two sisters gossiping about her, and she wasn't having any of it.
Someone uploaded the audio on TikTok. Today, the audio has thousands of content creators recreating the scene with their friends and family. The episode may have aired in 2008, but she's still around.
"Kim, you're doing amazing sweetie."
In this episode of the first season, Kim had the opportunity to model for Playboy magazine. She was ready for this career defining shoot….until she realized she had to pose nude. When Kim decided to do it, momager Kris Jenner stood behind the camera and cheered on her daughter.
This episode was a cultural reset for pop culture. stan Twitter found this clip, turned it into a reaction photo, and Twitter, Instagram, and Tumblr haven't been the same since. Gen Z tends to use this phrase to encourage and show support towards their friends and family.
"If you know how I feel, why would you say that?"
Now, this scene isn't from "Keeping Up With The Kardashians", but from the show's spin off, "Kourtney and Kim Take New York." Kim opened up to Kourtney about her marriage with ex-husband, Kris Humphries. Kim told her sister she wasn't happy with him anymore which led to both sisters shedding tears over their heart-to-heart.
You're lying to yourself if you say you've never seen or heard of Kim Kardashian's crying face; a LITERAL staple in pop culture. There are even compilation videos on YouTube of her crying. This is undeniably the most popular meme that came from the Kardashian-Jenner family.
The scene was first popularized around 2015 when user, Sharp-A World, on YouTube made this remix to the audio. It recently started to show up everywhere again because creators on TikTok have made videos using the remix audio.
Fans of the show are upset and reluctant to let these pop culture icons go, but you know what they say – Reality TV Shows come and go, but memes are forever.
Leave a Comment
About the Contributor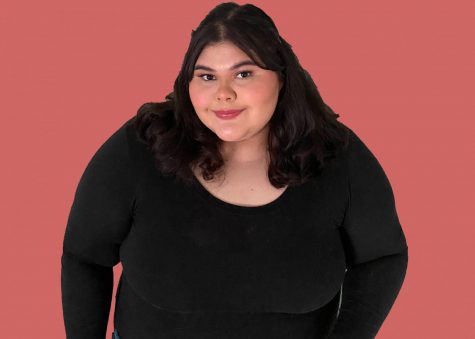 Amber Ortiz, Pop & ENews Editor
Amber Ortiz is the Editor in Chief of Substance Magazine, Pop Editor of SAC.Media,  and a part of the social media team.