Bobcat Fire at 15 Percent Containment
Evacuation orders remain in effect for affected areas until further notice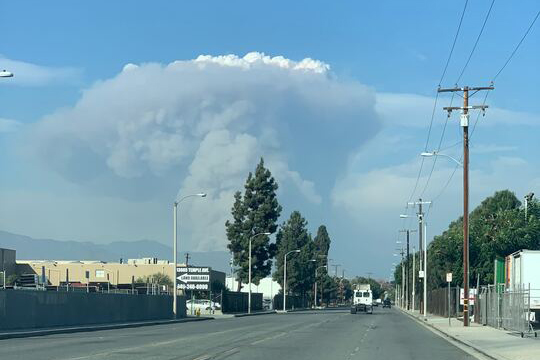 Although there has yet to be one home that has succumbed to the blaze of the Bobcat fire, there are many efforts being made to help those who need to evacuate their homes and prevent the spread of the fire into the foothill communities as well as the Mt. Wilson Observatory.
The fire, which has been burning in the Angeles National Forest since Sept. 6, has consumed more than 60,000 acres of land and is 15 percent contained as of Sept. 18, 2020.
The cities of Monrovia, Bradbury, Sierra Madre, Arcadia, Altadena, Duarte and Pasadena have had evacuation warnings that will remain in effect until further notice. New cities to add to the list of evacuation orders include Juniper Hills, Devil's Punchbowl and Paradise Springs.
The current expected containment date, according to InciWeb, is Oct. 30. The InciWeb website states that, "containment dates are dependent on resource availability. Currently have limited resources for the fire. Critical need for resources continues."
The state of California requested funding to help combat the fire and was approved to receive the Fire Management Assistance Grant (FMAG) on Sept. 13. According to the Federal Emergency Management Agency (FEMA), this can help cover up to 75 percent of the firefighting costs including field camps, equipment use, materials and supplies, as well as demobilization activities.
For anyone able and interested in also assisting financially, donations can be made to California Community Foundation Wildfire Relief Fund.
For those being directly impacted by the fires, the American Red Cross Los Angeles Region opened a temporary evacuation site at Palmdale High School that has volunteers readily available to assist those that might need help finding housing while the evacuation orders are in place.
The Red Cross website states that, "volunteers maintain social distancing, follow sanitizing routines and provide health checks," in order to follow COVID-19 health recommendations.
For Mt. SAC students, although the college does not have resources outlined for those being affected by the fires in particular, there are resources accessible to all students that would help in case of food insecurities. This includes a drive-thru Mountie Fresh Food Pantry scheduled for Sept. 23 from 10 a.m. to 1 p.m where Mt. SAC students can show their school I.D. and receive a bag of food courtesy of Mt. SAC Basic Needs.
For students facing homelessness, Mt. SAC has a website that lists resources for students including shelter addresses and their phone numbers.
Leave a Comment