What RBG's Death Means for the Future of the Supreme Court
Replacing the late justice could alter the supreme court's decisions going back decades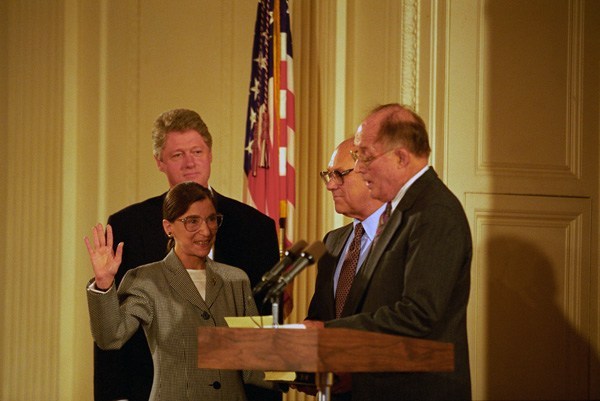 Ruth Bader Ginsburg, the second female justice ever appointed to the Supreme Court, died Friday due to complications of cancer at the age of 87 in her family home. She was known as the most liberal justice and is famous for her powerful dissenting opinions throughout her 27 years on the court.
Ginsburg was appointed by President Bill Clinton in 1993. She was serving as a federal appeals court judge when tapped for the Supreme Court Justice nomination, and had considerable experience and reputation as an attorney, scholar, and advocate for equity across the board.
Her work resulted in monumental changes for men and women. She wrote the brief on behalf of the plaintiff in Reed v. Reed in 1971, which established that the Equal Protection Clause of the 14th Amendment can be used to challenge cases involving gender discrimination. She argued alongside her husband as a constitutional attorney, and he a tax attorney, in Moritz v. Commissioner in 1972, which established that tax laws should not be applied on the basis of sex. She wrote the majority opinion as a justice in the case United States v. Virginia in 1996, which granted women the ability to attend a previously all-male military institution.
Today, a case that has a likelihood of being argued in the Supreme Court involves the constitutionality of the Affordable Care Act, also known as Obamacare. Opposition in Republican-led states believe that the individual mandate within the law, which requires that individuals to purchase health insurance if they can afford to or face a penalty in the form of a state tax, is unconstitutional. If the law is overturned, over 25 million people will possibly lose their health insurance without a replacement plan from the Trump administration.
Additionally, Roe v. Wade, a landmark case from 1972 which established abortion rights, has the potential of being challenged. Recently, states like Georgia and Alabama have passed laws that have made it more difficult to obtain an abortion. Reproductive right's advocates are anticipating a dark future for their cause. Roe v. Wade can be weakened if not overturned in an upcoming case challenging whether patients should be able to obtain abortion medication during a pandemic over telemedicine. Without the solid liberal position previously held by former Chief Justice Ginsburg, the Supreme Court stands in a 5-3 conservative majority, with a possibility of becoming a 6-3 majority by a Trump appointee.
The process of filling a vacant Supreme Court seat is as follows: a president nominates an individual, they undergo public hearings, they are approved by the Senate Judiciary Committee, they are confirmed by the Senate by a simple majority vote, and the justice serves a lifetime term that ends upon death or resignation. However, there have been obstacles with the process since 2016.
In early 2016, an election year, Justice Antonin Scalia passed away. He was one of the court's conservative justices, and it left the balance of the court a leveled 4-4 between liberals and conservatives. His replacement would determine the court's political lean for the next generation.
When then-President Barack Obama nominated Judge Merrick Garland, Republican Senate Majority Leader Mitch McConnel refused to proceed with confirmation hearings, saying it was too close to an election year and that the vacant seat should be appointed by the next president. President Trump filled Justice Scalia's vacant seat in 2017 with conservative Judge Neil Gorsuch, and then again in 2018 with conservative Judge Brett Kavanaugh when Justice Anthony Kennedy resigned, making the court a tight 5-4 conservative majority.
Now in 2020, six weeks before an election, the death of Justice Ruth Bader Ginsburg has revealed that Senate Majority Leader Mitch McConnell will not adhere to the same rules he set for refusing to fill the vacant seat during the final months of President Obama's tenure. The Republicans hold a majority in the Senate with 53 Senators and can easily confirm the next Supreme Court nominee if all 53 Republican Senators vote in favor – even if every single of the 45 Democratic Senators vote against the nominee.
So far there have been two Republican Senators – Sen. Lisa Murkowski of Alaska and Sen. Susan Collins of Maine – who have written statements voicing their intention not to vote for a nominee until after inauguration day.
"I did not support taking up a nomination eight months before the 2016 election to fill the vacancy created by the passing of Justice Scalia. We are now even closer to the 2020 election – less than two months out – and I believe the same standard must apply," Sen. Murkowski said in a statement.
In recent developments, President Trump has said that he is undergoing a vetting process to nominate a woman to replace Justice Ruth Bader Ginsburg, those of whom have already been approved by Sens. Murkowski and Collins.
Amy Coney Barrett, 48, a U.S. Court of Appeals for the Seventh Circuit in Chicago, and Barbara Lagoa, 52, of the Eleventh Circuit in Atlanta, are two judges with a conservative track record. Barrett has previously stated that life begins at conception and was a former clerk to Justice Scalia. Lagoa previously served in the Supreme Court of Florida, which may appeal to the conservative Cuban-American population in Florida if appointed.
Over the decades, the Senate confirmation process has taken an average of two to three months, from nomination to final vote. However, Justice Ginsburg was confirmed in a mere six weeks in 1993. As long as Majority Leader McConnell has the votes lined up and can push the process along, the trajectory of the Supreme Court is anticipated to lean conservative for many decades to come.
Leave a Comment