6 Ways to Get the Halloween Spirit
The coronavirus doesn't have to be the only one getting spooky this October
October is finally here which means the 'spooky' season has officially started. I know I'm heartbroken I'm not going to spend my Halloween as I usually do – getting dressed up in my costume and heading to the city with my friends. But Just because there is a worldwide pandemic going on, that doesn't mean you can't get into the Halloween spirit. There are plenty of things to do to get you and your loved ones in that spooky mood that also follows social distancing guidelines. Here are six fun activities to do this Halloween.
Binge Watch Halloween Movies and TV Shows
Watching Halloween classics like Hocus Pocus and Halloween Town can definitely put you into that celebrating mood. Nothing sounds better than grabbing some popcorn and candy before enjoying these iconic Halloween movies with your roommates or family.
FreeForm uploaded this year's schedule for "31 Nights of Halloween" which includes movies such as, Beetlejuice, Scream, Matilda and so many more.
If you're not really looking for that family friendly type of vibe, try checking out Buzzfeed Unsolved on YouTube. Ryan Bergara and Shane Madej are the hosts of Buzzfeed Unsolved and they're hilarious. The series covers true cases, as well as paranormal ones. You get the best of both worlds if you ask me! The episodes are free on YouTube, but beware – the cases can get pretty spooky!
Bake Halloween Themed Desserts
If you hate being in the kitchen, this activity might not be the best option for you, but you can still give it a try! Do your best to recreate some memorable and fun Halloween treats to munch on during your movie night. If you live with other people, make it a competition and see which one of you can make a better and cuter design! Just know, I'm not responsible for any broken relationships.
Another option for some Halloween themed desserts that's cheaper and cleaner would be to buy the premade Pillsbury Halloween sugar cookies from your local grocery store. Just pop those bad boys in for less than ten minutes and you're set!
Make a Spooky Basket
"Spooky" Baskets are all the rave right now. They were popularized back in 2017 when people would give them to their partners who were Halloween fanatics. Think of it like an easter basket's older and edgier sister. You can make one for your partner, sibling, or even yourself! A lot of people buy the supplies for their baskets at local dollar stores, making this an affordable option. A spooky basket can be filled with anything you want that is Halloween themed. The usual baskets contain candy, popcorn, socks, and candles. There isn't an exact formula to making these baskets, so get creative!
This TikTok gives a rundown of a spooky basket on a budget.
Halloween Drive Thru Attractions
This option can be more on the expensive side. Many places who host Halloween themed events during October have decided not because of COVID-19, but there are a good amount of Drive-Thru haunt attractions to attend this October that follow social distancing guidelines. In Downtown LA, an event hosted by Netflix and Fever is Stranger Things themed. The best part is you don't have to worry about leaving your car. This fully immersive drive-into experience will have the attendees drive through a Hawkins themed set.
SAC.Media A&E editor, Delilah Perez wrote a piece about some places in our area that are offering these drive-thru experiences.
Decorate Your Living Space
Now this has to be my favorite option out of all of them, and it's another budget friendly activity as well! Dollar stores such as Dollar Tree and the 99 Cent Store both offer a wide variety of Halloween decorations at a low price. Decorating your home can get everyone in the spooky mood. Heck, even just decorating your own bedroom can lift your spirits. This is another option where you can really get creative on a budget. Buy some pumpkins and candles, and feel the spooky vibes creep into your body. While you decorate, put on some Halloween tunes to really set the mood.
Don't forget to hang a ring of garlic on your door to keep the vampires away! I mean, unless they look like Edward Cullen. Edward Cullen, if you're reading this, you're always invited inside my house.
Carve a Pumpkin
Last but certainly not least, carve a pumpkin! This has been a Halloween tradition for centuries. Local grocery stores should receive their shipments of pumpkins soon, so it doesn't hurt to check and buy the necessary equipment to make the best carved pumpkin the world has ever seen.
This can also be a fun activity to do with friends who are content with following social distancing guidelines. Hang out in an open space, six feet apart with your masks on, and carve your little hearts away.
Leave a Comment
About the Contributor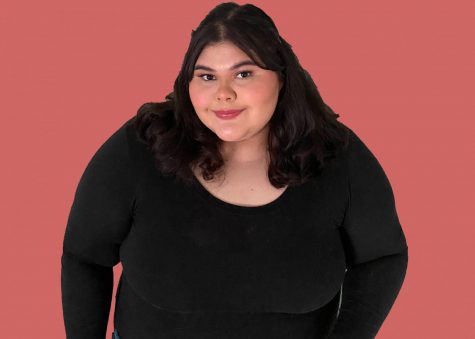 Amber Ortiz, Pop & ENews Editor
Amber Ortiz is the Editor in Chief of Substance Magazine, Pop Editor of SAC.Media,  and a part of the social media team.