"Stranger Things" Actress Stars as Sherlock Holmes Sister
"Enola Holmes" offers welcomed twist on Sherlock Holmes novels
The Netflix original film "Enola Holmes," directed by Harry Bradbeer, made its debut on Sept. 23. "Enola Holmes" is a captivating film that enthralls the audience in the action and detail of each scene and is based on a series of young adult books by Nancy Springer. The film follows Enola Holmes, the younger sister of the legendary detective Sherlock Holmes. During the film, we watch Enola's journey in search of her mother and see her face numerous obstacles. Along the way she uses her sleuthing skills and her mother's lessons to help find answers.
The film is set in 19th century England and highlights the then radical women's movement of suffragettes fighting for equal rights. Enola's mother was a freethinker and a part of the suffragettes who refused to fit into society's standards. Enola wakes up on her 16th birthday to find that her mother is nowhere to be found. Upon hearing the news, her brothers Mycroft and Sherlock return to their childhood home to reunite with their sister that they haven't seen in years. They are surprised to find that Enola isn't up to the standards of what a woman should be like. As Mycroft sees that Enola isn't a lady, he puts effort into sending Enola to finishing school to become a proper young lady. Enola has no care to achieve his standard of being a proper lady and revolts by setting off on her own adventure to find her mother.
This film can be seen as a model for young girls, as it stresses that women are strong on their own and they don't need a man to save the day. On her escapade she encounters Viscount Tewkesbury, a lord who is on the run from his own family. Enola finds herself having to save the young lord's life on multiple occasions without needing the help of her brothers to clean up her messes.
Throughout the film are positive messages that focus on debunking the expectation of what a woman should be, highlighting freedom and individuality. Such main messages are seen when Enola goes against the norm and creates her own path for her life.
"Stranger Things" actress, Millie Bobbie Brown, took on the role of Enola Holmes and was successful in playing the role. Brown's acting was lively as she stepped into the character of Enola. Enola is brave, adventurous and up for a challenge. Brown's acting played a major role in making clear the main messages of the film. Another distinguishable actress was Helena Bonham Carter who has been in numerous Tim Burton films played Eudoria, Enola's mother. Other actors include Sam Claflin from "The Hunger Games" films and Henry Calvill who plays Superman in the Warner Bros DC films, who both play Enola's brothers, Mycroft and Sherlock Holmes.
The film is a feel good can't keep your eyes off of the screen kind of movie. This is in part due to the comic relief placed in the film, as well as Enola's constant breaking of the fourth wall throughout the film. The interaction between Enola and the viewers was a unique choice, but was beneficial nonetheless being that it heightened the storytelling.
Twitter user @sergioees said, "I really liked #Enola Holmes which is a very good family friendly movie that everyone can enjoy. Millie Bobbie Brown is excellent as Enola and #HenryCavill does a great charming and extremely handsome Sherlock Holmes. I hope it becomes a hit because I want a sequel!"
I really liked #EnolaHolmes which is a very good family friendly movie that everyone can enjoy.
Millie Bobbie Brown is excellent as Enola and #HenryCavill does a great charming and extremely handsome Sherlock Holmes.
I hope it becomes a hit because I want a sequel!. pic.twitter.com/cz9ywb6yhq

— Sergio-el (@sergioees) September 23, 2020
Many aspects of the film, ranging from the detailed costumes to the impeccable acting, contributed to the product of an entertaining movie. Another captivating point of the film is the fight scenes. They were impressive as well as amusing to watch as Enola fought with strategy against opponents much larger than herself. The wardrobe on set was appealing since the color choices were purposeful and realistic for the times.
Lisette Perez, 20, Mt. SAC Business major, said, "I appreciated the fight Enola put up and how she did not succumb to what was expected of her. Being a woman doesn't mean you are weak or frail, as we can do anything a man can and we are more than capable of making our own paths while being independent."
This film resonates with feminist themes today. During the film Enola was taught to be a free thinker by her mother and was given the tools to create her own path. To find who she is and understand her purpose in life is what her mother Eudoria worked so hard to instill in her. The idea of having to be polished and that the only purpose in life as a woman is to be married is confuted and to her, finding one's purpose in life is more meaningful. Enola's ending monologue underlines her finding herself and how her life is her own.
"I now see that being alone doesn't mean I have to be lonely. Mother never wanted that. She wanted me to find my freedom, my future, my purpose. I am a detective, I am a decipherer and I am a finder of lost souls. My life is my own. And the future is up to us," Enola Holmes said in a monologue during the film.
Leave a Comment
About the Contributor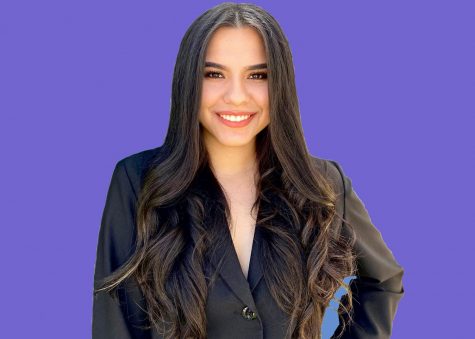 Delilah Perez, Arts & Entertainment Editor
Delilah Perez is the Arts and Entertainment editor at SAC.Media. She is also a part of the editing team of the Latinx platform Somos and is part of the public relations and social media team for the Mt. SAC journalism program and its student publications. Delilah has a passion for writing, and in her free time, she enjoys watching movies, going to concerts, and spending time with her family.