Gen Z is Ready, Willing, and Able to Vote
Nearly 4 million Americans turned 18 this year, and one out of 10 eligible voters in this election are Gen Z.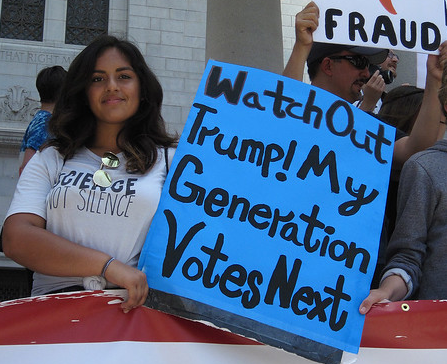 In both the 2016 presidential election and the 2018 midterm elections, Gen Z, Millennials and Gen X combined outvoted the Baby Boomers and older generations. Although the fresher group of Gen Z, or Zoomers, are not nearly as populous as Baby Boomers, their participation may lay the foundation for transforming politics for future generations.
This new generation includes college students Stephanie Pantoja, 21, Manuel Gavino, 20, and Adriana Martinez, 19. It wasn't until recently that they started paying attention to the political scene. 2020 will be their first year voting in an election.
"I really want to vote him out. If you don't vote this time around, you're kind of ignoring everything going on," Pantoja said. "This is a very important election, but even if they were two different candidates I would have still voted."
"I didn't really pay attention before. Now that I'm older, I see the news and on Twitter things trending. Having [seen] those sorts of things changed my perspective," Martinez said.
"When I was younger it'd be on TV but it wasn't anything that interested me or affected me because I was young. But I'm older now and see things [lawmakers] pass and how they affect the communities and that's when I started paying attention to the things going on," Gavino said.
Gen Z and Millennials are alike in their beliefs on key social and political issues, but their upbringings have one large factor on how they adopted their beliefs – Gen Z grew up immersed in social media.
Youtube, Instagram, Snapchat, and TikTok are the most popular online platforms among young people, with the latter growing globally by 800% since 2018. An example of social media's effect this year was the TikTok bombardment of President Trump's June rally in Tulsa, Oklahoma, where users were encouraged to request tickets for the rally without showing up in an effort to prank President Trump. Only 6,200 people attended out of the reported millions of ticket reservations.
With social media's ability for friends to interact and influence each other's timelines, it also has the potential to encourage involvement and activism.
"From what I see from people from high school, I definitely see activism for Black Lives Matter, ending [Special Anti-Robbery Squad] in Nigeria, everyone posting and retweeting, explaining things to people, going out to protests. I see that a lot," Gavino said.
"Now that me and my classmates can vote I see, especially with everything that's going on recently, it's definitely changed our perspective. We've got to change that in order for things to be better," Martinez said.
Whether more exposure will result into policy change is yet to be seen. After all, Gen Z is looking to surpass the Silent Generation in the voter electorate, almost half are non-white, and the Baby Boomer population, who accounted for 43% of voters in 2016, is slowly declining.
"I hope to see a change into how the election is run and how voting is done; I think rank choice voting is better and more fair," Gavino said. "Since social media is a big influence on this generation, I hope this translates to a lot of them running for office. I'd like to see younger people in those positions. A lot of laws are passed by older people pushing 80 and they don't see how we live, and soon they'll be long gone."
Pantoja said, "I hope Gen Z keeps it pushing and keeps voting because of this election, and I hope they keep that same energy going in elections after this."
About the Writer
Monica Inouye, Politics Editor
Monica is the politics editor at SAC Media. She accidentally leaves her mic unmuted and then uses the baby voice at her dog in front of everyone.