Musica Hermosa: "Revelación," Is a Must for Any Playlist
Selena Gomez smashed the charts with her new bilingual EP
Selena Gomez recently came out with "Revelación," her fourth extended play. Her EP was released on March 12 and is Gomez's first album that features Spanish music. The songs within the album tell different stories, have their own unique sounds but all of them will have you wanting to dance and keep on listening.
De Una Vez
Gomez 's first song on the EP "De Una Vez" is a love anthem. The lyrics "Yo me fui para que no se te olvide' 'De a una muerte como tú sе revive" or "I left so don't you forget' 'That through death one can be reborn" kicks off with a message of empowerment and being reborn. "De Una Vez" will have you reflecting on past love experiences that once had you questioning if you'd be able to get over a certain someone. "Soy más fuerte sola' 'Y es que no me arrepiento del pasado' 'Sé que el tiempo a tu lado cortó mis alas' 'Pero ahora este pecho es antibalas" or "I am stronger on my own' 'And it's not that I regret the past' 'I know that the time spent by your side cut my wings' 'But now my chest is bulletproof" depicts someone who has learned a lesson. The song is a reminder that pain fades with time and we ultimately learn how we deserve to be loved. Gomez's voice is smooth and melodic over the tune of various instruments used to create this delicacy of a song. The texture of her voice at times is light like a feather floating in the air but other times also comes in hard and purposeful when the occasional beat drops hit. This song will have you hypnotized not only while listening to it but while watching the music video as well.
Buscando Amor
"Buscando Amor," or looking for love, is a song about the opposite. It's a song about just going out and having fun. "No están buscando na' 'tan bien así como están," or, "they're not looking for anything, they're happy how they are." They aren't looking for rings, they're just having fun and this is the perfect song for just that.
You'd hear this track pouring out of a busy nightclub back in the pre-rona days. There would be some people stumbling along the sidewalk, leaning against each other, laughing and just enjoying the night. The beat carries a good mood and will keep you dancing, swinging your hips till the song is over.
"Sale porque lo veo que le gusta bailar Se pierden en el ritmo y comienzan a olvidar," she sings, "they go out so they see her because she likes to dance, they get lost in the rhythm, they start to forget."
Add this song to a dance playlist because it will seriously have you throwing a surprise dance party wherever it starts playing.
When we can all go back to the club, expect to hear this song on repeat.
Baila Conmigo
The song "Baila Conmigo" enters with a strong guitar riff that instantly engages anyone who is listening. The sound collides with artist Rauw Alejandro's voice which is so pleasing to the ear and makes you melt. "Comernos sin entenderno' e' mejor' 'Solo tenemo' que gustarno' or "Devouring each other without understanding each other is better' 'we only have to like each other' is the beginning of a sensual story between two people who want each other. Alejandro who is featured on the song adds depth and his voice provides a nice element of masculinity to the overall sound. Not only does the song delve into the longing of two people who want to dance together but also the ways two people can become addicted to each other. Gomez's voice enters with an alluring quality that fits perfectly with the song's storyline. "Pégate, ven, suéltate' 'No te me vayas sin las gana' de volver." This translates to "Come close and let loose' 'Don't leave without the desire to come back." This song paints a picture of individuals who are addicted and yearn for one another which is also prevalent in the music video.
Damelo To'
"Damelo To'" feels like a hot steamy night. The lyrics are hot and heavy and the beat is intoxicating and seductive. It gives the album that sexy element, the whole song is a passionate exchange between her and a lover.
"Nadia se siente, mi amor, que mi nombre en tu boca," she sings, "lo siento y no me tocas." This translates from spanish to, "Nothing feels better, my love, than my name in your mouth, I can feel you and you aren't even touching me."
The singing is compelling and addicting, with Selena's chorus flowing between every element of the song like a cutting river.
The song features Puerto Rican singer Myke Towers, who's singing was explosive and telling; that electric spark that finishes the song with a bang.
In part of her chorus, Gomez has the lyrics, "Termina lo que pensaste," or "finish what you started." This song has us doing just that, because nothing feels better than the rhythmic beat that carries the suggestive lyrics; it keeps us wanting to listen more. It's that perfect song to fill the gap in your playlist between pop and Latin. This song is much better if you listen to it with your own ears.
Vicio
The next song is "Vicio." "Tus labios son mi vicio' 'Por un beso tuyo todo lo arriesgo' 'Y tu corazón palpita con el mío" or "Your lips are my vice' 'I'd risk it all for one of your kisses' 'And your heart beats with mine." The song is about someone being your bad habit and how you can't get enough of that person. The song has a pulsating beat that just travels throughout your entire body which will have you swaying your body from side to side. This song transports you into the experience of how someone can have so much power over you and just their being can be the thing you crave. "Es el tempo perfecto' 'Beso a beso me dí cuenta que' 'Te necesito hoy igual que ayer' 'Así como eres yo quiero tenerte." Which in English translates to "It's the perfect tempo'" 'Kiss to kiss I realised that' 'I need you just like yesterday' 'I want to have you just as you are." The song "Vicio is relatable as many of us have that one person we can't get enough of and this is just a likeness to that reality.
Adios
"Adios" is the second to last track in the album before the finishing touch, "Selfish Love." But it is more than just a farewell to the listener; it's a breakup song. It's an i'm done, we're through, I-don't-want none-of-you breakup song.
"Pero entonces, ¿por qué me reclamas? Preguntándome ¿cómo y con quién? Si me llama a las tres de la mañana. yo ya te olvidé." She sings this like a slap in the face for whoever 's shattered heart Is on the other end of this breakup track.
Put this song on your punching-bag playlist because it'll have you letting off all the steam while you get rid of that toxic ex. You'll find friends crying to this song at 3 a.m. sometimes too.
Selfish Love
The EP ends with "Selfish Love" which is much more familiar to Gomez's usual style of music since she sings in Spanish and English is still a bop compared to the other songs on the EP. This bilingual banger details the jealousy of a toxic relationship. "Tú quieres darme celos" translates in Spanish to "You want to make me jealous" and follows in English with "All this time and we still got that selfish love." The relationship thrives on the toxic habits that are instilled within this relationship and they are aware of their tendencies. There is a constant pounding beat in the song that will have you bobbing your head and will eventually have you wanting to move your feet. Gomez's voice in the song is light and telling which is interesting as the song reveals the toxicity in a relationship. "You like makin' me jealous" is sung and is followed in Spanish with "Es un juego que queda entre tú y yo' 'Tú y yo, tú y yo" which in English means "You like makin' me jealous' 'It's a game that's between you and I' 'You and I, you and I." The relationship that these individuals keep they play games and it's kind of their thing. "Selfish Love" is an upbeat song that shares the dynamic in a toxic relationship but does not reveal all.
As Gomez's first extended play featuring Spanish music it is merely just a kickstart too. Such a decision to create Spanish music is not allowing her to immerse herself into her culture but is allowing her to target a larger audience. Much is to be expected and is to come for Gomez's music career.
Leave a Comment
About the Contributor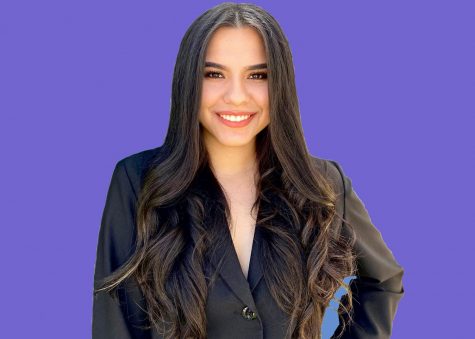 Delilah Perez, Arts & Entertainment Editor
Delilah Perez is the Arts and Entertainment editor at SAC.Media. She is also a part of the editing team of the Latinx platform Somos and is part of the public relations and social media team for the Mt. SAC journalism program and its student publications. Delilah has a passion for writing, and in her free time, she enjoys watching movies, going to concerts, and spending time with her family.