'Latinitas', a Story for Every Latina
"Latinitas" by Juliet Menéndez puts an end to the whitewashing of history and tells the stories of inspiring Latinas.
From textbooks to movies the stories of Hispanic people have been widely under-told. Their faces don't appear at school or in magazines, so how are younger generations supposed to be proud of their culture?
"Latinitas" by Juliet Menéndez puts an end to the whitewashing of history and tells the stories of Latinas, like Dolores Huerta, who, alongside United Farmworkers' Cesar Chavez, organized 17 million people to boycott grapes to protest exploitative working conditions of California farmer workers in the 1970s.
"From mangu to merengue, my family made sure I never forgot my roots. But once I ventured out, everything was American, including my heroines. I learned about Sojourner Truth, Rosa Parks, Marian Anderson, Madam C.J. Walker and many other Black women who were trailblazers. Few were Black Latinas," New York Times writer, Sandra E. Garcia said. "'Latinitas' by Juliet Menéndez attempts to fill those gaps."
Menéndez was an art teacher in Upper Manhattan when she noticed none of the historical figures looked like her or any of her students. She wanted to have a book that her students could relate to.
The stories draw young readers in by showing the influential Latinas as young girls, just like them. In the book, the age line is blurred by illustrating these amazing females as children and shows how at any age a person can accomplish anything.
"Each of the illustrations show these Latinas when they were children," Menéndez said. "Before they were running and building our cities, presiding over our courts, flying into space, healing our sick, and singing in front of millions, they were children, taking their first unknowing steps towards the women they would become."
The pictures of each influential Latina are beautifully drawn with patterns and colors that represent Hispanic culture. The simple background draws focus to just the female.
The book is organized in chronological order of birth year starting in 1651 and ending in 2000. This set up shows just how connected each generation of females is connected to each other. They each pass the torch to one another.
In a review for the Hispanic publications Latino Rebels, writer Manuel Aragon said, "A discussion of Latinidad can be complex, but author/illustrator Juliet Menéndez navigates it well. There is a depth to Latinidad —race, ethnicity, indigeneity— that is not always captured in books; so often the stories that are told center whiteness, and typically erase stories beyond that experience. In that way, Latinitas does a great job of presenting a number of Latinas from a variety of racial backgrounds."
The stories don't shy away from the prosecution Latinas faced during their journey for change. One example is of Juana Azurduy de Padilla, who was forced to become a nun then ran away to start revolution, which ultimately granted Bolivia their independence from Spain.
"Latinitas" is a story for the dreamers, for the little girls and boys who want to be more. Each page is filled with Latinas who struggled and told that they would never make it. Those same females sang to crowds of thousands of people, made laws for you and me, and even organized revolutions.
Leave a Comment
About the Contributor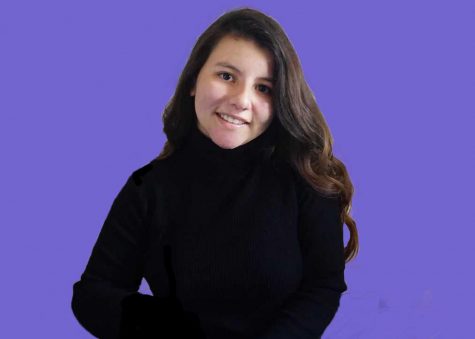 Vanessa Feliciano, Somos Editor
Vanessa Feliciano is the Editor of Somos, SAC.Media's Latinx platform. She can usually be found at the nearest country concert or baseball game. Vanessa hopes to one day be a sports broadcaster.