Academic Senate Emphasizes Air Filtration
The Academic Senate has taken action towards equity, climate policy and COVID-19 response.
The Mt. SAC Academic Senate met for their regularly scheduled meeting on April 22 via Zoom to discuss the efforts by the leadership and the school at large with regards to climate policies, changes to make it easier to address equity concerns collectively and action for building air filtration.
Chisa Uyeki, president of the Academic Senate Board, announced that one out of the two resolutions passed by the Board of Trustees was a commitment to balanced energy sources.
Uyeki said that she feels like the policy does not go far enough.
"I'm not sure it will get us to the goals that we have set in the Climate Action Plan, by the time that we hope to get to them," she said. "However, it is a first step."
Uyeki highlighted the precautions being taken by the school to ensure proper airflow within classes before students and faculty came back–an extra step to combat outbreaks of COVID-19; airflow is meant to ensure decontamination .
The heating, ventilation and air conditioning capacities at the schools buildings were inspected by an engineer, who added air-purification installments in buildings that needed them. The school has been asked by the Occupational Safety and Health Administration (OSHA), to operate the filtration systems to their highest level possible, Uyeki said.
Tiffany Kuo, Professor of Music, and one of the data literacy educators, discussed the second resolution dealing with data coaching for educators. Kuo explained how the program is a course given to self-selected faculty who would be taught on how to manage data, read data and ask to guide projects to research equity based solutions toward student demographic data and academic outcomes.
Kuo said the privacy of student information is protected by the fact that the data is based on courses as well that it is disaggregated, thus particular information will not be accessible by the select faculty data coaches. Kuo said they are not sharing data via email, drop boxes would be used instead and that "student ID is not in this dashboard but it's in research and we will not share raw data."
Kuo added that "the main focus is to share all the different ways in which we are closing the equity gap, using data."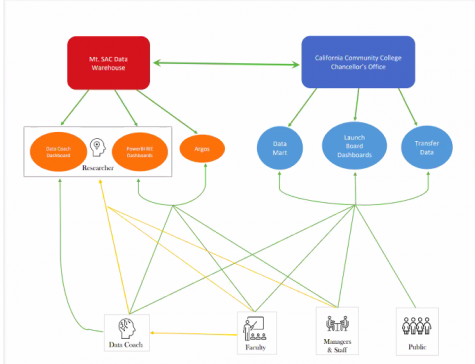 (Data circulation chart, Mt. SAC Academic Senate meeting, Thursday, April 22, found here)
The Academic Senate voted to establish a social justice task force put together by faculty. The task force would be composed of faculty members with knowledge and degrees with regards to ethnicity as well as sex and gender. The goal of the task force is to be able to assist in how recently passed accreditations for ethnicity and sex and gender would be incorporated with classes.
Uyeki said this would be another way faculty is working to address equity concerns on campus.
Uyeki discussed the Title IX report and CLERY act report by Sokka Song from HR. She reiterated that Song feels like the numbers of reported sexual harassment were low, but that the reports need to be heard and that efforts to familiarize students, faculty and staff with the process of filing Title IV should be made.
She said the Academic Senate's main goal should be to, "develop, of course, an environment that is free of harassment."
The Mt. SAC Academic Senate will meet again on May 6, at 11:15 a.m., via Zoom.
Leave a Comment
About the Contributor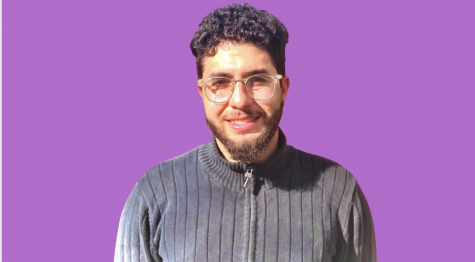 Fares Abdullah, Staff Reporter
Fares Abdullah is a student at Mt. SAC and a staff reporter for SAC.Media.