Editorial: Mt. SAC, Protect Your Students!
Mt. SAC's administration sits idly by as students stand up for their right to live
An email was sent to students by the Mt. SAC administration that attempted provide information on the implications, safety precautions and mandatory screening pertaining to the COVID-19 virus. It was not evenly distributed amongst students. Several of us in the staff had to track down  the email we'd heard about to ask that we have one sent to us.
In regard to the COVID-19 virus, this email specified the supplies that would be provided in each classroom. "All fall classrooms will be equipped with a minimum of 350 three-ply masks, five bottles of 16 oz. hand sanitizer, five face shields, one box of large gloves and one container of disinfectant wipes (400 count)."
Call me crazy, but that hardly seems like the equipment needed to battle a war that we have been fighting for well over a year — especially with the DELTA variant that is spreading rapidly. According to Dr. Fauci, Director of the National Institute of Allergy and Infectious Diseases (NIAID) and the Chief Medical Advisor to the President, the only way to stop this virus from mutation is to gear up and vaccinate.
This is an emergency that has been treated by our campus administrators almost as trivial as a lice outbreak to the campus. We were the last to take action while other colleges shut down and the college continues to drag its feet to protect its students and faculty.
Measures need to be taken to protect ourselves from, well, DEATH, as well as protecting our loved ones. We have many students that want to return to campus that may have an autoimmune deficiency and I feel the need to speak on behalf of those who cannot or will not be heard by the administration.
I am well aware that there are many people in doubt about the vaccine that is being administered, whether it be Moderna, Pfizer or Johnson and Johnson. I also understand that this is foreign territory for all of us, including the administration of Mt. SAC, but the science does not lie. We all pictured, or at least hoped, the return to campus would be harnessed with stability; much more stability than what the administration that Mt. SAC has promised us and frankly, I'm afraid. As a student, I do not feel confident and safe in the way that the school has been handling its response to the protection of the rest of my peers and it's faculty.
Secondly, it spoke of the mandatory rules and regulations that will be implemented on the campus, "Mt. SAC is developing a new requirement for students studying on the physical campus to either (1) show proof of vaccination OR (2) test negative for COVID-19 weekly. The college is working through the details of this requirement. We will announce the dates that vaccination submission and weekly testing will begin and provide specifics as soon as possible."
They will announce the dates as soon as possible? To the administration of Mt. SAC, I say this: do you not know when the first day of the semester is? …It seems that the local grocery stores are arming up better than that of Mt. SAC.
I sense a huge lawsuit–many in fact–for the "voluntary disenrollment" that is being pushed upon students. I find it unfair that Mt. SAC's administration is giving doubt to students' minds that unenrollment might be necessary. Why should we be burdened because of the lack of responsibility that our school is relaying? Unenrollment for a student due to the lack of responsibility that the administration means a prolonged pedagogical time for not only the students but also the faculty. For those who choose to expand their collegiate career, this is unfair. We are already scrambling to keep our lives together off campus, let alone on.
"At this time, students should decide whether they will continue their enrollment in person or drop those classes and enroll in online classes by the end of their class add/drop period. Students can visit the Mt. SAC Portal, under the Student Tab (#11 Print your Schedule/Receipt), to view deadlines to drop."
Wait, what? For students that have already scheduled and paid, they will have to be deterred from schooling because the administration and president of the school, Dr. William Scroggins, have not taken the right measures to equip the campus? Only professors that are SPOT certified may teach online classes, meaning certain classes will not be offered any longer to those that choose to flirt with this "right" with the lack of protection to the student body, physically, and the protection of projecting our careers, is one that is unprecedented.
I am ashamed of Mt. SAC.
I wear the Mountie gear with pride; I even have a Mt. SAC lanyard attached to my car keys. The school should have more lead in upholding the integrity that we, as students, uphold. This past year, we have all struggled with constant Zoom meetings, disconnection, isolation and grief in many forms. We have pushed past certain obstacles that have never yet been tackled and we have done it with such grace. It only seems fair that the loyalty and respect of Mt. SAC's student body and that of its faculty, be met with the loyalty and respect from its administration. Sadly, it's lacking. We are worthy of so much more.
As well as the administration not having definitive dates regarding the necessary measures and precautions to protect us, I can say that cumulatively, it is an irresponsible way to run a place of higher education in a time of a pandemic. With the grain and satirical humor of that of Mel Brooks, as well as the bitter and unpleasant reality of this situation, the care from the administration of our campus seems to be that of a comical hit. Mt. SAC administration, step up!
For the people in the back (administration); here is a list of all the colleges caring about their students regarding mandatory vaccinations:
CALIFORNIA: Allen Hancock College, American Jewish University, American River College, Cabrillo College, California College of the Arts, California Institute of Integral Studies, California Institute of Technology, California Jazz Conservatory, California Lutheran University, California State University (Bakersfield, Channel Islands, Chico, Dominguez, East Bay, Fresno, Fullerton, Long Beach, Los Angeles, Maritime Academy, Monterey Bay, Northridge, Polytechnic University at Pomona, Sacramento, San Bernardino, San Luis Obispo, San Marcos, Stanislaus), Chapman University, Claremont McKenna College, College of the Redwoods, Delta College, Folsom Lake College, Fresno Pacific University, Golden Gate University, Harvey Mudd College, Holy Names University, Humboldt State University, Los Rios Community College District, Loyola Marymount University, Menlo College, MiraCosta College, Occidental College, Pepperdine University, Pitzer College, Pomona College, Samuel Merritt University, Sacramento City College, San Diego Community College District, Santa Clara University, Santa Rosa Junior College, Scripps College, Southern California Institute of Architecture, Southwestern College, Stanford University, University of California system (Berkeley, Davis, Irvine, Los Angeles, Merced, Riverside, San Diego, San Francisco, Santa Barbara, Santa Cruz), University of the Pacific, University of La Verne, University of San Diego, University of Southern California, Whittier College, Rio Hondo College.
Do the right thing and protect us!
Leave a Comment
About the Contributor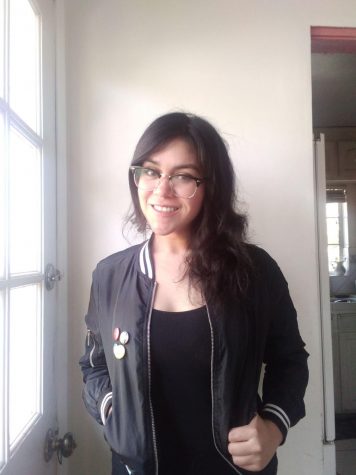 Megan Cansino, Senior Staff Reporter
Megan Cansino is the Editor and Chief of Substance Magazine, staff writer and reporter for SAC.Media, and the former Features Editor of SAC.Media.