Rebelution Returns Live With Good Vibes
Reggae band Rebelution's return to concert venues are surreal
The undeniable atmosphere during a reggae concert is infectious.
The crowd mirrors the calm loving vibrations that are integral to reggae music, and on a clear summer night in Chula Vista on Aug. 14, the good vibes were most definitely in attendance at the North Island Credit Union Amphitheater.
As the Grammy nominated reggae band Rebelution opened up their Good Vibes tour with Sky is the Limit, I felt electrified. Hearing live music reminded me about one of the great joys in life that had been lost during COVID times: connecting with strangers over a mutual love of music.
After over 15 months of near isolation, where the most people I have been around at one time were in line at Costco, being at a concert with thousands of people and social distancing nowhere in sight – it almost felt surreal. Being within the close proximity of others seemed forbidden still, like I was somehow contributing to a larger social issue.
I was apprehensive to say the least. Was my innocent desire to momentarily forget the global pandemic naive?
Even as a vaccinated concert goer, the possibility of what could be lurking in the airborne particles of the venue lingered in the background of my mind. I felt an agonizing internal struggle with myself. I missed experiencing the adrenaline of hearing live music vibrating throughout my body, coupled with an equally excited crowd, but these feelings were also mixed with the doubts of how seriously my fellow Rebelution lovers were taking both their health, and mine.
Once a term of endearment and generosity, the phrase "do you want a hit of this," suddenly felt riddled with unknowable consequences. A stranger offering me a hit of their joint in the middle of a pandemic made me feel uneasy, as it was an instant reminder that what was once normal now seemed sinister. The once normal actions of everyday life now stand as an obstacle between contracting the virus or narrowly avoiding its deathly grip.
I sincerely declined, yet it was a rude awakening in my momentary attempt to forget the ever present and unavoidable coronavirus. Albeit, I was rather thankful that the Rebelution concert took place in an amphitheater rather than an enclosed venue, but masks were still few and far between. And this made me wonder how concert venues could enforce safety protocols in order to secure the future of live music during such uncertain times.
The energy of the crowd still felt electric, like everyone had a collective feeling of being able to finally let their hair down after endless months of anxiety surrounding the coronavirus. It was apparent that everyone there was intent on momentarily forgetting that there has been a global pandemic raging through our communities and upending life as we knew it.
Yearning for a sense of normalcy and riding off the steep decline of COVID-19 cases in early springtime, long before the Delta variant reared its ugly head, the concert industry began booking shows again. And in the midst of a seemingly manageable pandemic, concertgoers across the country returned to live music. Hell bent on making up for the time that was lost during a never ending quarantine.
Yet as crowds flocked to Rolling Loud, Lollapalooza, and smaller shows alike, the coronavirus' sister Delta made an unexpected appearance as well. Fueled by unmasked, unvaccinated attendees and the close sweaty proximity of others, COVID-19 cases are once again on the rise.
However, the concert industry has shown no signs of slowing down.
The industry continues to announce festivals and shows one after another, with hopeful music lovers ready in the wings to experience live music during a global crisis.
I am not quite sure what this means for the health of the public, but one thing is certain: live music was severely missed, and the public will go to insurmountable lengths to keep it alive.
Leave a Comment
About the Contributor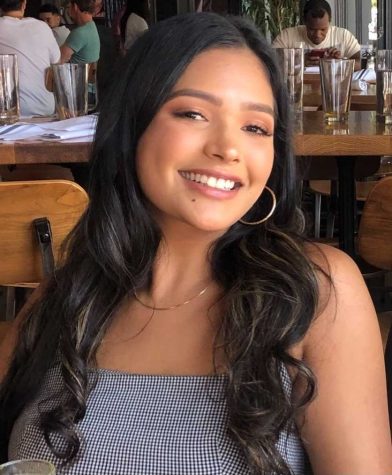 Natasha Castanedo, Senior Staff Reporter
Natasha Castanedo is the former Arts and Entertainment Editor of SAC.Media and a senior staff reporter.