Democrats Are Defeating Themselves
Democrat's current policymaking is pushing voters away
On Nov. 2, Virginian voters took to the polls to voice their dissatisfaction with the Democratic Party's leadership, handing the positions of governor, lieutenant governor and attorney general to Republican candidates. Just one year ago, President Joe Biden won the state by 10 percentage points.
One night later in New Jersey–a state Biden had won by 16 percentage points–incumbent Gov. Phil Murphy beat Republican challenger Jack Ciatterelli by a mere 3 points. In the same week, the state's Senate President Stephen Sweeney faced an unprecedented defeat at the hands of Edward Durr, a Republican truck driver who has never held office.
In both elections, the Republican's victories could be traced back to swing voters. Specifically, suburban independents who are unimpressed with Democrats' left-leaning lawmaking. Va. Gov.-elect Glenn Youngkin played into culture wars while Durr lambasted high taxes and pandemic mandates.
These electoral upsets serve as a blaring indicator of voters' perceptions of Democrat-controlled government. Locations that were once blue strongholds are electing Republicans, which gives credibility to a theorized red wave during next year's midterms. To avoid overwhelming defeats in Congress, the Democratic Party will need to strengthen and reassert its position on key issues that voters are concerned about, but this is where difficulties arise.
The root of the party's predicament lies in its clashing factions. Residing closer to the center of the political spectrum, moderates like Biden make up the majority of the party, while progressive politicians like Vt. Sen. Bernie Sanders and N.Y. Rep. Alexandria Ocasio-Cortez constitutes a vocal minority. Although the two cliques exist under the same umbrella, their ideologies can differ on crucial issues. Despite progressives composing a smaller amount of lawmakers, they boast a significant amount of influence on legislation.
Unfortunately for Democrats, Biden's progressive-influenced agenda is not particularly popular amongst voters. According to the October Harvard CAPS/Harris Poll, 50 percent of voters approve the Biden administration's response to COVID-19, 40 percent approve of the handling of the economy and only 35 percent approve of its immigration policies. These positions are reflected in the aforementioned Nov. elections, where Republican candidates hammered against Democrats' approach to these problems.
Progressivism, although wildly popular in certain bubbles throughout the country, is not favorable nationwide. 65 percent of voters supported moderates who held up the social spending bill to reduce its price tag, and 59 percent of voters did not support progressives who threatened to vote against the infrastructure bill if proper compromises were not met. Tangentially, Sanders and Ocasio-Cortez are seen as favorable by 41 and 28 percent of voters, respectively.
The party's embrace of progressivism is ultimately hindering support from independents, a crucial demographic that Democrats need to win elections. If lawmakers wish to prevent similar elections to those earlier this month, Democrats will need to lean towards centrism once again.
In 2020, Biden's triumph against Sen. Sanders in the primaries and former President Donald Trump in the general election denoted the people's rejection of partisan populists. Voters not only rallied against another four hectic years of Trump but also a left-wing Sanders presidency. Beating Sanders by 25 percentage points and Trump by over seven million votes, the nation opted for the tried-and-tested negotiator who can reach across the aisle and achieve bipartisan legislation. Ultimately, despite loud radicals stemming from both parties, the majority of the country seeks leadership in politicians who embody centrism and level-headedness. This is what Biden, and the Democratic Party as a whole, need to reiterate as their strength.
The 1992 election cycle saw the birth of Bill Clinton's famous de facto campaign slogan; "It's the economy, stupid." This tagline personified the ideals Clinton was running on, as economic recession was at the forefront of national issues at the time. Clinton's emphasis on the economy afforded him the votes necessary to defeat incumbent George W.H. Bush, flipping 22 states from the previous election. In order to spark a similar trend, Democrats need to re-establish themselves as the party of fiscal responsibility by tackling the economy and inflation; the party that can solve the perceived border crisis; the party that can successfully navigate the country through the persisting pandemic.
As previously stated, the party's current situation requires a shift to the political center. This could come in the form of lower bill spending, stronger immigration policies and measures to tackle inflation. Of course, these are highly debated problems that spawn outrage and pushback no matter the strategy taken. However, realistically, some policies are less controversial than others. As indicated by the polls, Democrats' current approach to these obstacles is faring badly amongst the majority of voters; Biden and lawmakers nationwide need to look at these affairs through the lens of pragmatism and enact reformed policies that bode better with their constituents.
Returning to the political center on matters like these does not necessitate silence on social issues like abortion, racial justice and LGBTQ rights. The party's core consists of moral fortitude and perseverance regarding social justice, and frankly, the nation cannot afford to host two major political factions devoid of empathetic lawmaking. The Democratic Party is at its greatest when it stands tall for the rights of historically oppressed groups.
The clock continues to tick idly, and with the midterms less than a year away, Democrats cannot continue twiddling their thumbs hoping for the best. With Biden's favorability fissuring against the domestic and foreign tests he faces, Republican's aggressive efforts to gerrymander seats in the House, and the country's growing intolerance of current policymaking, Democrats have no choice but to reform themselves before they are locked out of government, possibly for years to come.
Leave a Comment
About the Contributor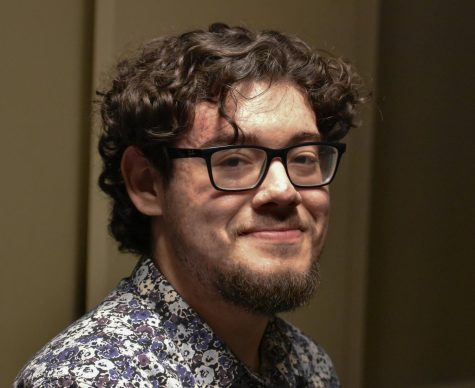 Bryan Jimenez, Editor in Chief
Bryan Jimenez is the Editor in Chief of SAC.Media. He can be reached at
[email protected]
.