Generations of Memories Run in the Santa Anita Park
This racetrack holds more than just races, it is also the home of many fond times
The smell of cigarettes lingered in the air; the scent burned my five-year-old eyes. As I looked on the floor, I saw it littered with tons of small pieces of paper. "They are losing tickets," my godfather said to me. The losses of the race bettors covered the floor as if confetti were dropped only a moment ago.
The sudden sound of a Bugle playing "First Call" broke the drone of the crowd. I noticed that everyone's attention suddenly turned to the track. Everyone gazed upon the large mile long cathedral of horse racing.
My five-year-old self was puzzled about what was about to happen. My grandfather and godfather had told me that we were going to "the races."
Then as the anticipation of the crowd subsided, I heard a bell ring and then out of a gate on the track I saw nine juiced purebred horses shoot out. I looked around in awe as the crowd began to cheer as if their next mortgage payment depended on it.
My grandfather, or as I call him my "Abuelo" kept yelling, "Come on three!" The horses sprinted down the final stretch of the track. As the horses closed in on the finish line the roar of the crowd got louder.
As the horses crossed the line I looked around and saw the different stages of joy and grief in the faces of the spectators. My Abuelo crumpled up his ticket and threw it in the trash. "I lost," he said. "Come on, let's go bet on the next race and get you something to eat."
This is my earliest memory that I have of Santa Anita Park.
Going to the horse races is a tradition on my mother's side of the family. It all started one day when my Abuelo Rudolfo was invited by his brother-in-law to go to Santa Anita Park in the mid-80's. My Abuelo said, "Your Tia Cuca's husband, Camillo, got me hooked on the bug. I didn't know anything about it until he took me to Santa Anita."
My family had just recently immigrated from Mexico and still did not know the area. So, going to a horse racetrack sounded like a completely alien idea to him. "I had been to racetracks in Mexico, but Santa Anita was a completely different experience," my grandfather said as he described his first time at the track.
Santa Anita Park is one of the most famous racetracks in the United States. When going there, it takes you to a different time period. The old post-war Art-Deco styling of the track teleports race goers to the 1940's.
"I remember how beautiful it was when I first went. It was like something you would see in the movies," my Abuelo added.
He saw this as an opportunity to get out of the house. At first, he would go with Camillo and some family friends, but later, he began to take my grandmother, my mother, and her siblings. Going to Santa Anita Park was a treat for my mother and her siblings. Being immigrants from Mexico, they did not have much growing up.
"It was our playground," she said. "We didn't know that we were poor, so going to the racetrack was like going to Disneyland." Santa Anita Park was an escape for these immigrant children. "I remember we would run through the tunnel under the track and yell and make animal noises to hear it echo," my mother added.
Santa Anita Park also brought some relief to my grandparents. "Even though we had jobs, it was still nice to get a little extra money betting on the horses," my Abuelo said. He worked as a quality control officer for an electric motor company, but that only did so much to take care of his wife and five children.
"I remember I won big a few times and it helped buy some extra gifts for Christmas." The racetrack had become a sanctuary for all of the family," my Abuelo said.
As time moved on, the tradition continued. My godfather, Edgar, was the one member of the family that got hooked the most from the horse racing bug.
"I loved it so much. I dreamt of being a jockey," my godfather said.
Being the youngest of the five siblings, he was able to pass it on to the younger generations of the family. Being a father now, he has taken his son and daughter to Santa Anita Park multiple times. His wallpaper on his phone is a picture of my cousins standing in front of the statue of the racehorse "SeaBiscuit" at the racetrack.
"I remember taking you out of class early to take you to the Breeders Cup at Santa Anita," he said.
Santa Anita Park was something that bridged the gap between the childhoods of different generations. The experiences that each generation had was just as similar to the previous one.
"I remember taking your cousin Aidan to the track and I got flashbacks from when I took you when you were younger," my godfather said.
The older generations of my family would watch my cousins and myself run, play and enjoy the racetrack as they did when they were younger. The experiences that older generations of my family had they would try to recreate with the younger generations.
"One time, I had lost a few races one day; and I remember your Abuelo would ask me what horse to bet on when I was younger. So, I asked your cousin Aidan to pick a horse for the next race. I won a few hundred dollars on that very next race," Edgar said.
Santa Anita Park had become an important place to my family over the generations.
In a sense, it had become a rite of passage to an extent. I remembered having my 18-year-old birthday at the racetrack. My godfather goes to the annual Breeders Cup every year. My younger cousins have enjoyed going to the Easter egg hunt they held at the track as well. The racetrack has produced a lot of memories for my family.
View Comments (4)
About the Contributor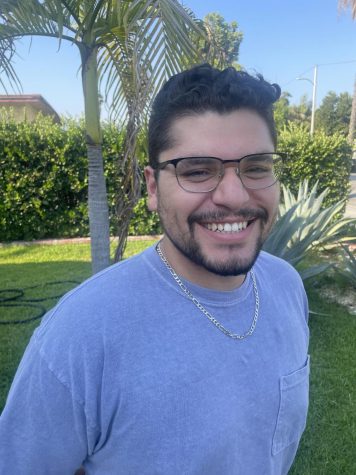 Diego Renteria, Sports Editor
Diego Renteria is the Sports Editor for Mt. SAC Media. He is a Journalism major at Mt. SAC with hopes of transferring to Cal State Long Beach. His goal for after college is to be working in a form of sports management or sports media. He said that we are currently are going through one of the strangest transition periods in sports history; that being professional and or collegiate. and he is happy to be able to help chronicle it.