Rereleasing Deep Cuts On His Own
Hip-hop legend Mac Miller's rerelease of "Faces" still holds up as a tribute to his life
Hip-hop music has had one of the most eventful years in recent memory.
Kanye West and Drake dueled in a public rap beef with "Donda" and "Certified Lover Boy" while other major staples like J. Cole and Tyler the Creator created "The Off-Season" and "Call Me If You Get Lost."
Yet, there is one project that sneakily became one of the best albums of 2021 from one of the most beloved names in the game. The estate of Mac Miller has officially released his 2014 independent album "Faces" to more than just SoundCloud by rereleasing the mixtape as a bonafide album.
Since his tragic passing in September 2018, Miller has become one of the most cherished rappers in recent memory. He gave us the widely accepted and critically acclaimed "Swimming" in 2018 and "GO:OD AM" in 2015. Although these albums have been labeled as "Rap Classics" to some critics, "Faces" is seen as his Magnum Opus to his fans.
"Faces," unofficially released in 2014 as an independent project, was Miller's first project after leaving his first record label, Rostrum Records. It was initially released for free download on Miller's official website for a limited time for his fans, but has been elusive since no primary streaming service had the rights to it, and there was no physical release.
Over the years, fans have had to piece together songs that have been found around the internet, but have never had the complete project. Everything changed on Oct. 15, when Miller's estate blessed his fans and released the full album on streaming services alongside a planned vinyl release.
The album is a dark introspection of Miller's own life. "Faces" addresses the issues that Miller suffered throughout his adult life, most notably his drug abuse and battle with depression.
Written in a volatile time in Miller's life under the pseudonym "Larry Fisherman," the 25 song project was finished while he fought demons in the Los Angeles Studio he nicknamed "The Sanctuary" following two years of touring and leaving his record label.
Through each song, Miller takes you on a rollercoaster ride of rap bars that touch on the topics of suicide, fame and self-destruction. The album could be seen as Mac Miller's "journal of deep dark secrets" so to speak.
From the very beginning, Miller tells you where he is at with his mental state.
In "Outside Inside," the very first song, he reveals to us how he is surprised that he has lived this long with his lifestyle. He even talks about how he's not afraid of death with his call and response bars of "should have died already" and "NEVER BEEN SO READY!"
Right from the first line of the album, Miller reveals to us his constant existential dilemma of death.
As we go along for the ride, we are introduced to the different demons that Miller struggles with.
In "Malibu," Mac delves into the intrusiveness of his addiction to hard drugs. He raps about how he will never leave drugs until they take his life. He does this by talking about the different types of illicit substances that he abuses.
Mac also talks about his struggle with loneliness.
The song "Wedding" reveals the depths of Miller's solitude. When Miller raps, "I don't deserve your trust, but can we make it work? I hate to end the story; can we wait on morning to decide on it?" He shows us the difficulty he has with being alone, not knowing whether he wants to be alone or to find happiness in love. He also talks about whether or not he is ready to settle down due to his flawed personality.
Even though most of the themes of the album are "doom and gloom" from Miller, he still finds a way to have some boastful rap tracks as well.
One track in particular is the major single from the album, "Diablo."
On this track, Miller goes on one of his most notable rap ciphers in all of his discography. He uses multiple references to gods of different religions as he explains his own god complex to us. "Diablo" is easily Mac Miller at his best.
At the end of the album, Miller touches back to his introspection of mortality with the song "Grand Finale." He talks about his eventual death and how he would want it to happen. He explains how he does not wish the people that care about him to mourn his death as he was not a "good person" in his own eyes. This song is also eerie. He told HOT 98.7 Radio in 2017 that he thought it would be "his last song on Earth" when he wrote it.
Producing this album was a major highlight of Miller's career as well. This was the first album that Miller would produce entirely under the pseudonym.
Miller had more of a pop sound like most internet rappers of his generation in prior albums, but "Faces" has more variety in beat, styles and genre-bending sounds. Songs like "Here We Go" and "Diablo" are jazz-inspired boom-bap prototypical beats, while "55" and "Colors and Shapes," are more acoustic and melodic.
When Miller was creating this project, he wanted to show to his fans his versatility not only as a rapper but as an artist and producer as well.
Another interesting note about the production of the album is how Miller used juxtaposition between his beats. This can be seen in songs like "Friends," where Miller has an uplifting beat while his lyrics remain dark, raw and satirical.
This juxtaposition can also be seen in the middle of the album with the songs "Funeral" and "Diablo." The first half of the album has a more lighthearted theme compared to the darker second half, though "Funeral," a depressing song, is at the end of the beginning. "Diablo," a more boastful song, is the beginning of the end. This adds more to the genius of Miller's first effort in producing an entire project.
As a deep raw introspection into one of the darkest times of a beloved rapper, "Faces" takes us on an adventure through his depressive self-dissection of his flaws and his everyday demons through raw rhymes and melodic mixes.
Leave a Comment
About the Contributor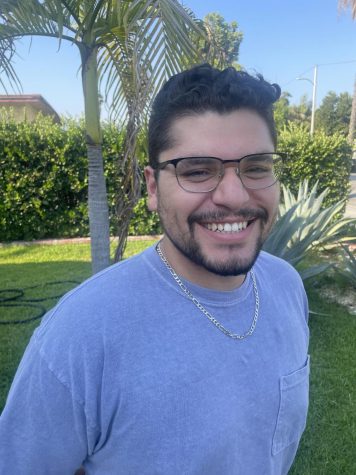 Diego Renteria, Sports Editor
Diego Renteria is the Sports Editor for Mt. SAC Media. He is a Journalism major at Mt. SAC with hopes of transferring to Cal State Long Beach. His goal for after college is to be working in a form of sports management or sports media. He said that we are currently are going through one of the strangest transition periods in sports history; that being professional and or collegiate. and he is happy to be able to help chronicle it.