Disney's Latest Leaves Audiences Amazed
"Raya and the Last Dragon" introduces and amazes you with Southeast Asian culture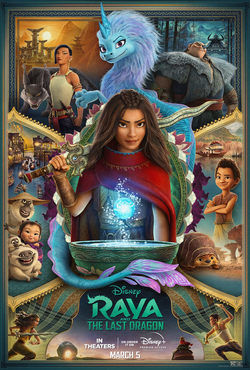 A lovely little girl treads lightly with her tiny toes into a dim and damp tunnel.
This 10-year-old wants to find out where the secret chamber is in order to see the mysterious Dragon Gem, but her father, the Heart tribe Chief Banja, knows this secret and protects it from her.
The little girl's exploration is then discovered by her father.
"Don't mistake spirit for skill, young one," her father warns.
"I promise you will not set foot on the Dragon Gem's inner circle," the little girl answers back.
This is but one of many tense scenes from the movie "Raya and the Last Dragon." Viewers across the country have been curious about the Dragon Gem and this little girl, Raya.
"Raya and the Last Dragon" is a 2021 new computer-animated movie produced by Walt Disney Studio Motion Pictures. This animated film is based on a Southeast Asian story, which gives people enormous curiosity and interest to watch, especially during the dull days of the pandemic. The movie was first released on March 5 in cinemas, and it has earned over $130.3 million in the box office. It has also caught the love of millions worldwide.
The story was written by Qui Nguyen and Adele Lim, while Don Hall and Carlos Lopez Estrada directed the film. The main characters, Raya, Sisu, Boun, Namaari, Benja, Tong and Virana were voiced by Kelly Marie Tran, Awkwafina, Izaac Wang, Gemma Chan, Daniel Dae Kim, Benedict Wong and Sandra Oh, respectively.
Taking place over 500 years ago in a Southeast Asian tribe village, the prosperous land of Kumandra became ravaged by the Druun – an evil plague that turns living things to stone.
In order to magically banish the Druun and revive the people, Sisu, the last dragon, sacrificed herself to help the villagers form a magical gem. While this rescued the tribespeople, it left the dragons in stone.
Five hundred years later, Raya, the daughter of Heart Tribe Chief Banja, is born.
Following her father's will and with Sisu's support, Raya fought against Namaari, the warrior princess of the Fang tribe. This fight was intended to create a new Kumandra that peacefully united the people of all five tribes. The five tribes – Heart, Tail, Fang, Talon and Spine – all reference parts of a dragon.
This film is definitely worth a watch, and you will be glad to have seen it. The movie is a beautiful Disney epic, a big investment that combines artistic creation and high-tech animated techniques.
It is like a big banquet of different sensations for your eyes, ears and mind.
The vivid and colorful characters, tense fighting and fancy changing environments catch your eye and ensure that you do not want to miss a second on the screen. The music, sound effects and animation are closely connected with the theatrical developments of the story.
Raya is so beautiful with her big eyes, long black fluttering hair and healthy yet slender body. She is an all too perfect combination of beauty and warrior, a figure that only animation technique can create. She is even more fantastic in what she accomplishes.
The Southeast Asian cultural background is also a big attraction. The movie "Raya" is the first Disney animated movie based on the culture of Southeast Asia and the countries of Brunei, Singapore, Laos, Thailand, Timor-Leste, Cambodia, Vietnam, Myanmar, Malaysia, Indonesia and the Philippines. It shows their unique traditional and cultural elements in landscapes, architecture, costumes, ways of their lives and other factors.
Thus, the Southeast Asian cultures occupy a typical charm and freshness to American audiences and those unfamiliar with these stories throughout the world. With Walt Disney selecting this different cultural background, they have successfully attracted both kids and adults because it has never been seen in a Disney film before.
For example, the tribal villagers made their houses with bamboo and decorated them with colorful paper lanterns that looked beautiful and unique. The people living and working in the very crowded streets that sold their merchandise were represented in a Southeast Asian style very well.
Likewise, on the enormous riverways, people made their food and sold it on very popular small boats, which makes sense because boats were one of their main transportation tools in Southeast Asia.
Located in the subtropical and tropical areas by the ocean, the tribal lands meet constantly changing weathers with humid air, fogs, rains, storms and seasoning winds. These environments and elements pair with the story's theatrical developments strongly.
Audiences will be inspired by the movie's heroic spirit and the main characters' role model qualities. The movie focuses on heroism, obligation, world peace and living happily alongside all humankind. This theme follows the persisting values and ethics of the Walt Disney animation product's history for justice, persistence, heroism, trust, forgiveness, working together and supporting each other. By those themes, this movie represents the American traditional values and ethics as well.
The American spirit's vital qualities and values appeared in the movie from beginning to the end. The film is an upbeat example for both kids and adults and encourages people to do better for society. This can be seen in the movie when Chief Banja told his daughter Raya to continue their family's mission to protect the Kumandra for all of society and not just for one tribe.
"For generations, our family has sworn to protect the gem. Today, you will join that legacy," Banja said. "Raya, Princess of Heart, my daughter, you are now a Guardian of the Dragon Gem."
Raya consistently presented her heroism, obligation, trust, forgiveness, determination and leadership throughout the film, which made her worthy of the gem.
Outside of this, she also showed trust and forgiveness to her rival, Namaari, in a critical situation to put all people's welfare over everything.
Like Sisu, she would make her own sacrifice in order to destroy the Drunn. She would inspire her partners and her rival to make sacrifices of their own as well.
Their sacrifices finally brought a magical result by completing the gem and reviving all people and dragons. The story is a live example to educate people to trust, forgive others and work together to overcome difficulties.
Undoubtedly, people will be overwhelmed by the movie's vivid characters, exciting fighting, beautiful scenes and the touching story.
The movie "Raya and the Last Dragon" is amazing, and is available through various streaming services. One of the cheapest ways to view the film is to rent it on YouTube at $3.99 for three days.
Leave a Comment