Beatmaker's Musical Mind Sets Him Apart
From singing in "Hairspray" to producing albums, Kenny Moreno has found peace in music
It is a late night in Ontario, California. Most people would be sound asleep. Those that are still awake after a long shift at work, a long day of classes or a long day of just life, probably would only want to relax in the comfort of their own home instead of taking a 30-minute drive to work more.
However, Loy Kenneth Moreno or Kenny, as his friends call him, is not like most people. In a dimly lit studio, this 21-years-old is hard at work — focused, with only music in mind. He makes music with a passion.
His parents live apart; his dad is from Colombia and his mom is a Southern California native. This prevented Kenny from having a stable home as his separated parents both moved from place to place, taking Kenny wherever they went.
He spent his adolescence living in different cities including Norwalk, Victorville and West Covina. He grew up wanting to be a soccer player, which he later found out that he would never be the next Lionel Messi.
Despite that realization, his lifelong love of music never changed.
"My father taught me to work with [my] mind and not with [my] hands," Kenny said.
It all started with him joining the choir in high school. Despite unsupportive friends that often made jokes and called him names, he would not be stopped.
His first dip into the arts was with a theater production class where he wanted to work behind the scenes, but Kenny's undeniable talent was too much to be kept in the back. He played the lead role of Link Larkin in West Covina's 2018 production of "Hairspray".
The experience with "Hairspray" led Kenny to want to pursue music outside of school and theater regardless of what his friends thought.
"I started to not really care what people think," Kenny said.
Instead, he started to think about what kind of people he wanted to surround himself with – he wanted friends with positive vibes and attitudes toward music.
At 18-years-old, Kenny's newfound supportive friends led him to write an album.
"From Me to You" was released on Spotify and features seven songs. The album featured several songs and writings that Kenny had created way before he pursued his passion. He made the whole album in his room with only his MacBook.
Nowadays, Kenny has taken a step back from singing and has directed his focus to make beats. While Kenny loves singing — it will always be one of his passions — he loves the sense of community making a beat takes.
"If my beats could move a room that brings me more joy than getting 'it's cool' when making a song," Kenny said.
Kenny's most popular beat has accumulated almost 140,000 views on YouTube with various rappers asking to use the beat in their songs.
Vincent Sarbia, someone who works closely with Kenny in his Ontario studio, believes that Kenny's work ethic and talent would help him go a long way.
"He is going to go places," Sarabia said. "I see him every day, putting in the work and hustling."
Kenny plans to get back into the singing aspect of making music, and he wants to create an album that will feature West Covina and La Puente local artists. He also plans to get his degree in communications from a local university.
Kenny enjoys being in his studio chair and often bops his head to the sound of his latest beat with headphones on. He has found peace in his music, far from the naysayers of his past and far from his old home.
Leave a Comment
About the Contributor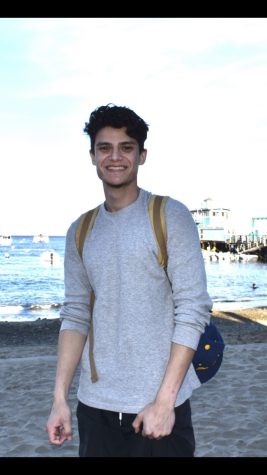 Andrew Garcia, Senior Staff Reporter
Andrew is a senior staff writer and reporter for SAC.Media.