Mas Amor from Mas Cafecito
With much love and passion, this Mexican-owned trailer coffee shop has made a name for itself in the local La Puente community
Located on Valley Boulevard in La Puente, California, this coffee shop will remind you of your local panaderia that sells a variety of coffees, pastries, and even croissant sandwiches. This little trailer is located in a predominantly Latino area filled with elderly people selling tamales and champurrado, carnicerias (meat shops), taco stands and tiendas that carry traditional Mexican goodies.
Many Latinos are familiar with panaderia that supplies families with pastries for the pan dulce and cafe de olla breakfast combo. This coffee shop, however, is unlike any regular panaderia, it is a shop on wheels that solidifies its ingenuity in comparison to other cafes.
Mas Cafecito is a coffee shop owned by Deanna, who identifies as Mexican. Deanna explained that she intended to give customers a sense of nostalgia when visiting the truck, hoping that the experience would "bring people back to their roots and feel connected with Mexican culture."
Walking through the lot feels like staying on your uncle's rancho. The trailer is decorated with papel picado (traditional paper cut and designed to be decorational), haystacks and barrels to emit that familiar feeling. Mas Cafecito aims to convey a sentimental scene that many Mexicans who grew up in rural areas can resonate with.
Before becoming a successful business, Mas Cafecito faced its fair share of bumps along the road.
"It took a while to get permits to start the business running," the owner explained. "We knew we had many problems ahead of us because of the pandemic, but with a positive attitude we were able to overcome them."
The permits to run the food service business came later than expected because several locations that offered food-service permits were temporarily closed, resulting in added difficulty. The odds were in the shop's favor as they have managed to run an outdoor trailer cafe.
This space stems from the clever idea to keep the business running during the pandemic. While the pandemic has knocked many businesses off their feet by leading them to bankruptcy and eventually putting them out of business, Mas Cafecito found that they continue to prevail despite these obstacles.
"We realized the pandemic, in a way, benefitted us due to our outdoor environment," she said. "We knew we had many problems ahead of us because of the pandemic, but with a positive attitude we were able to overcome them."
The crew takes pride in outsmarting the impacts of the pandemic as a figurative light bulb lit up. They came to the conclusion that their outdoor environment would help them persevere amid a global outbreak.
Their outdoor shop's location is just a small factor of their uniqueness in the coffee shop industry. Both their new customers and regulars indulge in the unique taste of Mas Cafecito that intertwines traditional Mexican delights with newer recipes. These recipes convey the importance of connecting with traditional roots and embracing creativeness that shows distinctive taste like no other.
With classics such as cafe de olla (coffee from the pot) and newer inventions like vanilla cinnamon chai tea latte with soy milk, this one-of-a-kind shop aims to be inclusive all while showing determination to obtain authenticity with their products.
"We feel that when people go to coffee shops they are looking for something different and that inspired us to create different drinks while adding some Mexican touches," she proudly added.
Although the trailer cafe has made the La Puente parking lot its home, the cafe was initially meant to be located in Bakersfield or the San Fernando Valley. The crew found that although this lot is difficult to clean, it does its job by attracting customers and standing out as a nostalgic memory for people.
This carefully decorated shop on wheels has been built with love and compassion. The crew takes pride in their work as they convey their gratitude to customers.
"We would like people to know each drink was created with immense passion and love," she added. "People's reactions are what motivated us to keep going. We are extremely grateful and blessed to serve everyone every day."
Mas Cafecito have cultivated a name for themselves in the Mexican community of La Puente. It is one of the most unique coffee shops in the vicinity with drinks that express Mexican culture and are full of tradition and love.
Mas Cafecito regularly posts their hours on their Instagram, and can be found in the parking lot on 13224 Valley Blvd.
View Comments (1)
About the Contributor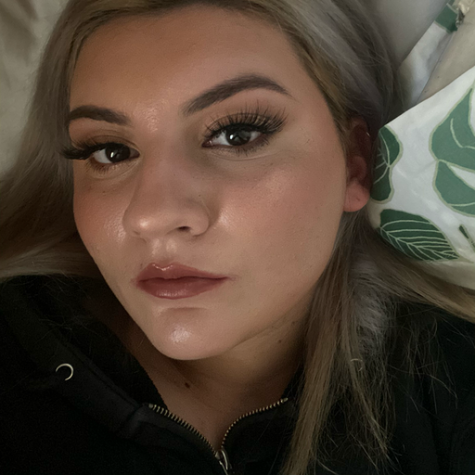 Samantha Acevedo, Staff Reporter
Samantha Acevedo is a staff reporter and writer for SAC.Media.