Mt. SAC Looks Towards Post-COVID Future
As the harsher peaks of the pandemic seem to be in the past, the college reestablishes itself for this recovery phase
The pandemic brought in-person learning at Mt. SAC – and schools countrywide – to a halt in March of 2020, effectively turning the once-bustling college into a ghost town. For many, the future seemed bleak; the feeling of uncertainty clouded the future of Mt. SAC students. It was unknown if or when students and faculty were going to be allowed back on campus, but the following year reintroduced glimmers of hope to the school.
In 2021, the introduction of the COVID-19 vaccine and new lenient health and safety guidelines brought us closer to the metaphorical light at the end of the tunnel. The end of the fall 2021 semester marked the college's first forms of a return of normalcy. Some of the highlights of Mt. SAC's return was the comeback of in-person instruction, sports, student programs and activities.
Students and faculty eagerly anticipated the return to in-person classes. One such excited student was 19-year-old Argentina Mendoza, a first-year attendee at the school. She spent the entirety of her senior year of high school at home in quarantine.
"It is nice; I have not had any physical school experience in over a year, so it feels good coming back to some type of normal," Mendoza said.
Mendoza's sentiments were echoed by fellow new college students. Many of these students had their last years of high school cut short by the pandemic, so experiencing college classes on campus was something they were looking forward to.
Another new student, Christian Ortega, 18, described his online high school experience as difficult.
"Online was just not for me; I found it difficult to concentrate," Ortega said. "Being at school feels a lot more comfortable."
Although the pandemic simmered after the introduction of the vaccine, the school took measures to prevent outbreaks on school grounds, such as the implementation of a vaccine and mask mandate. These rules were applied in accordance with state and federal guidelines.
Students that did not comply with the vaccine mandate and did not receive weekly testing, an alternative presented by the school, risked being dropped from in-person classes and being stripped of their financial student aid.
Students and faculty that opposed the mandates viewed the consequences as an issue. An example of this was journalism major Matthew Avila, 22, who was unsure if he will return to Mt. SAC due to the mandate.
The return to campus also stirred controversy. The fear of COVID-19 outbreaks and the assimilation to online learning dissuaded many students from returning to in-person instruction.
A study by the National Student Clearinghouse Research Center on college enrollment during 2021 observed that there was a 5.8% drop in undergraduate enrollment in colleges and universities since 2019.
Mt. SAC took measures to combat the negative enrollment trend, such as bringing back support programs like in-person tutoring, the veterans center, the pride center and more. The school also continued to provide online classes to meet the demand of students reluctant to return to campus.
The feeling of burnout was a prevalent theme amongst students. The stress overload caused by getting an education during a pandemic took a toll on the students' psyche. Natalia Chairez, 20, was in her last year at Mt. SAC. and she was one of many students that suffered from burnout.
"It's tough keeping a positive mindset, being stressed about transferring, schoolwork, and life," Chairez said. "It just becomes too mentally draining."
This burnout is now known as "pandemic fatigue." In an article by Healthline Media, a survey was performed by Ohio State University to study the effects the pandemic has had on university and college students. Students reported feeling more stressed and suffered more frequently from anxiety during the pandemic in comparison to previous years. The survey also reported that during this period, college students reported an increased risk of developing negative coping habits such as drinking and smoking.
Mt. SAC took notice of this trend amongst its student body and began to offer services that help with the stresses of the pandemic, such as counselors specialized in dealing with stress and anxiety.
Despite the strides made, Mt. SAC is still facing an uphill battle in recovering from the damage dealt by the virus. Yet, there is one person with a positive view of the future of the college. President and CEO of Mt. SAC, Dr. Bill T. Scroggins, who believes the future of Mt. SAC is "cautiously optimistic."
"With the vaccine mandate, we are opening up more and more classes, services, and activities," Scroggins said.
As the needs and safety of its students and faculty are a priority, Mt. SAC plans on holding in-person classes with vaccine and mask mandates until further notice. The college will continue to take further steps as needed.
Leave a Comment
About the Contributor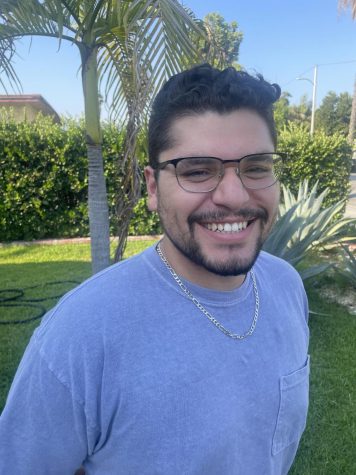 Diego Renteria, Sports Editor
Diego Renteria is the Sports Editor for Mt. SAC Media. He is a Journalism major at Mt. SAC with hopes of transferring to Cal State Long Beach. His goal for after college is to be working in a form of sports management or sports media. He said that we are currently are going through one of the strangest transition periods in sports history; that being professional and or collegiate. and he is happy to be able to help chronicle it.