Learning How to Ride the Wave
Thuy Pham's uncertain future became a life she would not change for anything
Many students feel pressure to have their lives figured out during college, yet Thuy Pham is a perfect example of how an unconventional route can lead to a fulfilling life one never even imagined.
Pham is a tenured professor of communications and the director of the forensics team. She knew she wanted to be a teacher since she was a kid, but she realized she hated school and received poor grades. She ended up attending Orange Coast Community College and earning an associate degree in a field that always interested her, fashion. Pham then went straight to work.
Pham's main job at the time was styling for Jeannie Jeffries, a hair and makeup artist for surf and skate brands such as Volcom, Hurley and Billabong. She worked her way up from an assistant to starting her own gig in the company. She was in charge of shopping for the models and styling them for different companies as a private contractor. Eventually, she became a personal shopper and had a lot of fun with this job even though it was hard work.
Jeffries regretted not completing a bachelor's degree and said she would fire Pham if she did not go back to school in pursuit of higher education.
Pham was uneasy about returning to school because of her shaky relationship with it in the past. However, one of the first classes she took changed everything. She fell in love with the interpersonal communications class.
"I was like, okay, this is amazing; I didn't even know these classes existed," she said.
Earning her bachelor's opened up the doors to so many things, and Pham revisited her dream of teaching.
Pham had to do something called freeway flying when she started out as a part-time professor. Usually the path for teaching communication studies would be completing graduate school, teaching as a graduate assistant and then finding community colleges that will hire you. A lot of part-time professors teach at multiple campuses. Some would teach an 8 a.m. class then hop in the car to teach at the next school.
When she was working at OCC as a part-time professor after earning her master's, she volunteered to coach their successful speech and debate team. With four back to back national championships, Pham coached the impressive team for a whole year.
However, after juggling freeway flying at three different campuses for four years, Pham knew she needed to do something different to land a full time job.
Due to her previous coaching and teaching experience, she had the knowledge and courage to apply for a position at Mt. SAC when it opened up.
As a woman of Vietnamese heritage, Pham is grateful that the department and dean recognized the benefit of having multiple young women of color as full time professors and what that does for students. Jasmine McLeod and Alix Lopez are also women of color who were hired as communication professors around the time as Pham.
Although older professors can relate to students, Pham believes that students disclose more to younger professors because they find them more relatable.
Many students have shared what was going on in their personal lives with her. Because students ended up disclosing why they couldn't turn in assignments on time, she almost completely dropped late penalties from her classes.
"I think a lot of times professors assume that students are lying when they give their excuses for why they can't get things turned in on time," Pham said.
She mentioned how professors may not relate to students' educational journeys since everyone's personal journeys are so different. This results in students who hate school because certain teaching styles do not cater to their needs. Some students feel that professors do not want to accommodate them and that there's nobody there to help.
Pham empathizes and is open about the fact that she hated school and did not earn good grades. It was not until a professor who showed her all the resources on campus that her relationship with school improved. She said that having someone to connect with during school can make a big difference in a person's education experience.
To make that helpful connection with someone, Pham recommends communicating with professors. She believes that more often than not students assume that their professors do not care that they are struggling.
"I would like to believe that most professors do care and will extend grace and extend the deadlines and just be nicer in general," she said. "But I think that a lot of times students fear telling professors, 'I'm just overwhelmed.' But professors get overwhelmed too, so I feel like it's a very human experience that we should be able to relate to our students with."
To combat these conflicting worries, Pham has found peace in accepting that not everything will go according to plan. She said that some college students make these self-constructed check boxes that they put pressure on themselves to complete. She said that sometimes that plan does not happen, students freak out and the plan falls apart. Or, they do all those things and are still not happy which leaves them wondering what they did wrong.
Pham said the best advice she's received is that you will go through life and have to be comfortable riding that wave.
She described that there are going to be ups and downs. Everyone goes through it and there's never going to be a point where someone does all these things and everything goes exactly like they envisioned it. When people have good days, remember to be humble because it can be taken away. When they experience lows, they may keep in mind that they are able to come back up and everything will be fine.
"This wave will happen for the rest of your life," Pham said. "You gotta go through the waves and everything will be fine."
Pham also recommends taking advantage of the free counseling services on campus. She said that talking it out with paid professionals can be very good for you. Even though it can be hard to make connections with other students, finding people to connect with and know that you're not alone can make a big difference.
Pham said she often reaches out to students to join the forensics team not based on their talent alone but rather to acknowledge their work ethic.
"I think a lot of students don't have the privilege of educational support and usually that's not their fault or their family's fault," she said.
Pham said there are many families who barely make ends meet or just immigrated to this country. They do not have time to learn about the educational system when they are just barely surviving. Kids who are also helping their parents get by do not have the time to learn how to earn good grades and use tools like Rate My Professor to find the right classes.
They are just trying to survive.
"I approach the classroom as an opportunity to potentially get someone to love education," Pham said. "If I can get them to just like coming to school I know that it gives them a significantly better chance of them doing better in other classes. I just try to remember this, a lot of students do not have the privilege of having educational support and to be patient and thoughtful about that."
The forensic team is Pham's pride and joy.
The team has earned 10 national speech titles at American Forensics Association's national tournaments and for more than 15 years, it has been the only community college team in the nation to place in the top 10. It's a co-curricular team which means that they are a team and a class. In order to be on the forensics team, you have to enroll and undergo an audition process.
Sometimes students come in and they have no idea what they want to do, specifically in speech. Other times the coaches will see them present and nudge them to do a type of speech that they would be best suited for.
A big misconception with speech and debate is that people generally think of just debate. But there is a whole speech side to it. It is kind of similar to track and field or swimming. It is a team sport but you do things individually. When they go to nationals, they compete in their own speeches and at the end of the day, it is a team effort.
Pham said that in her experience, students who join the team meet their lifelong friends and get much more involved in their transfer campuses. A good chunk of the students who have come out of the program end up joining other clubs, student government or they do all sorts of incredible advocacy when they transfer.
The forensic team has a full team of diverse coaches that consists of communication professors which are Pham, Lopez, Jedi Curva and Danny Cantrell.
Pham said that it gives the team good competitive success because they are able to understand the students they're working with.
"The students I work with are really amazing people who genuinely care about making the world a better place," she said. "Every year at my job, I get a new batch of students who just want things to get better and advocate for people who can't make things better for themselves and who don't have a voice so it's very fulfilling. I really love my job."
Pham can't imagine doing anything else. The communication professors have made the rigorous positions of teaching and coaching a team of such a high caliber sustainable. She said she works with some of the best coaches in the nation who have become her best friends.
"I plan on all of us still being coaches, coaching this team, having a great time still teaching public speaking," Pham said. "I don't imagine much changing and I'm ok with that."
Pham was once so uncertain about her future. She learned how to ride the wave and is now leading a life that leaves her fulfilled everyday.
Leave a Comment
About the Contributor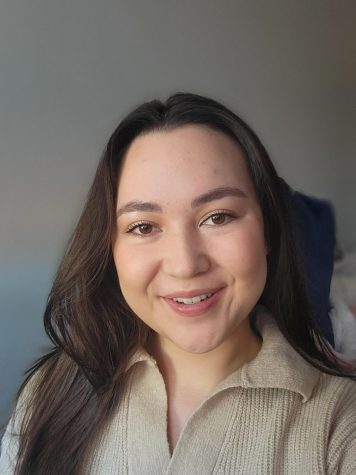 Andie Kalinowski, Features Editor
Andie Kalinowski is the Features Editor of SAC.Media.