Doctor Strange Redefines The Marvel Cinematic Universe
The latest Doctor Strange movie uses an unique filmmaking approach that makes it stand out from the rest of the Marvel movies
Words like "creative," "innovative" and "wild" don't usually come to mind when watching previous Marvel Studios movies.
That was not the case for "Doctor Strange In The Multiverse of Madness (2022)." Marvel brought in Sam Raimi, the director of the first three "Spider-Man" movies and the original "Evil Dead" trilogy, and he was allowed to do what he does best with his latest film
This film was the latest entry into the Marvel Cinematic Universe, it follows the magical hero, Stephen Strange, played by Benedict Cumberbatch, who attempts to protect a young girl named America Chavez, played by Xochitl Gómez, from being attacked by a multiversal being that chases her through the universes. With the supporting cast of Wong, played by Benedict Wong and Wanda Maximoff, played by Elizabeth Olsen, audiences were in for a ride that the MCU had never presented until now.
The returning cast in this film gave good performances to their roles since it was hard to think of a Marvel Studios movie with bad performances. Cumberbatch, fresh off of his Oscar-nominated performance in "Power of the Dog (2021)," proves why he is THE perfect actor to play the master of the mystic arts. After his first movie and the many other appearances in other MCU projects, it was refreshing to see how he brought new tastes into other multiversal versions of his character while continuing to play the Doctor Strange we all know.
Benedict Wong's stoic but slightly humorous performance of the character Wong worked just like how it always has in these Marvel movies. It was draining to see side characters or sidekicks be included into these Marvel movies only for them to have quips and very surface level jokes written for them.
Rachel McAdams, who played Strange's love interest, Christine Palmer, returned in this movie and was given far more to do compared to the first one. This sequel utilized the actors' and characters' development more in-depth than the previous one.
Xochitl Gómez, who played America Chavez, made her debut in the MCU in this movie. Gómez had a lot of pressure put on her as she was one of youngest lead actresses in this movie being only 15-years-old around the time of filming. While in most areas she pushed through with that pressure, her character's story arc became more interesting than her performance by the end of the movie.
Yet, the most standout performance in this film was Elizabeth Olsen as Wanda Maximoff, who's also known as The Scarlet Witch. Despite Doctor Strange's name being in the title of this movie, this was also a strong follow-up to the Disney Plus show, "WandaVision (2021)." Olsen put her A-game as this script took her character into places that "WandaVision (2021)" wasn't brave enough to go.
While Raimi directed the movie, it wasn't written by him. It was written by Michael Waldron, whose previous work for Marvel has been creating and writing the season one premiere and finale of the Disney Plus show "Loki (2021-)." While his story writing for this movie was far less predictable than "Loki (2021-)," it comes with very cheesy dialogue that are a hit or miss depending on the audience.
Some lines that were spoken felt like they were lines from a movie made in the 1990s or 2000s. While the cheesy dialogue did not bother me at all, it made sense to me that people who took this Marvel movie more seriously might be more critical of it. Like I said earlier, this was one of the least predictable Marvel movies I had seen and that's what made it stood out from others.
After the end of the first act, it was exciting to see how the story turned towards a direction I had wanted but didn't really think I was going to get. Once it did that, the characters took the front stage while the multiverse itself became just a setting for the plot.
A movie script could easily be derailed if the director couldn't understand the intention of the work. Yet, Raimi not only understood this script, he also brought in his directing style to improve it. Some of the best moments of this movie was how Raimi used spinning and tilting camera shots as well as the floating handheld camera techniques he used in his "Evil Dead" movies.
These techniques were used perfectly for this story that was darker than the tales that have been told in previous Marvel movies. There were elements that some could deem frightening for audiences but to me, these elements made the film even more fun than others. Very few things in movies actually frighten me. The horror elements that were crafted well by Raimi only made this movie fun in ways that other superhero movies haven't.
"Doctor Strange In The Multiverse of Madness" is a fun, frightening and imaginative adventure that would keep audiences entertained. The inclusion of multiversal cameos and appearances did not derail the movie from being a Stephen Strange and Wanda Maximoff story. With only a few performances that were lackluster, this film brought an impressive start to the summer blockbuster season that has been missing in these last two years.
Leave a Comment
About the Contributor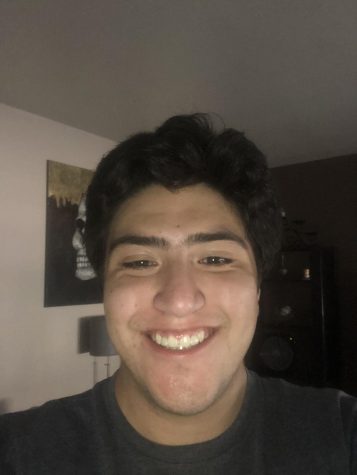 Armando Sanchez, Senior Staff Reporter
Armando Sanchez is a senior staff reporter for SAC.Media.