Investigating Lawsuits Against Mt. SAC
Here is an update on all of Mt. SAC's lawsuits since 2015
Mt. SAC has faced numerous lawsuits over the years, from the city of Walnut, the United Walnut Taxpayers UWT, students and faculty. The nature and statuses of the cases vary. Alleged rape, cover-up, civil rights, labor-wrongful termination and project development are all pertinent in these legal disputes which range from active, appealed, settled and pending.
Here is an update on the school's lawsuits from 2015 to the present.
ACTIVE CASE
Clark Maloney v. Mt. SAC
On September 15, 2021, an article by MSN reported that Mt. SAC's former basketball coach Clark Maloney alleged that the school covered up inappropriate relationships between a basketball coach and students, committed academic fraud, misappropriated funds and spread false rumors.
Maloney joined the staff of Mt. SAC's men's basketball team in 1993. He also started as an adjunct professor that same year. He then became the head coach within two years. He left for about 12 years then came back to work full-time to take over the basketball program and teach kinesiology.
That is when he observed the alleged misconducts.
Maloney alleged the following: a former men's basketball coach maintained inappropriate and sexual relationships with multiple women's softball players prior to Maloney's return in 2012. The same year, widespread academic fraud took place across Mt. SAC sports programs, that athletic funds were misappropriated by coaches and that false rumors intended to ruin his reputation and encourage him to leave the school were spread.
"It was clear to Maloney that, in order to maintain his position and conduct his job, he was expected to abide by Mt. SAC's win-at-all-costs culture," the lawsuit said, "Including, but not limited to, academic fraud, sexual misconduct, and fraudulent filed forms."
Maloney claims that the athletics department attempted to sabotage him in the following years. He said strange rules were placed that only applied to him such as a no-cursing policy for coaches.
"When they put that in place, the first thing I said was, 'They put this in place to hurt me.' So I stopped cursing."
Maloney said he became progressively unpopular, even among his own players.
In November 2019, he went on a leave of absence while rumors that he abandoned his job circulated, again hurting his reputation. He claims he was suffering from severe stress and anxiety resulting in health problems. He is seeking "no less than $2 million" in compensatory damages.
Now, Maloney is only allowed to teach classes. When his request for full reinstatement in March 2020 was denied, he sued.
SAC.Media reached out to Maloney.
"At this time I will not have anything to say regarding my situation," he said.
APPEALED CASE
Aarefah Mosavi v. Mt. SAC
On the night of December 12, 2013, 23 year-old peace and conflicts major at UC Berkeley and former Mt. SAC student Aarefah Mosavi alleged she was raped by supposed friend, fellow co-worker and former student Chester Brown on the Mt. SAC farm in a secluded barn and the administration attempted to cover it up.
In a YouTube video posted on April 16, 2015, Mosavi alleged that Brown became fixated with her hijab and the sliver of skin that peeked through around her neck. According to Mosavi, Brown demanded she take off her hijab multiple times and when she refused, he raped her.
Mosavi also described her alleged rape in the video.
"He starts to grope my back, my hips and buttocks," she said. "I tried to pull away but he would not let me go. I was frozen and terrified."
Mosavi took action against her alleged rapist.
According to a SAC.Media article on March 13, 2017, Mosavi notified campus officials about the alleged rape on January 27, 2014. She and Mt. SAC's former Director of Equal Employment Opportunities and current kinesiology professor, Lorraine Jones, met on February 11, 2014.
"Punitive actions could be taken against Chester Brown," Jones said, also stating that an investigation would be initiated.
As reported by a SAC.Media article on January 19, 2018, Mosavi stated that Jones asked her to "physically simulate the rape" on April 4, 2014 for the note taker during the meeting, Cynthia Hoover. Jones urged her to portray the role of Brown according to Mosavi.
Furthermore, SAC.Media reporters discovered that the school was in violation of the Clery Act when Mosavi made a report to public safety and they failed to log it in the college report.
The Clery Act requires private and public colleges and universities to report campus crime data, support victims of violence and publicly outline the policies and procedures they have put into place to improve campus safety.
Mosavi then filed a lawsuit against Brown and members of Mt. SAC administration on June 3, 2015. The individuals named in the lawsuit were Jones, Mt. SAC President William Scroggins, former Vice President of Human Resources and former Interim Director of Equal Employment Opportunity Program James Czaja, supervisor of Tutorial Services John Cardenas and former director of Tutorial Services Bailey Smith.
As reported in the SAC.Media article March 13, 2017, Mosavi's case was in a discovery phase with January 2018 the expected trial date according to Ronald Cruz, attorney and organizer with The Coalition to Defend Affirmative Action, Integration and Immigrant Rights and Fight for Equality By Any Means Necessary BAMN.
Scroggins was asked how the school handled some student's knowledge that the college was facing a lawsuit.
"There was a period of time where the BAMN organization came on campus and had some demonstrations and we were very supportive of the rights for individuals to have free speech on our campus within the constraints of access to the public areas and so we very much supported that," Scroggins said. "And they were, uh, the kinds of things that said about the importance of taking appropriate action with respective violence against women is quite appropriate. So we were glad to have them here and raised that serious issue for our society."
While Mosavi made statements concerning an absence of honest and adequate investigation of her case by the college, Scroggins believes the administration handled the delicate case admirably. However, he was asked if the school could have handled the situation better and did everything possible.
"Yes, and no," Scroggins said.
The school is known as one of the largest community colleges in California. Scroggins was worried about tainting the school's reputation.
Monica Smith, Mosavi's attorney, was determined to move forward with the case in spite of the administration's alleged cover-up.
The lawsuit states, "When Ms. Mosavi went to the school's Human Resources and the administration for help and guidance in filing a complaint against Brown, they humiliated her and treated her with total contempt, making an already traumatic experience worse."
On February 12, 2016, the opposing side attempted to have the case dropped. The judge ruled against the motion to drop the case.
A little over three years later, the Aarefah Mosavi v. Chester Brown case went to trial on August 7, 2018.
After hearing the evidence and arguments of counsel, the eight person jury deliberated and returned to court with its verdict on August 10, 2018.
The final judgment read in favor of the defendant, Brown, and the defendant was awarded their costs as provided by law.
All claims against the defendants Mt. SAC, Lorraine Jones, James Czaja, William Scroggins and Bailey Smith were dismissed by the court's orders in regard to the defendants' motion for summary judgment issued on May 10, 2018.
Motion for summary judgment is a decision made based on statements and evidence without going to trial. It's a final decision by a judge and is designed to resolve a lawsuit before going to court.
According to the lawsuit, Mosavi has been diagnosed with Post Traumatic Stress Disorder PTSD: "Ms. Mosavi has suffered psychological and stress-related physical illnesses as a result of her traumatic assault and rape."
Mosavi filed to appeal.
An appeal is when someone who loses a case in a trial court asks a higher court to review the trial court's decision.
According to the report, the appeal took place on March 20, 2020. Mosavi asked the court to reverse the grant of summary judgment to the college and to its employees as to Mosavi's claims for deprivation of access to educational opportunities under Title IX and section 1983 and religious harassment under the California and federal constitutions. She also asked the court to reverse the jury verdict for Brown.
The court ruled that there was no basis for ordering a new trial on the ground of judicial bias.
Mosavi is trying to re-appeal.
SAC.Media reached out to Mosavi for an update and currently awaits a response.
GRIEVANCE
Ali Carey-Oliver v. Mt. SAC
According to a SAC.Media article written on April 7, 2020, Mt. SAC's former head women's volleyball coach and kinesiology professor, Ali Carey-Oliver fought for her job on Feb. 26, 2020, as she took the stand in front of the Mt. SAC Board of Trustees during open public comments after her tenure was denied.
Tenure allocates a professor a distinguished status at a college which increases their job security. Meaning, they can be terminated only for cause or under extraordinary circumstances.
Carey-Oliver's tenure committee denied her tenure after alleged complaints from three students that she cursed on the volleyball court.
According to Carey-Oliver, she will be moving forward with filing a grievance.
SAC.Media spoke to Carey-Oliver before the Board of Trustees meeting.
"As the one and only female full-time [head] coach, being told that I am the only coach that cannot cuss is something that I need to stand up to," she said.
In her experience as a collegiate coach, she hopes to draw attention to the gender bias that exists in the profession.
As reported in the article, the claims against Carey-Oliver are as follows:
"Coach Oliver repeatedly yells vulgarity directed at specific student athletes and the entire team.
Coach Oliver conducts abusive behavior meant to punish specific students for perceived unacceptable performance.
Coach Oliver verbally demeans and makes disrespectful comments, directed towards students, and is often said to teammates.
Coach Oliver critiques students in front of the team in a manner that creates stress, anxiety and embarrassment for the student and leaves them feeling intimidated.
Coach Oliver has repeatedly expressed insensitive opinions about students, their families and peers.
Coach Oliver's repeated actions have tarnished students' athletic experience and they have expressed a desire to transfer or leave volleyball entirely."
Carey-Oliver claims that starting Oct. 25, 2019, she has been placed on paid leave from her position while Mt. SAC's administration reviews her tenure.
According to Carey-Oliver, the board moved the open public comment section from 6 p.m. to 4 p.m. and changed the meeting agenda. This violates the Brown Act due to the agenda change without 72 hours prior notice.
Carey-Oliver said regarding the complaints made against her, two of the three students later apologized to her.
According to former Mt. SAC men's basketball assistant coach and Carey-Oliver's husband, Chris Oliver, "The tenure committee, VP [vice president] and president have recommended to deny Ali Carey tenure." He then said the situation was "disturbing because I'm positive that this board does not have all of the information needed to make a fair informed decision — a decision that has the potential to expose the institution to a legitimate lawsuit."
Chris Oliver alluded to the potential lawsuit involving Carey-Oliver's past relationship with kinesiology Dean and Athletics Director Joe Jennum. Chris Oliver claims that Jennum "placed himself at the head of Ali's tenure committee… and he never disclosed their previous relationship to human resources."
Before the meeting, Carey-Oliver spoke to SAC.Media. By speaking to the board on Wednesday, she hoped to demonstrate the constructive things she has done for the volleyball program.
SAC.Media reached out to lead attorney Tom Newkirk for an interview with Carey-Oliver. He confirmed that Carey-Oliver is in arbitration with Mt. SAC and whether she files a lawsuit will depend on various factors that he can't discuss at this time.
SETTLED CASES
Solar Farm
As reported by SAC.Media in an article on January 16, 2018, Mt. SAC fought for the solar project, large scale solar installations where photovoltaic panels collect solar energy, to level 11 acres of the 24-acre hillside west of Grand Avenue and south of Amar Road and Temple Avenue. The absorption of sun rays was expected to produce 2.2 megawatts of electricity, more than half of what the college requires to function.
Citizens of Walnut were opposed to the idea.
For failure to comply with the California Environmental Quality Act and other causes of action, the city of Walnut and UWT first filed lawsuits against Mt. SAC in March 2015, according to founder and president of UWT Layla Abou-Taleb.
The court sided in favor with Walnut and UWT on the environmental grounds.
SAC.Media interviewed Scroggins for an update on what the school is now doing with the 11-acre land.
"We restored an additional amount of land to the natural environment," he said. "The gnatcatchers are already back."
Scroggins was also questioned on how he felt when the court sided with the city of Walnut and UWT on the solar project on environmental grounds.
"I'm an environmental chemist and one of the things I've always supported here at the college is sustainability," he said. "When the city used its land use permitting process to stop that work, I was very disappointed. Still am."
Hilmer Lodge Stadium
As reported by a SAC.Media article on September 19, 2018, the new Hilmer Lodge Stadium and athletic facilities were put into works in 2017 to bring the school to Olympic-level quality in hopes of being awarded host for the 2020 Men's and Women's Olympic Trials.
The old Hilmer Lodge Stadium was demolished in favor of the new structure. The $64 million construction project was in progress when delays began to occur.
The city of Walnut filed a lawsuit against Mt. SAC on Sept. 11, 2017, in the Los Angeles Superior Court to abolish contracts that the Mt. SAC Board of Trustees had approved for the construction of the Hilmer Lodge Stadium and additional athletic facilities.
The lawsuit claims that Mt. SAC bypassed various environmental regulations when they failed to perform an accurate environmental analysis for air pollution and effect on city residents.
These delays placed Mt. SAC in danger of losing their hosting responsibilities for the Olympic trials. The city claimed that since the stadium is not an educational facility, it must comply with city zoning laws.
On Thursday April 12, 2017, Mt. SAC and the city of Walnut said they reached a "comprehensive settlement" that demands representatives of the city and the school meet in community meetings to discuss future plans.
Scroggins was questioned about the relationship between the two entities.
"Once we settled the issues, we had opportunities to have shared events," he said. "I think we're fine with Walnut right now."
The school agreed to seek alternatives for both the abandoned solar farm and parking garage plan to clear the way to resume construction for the stadium.
According to Scroggins, that settlement cost $1.4 million in court ordered payments.
Mt. SAC lost the Olympic Trials.
A lot of public opinions and controversies arose in return. With Mt. SAC being one of the largest community colleges in California, they were pushing to finish the stadium in time for the Olympic Trials. After the USA Track & Field learned of the lawsuits, they stripped Mt. SAC of the opportunity to host.
The college spent a reported $20,000 bid fee and a $500,000 nonrefundable rights fee, among other expenses in addition to its legal fees.
Before the termination of the contract, the college was in for $1.25 million in athlete support, including travel, lodging arrangements and an additional $1.25 million in prize money.
Scroggins was asked how the loss of the trials impacted the school.
"We're still in competition for the next Olympics," he said. "We'll have our hat in the ring to see if we can host the track and field competition here at Mt. SAC."
Five-Story Parking Structure
On April 23, 2018, a SAC.Media article reported that Mt. SAC included a five-level parking structure in the Master Plan – a collection of campus projects – to take the place of Lot A to provide 2,085 student parking spaces and 128 faculty parking spaces. The $48 million project was set to be finished by 2018.
Students agreed that finding parking on campus was difficult.
However, the city of Walnut filed a lawsuit against Mt. SAC for the multi-level parking structure due to claims that the parking structure did not fit under school bond measures.
The parking structure was removed from the Mt. SAC's Master Plan.
According to the lawsuit, "The court found that Plaintiff United Walnut was likely to prevail on its third and fourth causes of action alleging violation of the city's zoning ordinance. A parking structure is a non-classroom facility that cannot be exempted from the city's zoning laws. As a separate ground, the court also found that Plaintiff was likely to succeed on its first cause of action alleging that the parking structure was not sufficiently identified in Measure RR when presented to voters. Defendants were enjoined from performing or conducting any further construction or dirt removal activity on the proposed parking structure site, or from spending any Measure RR funds on any aspect of the Parking Project."
Scroggins was asked for an update on the parking structure.
"It's in operation," he said. "That project [has] been a little bit more of a challenge."
PENDING CASES
Victoria Catano v. Mt. SAC
Mt. SAC student Victoria Catano filed a civil right – other civil right lawsuit against Mt. SAC on January 4, 2022.
Maria Ceja-Vazquez v. Mt. SAC
Mt. SAC Human Resources Technician Maria Ceja-Vazquez filed an employment complaint case against Mt. SAC on April 16, 2021.
Saniyyah Rasheed v. Mt. SAC
Mt. SAC employee Saniyyah Rasheed filed a civil rights of handicapped child lawsuit against Mt. SAC and the Mt. SAC Board of Trustees on June 28, 2021.
Stacey Gutierrez v. Mt. SAC
Mt. SAC employee Stacey Gutierrez filed a labor lawsuit against Mt. SAC on March 28, 2017.
SAC.Media reached out with an informal request for records that would show how much these lawsuits have cost the college. Vice President of Administrative Services Morris Rodrigue replied that they have started researching the request.
If SAC.Media does not hear back, a formal request for records will be filed.
Leave a Comment
About the Contributor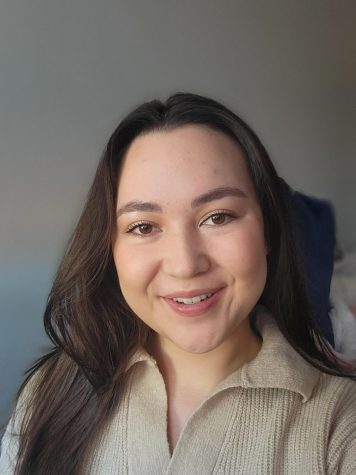 Andie Kalinowski, Features Editor
Andie Kalinowski is the Features Editor of SAC.Media.