Recapping Mt. SAC's Recent Harassment and Discrimination Cases
A look at some of the school's brushes with impropriety
During the Mt. SAC Board of Trustees meeting that took place on April 13, 2022, an informational report provided updated numbers on harassment claims at the school. Between January 1, 2021 and December 31, 2021, it was reported that there had been 25 unlawful discrimination complaints and 32 sexual harassment complaints. In all cases, the report claims that none of the complaints were substantiated. While this update provides numbers from 2021, it is important to look at harassment cases that have occurred in the past five years.
Julie Laverty
Julie Laverty, professor of communication studies and chair of the department of communications, faced her own incident of discrimination. Laverty applied for task work on a project that would help incoming adjunct faculty in the beginning of the Fall 2018 semester and was appointed to the job a few weeks later.
Laverty later received an email from someone that she didn't know who requested a meeting with Laverty to report her work. While Laverty was comfortable with showing this person her work, they requested that the meeting be in-person which did not accommodate with Laverty's busy schedule.
Laverty was then invited to what was called a "welcome and get-to-know-you meeting" on Friday Oct. 12, 2018. Laverty said in an interview with SAC.Media on May 17, 2022, that she was "super stoked" to display her work, Laverty arrived at the meeting with a multi-paged packet with all of the work she had completed in the previous weeks.
While Laverty was waiting for the meeting to officially start, Associate Vice President of Instruction at the time, Joumana McGowan, asked her questions that Laverty felt were personal and unprofessional. These questions included "How's your daughter?" and "Are you planning on having more kids?"
As the meeting went on, Laverty said she attempted to show McGowan the packet that contained her work but McGowan interrupted by wanting an hour by hour detailed recap of her work. McGowan also questioned Laverty on why she never attended the in-person meeting with the individual who emailed her even though it wasn't part of Laverty's job. Laverty said McGowan did this as she began to pace around the room and raised her voice giving a hostile tone to the meeting from Laverty's account.
Laverty's project counterpart – which she claimed she did not know of until the meeting took place – came in around 20 minutes late. The person even said to Laverty himself that he hadn't done any work for his assignment.
At a certain point in the meeting, her counterpart got up and drew stick figures of himself and Laverty describing the current situation they felt that they were in. As he got back to the seat, McGowan asked who was on the board. When he replied to McGowan who those stick figures were, she said "well, it can't be Julie, the hair isn't big enough to be Julie's."
Laverty told then Academic Senate president Martin Jones-Ramey that he can pick a new person for the job. Even after she left the project, McGowan kept making comments that Laverty would get a report of. One of the comments toward Laverty was that she has a reputation of taking on assignments and quitting them. Laverty said she felt defamed by these comments as they were spoken in front of others in the room of the meeting. It is to be noted that McGowan never questioned or reprimanded Laverty's male counterpart on this project despite his claim that he didn't even start on his work nor did he arrive at the meeting on time.
Messages from other colleagues and individuals were then sent to Laverty, sharing stories of their harsh encounters with McGowan. This brought Laverty to allege McGowan of mocking Laverty's physical features in front of those in management that can influence her future in management.
These allegations were discussed on Feb. 27, 2019, before the end of an early closed session of the Board of Trustees meeting as reported by SAC.Media on March 4, 2019. She also included the testimony of witnesses to the Oct. 12, 2018, meeting who described her as looking like she was about to cry and that they could understand how she would be offended by the comments that were made.
When Laverty brought this situation up for investigation, nothing resulted in terms of outcomes. She shared her current perspective on the situation, "I would never sit and be subjected to that again and I'm going to be the person that stands up and stops it when I see it."
Abby Wood
In March of 2019, Abby Wood, paralegal professor, made an allegation that the business department treated her differently after information regarding degrees from unaccredited universities came out as reported by SAC.Media on March 19, 2019.
These degrees were listed by Fawaz Al-Malood, associate dean of business. Wood claimed that it was Martin Jones-Ramey who came out with the information in January 2018.
The degrees in question were a doctorate from Pacific Western University, which was listed from 2006 until the 2016-2017 academic year, and a master's degree from Columbus University, which was also listed until the 2016-2017 academic year. Both of these degrees are from colleges that are now accredited.
The degrees listed after the 2016-2017 academic year on Al-Malood's page from the school website include a master's in management and leadership at Western Governors University, a diploma from the Hotel Institute Montreux and a doctorate from the University of South Africa. These degrees were not listed prior to the 2016-2017 academic year and replaced.
Wood had said that Ramey came to her and told her that Al-Malood believes that Wood was one of the two individuals to bring up the degrees in question and "put Ramey up" to reveal them. This investigation resulted in being questioned by Al-Malood and poorer performance evaluations according to Wood. After telling Al-Malood that Wood was not involved in him telling HR, Ramey was questioned a second time by Al-Malood in July 2018.
Al-Malood maintained his innocence in his public comment after Woods' allegations and did not address the allegation as he continued to ask Ramey who brought the degrees to his attention.
Wood declined to give any comments on her current stance on these allegations.
Ali Carey-Oliver
Ali Carey-Oliver, once Mt. SAC's head volleyball coach and kinesiology professor, was accused of acting harshly during her coaching during the fall 2019 semester. These claims include abusive behavior, vulgarity, being verbally demeaning towards students and critiquing students in ways that makes them anxious, stressed, embarrassed, expressing opinions on students and their families and have tarnished students' athletic experience. All of these accusations were in an article published April 7, 2020 on SAC.Media.
These claims resulted in Carey-Oliver being put on paid leave from her position on Oct. 25, 2019 while the school reviewed her tenure. Three students had made the complaints previously stated and eventually two out of the three students apologized to Carey-Oliver.
Carey-Oliver later took a stand in front of Mt. SAC Board of Trustees during open public comments at the Board of Trustees meeting that took place on Feb. 26, 2020. A group of individuals, from family members to former volleyball players, rallied in support for her at this meeting as reported by the article on SAC.Media.
Joan Sholars, faculty associate president and mathematics professor, attended the meeting as well to speak on behalf of Carey-Oliver. "Why do we treat our female athletes like they're porcelain, and yet our male athletes are ready for the real world?" Sholars said.
Sholars added that Carey-Oliver is the only coach she has known of to be directed to not "cuss" in front of the student-athletes.
It was decided on March 5, 2020 that Carey-Oliver would be denied tenure by the Board of Trustees which led her to filing a grievance according to the article. She said that she hopes to bring attention to the gender bias that exists in her profession as a collegial coach.
"As the one and only female full-time [head] coach, being told that I am the only coach that cannot cuss is something that I need to stand up to," she said.
SAC.Media reached out to Carey-Oliver's lead attorney, Tim Newkirk, who confirmed that they are in attribution with Mt. SAC and whether she filed a lawsuit depends on various factors that he can't discuss.
Clark Maloney
Clark Maloney joined Mt. SAC's men's basketball coaching staff in 1993 and also became an adjunct professor that same year. That gave him the chance to become the team's head coach within two years. After leaving for another school in the late 90s, he came back in 2012 as a full-time employee, taking over the men's basketball team and teaching kinesiology. This was reported in the article published in the San Francisco Gate on Sep. 15, 2021, "California college basketball coach sues school, alleges rampant misconduct and discrimination."
Maloney claimed in the article that "things started to go downhill" after he came back to Mt. SAC. According to Maloney, one of his assistants on the basketball team had been submitting falsified requisition forms. The article also reported that when Maloney brought this to the athletic director, Joe Jennum, who took a passive stance on the situation leading to Maloney firing the assistant himself.
The article reported that around 2012-2013, Maloney alleged that the previous head coach was engaged in sexual relationships with multiple women's softball players and "that the primary reason Maloney was hired was to repair and clean up the men's basketball department." This led to Maloney believing "that Mt. SAC allowed this previous coach to resign with a favorable recommendation."
It was also reported that he observed that many athletic students didn't attend classes and yet were marked present while maintaining high grades. In 2014, he attended a meeting held by the school's dean of students. It was discussed in that meeting that multiple Mt. SAC athletes were using "another Mt. SAC female student's stolen academic transcript." Maloney said he came to believe that the school's president, William Scroggins, "was aware of the situation, but rather than stepping in to stop or condemn these practices, [he] intentionally kept himself in the dark."
The article reported that about a year later, the California Community College Athletics Association (CCCAA) contacted Mt. SAC about another potential case of academic fraud involving a former college athlete at the school. The CCCAA wanted Mt. SAC to conduct an internal investigation. Maloney reported in the article that Jennum seemed more concerned about absolving Mt. SAC rather than commencing an actual investigation. In order for Maloney to keep his position and conduct his job, he was expected to abide by Mt. SAC's "win-at-all-costs" culture for all of the incidents previously mentioned.
He did not engage in these activities and began to rapidly deteriorate his relationship with the Mt. SAC Athletic Department. Maloney went on a leave of absence in November 2019 due to the stress and anxiety in the years that followed from these incidents. Maloney recovered from his health issues but the school found a new men's basketball coach according to Maloney which gave him only the opportunity to teach classes.
The article reported that when Maloney requested a full reinstatement in March 2020, it was denied. This led to him suing the school. This lawsuit alleges that Mt. SAC's athletic department has turned a blind eye to corrupt behavior for years and has repeatedly tried to push out the coach from speaking up.
SAC.Media attempted to reach Maloney on the current status of the lawsuit but he refused, claiming that he "would have nothing to say."
When Julie Laverty was asked how she felt the handling of her case was, she said that Human Resources has a responsibility to the college. "[HR's job was] to make sure that people are not found guilty of discrimination and harassment and to make sure there's no lawsuits, that Mt. SAC gets no lawsuits."
Ryan Wilson, director, EEO, Title IX, & leaves administration for Human Resources, disagreed. "Human Resources addresses complaints in compliance with state and federal laws," he said.
"In cases of informal resolution, Human Resources facilitates the Informal Resolution process. Informal resolutions are driven by the consent of the parties participation in the informal resolution."
Wilson explained the reasons for claims that are not substantiated.
"There are a number of reasons why complaints are not substantiated. (1) Complaints that do not meet the definition of unlawful discrimination under Title 5 of California's Code of Regulations, or sexual harassment under Title IX, even if the conduct is proven to have occurred, are determined to be defective complaints and are not substantiated. This does not mean they are ignored; instead, they are addressed under the appropriate policy or procedure, such as BP 5500, Standards of Conduct, or BP 3050, Institutional Code of Ethics. (2) Complainants may withdraw a complaint. (3) Complaints about individuals unaffiliated with Mt. SAC are unsubstantiated. The college is limited to providing the complainant supportive resources in cases where the accused is not affiliated with Mt. SAC. (4) In many cases, Complainant's are not interested in a formal investigation and instead opt for informal resolutions. In cases of informal resolution, complaints are not substantiated. (5) In cases where formal investigations are conducted, if there is not enough evidence to meet the preponderance of the evidence standard, then those cases are not substantiated."
Scroggins also disagreed with Laverty's comments. "Well, if there were outcomes that the complainant had alternative evidence [of], they always have the opportunity to pursue those complaints beyond Mt. San Antonio College," Scroggins said.
In regards to the 32 sexual harassment claims from April, SAC.Media could not reach out to those reporting those claims. According to the Human Resources page on the school website, this is due to Title IX protecting those who report claims. The webpage states that "If you decide to report unwelcomed conduct, your information will only be shared with those who need to know."
View Comments(1)
About the Contributor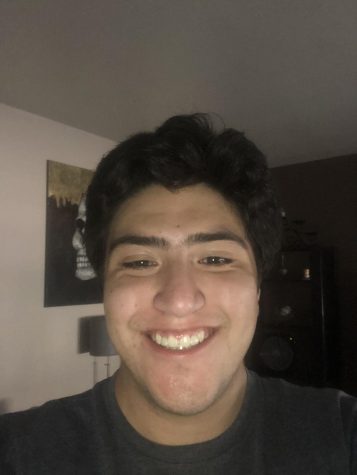 Armando Sanchez, Senior Staff Reporter
Armando Sanchez is a senior staff reporter for SAC.Media.