SHINee's Key Displays His Champion Side With 'Gasoline – The 2nd Album'
K-pop veteran Key drops his second full length album, showcasing a daring and reinvented version of himself.
After nearly a year since the release of his EP "BAD LOVE – The 1st Mini Album," SHINee member and solo artist Key released his long awaited full length album "Gasoline – The 2nd Album" on Aug. 30. Featuring 11 songs, Key tells the story of his journey to success after nearly 14 years of hard work and dedication in the cut throat industry of Korean entertainment.
Key, aka Kim Kibum, debuted in 2008 in the five-piece K-pop group SHINee, a contemporary band that has been considered the trailblazing "princes of K-pop" for nearly a decade and a half.
In 2018, Key debuted as a soloist with his album "FACE – The 1st Album" which presented an up close and personal side of himself that fans had yet to see. Within the past four years, the 30-year-old idol has consistently worked to bring his visions to life, participating in the designs of his fashionable stage outfits, lyric writing and execution of his concepts.
The singer-songwriter-fashion designer has implemented many nostalgic items within his art, one example being the referencing 1980s action figures in the packaging of his albums.
In his newest release "Gasoline," Key correlates his love for pop culture with his artistry, meticulously curating his art to fit within the 1980s concept of movie posters, outfits expressive of villains in monster films and packaging using VHS tapes and floppy discs as the inspiration.
Key also stated in an interview with Billboard that his inspiration stemmed from scary movies such as cult classics "Gremlins" and "Mars Attack!"
"Everything came from '70s' '80s, or 90's horror and adventure kinds of movies," the singer said. "I wanted to combine all of that in the album [photoshoot] and that's how it came out."
Additionally, the artist wanted to make this album as personal as possible, making a point to include bits of his own personality in the making. In a discussion with W Korea, he gave insight to the making of the album and his intentions behind the tracks.
"To paint a picture in describing the music this time, I wanted to create 'my kingdom'," Key said
During the production of the album, Key contributed to the lyric writing of many tracks, including the title track "Gasoline" and supporting b-sides "Proud", "G.O.A.T (Greatest of All Time)" and "I Can't Sleep".
"It's about building confidence," Key shared when discussing the process of writing "Gasoline" alongside lyricist and composer Kenzie. "Taking the word 'Gasoline,' saying, 'Hey, if you light a spark to me, I may explode."
The singer depicted his song as one of his "autobiographical stories", a concept that he had yet to visit in his past releases.
In the past, Key has reminisced his experience as a youth working in an industry as demanding as the K-pop entertainment industry. In his song "Eighteen (End Of My World)", the SHINee member revisits his 18-year-old self, who was freshly debuted and dealing with feelings of uncertainty and self-doubt.
"I would never see the end of my/End of my world with you," Key sang to his adolescent self. "Don't let it all fall down/Just dream and fly high/My eighteen, my eighteen."
Paralleling with his growth as his own person, b-side "Proud" is dedicated to his mother who journaled to him over the course of his childhood. These journal entries gave Key the strength that he found within himself, as he realized his growth in comparison to his childhood and adult years.
"I've spent probably a good 17 years or so at SM [Entertainment], including my pre-debut days. It's a message of just saying, 'You've done a great job.' It's a message of comfort to myself."
"G.O.A.T (Greatest of All Time)" is also about the feeling of being incomplete while being at the peak of adult years.
"When I was young, I had a vision of myself at this age being more like my father. But being at that age now, I feel like I'm not quite there. So it's about stories that stem from that realization but also feeling like there isn't a specific time when you become an adult." Key made a point to state that the song lyrics are ambiguous, as just about anyone listening can relate to the track.
"The track's title isn't about anyone, it's just saying that not everyone can always be at their greatest and not to worry where you are," he said.
The most significant track of the album, "Proud," is a song that the artist wrote himself. Key stated that the song was partially inspired by his troubles with falling asleep.
"As you can probably tell from the title, it was based on what kind of thoughts individuals have when they're not able to sleep that well," the K-pop veteran idol said. "It's a modern disease, you know what I mean? Insomnia."
"Something that I always keep in mind is that I can be an influence to others and have an impact on other individuals' life. It's my passion and I want to continue to show the better side of myself through various colors," Key shared at the end of the interview.
"Anyone that's just getting into my music, don't hesitate – please listen to it more."
Key's "Gasoline" is available across all streaming platforms, as well as the "Gasoline" music video available on YouTube.
Leave a Comment
About the Contributor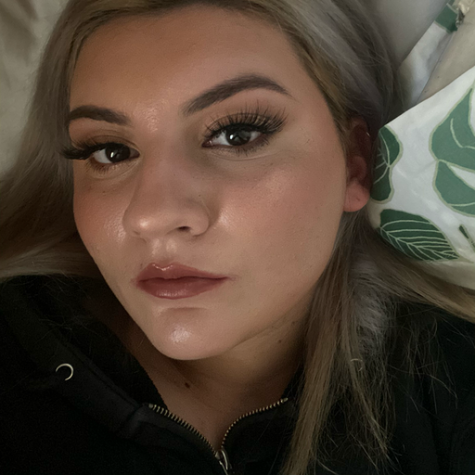 Samantha Acevedo, Staff Reporter
Samantha Acevedo is a staff reporter and writer for SAC.Media.