Bubbles For Your Troubles
Celebrity wine is the new buzz but are they worth it?
"Pour up, drank! Head shot, drank! Sit down, drank! Stand up, drank! Pass out, drank! Wake up, drank! Faded, drank! Faded, drank!" – Kendrick Lamar.
Before you listen to what I have to say, allow me to provide some credence and credibility on my behalf. I love my spirits and cigars. Yes, even at the young age of 23, I have an appreciation and admiration for these pallet experiences, although enjoyed in moderation. I have been keeping a list of all the new labels of wine and other spirits that I came across and wrote notes on my phone. I knew one day they'd come in handy.
If you are looking for Smirnoff Ices, Natty Ices, White Claws or some cheap stuff for your three-day bender, I suggest going to Barstool Sports and watching a dayger video from the University of Michigan for your daily internet booze consumption.
As a consumer, I pride myself on not being fooled by brands just because a celebrity's mug shot is slapped on a label, so it can be charged for an extra $10. Just because it's Post Malone's label. But you do have to give the marketing teams props for creativity and innovation.
However, the danger and fear for most people who purchase celebrity owned or endorsed spirits is the possible lack of quality upgrade or the difference in price. For example, you can choose to buy a bottle of celebrity's wine for $45 as opposed to a $5 bottle from Trader Joe's and save $40.
On the flip side, who wouldn't want to try Posty's rosé, or see if John Legend's product is worth the big bucks or indulge in some wine from Carrie Bradshaw? We've all wanted to be a baller for the weekend, take a picture with the bottle in your hand and turn up for the one time! We know for certain that certain spirits have become staples and endorsed heavily, sometimes for free, because it's so damn good.
As long as it goes down smoothly and it doesn't break my bank account, I'll drink whatever! Whether you prefer red or white, there's an abundance of spirits to select from.
All four wines are meant to be savored and sipped, not drank down a luge, buttchugged or shotgunned. Think more of enjoying these with a nice charcuterie board, exotic cheeses, prosciutto, salami and chocolates.
Here are the celebrity spirits I have tried and my review on a scale of 0-5 glasses:
Zero being you spit it out as soon as you try it and five being pour me more.
Maison No. 9 French Riviera rosé by Post Malone
Such a sexy bottle! My oh my… this was what got me into writing review pieces on booze in general.
Post Malone's Maison No. 9, meaning "House Number 9" in French, is a rosé blend varietal of 45% Grenache Noir, 25% Cinsault, 15% Syrah, 15% Merlot and is a nice 12.5% alcohol by volume. Its current retail price is $21.99 plus tax at Total Wine.
My initial impression when I received them in the mail from Cask Cartel was "Damn, it's a really nice bottle and I hope you're as delicious as you look." I'm a sucker for quality glassware and bottling. And this most certainly is an elegant bottle. Given the longer neck on the bottle, the crafted glass cork and it is a French product. The slim bottle design leads me to believe it is a Riesling-style bottle that is meant to be consumed quickly rather than stored after a single glass pour.
A regular cork tends to preserve the freshness better than glass corks, but glass corks are more aesthetically pleasing to look at and serve as the medium between screw tops and traditional corks. A wine critic from the Washington Post once wrote how they're trending in Europe but not the U.S. market. I also like to smell my corks because they absorb some of the scents and flavors from the wine and you can't do that with glass corks. But I digress.
Once opened, you are immediately hit with a dry, classical springtime aroma and notes of brisk strawberry and… possibly apricot? Not positive, but it is definitely not of the traditional fruit blends for wine. Why do I feel the need to constantly be smiling now that I've opened it? It must be Posty's vibes radiating from the bottle.
Thankfully, it is as tasty as it looks! Crisp, refreshing and smooth. It is a dry, classical type of rosé that is well balanced with strawberry dominant, hints of peach, pineapple and a unique crisp fruit flavor that I can't quite put my finger on.
Finger snap! It's pear!
After drinking the first glass, I'd say it is overall light, sweet, very balanced and goes down smoothly. It didn't give me a headache like I usually do after drinking a Riesling, which was part of my worry with the bottle.
Currently, it has supplanted the Banfi Rosa Regale that Disney sells as my favorite wine.
Rating: 5 Glasses! Dilly Dilly!
19 Crimes Snoop Dogg Cali Red Blend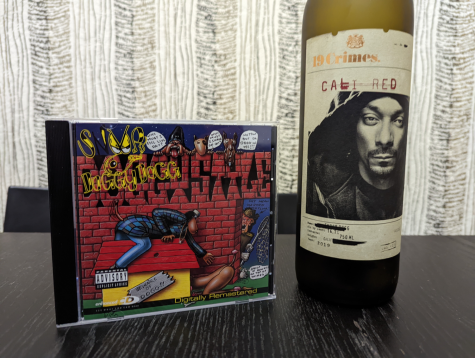 My favorite uncle! The Snoop Dogg Cali Red Bend by 19 Crimes is a Lodi, California grown blend of 65% Petite Sirah, 30% Zinfandel, 5% Merlot and is 14.1% alcohol by volume. The current retail tag is $11.98 at Walmart, which is actually cheaper than most of its 19 Crimes counterparts.
The Long Beach legend collaborated with 19 Crimes to release two types of wine projects: the red blend and rosé blend that is 75% Zinfandel, 20% Grenache, 5% Pinot Noir. The 19 Crimes hit retail shelves shortly after Snoop's Indoggo Flavored Gin.
My initial impressions when I picked it off the shelf were "Why are there a lot still on the shelves and I'm worried…" Why was I worried? It didn't specify what is in the blend, which is a red flag since most blends that are of high quality identify what kinds of wine are blended on their back label. Maybe when I first bought the product a few years ago, it was so new that no one had really tried it before. But when I wanted to buy it again for review, there were substantially less of these and I had to go to several stores to locate a bottle.
Upon further review, I was able to locate its complexion on the 19 Crimes website. It does have a punt at the bottom of the bottle – a punt is the divet in the bottle acting as a spot to place your thumb while the rest of your fingers grab the base of the bottle for a proper pour – so, encouraging.
The cork is lasered with an image of Snoop Dogg's face, so on every bottle, Unc is there for every pour and sip of the way. Each bottle has historical stories direct from The Infamous. To view it, download the Living Wine Labels App then point your phone and watch the label come to life.
Cool story aside, immediately after opening it, I was hit with a dry berry aroma. It reminded me of those cheap wine bags at frat parties that you'd have to slap and chug. Its flavor profile appropriately matches its scent and smell: dry, smooth, fruity and a medium body but closer to a full body wine.
Body, in a nutshell, suggests the mouthfeel, alcohol content and boldness of a type of wine, not the price or quality, with light being lean, delicate and a light consistency, full being the antithesis and medium being in between).
Snoop's wine did its job: a smooth, good quality, fruity and palatable wine on a budget. It's very easy to drink and I've recommended this as one of the starting points for wine novices to try. If you can find one of these at your local Walmart, Target or Sprouts, you'll definitely enjoy it and it doesn't break the bank at $12 a bottle. Pas mal, Snoop. Pas mal.
Rating: 3.5 glasses. Let's toast to doing the most!
INVIVO X, SARAH JESSICA PARKER ROSÉ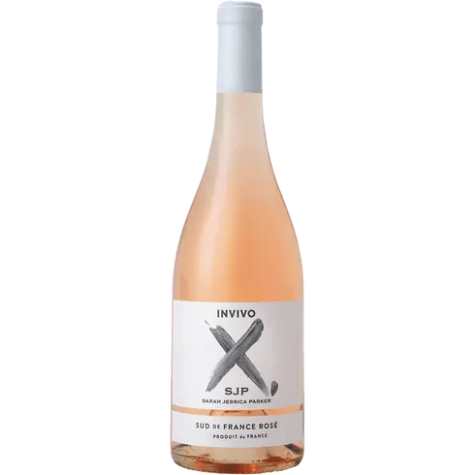 The Invivo X Sarah Jessica Parker rosé is a French rosé blend crafted in collaboration with the family estate from Provence, Vins Chevron Villette. The grapes come from the famous 'Golden Triangle,' situated in Saint Tropez, inland between Puget‑Ville, Les Arcs and Le Thoronet Abbey, which was built in the late 12th and early 13th century. Le Thoronet is known for its clay‑limestone soil, while Puget‑Ville & Les Arcs are of Argilo‑siliceous soil.
SJP curated the blend after a day of wine tasting with Tim Lightbourne and Rob "Crusher" Cameron who prepared several iterations before deciding on the final product. This rosé is 12.5% alcohol by volume, composed of 45% Cinsault, 45% Grenache, 10% Syrah and sells for $17.99 at Total Wine.
My initial impressions: "This is totally something Carrie Bradshaw would drink during the day and Carrie is annoying but that shouldn't diminish the wine."
Just looking at the bottle automatically reminds me of "Sex and the City." This wine has a textured label, which is always a plus because it gives the bottle personality. It definitely has a lighter body than the Post Malone rosé, almost a salmon-esque type of color and resembles a Provence style rosé.
I popped the cork, and wasn't expecting the smell to be as potent, but it was powerful and aromatic. On the nose, you can easily pick up the perfumed aromas of red berries and stone fruit. There is also an unfamiliar scent.
The flavor profile is supposed to be more full bodied. It definitely has the zip and medium acidity that I expected. Pretty crisp and fresh; vibrant and fruitful with citrus notes delivering a long and deliciously full finish. It has more texture than Post Malone's Rosé, but because it has more going on, some of the other flavor profiles in this blend are lost. There is also a creamy texture and finish as well, possibly from the added sugar or the soil the grapes were grown in.
I will say this, while it isn't my style of rosé, I can appreciate that it was well-crafted, the price point is on par with most good-quality rosés today and definitely goes down smoothly.
Rating: 3.8 glasses. Might need a cheeseburger, fries and a cosmopolitan with it.
LVE Red Blend Napa Valley 2019 by John Legend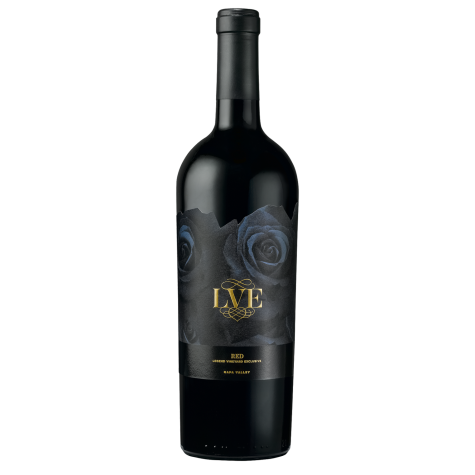 All of me wants to believe that this wine can live up to the hype. Unfortunately, for the price point of a high quality bottle with a plethora of matured flavor profiles distilled and aged in tobacco barrels, it did not live up to the hype. The oaky accents are absorbed from within the fermentation phase.
John Legend's red blend concoction sits at a respectable 14% alcohol by volume and currently is $49.99 at LVE Wines (first time I bought it, it was $67.99 at Walmart). This blend is composed of Petite Sirah, Petit Verdot, Cabernet Sauvignon and Merlot.
On the nose, this bottle opens with a sudden rich aroma of black currant and sugar plum, with a hint of spices.
It looks like a sophisticated, expensive bottle of wine. However, looks can be a bit deceiving. The label stands out, definitely one that separates itself from the crowd. Even on a wine section that features an assortment of wine selections.
This wine has a bit of spice, likely from some kind of pepper, but overall, it's mildly flavored with not much of a fruit flavor profile. A medium body, but it is heavily compensated with a bold flavor profile of oak, vanilla and aged tobacco. Sometimes the abundance of flavor is overpowering. While very unique with the hints of plum black cherry tobacco leather earthy licorice, its smooth complexion with some black pepper paired with rounded oaky tannins on the finish, make this stand out for other celebrity brands.
The price point of $50 per bottle is a bit steep but it makes sense for a celebrity-created wine. While I tend to err on the side of budget efficiency and a well-rounded bottle, I recommend starting with a bottle with fewer bold flavor additives.
If I'm completely honest, which I always am, I have 50 reasons why I won't buy this bottle again for myself. It's not a terrible wine by any means. Actually, I would buy this as a nice gift for someone, but it would definitely be someone with a much more developed and niche pallet.
Rating: 3.5 glasses … save room for something else because it can be improved upon.
Overall
It's never a bad idea to explore new brands and expand a repertoire to maximize a sensual taste pallet. So far, these bubbles for your troubles are a solid buy, especially at some of their price points.
Will there be more celebrity's wine I would be interested in trying? Absolutely!
There are other bottles I have on a list and I intend on crossing off every one of them. And adding new ones along the way. As it states in my editor's profile, I've never met a bottle of wine I don't like. Well, maybe if it's just okay for $84.
Cheers to everyone who has read up to this point! Hopefully you'll enjoy these bottles as much as I have!
Salute! And always drink responsibly!
Leave a Comment
About the Contributor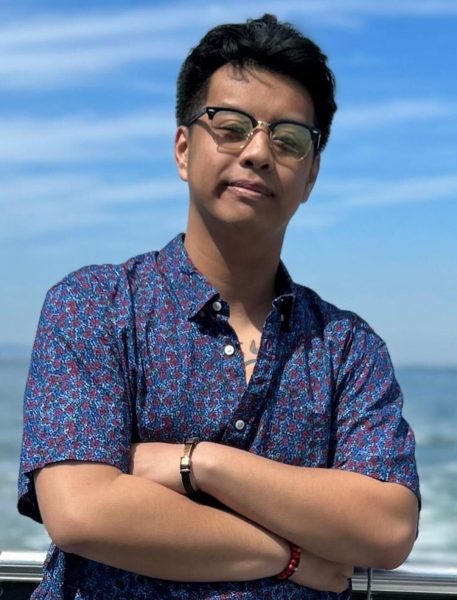 Robbie Doctor, Managing Editor
Robbie Doctor is the Managing Editor.