'Gaga's Monsters' take over Los Angeles
Lady Gaga's Chromatica Ball Tour Southern California stop
"Love, love, love! I want your love, I want your revenge. You and me could write a bad romance!"
She always has divided opinions with her political stances, views, style of music, but then again, which pop star doesn't? Especially being a female and someone as iconic as her. But what absolutely nobody can deny, whether they want to admit it or not, is that Lady Gaga knows how to command a stage and her presence is felt throughout the city she performs.
Plenty of "Little Monsters" gathered at Dodgers Stadium as the City of Angels hosted the "Mother Monster" herself, Lady Gaga.
52,000 people. Sold out. 30 cameras pointed at you and one take 🖤 #monster #ChromaticaBallLA
I LOVE YOU🔥🔥🔥🔥🔥🔥🔥 https://t.co/NbAQxMItj8

— Lady Gaga (@ladygaga) September 11, 2022
"52,000 people. Sold out. 30 cameras pointed at you and one take," Gaga tweeted and captioned her Instagram post after the show.
Out of the 20 tour dates, the 18th Chromatica Ball, on Sept. 10, was the only stop in Southern California. At her last stop, the pop star was in San Francisco performing at the iconic Oracle Park shared many similarities with the Los Angeles stop, aside from the rival baseball franchises, both venue hosts: pyrotechnics, a nightclub-like atmosphere and 40,000 plus dancing bodies partying like there's no tomorrow.
Perhaps most importantly, the No. 1 and No. 2 cities with the highest lesbian, gay, bisexual, transgender, queer, questioning, intersex, asexual and agender LGBTQ population.
The icon herself has been a strong advocate and supporter of the LGBTQ community but she stated that she does not represent or "speak" on behalf of the community. Gaga has addressed her identity as bisexual openly since 2013 and has long been affiliated with the LGBTQ community. From her all-accepting chart anthem "Born This Way" to her exuberantly camp dress sense, the star has become a modern queer icon.
"I feel that it is right and true to say this: I am a supporter of the LGBTQ community but I do not speak for them. They do not need me to speak for them," she said.
"I am here to cheer on radical love and a radical joy that I had the privilege of witnessing since I was a very young girl. And without the LGBTQ community, I would not be who I am," the star further explained.
Originally announced via Gaga's social media, the tour was set to start on March 5, 2020, as a six-date-long, limited concert series for the summer of that year, in support of her sixth studio album, "Chromatica."
This tour for Gaga marks her first tour and major public performance since her Super Bowl LI Halftime Performance. A game infamously known by a simple score: 28-3.
Tours and concerts have been hard to come by for fans as the pop star revealed to her fans of her struggles with fibromyalgia.
New dates with additional venues in Europe and North America were scheduled and officially announced on March 7, 2022, making the once limited tour to a 15-date engagement, advertised as "The Chromatica Ball Summer Stadium Tour." Then on April 14, 2022, two dates in Tokorozawa were announced, marking the singer's first concerts in Japan in eight years.
Lightly drizzling on and off prior to the show starting and was still intensely humid outside. Some fans were getting heat strokes waiting in line to enter the stadium and throughout the performance, as EMT staff occasionally removed fans who fainted from either being starstruck or dehydrated.
The stage was positioned in the centerfield pavilions and had a pit section and smaller stage on the field itself.
A raucous crowd with an intense energy buildup and chants of "GAGA, GAGA, GAGA," was simply infectious and uncontainable. Especially for a Los Angeles crowd who are somewhat spoiled and immune to star power.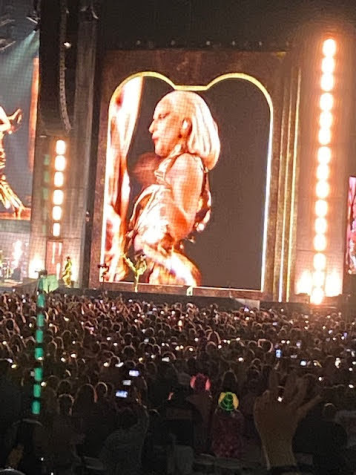 Most fans kept doing the wave while waiting for Gaga to come out on stage and several mini eruptions of people hyping each other dancing in front of their sections.
Upon entry, fans were given glow wristbands which help for crowd engagement.
Lady Gaga didn't have an opener, her first flex, either purposefully or not implied because there simply isn't anyone who can prepare an audience for what she was about to bring.
Most artists have an MC to get the crowd hyped and ready. Not necessary for Gaga.
Gaga hit the stage at about 8:55 p.m. and did not disappoint.
Right out the gate, she opened with three of her most iconic songs: "Bad Romance," "Just Dance" and "Poker Face."
Those three songs defined and shaped the fanbase for Gaga to shoot to superstar status. Despite a decade passing, "Bad Romance," "Just Dance" and "Poker Face" hit just as hard as if it's the first time you're listening to it.
Most artists would not dare to start their show with their biggest hits from the jump – but she did! And that only served as the prelude.
True to her posted song list order, she divided her show into five acts.
Each act had a different overgoing theme featuring several alterations to the stage and costume changes. For the crowd, each act signified a change in color of the wristbands to enhance and immerse the audience in the performance.
A true spectacle to behold.
The pop superstar got physically and emotionally closer to the crowd when she took to a paleolithic-inspired piano at a circular stage in the middle of the field at the end of Act III to start an acoustic, belting version of her 2011 Hot 100 No. 1 "Born This Way" before transitioning into the dance mix we know and love.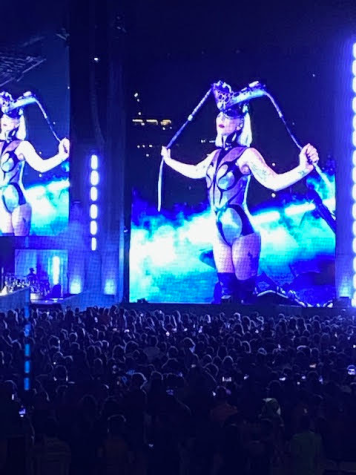 Fans couldn't get enough Gaga.
She also stripped things down for two songs from her critically acclaimed turn in 2018's "A Star Is Born": the Hot 100 No. 1 duet "Shallow" and the "Always Remember Us This Way."
While the weather became more ideal as the night progressed, there was this feeling from the crowd of wanting a light drizzle to occur while "Rain on Me" was performed.
The combination of choreographed pyrotechnics, constant surging crowd energy throughout and a passionate performance was more heat than Southern California could handle.
While neither that nor Ariana Grande made an appearance, her performing in front of an adoring crowd was enough to behold.
Security guards were dancing throughout the performance. The crowd chanted "Encore" for 10 minutes after Act V, and she came back on stage and delivered!
Before singing the solo from the highly anticipated sequel "Top Gun: Maverick – Hold My Hand," Gaga took a moment to thank the crowd for their patience in waiting for a stadium tour around an album that was released over two years ago.
A city known for bright lights and blockbuster performances, the Chromatica Ball truly lived up to the billing. As blistering as the Southern California heat was, it had nothing on Gaga's performance.
Fans singing "Rain On Me" at Lady Gaga's #ChromaticaBallMiami after the show got cut short due to poor weather conditions. pic.twitter.com/9YdYJLoOF7

— Pop Crave (@PopCrave) September 18, 2022
Upon the final two tour dates concluding with sold out stadiums including the final stop in Miami being cut short due to inclement weather from Hurricane Ian, the pop star posted a heartfelt thank you and apology to her fans who packed the Hard Rock Stadium.
"Thank you so much for coming to the Chromatica Ball," she said. "We really tried to finish the show tonight in Miami but we couldn't because even when the rain sort of stopped, there was lightning that was striking right down to the ground so close to us."
Thank you Gaga, for inspiring a generation of people to embrace themselves. Because we were born this way!
Leave a Comment
About the Contributor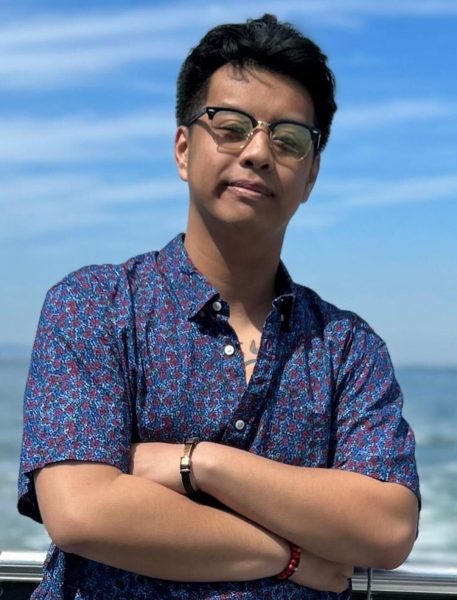 Robbie Doctor, Managing Editor
Robbie Doctor is the Managing Editor.