Coach Chris Mecate: Mt. SAC's true road warrior
Meet the professor and coach who happens to be a pro-MMA fighter
Chris Mecate. Some Mounties may be familiar with this name. Perhaps you have taken one of his various kickboxing or conditioning classes, or are a wrestler for Mt. SAC. But what you might not know is Chris Mecate is a recently turned pro-MMA fighter sporting a 5-1 record since March 2020.
A true Southern California native through and through, whose travels and experiences in the harsh East Coast molded a grit and grind, Mecate fell in love early with fighting. From Highland, California, he began his mixed-martial arts journey practicing Tae Kwon Do at seven years old, acquiring a black belt at 11, and studied jiu-jitsu throughout middle school.
Eventually, he began to hone in and focus on his true love: wrestling.
It was challenging for Mecate to explain the severity and danger of his practice. He explained, saying, "People would ask me all the time when I was growing up 'what was your signature move' and I would respond like no this is the real deal. And they'd ask 'what do you mean' so I had to really explain my childhood and experiences for my fondness of wrestling."
Mecate recalled an early memory that solidified his passion and love for wrestling. "I remember I was probably 9 or 10 at the time, and I attended a Golden West College Wrestling Camp in Huntington Beach, California, to learn some moves as a young kid. The Light-Heavyweight Champion walks in and they start playing a video of how he won the UFC title. It was Tito Ortiz. Absolutely blew my mind. Seeing and hearing him talk about how putting your focus and time into wrestling is something you can be successful in, it made me realize that this was what I wanted to do. Somehow, I wanted to do this."
He attended Redlands East Valley High School where he was the 2011 CIF State Champion at 135 pounds and a three-time CIF State Medalist, a decorated and illustrious high school career to say the least. Finishing with a record of 156 wins and 17 losses, Mecate earned high school All-American honors from Amateur Wrestling News and Wrestling USA Magazine, as well as All-American Honorable Mention Honors from Asics and The California Wrestler.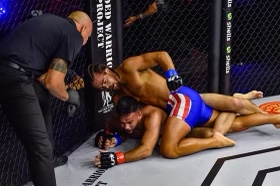 Mecate eventually came to a crossroad point of his life: staying in California where he has been all his life or taking a chance moving out to Virginia and pursuing his passion, wrestling. For context, the sport with the lowest transition percentage of high school to the college level is wrestling at 0.01%. As Mecate put it, "it is the cream of the crop, the elite of the elite."
Ultimately, he opted to move out East where he attended Old Dominion University as a Division 1 wrestler. Norfolk, Virginia, is across from Newport News, one of the toughest neighborhoods to grow up in. Home of Allen Iverson, Michael Vick and Gabby Douglas.
Looking back on his experiences during his 7-8 years on the opposite side of the country, he believes it was the best decision of his life.
"Leaving from where I'm from, my comfortable environment, I knew a lot of people in high school. I could've stayed and it would've been an easier option but I chose to do something I love," Mecate said.
"It wasn't just getting up and starting over. I was already established in something I love but in a sense, I had to restart. It showed me a different way of life. A different pace. Ultimately, it showed me there are a lot of ways to do things in life."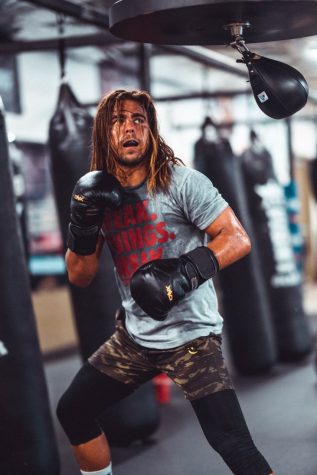 The bonds he built training with his college teammates are relationships that he will cherish forever.
"You develop a brotherhood through grinding together, working out together, cutting weight together, you have to earn it! It's a right of passage in its own respect and you develop the best relationships through it. It was the best experience I had."
Mecate instills some of the lessons he learned from Coach Steve Martin into his students and athletes. He teaches to accommodate his athletes. If you're someone with tons of experience, he has classes and instruction tailored to you for that. If you're taking this because it's a requirement or you're just starting out, he can help you build solid foundations.
He didn't sugarcoat it. It takes work.
"It has to come internally. And I'll show you exactly what it's like. It won't be easy, but I promise you'll be glad you did it. You might just say it's the best decision of your life."
He believes in passing these life lessons forward. As his coaches taught him, he feels he owes it to the students to be a servant and help change their lives.
Coach Mecate is thankful for his opportunity to train at The House of Muay Thai where he worked on his striking to complement his wrestling and Brazilian jiu-jitsu background. He believes in being well-rounded not only as a fighter but in all aspects of his life. It was this time Mecate would begin training with Mackens Semerzier, who as Mecate put it, "was the only fighter within a hundred mile radius of where I was training and linking with someone who is at where my goals are set is awesome."
Moving back to California, he would cross paths with UFC featherweight contender Cub Swanson.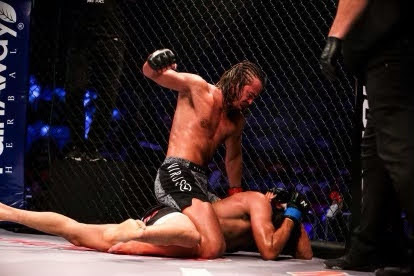 Those first interactions are memorable; seeing one of your idols who you spent your childhood watching from afar only to now be hitting mitts on the daily. But it is a privilege few receive and fewer appreciate and understand.
"Me and him are tight. He's my coach and my manager. The longevity he has had is something I aspire, look up to and I am capable of doing it. So being around guys like that, soaking up a ton of knowledge trying to get where he's at. When I'm around people who are better than me, I shut my mouth, open my ears and apply it to my way of thinking and training."
Some lessons Mecate took from Swanson and instilled in his students and athletes include astute attention to detail and an emphasis on "experience is the best teacher in the cage." There is no substitute for progress except working to improve.
"Greatness is a mentality and a scope to view life. It carries over. Whether you're a basketball player, an MMA fighter, or a teacher. It's just a way to approach life with purpose. I'm a fan of greatness."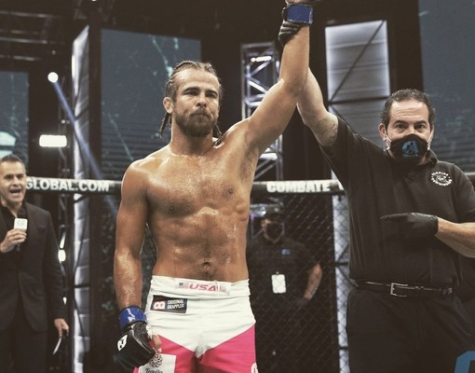 Mecate's simplified and open-minded approach as an instructor, coach and mentor has made him a campus favorite. He understands not everyone is a killer in the octagon, has any MMA or fighting experience for that matter or is not as passionate or intense as he is about combat.
Students, and all people for that matter, appreciate an environment that enables relatability and understanding while allowing striving for constant improvement. In the mat room, everyone is welcome with Coach Mecate. He understands that combat training is still taboo in some respects and wants to bridge the gap between the casuals, the athletes and weekend warriors to ultimately change people's lives for the better.
"I want my legacy to be that I left my fingerprints wherever I go. I want to help and enrich people's lives physically and mentally through combat and training. When students come up to me … and they tell me how much I changed their lives, it's a trophy you don't need a mantle for."
Leave a Comment
About the Contributor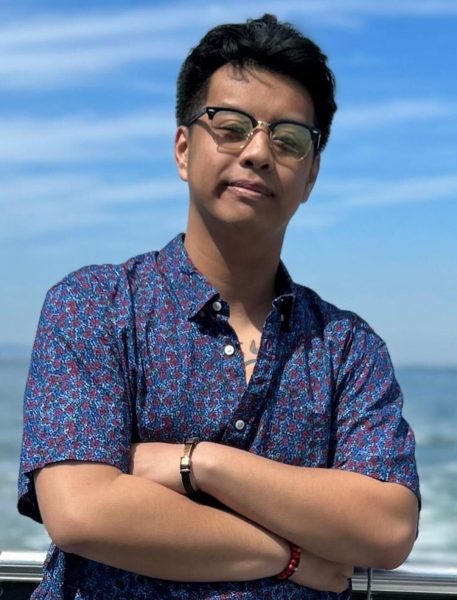 Robbie Doctor, Managing Editor
Robbie Doctor is the Managing Editor.