Mountie sports recap: Sept. 26-Oct. 1
Mounties solidify CCCSA poll rankings
Hey, Mounties! Another week of fall athletics in the books. Let's get you caught up with the latest sports news and updates from last week's games.
It was an overall dominant week for the Mounties with every team winning their respective matches. Doesn't matter if we're home or away, our Mounties expect to dominate week in and week out.
Here's your recap!
Monday, Sept. 26:
Women's golf
Mt. SAC at Costa Mesa Country Club
Mt. SAC freshman Kayla Loera conquered a field of 37 golfers with the 1-over-Par 71. Her efforts helped the Mounties finish 6th overall.
Finishing first in the OEC match, hosted by Orange Coast College, was Saddleback with a team score of 321. Mt. SAC finished with a 374 ahead of Cuyamaca with 394.
Kayla Loera was followed by her freshman sister, Kaitlyn Loera (84), sophomore Emilia Hickman (95) and freshman Brooklyn Davis (124) for overall performances on the course.
The ladies will hit the road this Wednesday for their next round at El Prado Golf Course in Chino, California, at 11 a.m.
Tuesday, Sept. 27:
Men's soccer
Mt. SAC vs. Oxnard
Oxnard College tested their undefeated record against the Mounties on Tuesday, Sept. 27. The result: a 3-0 shutout victory for the home team and handing the Condors their first non-conference defeat.
The Mounties scored two early goals in the first thirty minutes of play with goals by two sophomores: forward Andrew Vazquez (14,) and midfielder Alex Mendez (10).
Sophomore forward Edward Castro (11) scored the final goal of the game in the 67th minute on an assist from Vazquez.
Goalie Jacob Cardenas (1, sophomore) held the Condors offense scoreless and finished with two saves.
South Coast Conference play begins for the Mounties on Tuesday, Oct. 4, at home against Rio Hondo College. Kickoff is at 7 p.m.
Wednesday, Sept. 28:
Women's water polo
Mt. SAC vs. Pasadena City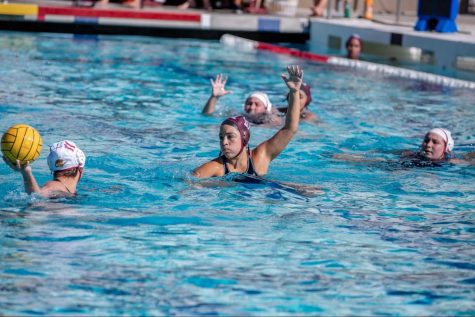 Mt. SAC convincingly dominated Pasadena City College in their home match, 16-2.
The Mounties offense was firing on all cylinders, getting out to a 3-0 lead within the first five minutes of game play. Junior Xen Allen (5) opened the contest with back-to-back goals. Her first coming off an assist from freshman Shauna Mercado (16) and her second unassisted.
Freshman Briana Castillo (8) recorded a game high 4 goals, 1 unassisted and 3 assisted from three different teammates: freshman Briana Solis (15), sophomore Cori Burdett (6), and Xen Allen (5).
The Mounties hit the road tomorrow to take on the El Camino Warriors at 3 p.m.
Women's volleyball (6 p.m.)
Mt. SAC at Pasadena City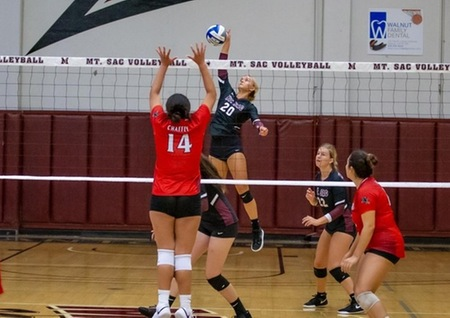 The Mounties went on the road and did their best Cleveland Cavs impersonation; starting out the game by losing their first two sets and won the next three to capture a 3-2 victory (22-25, 15-25, 25-12, 25-16, 15-11) over host Pasadena City College.
Outside hitter Riley DeGroot (20, sophomore) led all players with 16 kills. Sophomores Angelina Burton (9) and Allison Whiteman (23) added another 27 between the pair (15 and 12, respectively).
Defensive specialist Riannel Arevalo (14, sophomore) recorded a match-high 17 digs while setters Kylie Rhodes (7) and Capri Salmon (22) each tallied more than 20 assists (26 and 21 respectively).
Friday, Sept. 30:
Women's volleyball (6 p.m.)
Mt. SAC vs El Camino
The lady Mounties remained undefeated in conference play at 4-0 in the South Coast Conference. Mt. SAC defeated the Warriors with a 3-0 sweep, 25-18, 25-17, 25-20.
Sophomores Angelina Burton (9) and Allison Whiteman (23) spearheaded the Mountie offense with 11 and 10 kills, respectively.
Setters Kylie Rhodes (7) and Capri Salmon (22) combined for 33 assists.
Sophomore libero Riannel Arevalo (14) led the Mounties with 17 digs.
With the win, the Mounties improved to 11-3 overall. The Mounties will travel to Riverside City College for a non-conference match today, Wednesday, Oct. 5.
Men's soccer (6 p.m.)
Mt. SAC vs. Allan Hancock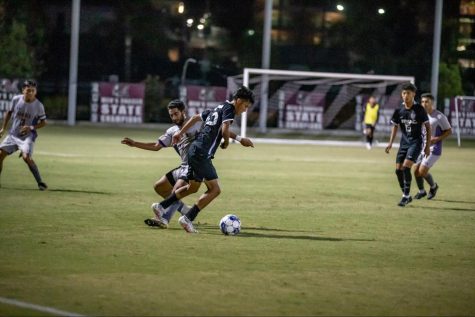 Mt. SAC (8-2) closed out its non-conference schedule with a 4-0 win over visiting Allan Hancock College (1-7-2) on Friday, Sept. 30.
Sean Romo scored the game's first goal in the eighth minute on an assist from Alex Mendez. Frank Gonzalez (10th minute, Andrew Vazquez assist), Jacob Cervantes (19th minute, unassisted), and Chris Martinez (62nd minute, Abel Salazar assist) accounted for the other Mountie scores.
The Mounties began their South Coast Conference schedule on Tuesday, Oct. 4, by hosting Rio Hondo College (4-4-3) and winning 2-1.
Saturday, Oct. 1:
Wrestling (all day)
Mt. SAC at the Santa Ana Tournament located at Santa Ana College
( Santa Ana College – Santa Ana, CA)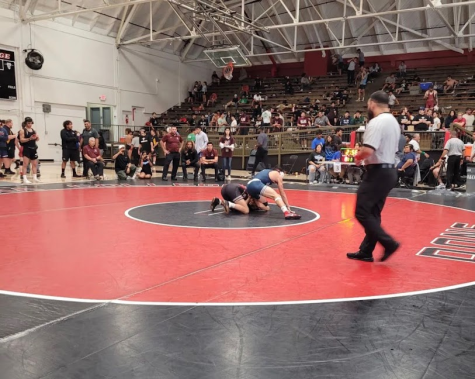 As a team, the Mounties placed fourth with 96 points. Cerritos College won the tournament with 137.5 points finishing ahead of Sacramento City and Bakersfield on Saturday, Oct. 1.
Wrestlers Christopher Betancourt, David Saenz and Nate Kendricks all took first place in the annual Santa Ana College Wrestling Tournament.
Mt. SAC will head to Modesto College on Saturday, Oct. 8 for the Modesto Tournament.
Football (4 p.m.)
Mt. SAC vs. Allan Hancock
(Home game: Mt. SAC Alumni Night & Student-Athlete Parent Day)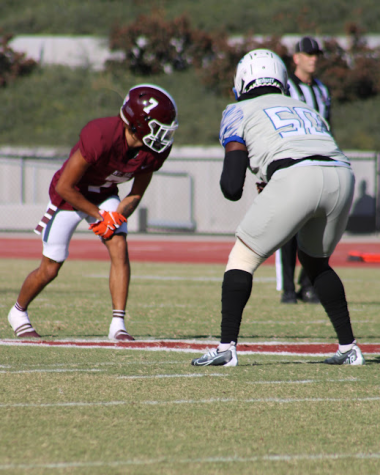 After punting on their opening possession, the Mounties (5-0) began running the ball effectively and Allan Hancock College (2-3) could not stop the run.
Ranked No. 3 in the most recent JC Athletic Bureau and California Community College Sports Information Association polls, the Mounties played like their state ranking indicated.
Scoring 27 points in the second quarter proved the lead insurmountable for the Warriors to overcome.
Not only did the Mounties dominate the scoreboard, they dominated the stat sheet, too. 638 yards of total offense (326 passing, 312 rushing) opposed to the Bulldogs' 104.
Simply a masterful offensive display for all the alumni and parents in attendance.
Quarterback Ike Udengwu III (0, sophomore) threw for 261 yards with four touchdowns and added 67 yards rushing on seven carries for Mt. SAC, en route to a 48-7 non-conference victory on Saturday.
Running back Adrion Boyd (29, freshman) led the team in yards with 86 yards on six receptions and a touchdown. Mohamed Nyangamukenga led the Mounties rushing attack with 79 yards on 11 carries with two touchdowns. Running back Isaiah Dickerson (34, freshman) added 70 yards on eight carries.
Katin Surprenant was all over the Warriors offense, leading Mt. SAC's defense with five tackles and making plays in the open field.
The Mounties have a bye week this week and will return to action on Saturday, Oct. 15, at home against El Camino College (2-2) to start National Central Conference play. Kickoff is at 6:17 p.m.
Leave a Comment
About the Contributor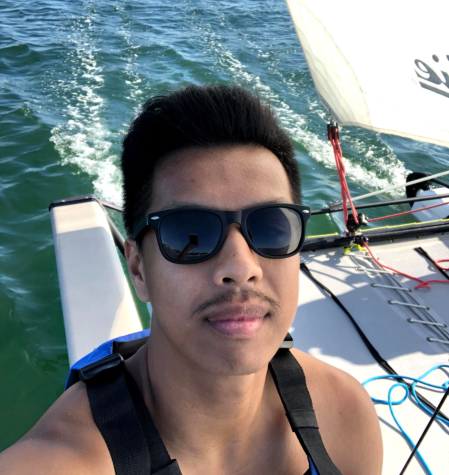 Robbie Doctor, Staff Reporter
Robbie Doctor is a staff reporter and writer for SAC.Media.