Campus spotlight: The CARE program
A look into the program that puts in tireless effort to support parenting students
It is no secret that a college education is not easily accessible to all. Whether it be reasons related to one's cognitive abilities or previous involvement in the military or citizenship status, there are students facing obstacles that may get in their way of receiving higher education.
For these reasons, Mt. SAC offers over 25 different support programs for students on campus. However, there is one program that many are unaware of, as a report has shown that 1 in 10 community college students are parenting students and can qualify and benefit with the program.
The CARE program functions to provide educational support and activities for students that are considered single head-of-household or who are in turn receiving county cash aid support.
CARE Coordinator Maria Hernandez Figueroa gave more insight into what services CARE provides.
"CARE can provide the same services, first of all, that EOPS students get because they are EOPS students. So they can get priority registration, they get dedicated counselors. We have our own counselors outside of the general counselors who are trained on our populations and who are often former EOPS students themselves," Hernandez Figueroa said.
In addition to the various services provided, CARE students can also be given their graduation cap and gowns free of cost and can be eligible for university application fee waivers in addition to textbook support every semester.
Hernandez Figueroa went on to explain that CARE students can get an extra book grant, supply grant and unmet need grant that may be used to pay for things like daycare rent.
CARE has also hosted events for students of the program in the past, including "Adopt a Family" where single-parent Mt. SAC students can be sponsored by faculty and receive gifts for the holiday season. Other holiday related activities include pumpkin carving and a costume party for the children of students to attend.
In terms of why CARE likes to include children in these activities, Hernandez Figueroa said this is done with the intention of making college more family friendly.
"I always make sure I make an announcement, 'Kids, this is where mom and your dad are studying sometimes. This is where they come to school. We have a library. They go to school just like you.' It sort of builds college as a family experience for that unit," she said.
In addition to familial duties which greatly affects single-parent students in college, the COVID-19 pandemic was another obstacle CARE students faced.
Hernandez Figueroa said that students in the CARE program were some of those most impacted by the pandemic.
"CARE students that got hit the hardest were the ones who have school age children and had to do the transitions that came with the school. So at the beginning of the pandemic, when we didn't have vaccines, remote learning for children, remote learning [for college students], the schools were not ready, and neither were we, completely. I think Mt. SAC did a tremendous, wonderful job of doing it very quickly, we still had a lot of issues, but the school districts had even more. I say that because I was a parent too," she said.
Despite the pandemic, CARE continued to support single-parent students and extended their services to help with retention in the program and the students' enrollment. Currently, CARE is serving around 71 students, which is expected to grow soon with the upcoming orientation and more people enrolling.
While most students in the CARE program are women, it is important to know that single fathers are welcomed as well. Hernandez Figueroa hopes that more men will soon access CARE.
She also hopes people will understand that CARE students are not inferior to traditional college students in any way.
"Our CARE students are go-getters. They just need a support system and an opportunity," she said.
Hernandez Figueroa also believes that CARE students enrich the classroom environment because of their unique experiences, and hopes that the education system will be better reformed to be more suitable for single-parent students.
She finds that CARE is a program that is social justice at its finest, and is happy to announce that the EOPS association will now take more of an active role in highlighting the CARE program across colleges in California through the formation of the CARE Circle.
The CARE circle is a diverse group of CARE representatives from various California community colleges. They meet statewide to discuss common themes, challenges and best practices to serve CARE students.
Currently, the CARE program is set to host an event in November called the "Mountie Baby Pop Up" where the non-profit organization Rise Up Creatively will donate diapers, toys and clothing that CARE students can pick up.
Hernandez Figueroa is optimistic that CARE will become better known.
"My hopes for CARE is that we can grow the program for more students. Wherever [this article] ends, I hope it brings light to that we're here and those students who maybe are not aware of EOPS are eligible for both EOPS and CARE can come and apply. But my greatest hope is that we can increase the number of students we serve," she said.
Students interested in CARE can go to Building 9B for more information or visit the CARE website here.
Leave a Comment
About the Contributor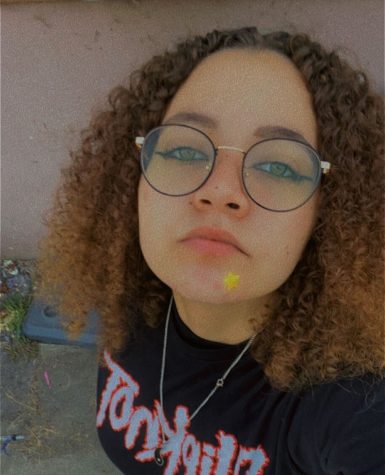 Delila Grubaugh, Features Editor
Delila Grubaugh is SACMedia's Features Editor. She is a first generation college student majoring in journalism and social justice. She dreams of being able to write a book one day and successfully make at least one short film in her lifetime. As a current peer navigator for the EOPS/CARE program she finds it to be incredibly important to work to help others, and she loves journalism as it can at times be democracy and social justice at its finest. She believes that if we are granted the right to freedom of press and freedom of speech we should be able to utilize it to benefit the people. She loves tea, Halloween, sunflowers, rock music and poetry. She is a California girl at heart and supports almost any Los Angeles team there is. A lover of journalism and advocacy, naturally someone she looks up to is Kara Danvers-aka Supergirl. She hopes to be as strong as her one day.