Student Equity Speaker Series: Tazbah Chavez discusses her roots and writing inspiration
Chavez is the latest speaker to participate in Mt. SAC's series
On Nov. 1, as part of Mt. SAC's Student Equity Speaker Series, Tazbah Chavez, who has directing and writing credits on the film "Your Name Isn't English" and shows "Reservation Dogs," "Rutherford Falls" and "Resident Alien" spoke to students about her upbringing, career and the inspiration behind her work. The event was co-hosted by professor of history Dr. Raul Sanchez.
Even from childhood – writing stories and laminating them with box tape – Chavez always wanted to pursue artistry but didn't think it could be a feasible career option, so it always floated in her interests but never took the main stage until later in life.
After high school, she went to Santa Barbara City College because of her athletic background and the school's high transfer rates but she didn't have the grades to get accepted into the universities she dreamed of. Chavez talked to a school counselor about going to her top pick, UC Berkeley, who told her, "You would have to get a 4.0 every semester you have left here."
And she did.
Chavez decided she wanted to pursue federal Indian law after taking a Native American studies course at SBCC, but found that UCLA had a stronger department on the subject than UC Berkeley did, and after visiting both campuses, she realized that UCLA was the school for her.
"I was like 'I'm going to come here because even on the days I don't want to go to school, it's really pretty here,'" she joked.
Although Chavez had thought that the law was the route for her, she had a change of heart. One night, sitting in her car, she had a moment of clarity: "When I'm 80 and I'm sitting on a porch somewhere, sipping on my tea, I'm not going to regret not being a lawyer. I'm not going to regret not going to business school. … The thing that I would have regretted is having not tried to be a writer or artist full time."
Chavez's goal was to help recuperate land and to positively impact policy as a lawyer but realized that she can do that while still pursuing her passion.
"What I wanted to do in a courtroom was tell a story to change people's minds and then I realized I could do that as a writer, as a director," she said.
Her characters are inspired by people in her life – family members, neighbors, strangers – but are also impacted by other Native Americans in the writer's room. Chavez said that a goal of her writing is to dismantle Native American stereotypes by displaying the relatability of day-to-day life and creating a more realistic image of Native Americans.
"It's amazing to me how specificity does breed a universal message. Like, the more specific and nuanced you are the more it's relatable to people outside of your community," she said.
When asked about colonization, Chavez said that it has immensely impacted her work: "We're all trying to process the trauma that colonization has put us through. For myself, coming from a [reservation] and coming from an indigenous community, we are born healing and we're born grieving and we're born trying to survive and I think that's also what makes us amazing."
Her wish is that we eventually get to a point where it is no longer necessary to depict the impact of colonization in storytelling, but doesn't think we're there yet.
On the topic of racism in Hollywood, Chavez said that she fights back by embracing herself.
"When I came into this industry and was taking meetings … I would always ask myself 'Why me? Why am I right for this project, that project, whatever? Or, what do I have that makes me different?'" she said. "And to be honest, I made the choice to make my identity my superpower because I knew that there's nobody else that they were going to meet with today that is me."
"What the industry is actually interested in is the clear voice and a unique perspective and I know that comes from my identity," she continued.
Chavez talked about the creation of shows like "Reservation Dogs" and "Rutherford Falls" and how it took decades of Native Americans making their way into Hollywood to make the shows possible. She used Taika Waititi – director of films like "Jojo Rabbit" and the last two Thor installments – who is a co-creator and executive producer on "Reservation Dogs," as an example of an influential figure in Hollywood who opened the door for Native American artists to work in the industry and be represented.
"When you finally get a person who can break through, like a Taika, who then holds the door open for a person like Sterlin ("Reservation Dogs" co-creator), who then continues to hold the door open for a person like me … It's taken a long time on the backs of a lot of people who came way before us, but I think as we went on our way in, once we got to those places, we really did walk the talk in terms of like 'okay, we're holding this door open now and we're bringing all of you with us," she said.
She emphasized that people of different backgrounds having executive power in the industry are essential to broaden the diversity of storytelling and to improve artistic accessibility to those who have historically not had a voice in Hollywood.
The event concluded with a quick Q&A, which included brief questions about microaggressions and Native American culture, and Chavez thanking attendees, saying she hopes to do another event in the future.
Leave a Comment
About the Contributor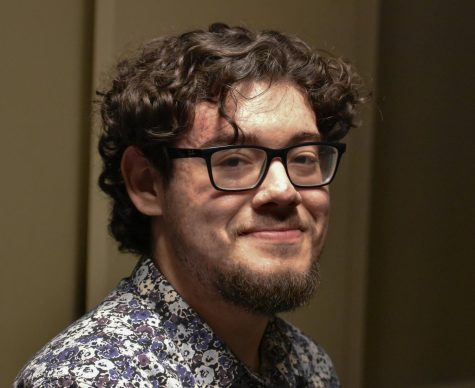 Bryan Jimenez, Editor in Chief
Bryan Jimenez is the Editor in Chief of SAC.Media. He can be reached at
[email protected]
.