Mountie sports recap: Nov. 13-19
Scores and results of last week's games
As the postseason and state playoffs progress, hardware is captured and some seasons come to an end. Others await the playoff matchups to be announced.
Let's get you caught up on all the action from last week!
Sunday Nov. 13 – Monday Nov. 14
Women's golf
It seems like all season long, the Loera twins, Kayla and Kaitlyn, have lived up to the bar they set for themselves. Culminating in the freshman twins representing the Mounties in the CCCAA State Championships at the Morro Bay Golf Club.
In a pool of eight colleges and 57 golfers competing on a 5,633 yard Par-72 course, Kayla finished 17th overall with a two-day total of 169 while Kaitlyn finished in a three-way tie for 26th overall with a two-day total of 174.
Though the Modesto Pirates would capture their third state championship since 2017, it was an impressive feat for the twins to each carve out a season for each of them to build on moving forward.
Tuesday, Nov. 15
Women's volleyball
It was announced that the No. 6 seed Mounties will be matched up against the No. 11 seed Santa Monica Corsairs on Nov. 22 for the CCCAA Regional playoffs. Winner of this game moves on to the finals for the Regional Championship and competes for a spot in the State Championship.
Mountie nation, support your team!
Wednesday, Nov. 16
Women's basketball
The Mounties hit the road in a non-conference matchup against the undefeated Orange Coast Pirates.
In a 60-52 loss, the Mounties managed to score 20 points in the first half due to scoring only eight points in the second quarter.
Sophomore guard Kamesha Moore (14) registered a double-double with a team high 16 points and 11 rebounds. Fellow sophomore guard Briana Lizardi (32) scored 11 points while shooting 40% from the field,4 out of 10, and making both of her free throws. Ultimately, the Mounties were outrebounded by the Pirates, 48-36, and though they managed to cut a third quarter 44-24 deficit to 8 points, it wasn't quite enough.
The Mounties will return to action on their home floor for another non-conference matchup against the Palomar Comets on Wednesday, Nov. 23, at 3 p.m. at home.
Thursday, Nov. 17
Men's basketball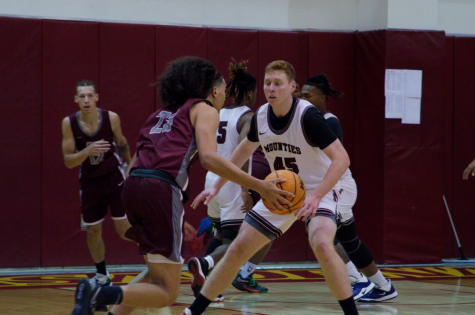 The Mounties started their three-day stint in the Skip Robinson Classic at Pasadena City College against the Antelope Valley Pioneers victorious in a 60-54 win.
Led by freshman guard Nick Hopkins (10) with 12 points off the bench and was one of four Mounties to register double-digit points: freshman point guard Dante Victor (20) and sophomore shooting guard Jay Milner (5) each with 11 points and sophomore guard LJ McClain (4) with 10 points.
Bench scoring and points in the paint were the deciding factors for the Mounties in this game as they edged out the Pioneers 14-9 in bench scoring and 18-16 in points in the paint.
Friday, Nov. 18
Men's basketball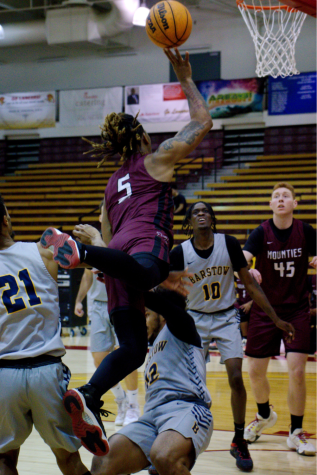 Day 2 in the Skip Robinson Classic saw a higher-scoring victory for the Mounties in a 91-72 win over the Barstow Vikings.
Freshman guard Mikah Gardner (21) channeled his inner Klay Thompson and scored 24 points while shooting 6-11 from 3-point range and added eight rebounds, two steals and two blocks.
Sophomore guards Jay Milner (5) and LJ McClain (4) each kept their double-digit scoring streaks alive, scoring 13 and 10 respectively.
As a team, the Mounties shot 47.5% from the field and 37.1% from deep. Those sorts of numbers will win you games but they must cut back on the turnovers and personal fouls; racking up 22 total turnovers and 15 personal fouls.
Winner of this game advanced for a spot in the Skip Robinson Classic championship match.
Saturday, Nov. 19
Cross country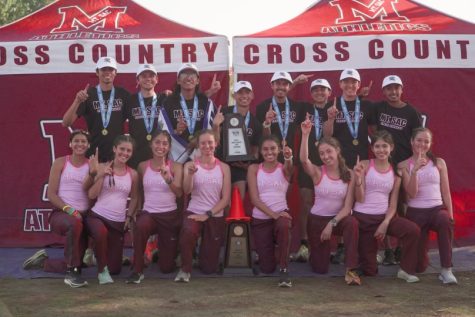 Over the past four seasons, the men's CCCAA Cross Country Championship has been captured by the San Diego Mesa Olympians or your Mt. San Antonio Mounties. The Mounties were able to spoil the Olympians from a 3-peat, winning their third title in five seasons.
Men's
Captain sophomore Jesus Alvarado took the top spot amongst a field of 76 runners with a time of 19:52.2 over the four-mile course which was 14.5 seconds ahead of second-place 20:05.7 by Esteban Deniz from Hartnell College.
Other Mounties who finished in the top 20 included sophomore Elijah Ocegueda at 10th, sophomore Jalen Griego at 14th, sophomore Jonathan Pfeiffer at 15th, freshman Austin Ledgerwood at 19th and freshman Andres Chavez at 20th.
Women's
In a field of 155 runners over a 3.2 mile course, four Mounties finished in the top 30: sophomore Hannah Brown at 3rd, sophomore Claudia Vera at 10th, Captain sophomore Karla Galvan at 17th and freshman Ingrid Tamayo at 30th.
Men's basketball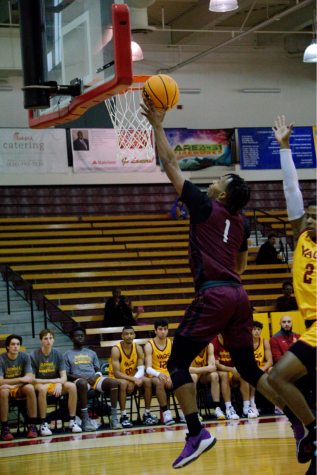 For the second consecutive year, the Mounties have won the Pasadena City College Skip Robinson Classic defeating Glendale Vaqueros 76-63.
The Mountie offense was led by sophomore shooting guard Jay Milner (5) with a game-high 21 points on 6-12 shooting from the field, 2-4 on the longball, and 7-10 from the charity stripe.
Freshman guard Mikah Gardner (21) added 19 points and a game-high 10 rebounds. Gardner led the Mounties in scoring for the tournament averaging 17.3 points.
Though the Mounties built a 9-point lead into halftime, the Vaqueros fought their way to a 73-68 lead. The Mounties would storm their way back with an 8-0 unanswered run and never looked back in the final 4:13 in regulation for the victory.
Men's soccer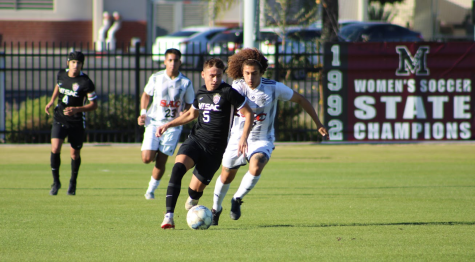 The No. 5 seed Mounties played the role of host and comeback kids against the No. 12 seed Santa Ana Dons in their 3-2 CCCAA second round victory.
Down 2-0 past the 60 minute mark, all hope seemed lost and all momentum was with the visiting team. Sophomore midfielder Alex Mendez (10) scored the Mounties first goal from the penalty spot in the 71st minute to cut the deficit in half.
The defense on both sides intensified but sophomore forward Andrew Vazquez (14) tied the game at 2-2 off an assist from Mendez with nine minutes left in the game. That will be the score by the end of regulation.
As we moved on to overtime, neither team was successful in registering a goal in the first half of overtime, but sophomore forward Edward Castro (11) scored the game-clinching goal in the 110th minute off another assist from Mendez. Sophomore goalie Jacob Cardenas (1) played all 110 minutes for the Mounties.
The Mounties next opponent is a familiar foe, the El Camino Warriors. The Warriors defeated the Mounties, 1-0, in an SCC crossover matchup earlier this year and have revenge on their minds for their game on Tuesday, Nov. 22.
Women's soccer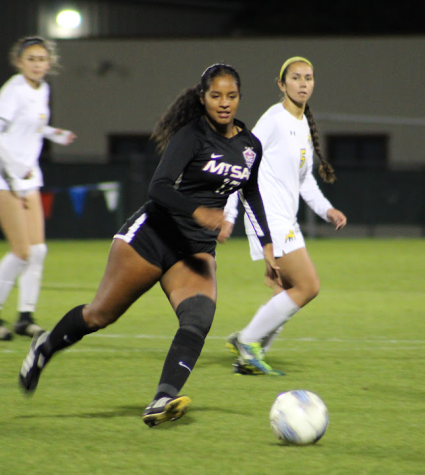 After a scoreless first half, the No. 4 seed Mounties offense woke up and scored three unanswered goals to cruise to a 3-0 victory over the visiting No. 13 seed Allan Hancock Bulldog.
Two unassisted goals broke the scoreless affair with the first coming from sophomore defender Kayla Allen (15) and the second from the penalty spot by sophomore forward Ayuka Toshimoto (9). One more goal in the 90th minute from sophomore midfielder Karissa Vela (10) off an assist from Toshimoto that put the icing on the cake for this contest.
Though sophomore goalie Leila Peregrina (1) started and played all 90 minutes, the Mounties' air tight defense eliminated most of the threats that could provide her much challenge.
The Mounties will host the No. 5 seed Long Beach City Vikings on Tuesday, Nov 22. This will mark the third matchup between the division winners this season alone with the Mounties taking both contests, 1-0 in regulation and 5-4 on penalty kicks.
Leave a Comment
About the Contributors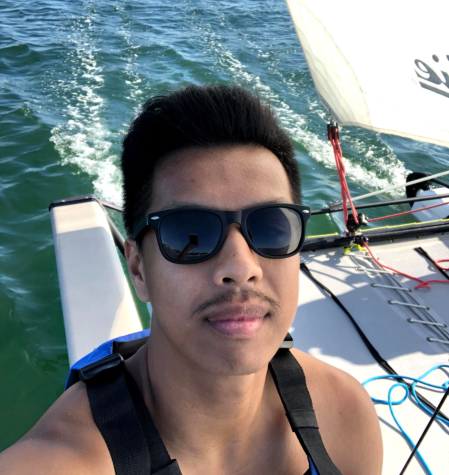 Robbie Doctor, Staff Reporter
Robbie Doctor is a staff reporter and writer for SAC.Media.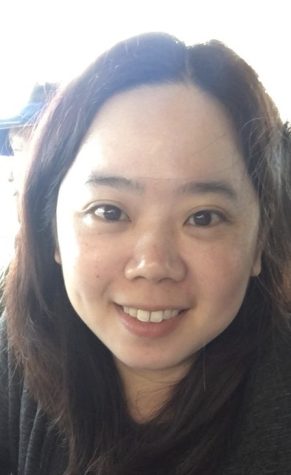 Christie Yeung, Managing Editor
Christie Yeung is Managing Editor and former features and gaming/tech editor of SAC.Media. She falls somewhere between a nerdie or a foodie, or is both. She likes to spend her spare time playing video games, listening to music, and watching funny videos on Youtube. She has a sweet tooth and has no immunity against anything with Nutella on or in it.