Bob Iger appointed as CEO of Disney once again
There is a new Disney CEO – the old one
Chief executive officer of The Walt Disney Co. Bob Chapek has stepped down from the position, opening the space for former CEO Bob Iger to succeed.
This decision was made by The Walt Disney Co. Board. Iger has agreed to fulfill the position for the next two years so that Disney can create a plan to find more candidates with the intent of finding a more permanent successor.
Susan Arnold, the chairperson of The Walt Disney Co. Board, released a statement on Chapek's replacement.
"The Board has concluded that as Disney embarks on an increasingly complex period of industry transformation, Bob Iger is uniquely situated to lead the Company through this pivotal period," Arnold said.
Arnold referred to the change as being a process that will be "a seamless transition of leadership," thanks to Iger being "greatly admired by Disney employees worldwide."
Upon returning to the CEO position, Iger released a statement of his own in the form of an email sent to Disney staff.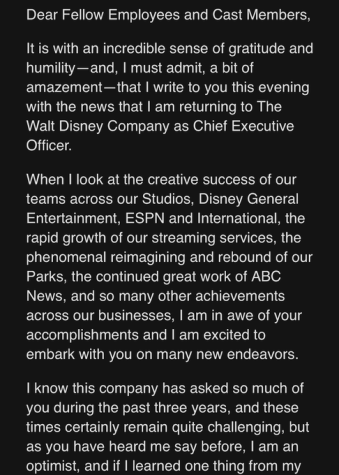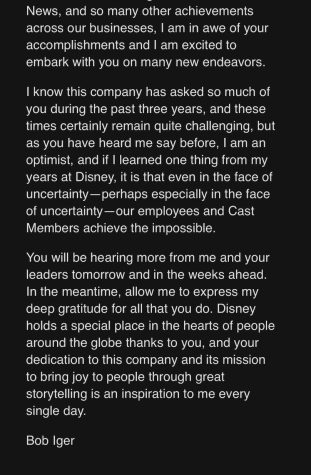 Iger spent 15 years as CEO from 2005 to 2020 before Chapek replaced him. Chapek's removal, after just two years, is said to be related to power imbalances and leadership that was based solely on profit but ultimately led The Walt Disney Co. to have poor earnings.
These poor earnings were seen in Disney's stock loss. In November 2020, before Chapek came into power, Disney stocks were up at $149.09, but in the two years that he was in power, the stocks are down to $98.88 as of Nov. 24, 2022. There was a 41% of Disney shares in the past year.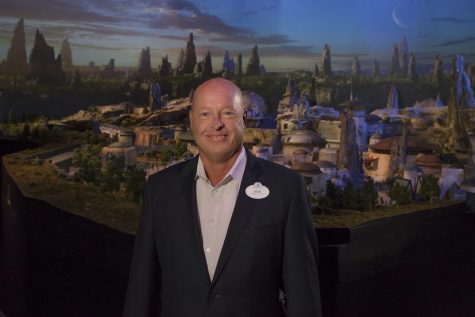 This is likely due to Chapek making unpopular business decisions such as planning a hiring freeze accompanied by mass layoffs and getting rid of Disney's original free FastPass+ system and replacing it with paid services like Genie+ and Lightning Lane in 2021. It was also his decision to end the free transportation and luggage service for Disney's Magical Express, changing the MagicBand system to a new generation that is known as MagicBand+, making it no longer free, and keeping the reservation system that was implemented in 2020 to control crowds at the park to slow the spread of COVID-19.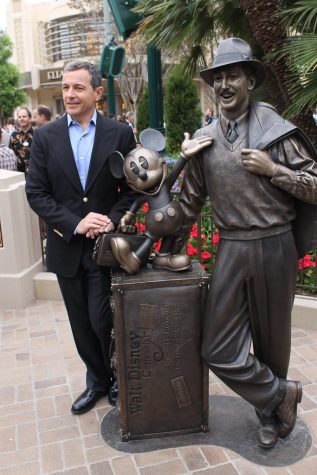 Perhaps the decision that garnered the most animosity was Chapek's choice to hike up the prices of Disney tickets. A Disneyland ticket in 2019 was reported to be around $129 for one day and one park but the current price of a one day and one park ticket is estimated to be about $152.
This decision faced much criticism from both Disney fans and employees, and soon enough he was widely unpopular in both spheres. So much so there was even a petition made calling for the removal of Chapek that got over 117,000 signatures. Disney was led to force their hand in his resignation and upon hearing the news of Iger's return, Disney fans had drafted up a list of demands in the hopes Iger would improve the state of The Walt Disney Co. and better the experience of visiting the Disney resorts.
Such list of demands include: eradicating the reservations system for the parks, allow park hopping times to be sooner, get rid of the Genie+ service, increase the availability of annual passes, bring back Disney Magical Express, bring back Disney Dining Plan, make MagicBands free once more, lower costs and remain unpolitical.
Iger's return as Disney CEO is effective immediately and Disney fans are hopeful that his reacquisition of the role will bring back the "Disney magic."
Leave a Comment
About the Contributor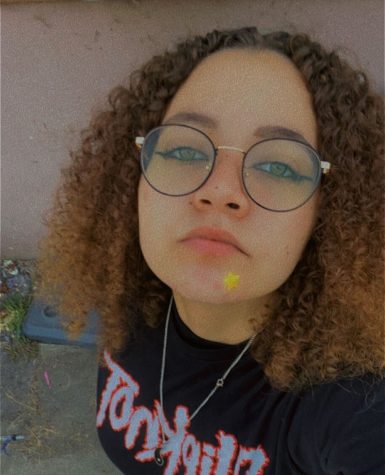 Delila Grubaugh, Features Editor
Delila Grubaugh is SACMedia's Features Editor. She is a first generation college student majoring in journalism and social justice. She dreams of being able to write a book one day and successfully make at least one short film in her lifetime. As a current peer navigator for the EOPS/CARE program she finds it to be incredibly important to work to help others, and she loves journalism as it can at times be democracy and social justice at its finest. She believes that if we are granted the right to freedom of press and freedom of speech we should be able to utilize it to benefit the people. She loves tea, Halloween, sunflowers, rock music and poetry. She is a California girl at heart and supports almost any Los Angeles team there is. A lover of journalism and advocacy, naturally someone she looks up to is Kara Danvers-aka Supergirl. She hopes to be as strong as her one day.