Column: Republicans are in post-midterm disarray. Prepare for what comes next
Amid GOP infighting, Democrats need to buckle down for what follows
Ahead of the Nov. 8 midterm elections, liberals braced and conservatives heel clicked in anticipation of a red wave washing away Democrats' thin congressional majority. Defying the odds and decades of precedent, a "blue wall" prevented what seemed to be inevitable, leaving Democrats with control of the Senate and Republicans a slim majority in the House of Representatives.
As the dust settles, Republicans have wasted no time in blaming a culprit for their poor midterm performance: themselves. Even GOP kingmaker Donald Trump has taken some pot shots as the Republican Party appears to be at a crossroads.
A discombobulated and divided Republican Party is a prospect that Democrats froth at the mouth at, but don't be fooled – the GOP's blame-shifting and internal power struggles will not last. It is in Democrats' best interest to prepare for a soon-to-be united – and possibly, even more radical – opposition.
Make no mistake, the GOP's self-scrutiny is authentic. Internal reform is a necessity if the party wants to maintain power and they know exactly what contributed to their stunningly poor performance. Roe v. Wade's reversal, mismanaged fundraisings and lack of a platform played roles in the red splash. But the most prominent factor was Trump's grip on the GOP, as evidenced by the dismal performances of the candidates endorsed by the former president.
Trump endorsed hundreds of candidates this election cycle, but in the competitive races that mattered, his hand-picked candidates proved to be hindrances to the GOP. In races across the board – from the Senate and House to state-level elections – voters rejected Trump.
During Trump's presidential term, Republicans were more than happy to bend the knee to his wishes because of the immense popularity he had and his ability to energize their voter base. After his unfounded election denial and subsequent public tantrums following the 2020 election, his approval ratings have dwindled, particularly with independents, a key demographic.
According to The Wall Street Journal, polling conducted by AP-NORC found that, nationally, independents chose Democrats over Republicans by 4% this election. The findings are more damning on a state level: independents favored Democrats by 30, 28 and 18 percentage points in Arizona, Georgia and Pennsylvania, respectively.
Now, the party's top brass has no choice but to acknowledge the proverbial elephant in the room that has stomped all over their hopes and dreams.
"Donald Trump is, I believe, is really responsible for the shrinking of the party," Illinois House Republican Leader Jim Durkin told Illinois Public Media after the midterms. "He's turned off more people in areas where we have to compete, and that's mainly in the suburbs and the collar counties."
Republican strategist Scott Reed, speaking to The Associated Press, said, "Trump's now lost three elections in a row for the Republican Party and it's time to snap out of this foolishness."
Durkin and Reed's sentiments are echoed by Republicans in all levels of office. Even conservative media has turned on their once-dogmatic leader: Reagan Battalion tweeted, "Time to move on from Trump," while the New York Post has increasingly slighted him, dubbing Florida Gov. Ron DeSantis as "DeFUTURE" and illustrating Trump in the image of Humpty Dumpty.
But Trump isn't the only target of Republicans' fury.
On "Tucker Carlson Tonight," Trump-endorsed candidate Blake Masters called Senate Minority Leader Mitch McConnell "incompetent." Addressing Senate Republicans, he said, "Let's not vote Mitch McConnell into leadership. He doesn't deserve to be majority leader or minority leader."
In the House, a group of far-right representatives have pushed back against Minority Leader Kevin McCarthy, among them Rep. Matt Gaetz, blaming him for the midterm results and poor management.
Sen. Rick Scott and Rep. Andy Biggs have challenged McConnell and McCarthy for Senate and House leadership.
Seemingly, Trump is finally facing a reckoning and the GOP is in disarray. But if something seems too good to be true, that's because it is.
McConnell and McCarthy easily fought off the internal challenges, maintaining their leadership roles through votes of their chamber colleagues. McConnell won in a 37-10 vote and McCarthy in a 188-31 vote.
Although some Trump-endorsed candidates lost in highly competitive elections, many still won their races and despite the recent pushback, Trump is still a favorite to win the Republican nomination for president.
According to a Harvard CAPS-Harris Poll survey released to The Hill, 46% of respondents would vote for him if the Republican primary were held today. DeSantis, widely considered to be Trump's greatest challenger, garnered a mere 28% of those polled.
In the same poll, 44% of respondents would vote for Trump in a general election, while 42% would vote for President Joe Biden. However, Trump has notably dropped a few percentage points since the last Harvard CAPS-Harris Poll, but maintains a plurality overall.
With Trump's 2024 bid already announced, DeSantis is the only major threat to his nomination – and it's unclear if he'll even launch a campaign. Whether DeSantis runs or not and whether he can even beat the former president are unknowns, but what is guaranteed is that if Trump wins the nomination, the party will fall in line behind him again for the sake of retaining power.
It's the same reason that, despite immediately blaming the midterm results on Trump and a lack of moderation, the GOP is entertaining the demands of their far-right flank. McCarthy is threatening an impeachment inquiry into Homeland Security Secretary Alejandro Mayorkas and, according to CNN, has been negotiating with the House Freedom Caucus – a group of the most ultra-conservative House representatives – to gain their support.
Some members of the caucus have called for — and, previously, even filed — baseless impeachments of Biden.
The next chair of the House Judiciary Committee, Rep. Jim Jordan, is committed to using his newfound power to open a myriad of investigations – which can be more accurately described as political stunts – into Biden, members of his administration's cabinets and even his family. Earlier this month, Jordan sent the Department of Justice and the FBI a letter indicating an intent to investigation the organizations, a blatantly partisan revenge-seeking effort for their probes into Republicans.
The GOP's dazed state is quickly fading and although the situation could be worse, Republicans will still control half of Congress and will wield their power as offensively and irresponsibly as possible. With dozens of election deniers winning their races, the GOP's clear intent of embracing the far right and their conspiracies and the incoming governmental gridlock, the next two years will be bumpy for the United States.
Leave a Comment
About the Contributor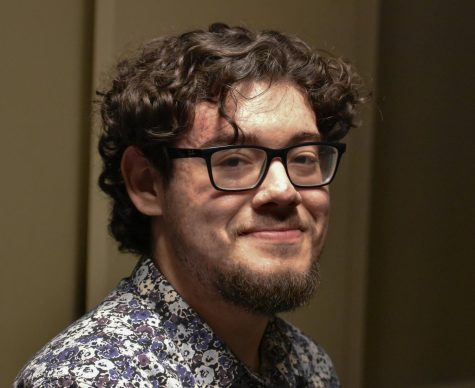 Bryan Jimenez, Editor in Chief
Bryan Jimenez is the Editor in Chief of SAC.Media. He can be reached at
[email protected]
.